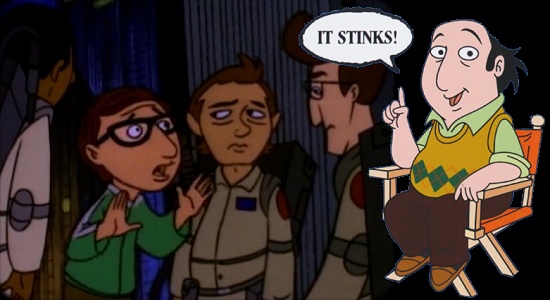 Most Ghostbusters references are short bits that can best be encapsulated with a small video clip, as evidenced by
Spook Central's collection of Ghostbusters reference videos on Critical Commons
. However, sometimes there's a reference for which a small clip won't do it justice. It is for these types of references that I have this reoccurring feature here at Spook Central, the Ghostbusters Reference Review.
I just watched and
reviewed
Mill Creek's recent budget re-release of
The Critic: The Complete Series DVD set
. The ninth episode of Season 1, "L.A. Jay" (originally aired on June 22, 1994), is about critic Jay Sherman (Jon Lovitz) going to Hollywood with dreams of having his screenplay produced. Instead, he is hired by Quality Pictures CEO Gary Grossman (Billy Crystal) to write a third film for a movie franchise he hates:
Ghostchasers
.
Jay spends his time in Los Angeles with his Australian buddy, Jeremy Hawke (Maurice LaMarche), lamenting about becoming one of the "hacks" that he spent his life criticizing. Jeremy entices him to write the movie as a means for getting the chance to later write the types of movies that win Oscars. That thought, and Andrew "Dice" Clay's old chair and office, are enough to get Jay on board. Later, he meets with the Quality Pictures executives to learn more about what they expect before he starts writing his screenplay. When asked which cast members from the first two
Ghostchasers
films will be returning for the third. the execs tell him that they have "the black guy". However, "we only got him for two days. He's also playing the black guy in Batman 3." As for what they'd like to see improved from the first two films, the execs tell Jay that "Ghostchaser underpants didn't sell as well in Mexico as we hoped." Another chimes in, "Maybe you can have the black guy's pants fall down in Tijuana." We also learn that the first two
Ghostchasers
films didn't do too well in Italy because the title was translated to
Tua Madre Ha Le Spalle Pelose
, which the exec says is "Your Mother Has A Hairy Back" in English. (Google translate says it's "shoulders", not "back".)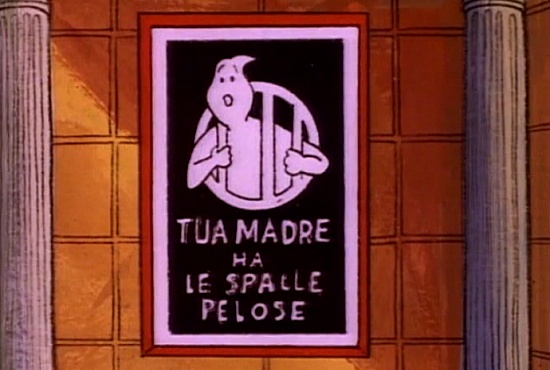 After meeting again with Gary, and rejecting his idea for a 50-foot battery voiced by Pat Morita, he is allowed to meet with some potential directors. Oliver Stone envisions the ghosts of John F. Kennedy and Jim Morrison wanting files to be opened; a nod to Stone's films
JFK
and
The Doors
and (presumably) some sealed federal documents about the JFK assassination. Francis Ford Coppola thinks that one of the Ghostchasers should be a strong, intelligent woman, such as his daughter Sofia. (There would be a female Ghostbuster three years later when
Extreme Ghostbusters
premiered with Kylie Griffin on the team. Also, coincidentally, the real Sofia Coppola would work with one of the original Ghostbusters when she directed Bill Murray in
Lost in Translation (2003)
.) Spike Lee, on the other hand, believes that the problem is that the film has white ghosts. He wants there to be black ghosts in the film.
After getting sidetracked by enjoying the L.A. life, his son Marty (Christine Cavanaugh) reminds him of why he's there. "I've forgotten why I came to Hollywood. To write the sequel to the sequel to a movie I didn't think they should have made in the first place." Later that night, Jay is busy on his computer finishing up the screenplay. "Then the ghost tells the Ghostchaser, 'I'm the scariest thing of all: your future.'" He submits the script to Gary, who sneaks off the movie lot instead of giving Jay his opinion of it.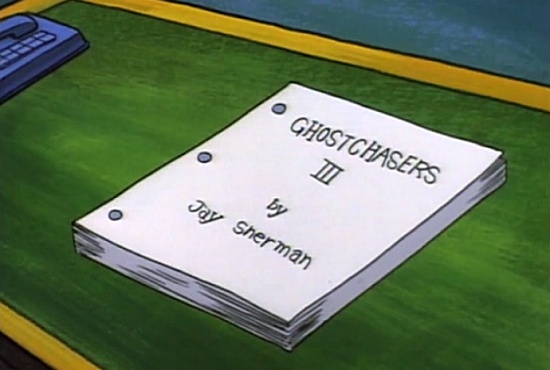 Jay hops in his car and a car chase ensues. It ends in the L.A. Basin, which has been "serving L.A.'s car chase needs since 1902". Upon being confronted, Gary admits that the script stinks. No matter how many different ways Gary tells him, Jay mishears the news and thinks that he's being told that his script is great. The next day, Jay learns that his services are no longer required at the studio, with his office now being used as Tom Cruise's private bathroom.
Three months later, Jay reviews
Ghostchasers III
on his
Coming Attractions
program. WOW! An entire special effects-laded motion picture went through pre-production, production, and post-production in just THREE MONTHS! That's some kind of record. Anyway, Jay informs viewers that he helped write the picture, and then tells them that "this is the worst movie ever made! Attention L.A. street gangs. Why kill each other when there are more deserving movie executives just miles from your home? Their addresses are..." He is cut off by an on-screen "viewer advisory", which states that "the rest of this review contains incitements to violence, foul language, rubber novelty poop, and brief nudity". When the show resumes, a naked Jay is handcuffed and being carted off to jail by the police.
In return for their help in testing an experimental fertility drug with unfortunate side effects, the male inmates are getting a special treat: a showing of
Ghostchasers III
. Even in the state penitentiary, Jay can't escape the film. The film clip shown features a giant Mayor Ed Koch rampaging down the streets of New York ala the Stay-Puft Marshmallow Man. Louis Tully screams out, "Oh my God, save yourselves. New York is being destroyed by an 80-foot Ed Koch."

The convicts hate the movie as much as Jay does, which pleases him greatly. "For once in my life, I truly belong." The episode ends with Jay's prison wife bringing him a bag of unsalted popcorn. "You know, this is the best date I've ever had."
SPOOK CENTRAL VIP-EXCLUSIVE BONUS FEATURE
-
Watch the entire episode (with optional English subtitles)
.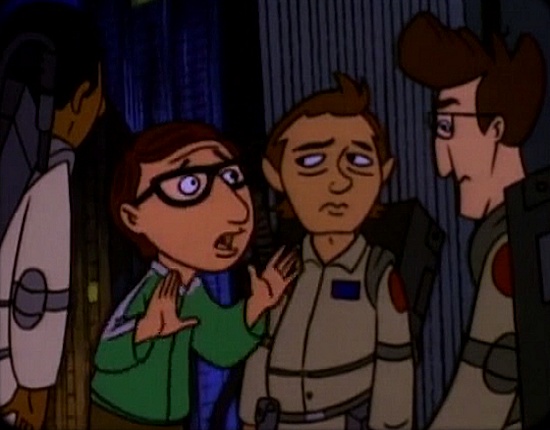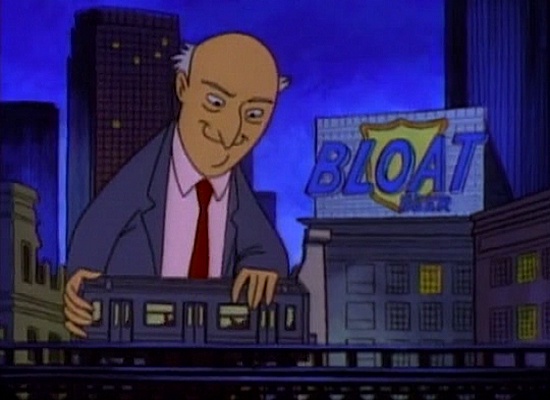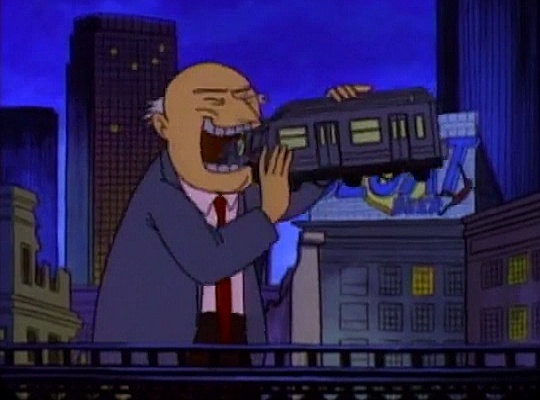 No feedback yet
Leave a comment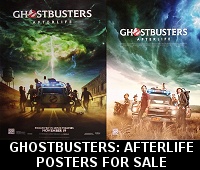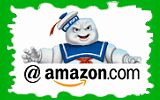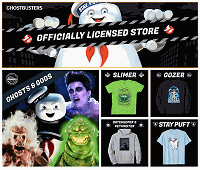 Please be aware that as an Amazon Associate, I earn a very tiny commission from purchases made though the Amazon links on this site.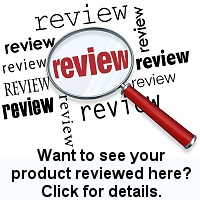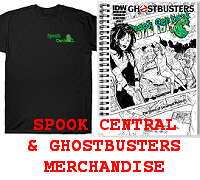 (
MY COMPARISON REVIEW
)
(
AVOID SHIPPINGEASY/STAMPS.COM
)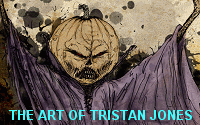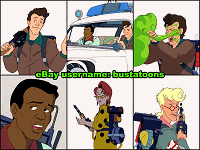 U.S. eBay (Ghostbusters stuff)
U.K. eBay (Ghostbusters stuff)