By Paul Rudoff on Jul. 25, 2021 at 12:00 PM in Home Video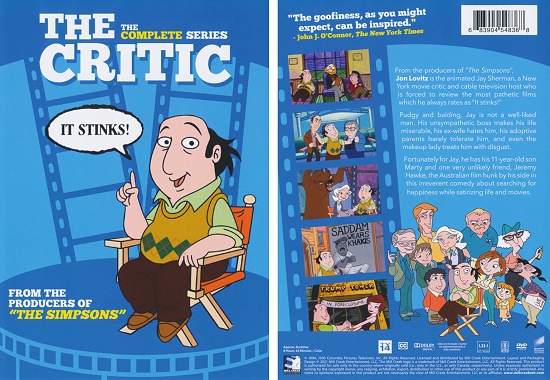 Mill Creek Entertainment recently released the
The Critic: The Complete Series 2-Disc DVD set
. Read on to find out more about it...
[ SYNOPSIS ]
Jay Sherman (Jon Lovitz) is a New York movie critic and cable television host who is forced to review the most pathetic films, which he always rates as, "It stinks." Pudgy and balding, Jay is not a well-liked man. His unsympathetic boss Duke Phillips (Charles Napier) makes his life miserable, his ex-wife Ardeth (Brenda Vaccaro) hates him, his adoptive parents Franklin (Gerrit Graham) & Eleanor Sherman (Judith Ivey) barely tolerate him, and even makeup lady Doris Grossman (Doris Grau) treats him with disgust. Fortunately for Jay, he has his 11-year-old son Marty (Christine Cavanaugh) and one very unlikely friend, Jeremy Hawke (Maurice LaMarche), the Australian film hunk, by his side in his irreverent comedy about searching for happiness while satirizing life and movies.
[ QUICK THOUGHTS ]
I enjoyed this somewhat short-lived series almost 30 years when it originally aired on ABC, and I enjoyed it just as much now. Jon Lovitz is perfectly cast as Jay Sherman, who is clearly modeled after film critic Roger Ebert. Although the show didn't last long, the Jay Sherman character was popular enough to land not one, not two, but
three
, guest spots on
The Simpsons
- in the episodes "A Star Is Burns" (1995,
Season 6
), "Hurricane Neddy" (1996,
Season 8
), and "The Ziff Who Came to Dinner" (2004,
Season 15
).
The Critic
takes some light-hearted jabs at various movies, television programs, celebrities, studios, and Hollywood business; though I found the whole episode devoted to
criticzing Ghostbusters
to be a bit mean. I can understand Jay not liking "Ghostchasers II", but to dislike the first "Ghostchasers" movie as well?!?
[ EPISODE INFORMATION ]
The two-disc set includes all 23 episodes of the seasons that aired on ABC from January 26, 1994 to May 21, 1995. The original Columbia Pictures Television logo screen at the end has been replaced with the new Sony Pictures Television logo screen. I do not believe any of the episodes to be edited, as I heard a few snippets of licensed music here and there. The Internet-exclusive
"Season 3" revival of 10 episodes
in 2000 is not included here.
Disc 1:
01. Pilot (23:10)
02. Miserable (22:44)
03. Marty's First Date (22:44)
04. Dial 'M' for Mother (22:54)
05. A Little Deb Will Do Ya (23:22)
06. Eyes on the Prize (22:54)
07. Every Doris Has Her Day (22:42)
08. Marathon Mensch (22:44)
09. L.A. Jay (23:05)
10. Dr. Jay (23:05)
11. A Day at the Races and A Night at the Opera (22:48)
12. Uneasy Rider (22:50)
13. A Pig-Boy and His Dog (22:46)
Disc 2:
14. Sherman, Woman, and Child (21:48)
15. Sherman of Arabia (22:02)
16. A Song for Margo (22:24)
17. From Chunk to Hunk (22:23)
18. Lady Hawke (22:22)
19. Frankie and Ellie Get Lost (22:11)
20. Siskel & Ebert and Jay & Alice (22:18)
21. All the Duke's Men (22:27)
22. Dukerella (22:25)
23. I Can't Believe It's Clip Show (22:25)
[ SPECIFICATIONS ]
The show is presented in a 1.33:1 aspect ratio (4:3 fullscreen). Audio languages include English (Dolby Digital 2.0). Subtitle languages include English. Chapter marks have been placed in all of the commercial break spots, with five chapters per episode (and one chapter at the very end).
[ SPECIAL FEATURES ]
There are no special features.
This is a shame, because
Sony released this series onto DVD back in 2004
with a
TON of special features
. Sony's set includes EIGHT audio commentaries featuring numerous cast and crew members, presided over by creators Al Jean and Mike Reiss. There is also a storyboard comparison feature for the episode "A Pig-Boy and His Dog", which when enabled, allows you to see the work-in-progress drawings for the episode as it plays. As if that wasn't enough, there are also "Trailer Parodies" and "Top Ten List" features which showcase most of the show's movie spoofs. In addition, there's "Creating the Critic", which is a short documentary in which Jean, Reiss, and several of the cast and crew, talk about the show's genesis and reception. Finally, "Webisodes" (34:24) contains all 10 Internet episodes (aka "Season 3"), produced in 2000 by Jean & Reiss for the Shockwave website.
[ ADDITIONAL INFORMATION ]
No Digital Copy voucher or slipsleeve is included.
[ PURCHASE LINKS ]
The Critic: The Complete Series
is available in a
2-Disc DVD set from Mill Creek
for a budget price. If you want bonus features and higher quality picture, you'll need to pick up a copy of
Sony's 3-Disc DVD set
released in 2004. Do be aware that it is out-of-print, so the cost will be MUCH higher than the Mill Creek set.
This item has been provided by Mill Creek Entertainment for review on this site.
No feedback yet
Leave a comment