By Paul Rudoff on Jul. 24, 2021 at 12:00 PM in Home Video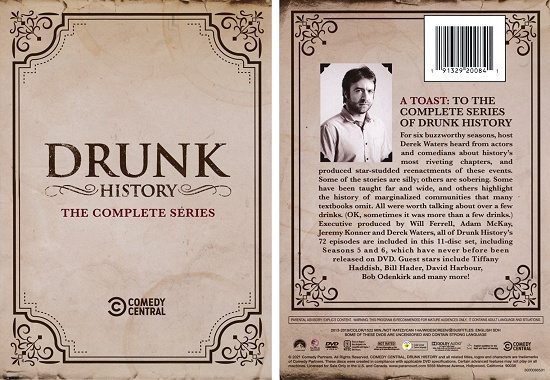 CBS Home Entertainment recently released the
Drunk History: The Complete Series DVD set
. Read on to find out more about it...
[ SYNOPSIS ]
The comedic series follows host Derek Waters and his group of inebriated guest stars as they travel through different U.S. cities while attempting to tell stories and re-enacting famous events in history. Each story is then dramatized with A-list stars who lip synch to the narration.
[ QUICK THOUGHTS ]
This is a hard show to binge watch as the "joke" gets old quickly, and some of the drunk storytellers are not as enjoyable to watch or listen to as others. Although I scanned through all of the episodes, in preparation for this review, I only watched the first three fully. One issue that was prevalent in these three episodes was that the story would stop to show us the drunk storyteller vomiting or being nauseous and falling onto the floor. I have no idea why the producers felt the need to show such things, since they not only ruined the "story" being told, but it made me (as the audience) feel bad for the storyteller. By including these things, the audience gets the feeling that the storyteller is purposely being made so drunk by the filmmakers that they are literally getting sick. This type of abuse is disgusting. Since this is a taped show, all of these things could have been edited out.
Most of the drunk storytellers are comedians, whom I either have not heard of, or only saw on Comedy Central's defunct
At Midnight series
. Some of my favorite drunk storytellers include Jen Kirkman; Jenny Slate; Paget Brewster; Hillary Ann Matthews; and the Season 6 episode "Femme Fatales" with the adorable trifecta of Sugar Lyn Beard, and Mae Whitman & Jane Levy. The re-enactment guest stars include, but are not limited to: Jack Black (as Elvis Presley), Will Forte, Winona Ryder, Terry Crews, Kristen Wiig, Owen Wilson, Luke Wilson, Aubrey Plaza, Jack McBrayer, Laura Dern, Seth Rogan, Will Ferrell, John C. Reilly, Ryan Gosling, Jim Carrey, Jordan Peele, Steven Yeun, Johnny Knoxville, Octavia Spencer, Kat Dennings, and best of all, Weird Al Yankovic as Adolf Hitler! (To see that, go to the Season 2 episode "Montgomery, AL".)
[ EPISODE INFORMATION ]
The eleven-disc set includes all 72 episodes that aired on Comedy Central from July 9, 2013 to August 6, 2019 for six seasons. Each season is on two discs, except for Season 1, which is on one disc. The episodes run 21:20 each and contain uncensored language (prepare to hear the "F-word" many times).
[ SPECIFICATIONS ]
The show is presented in a 1.78:1 aspect ratio in Anamorphic Widescreen. Audio languages include English (Dolby Digital 5.1 [also 2.0 Stereo for S1-4 only]). Subtitle languages include English SDH for all six seasons.
[ SPECIAL FEATURES ]
Here's a list of all of the special features that can be found throughout the set for Seasons 1-4 (usually on Disc 2 of each season). Seasons 5 & 6 have no special features. I won't be giving runtimes for everything, and will generally cover each set of things with a "Play All" runtime, with the full list of items listed in the description. "Sober Reveals" are where the host and drunkee provide sober commentary on their scenes.
SEASON 1: Drunk Outtakes: Chris Romano (7:12)
SEASON 1: Sober Reveal: Jen Kirkman (13:26)
SEASON 2: Montgomery: Play All (9:17) - "Allan McLeod: Drunk Outtakes", "Ben: Stay Tuned", "Deleted Scene", "Morgan Murphy: And, Uh...", and "Morgan Murphy: Ball Boxer".
SEASON 2: New York: Play All (11:00) - "A Tour of NYC with Gavin McInnes", "JD Ryznar: Bath Time", "JD Ryznar: Drunk History Spokesman", "Fancy Ray", and "Deleted Scenes".
SEASON 2: American Music: Play All (7:04) - "Ben Folds", "Colton Dunn: Beatboxer", "David Wain: Webby Award", "David Wain: Emmy Award", "David Wain: Guitar Smash", "Eric Edelstein: Advice from Johnny Cash", "Deleted Scenes: Alan Freed", and "Deleted Scenes: Kristofferson".
SEASON 2: Baltimore: Play All (28:11) - "Dinner with the Waters", "Justin Waters: Was Poe Poisoned?", "Duncan Trussell: Drunk Outtakes", "Duncan Trussell: Your Dad is Not Your Dad", "Deleted Scenes", and "Sober Reveal: Duncan Trussel".
SEASON 2: Charleston: Play All (7:51) - "Seth Weitberg: A History of Violence", "Extended Goat", "Mark Gagliardi: Ups and Downs of Jager-Bombs", and "Deal With It".
SEASON 2: Hollywood: Play All (15:15) - "Steve Berg: Rosebud", "Derek Miller: Royal Scotch", "Drew Droege: Different Strokes", "Deleted Scenes", and "Sober Reveal: Steve Berg".
SEASON 2: Hawaii: Play All (27:36) - "Aloha Spirit", "Extended Scenes", "Jonah Ray: Neil Mahoney", "Jonah Ray: Pidgeon", and "Sober Reveal: Phil Hendrie".
SEASON 2: Philadelphia: Play All (9:36) - "Chip Coffey: Search for Benedict", "Nick Rutherford: Even or Odd", "Nick Rutherford: There's A Sword?", and "Deleted Scenes".
SEASON 2: Sports Heroes: Play All (10:02) - "Preston Flagg: What Time Is It?", "Matt Jones: Drunk Outtakes", "Terrell Suggs: Extended Cut", "Preston Flagg: Backyard Decathlon", and "Deleted Scenes".
SEASON 2: First Ladies: Play All (10:24) - "Jen Kirkman: Drunk Outtakes", "Molly McAleer: Molly Loves Mustard", and "Edith Wilson: Deleted Scenes".
SEASON 3: New Jersey - "Wrestling", "Tits Listening", "Mozzarella Stick From Hell", "Uno Showdown", and "Deleted Scenes".
SEASON 3: Miami (1:04) - "President's Day".
SEASON 3: New Orleans - "Dick Apron" and "NOLA Brewing".
SEASON 3: Cleveland (3:03) - "Words are Hard".
SEASON 3: Games (1:08) - "Deleted Scene".
SEASON 3: Journalism - "News Boyz" and "Sneezing".
SEASON 3: Los Angeles (1:35) - "Deleted Scenes".
SEASON 3: New Mexico - "The Roundhouse", "Road Trip", "Derek the Cobbler", and "Conspiracy Theories".
SEASON 3: Las Vegas - "Chuckles", "Romano Rambling", and "Deleted Scenes".
SEASON 3: Space - "Wolves and Bears", "Space", and "Crayons".
SEASON 4: Extras: Play All (44:04) - "Election Special"; Extended and Deleted Scenes for "Great Escapes", "Legends", "Bar Fights", "The Roosevelts", "Scoundrels", "Siblings", "Landmarks", "Hamilton", and "S**t Shows".
[ ADDITIONAL INFORMATION ]
No Digital Copy voucher is included. The first print run includes a slipsleeve around the two-inch thick case. This two-inch thick case is one of the worst packagings I have ever seen. It's the same 12-disc/24-disc case (you can stack two discs on top of each of the 12 hubs) that CBS used in the
CSI:New York
and
Hawaii Five-0
sets. However, those sets contain OVER 50 DISCS, so the use of several of these monstrosities was a necessary evil. This set contains a MERE ELEVEN DISCS! There's no need for a space-hogging case like this. In fact, when you open this up, you'll see that the last hub is empty because, again, this is an 11-disc set in a 12-disc case. Some people may see that empty spot and think that a disc is missing. That's why I put a little note inside my case.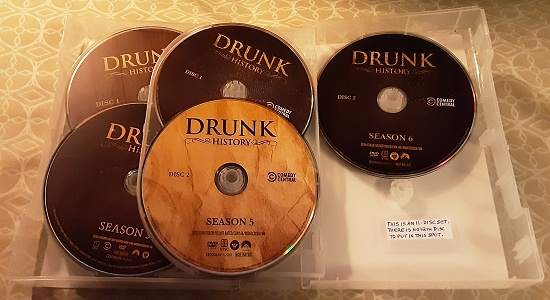 (click to enlarge)
This set SHOULD have been packaged into two standard-thickness (
14mm
) 5-disc and 6-disc cases, put inside a side-loading slipbox (which would have served the same purpose as the slipsleeve). As seen in my photo below, this would have taken up less room than this thick monster, and there would have not been any overlapping discs. It also would have allowed CBS to be able to sell the two internal multi-season sets separately, as they do with all of their other series.

(click to enlarge)
On top of all of that, the inside of the artwork is plain white, as can be seen in the first photo above. Unlike the
CSI:New York
and
Hawaii Five-0
sets, there is no set breakdown printed inside. On the plus side, the artwork is designed to look like a book, which is a nice touch.
[ PURCHASE LINKS ]
Drunk History: The Complete Series
is available on
DVD
.
This item has been provided by CBS for review on this site.
No feedback yet
Leave a comment