By Paul Rudoff on Jul. 23, 2021 at 9:39 PM in Home Video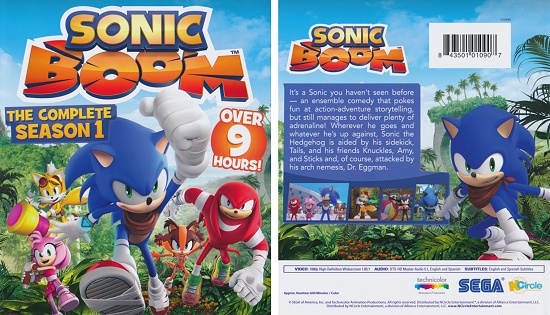 Mill Creek Entertainment and NCircle recently released the
Sonic Boom: The Complete Season 1 Blu-ray
. Read on to find out more about it...
[ SYNOPSIS ]
It's a Sonic you haven't seen before - an ensemble comedy that pokes fun at action-adventure storytelling, but still manages to deliver plenty of adrenaline! Wherever he goes and whatever he's up against, Sonic the Hedgehog (Roger Craig Smith) is aided by his sidekick, Tails (Colleen Villard), and his friends Knuckles (Travis Willingham), Amy Rose (Cindy Robinson), and Sticks (Nika Futterman). Of course, Sonic and his friends are frequently attacked by his arch nemesis, Dr. Eggman (Mike Pollock), and his hench-robots Orbot (Kirk Thornton) and Cubot (Wally Wingert).
[ QUICK THOUGHTS ]
I'll be 100% honest with all of you. I lost track of all of the Sonic animated series there have been over the past nearly 30 years. I remember the first few series with Jaleel White as the voice of Sonic, which were
Adventures of Sonic the Hedgehog (1993-1994)
,
Sonic the Hedgehog: Christmas Blast (1996)
, and
Sonic Underground (1999-2000)
. There were a few more after that, but I don't believe that I've seen any of them. I don't know what television station
Sonic Boom
originally aired on. This is my first time seeing it. I found this series to be a joy, if not a tad repetitive. It is a light-hearted comedic look at the franchise, which makes it a bit like
Star Trek: Lower Decks
, albeit kid-friendly, of course. It doesn't try to be super-serious. I'm also happy that the show features the franchise's standard voice cast, especially Roger Craig Smith as Sonic. I wish the 2020 movie would have used him, too.
[ EPISODE INFORMATION ]
The three-disc set includes all 52 stories (which should be 26 episode pairs) of the season that aired from November 8, 2014 to November 14, 2015. Each story runs for 11:38 and includes the same show opening and end credits.
Disc 1:
01. "The Sidekick"
02. "Can an Evil Genius Crash on Your Couch for a Few Days?"
03. "Translate This"
04. "Buster"
05. "My Fair Sticksy"
06. "Fortress of Squalitude"
07. "Double Doomsday"
08. "Eggheads"
09. "Guilt Tripping"
10. "Dude, Where's My Eggman?"
11. "Cowbot"
12. "Circus of Plunders"
13. "Unlucky Knuckles"
14. "The Meteor"
15. "Aim Low"
16. "How to Succeed in Evil Without Really Trying"
17. "Don't Judge Me"
Disc 2:
18. "Dr. Eggman's Tomato Sauce"
19. "Sole Power"
20. "Hedgehog Day"
21. "Sleeping Giant"
22. "The Curse of the Buddy-Buddy Temple"
23. "Let's Play Musical Friends"
24. "Late Fees"
25. "Into the Wilderness"
26. "Eggman Unplugged"
27. "Chez Amy"
28. "Blue with Envy"
29. "The Curse of the Cross-Eyed Moose"
30. "Chili Dog Day Afternoon"
31. "Closed Door Policy"
32. "Mayor Knuckles"
33. "Eggman the Auteur"
34. "Just a Guy"
35. "Two Good to Be True"
Disc 3:
36. "Beyond the Valley of Cubots"
37. "Next Top Villain"
38. "New Year's Retribution"
39. "Battle of the Boy Bands"
40. "Tails' Crush"
41. "Bro Down Showdown"
42. "Late Night Wars"
43. "Fire in a Crowded Workshop"
44. "It Wasn't Me, It Was the One-Armed Hedge"
45. "Robot Battle Royale"
46. "No Robots Allowed"
47. "Fuzzy Puppy Buddies"
48. "Designated Heroes"
49. "Role Models"
50. "Cabin Fever"
51. "Counter Productive"
52. "It Takes a Village to Defeat a Hedgehog"
[ SPECIFICATIONS ]
The show is presented in a 1.78:1 aspect ratio. Audio languages include English (DTS-HD Master Audio 5.1), Spanish (Dolby Digital 2.0). Subtitle languages include English.
[ SPECIAL FEATURES ]
Here's a list of all of the special features that can be found on Disc 3 (not counting disc boot-up and post-episode advertisements on each disc).
Team Sonic Racing Trailer (1:02) - An advertisement for the 2019 video game.
Sonic 101 (2:18) - A 2020 or 2021 promotional video giving the history of the franchise.
Sonic the Hedgehog Movie Trailer (1:05) - An advertisement for the 2020 movie, which I previously reviewed.
Sonic Mania Trailer (0:31) - An advertisement for the 2017 video game.
Sonic Dash Mobile Trailer (0:37) - An advertisement for the 2013 video game.
Sonic the Hedgehog Green Hill Zone Playset Ad (0:33) - An advertisement for the 2020 toy by Jakks Pacific.
Concepts and Designs - This is a collection of 25 still images of artwork from the series.
[ ADDITIONAL INFORMATION ]
No Digital Copy voucher or slipsleeve is included.
[ PURCHASE LINKS ]
Sonic Boom: The Complete Season 1
is available on
Blu-ray
. The
Season 2 Blu-ray
, which will complete the series, is set for release on September 21, 2021.
This item has been provided by Mill Creek Entertainment for review on this site.
No feedback yet
Leave a comment