By Paul Rudoff on Jul. 22, 2021 at 11:50 PM in Home Video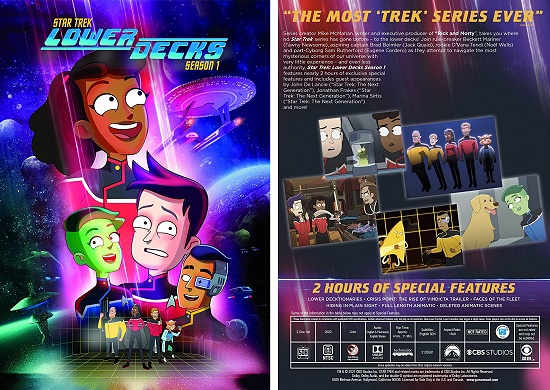 Star Trek: Lower Decks: Season 1
is the latest installment in the long-running
Star Trek franchise
. Read on to find out more about it...
[ SYNOPSIS ]
Star Trek: Lower Decks
focuses on the support crew serving on one of Starfleet's least important ships, the U.S.S. Cerritos, in 2380. Ensigns Beckett Mariner (Tawny Newsome), Brad Boimler (Jack Quaid), Samanthan Rutherford (Eugene Cordero) and D'Vana Tendi (Noël Wells) have to keep up with their duties and their social lives, while the ship is being rocked by a multitude of sci-fi anomalies. The Starfleet characters that comprise the ship's bridge crew include Captain Carol Freeman (Dawnn Lewis), Commander Jack Ransom (Jerry O'Connell), Lieutenant Shaxs (Fred Tatasciore), and Doctor T'Ana (Gillian Vigman).
[ QUICK THOUGHTS ]
This is the first
Star Trek
animated series since the
1973 Filmation series
, and the first comedy series in the franchise. Although the visual style reminds me of another show about space explorers,
Final Space
, the workplace levity of the situations reminds me of the space explorers on
The Orville
. Each episode is pretty much self-contained without any continuous story, so you can jump in at any point. Ensign Beckett Mariner is the stand-out, and Tawny Newsome does a great job with her voice. The only negative I have is that the show features one of my biggest Pet Peeves: It's an over-the-air series that frequently uses cuss words that are bleeped out. Either unbleep them for home video or don't use them in the first place. It's annoying.
[ EPISODE INFORMATION ]
The two-disc set includes all 10 episodes of the season that aired on the CBS All Access (now Paramount+) streaming service from August 5 through October 8, 2020.
Disc 1:
01. "Second Contact" (24:34)
02. "Envoys" (24:39)
03. "Temporal Edict" (23:46)
04. "Moist Vessel" (25:04)
05. "Cupid's Errant Arrow" (24:33)
Disc 2:
06. "Terminal Provocations" (24:31)
07. "Much Ado About Boimler" (25:00)
08. "Veritas" (24:43)
09. "Crisis Point" (26:30)
10. "No Small Parts" (27:57)
[ SPECIFICATIONS ]
The show is presented in a 1.78:1 aspect ratio in Anamorphic Widescreen. Audio languages include English (Dolby Digital 5.1 & 2.0). Subtitle languages include English SDH.
[ SPECIAL FEATURES ]
Here's a list of all of the special features that can be found throughout the set. Each "Lower Decktionary" is listed under specific episodes even though they seem to be about the series as a whole and not that specific episode.
Lower Decktionary: Joining Starfleet (Episode 101) (6:22) - Producers and crew discuss the development of season one from storyline to visual artistry.
"Second Contact" Full Length Animatic (22:28) - The premiere episode in a very basic animated state.
"Second Contact" Deleted Animatic (1:03) - An unused and unfinished scene from this episode.
Lower Decktionary: Aliens Among Us (Episode 102) (7:31) - Dives into the different aliens Ensigns Brad Boimler and Beckett Mariner encounter as they escort K'orin to the Tulgana 4 planet.
Lower Decktionary: The Animation Process (Episode 103) (8:09) - A look at the efficiency and creativity needed to put together an episode of "Lower Decks" in this other worldly look at the animation process.
Lower Decktionary: The Main Titles (Episode 104) (7:15) - Immersed in the creation of the episode's title sequence, the featurette explores the graphic design and thematic music developed for Lower Decks.
"Moist Vessel" Deleted Animatic (1:19) - Two unused and unfinished scenes from this episode.
Lower Decktionary: Art Design (Episode 105) (4:59) - A look at characters' style and the sets that elevate the animated on-screen adventures of the U.S.S. Cerritos.
Lower Decktionary: The Holodeck (Episode 106) (6:32) - Including interviews with cast and creatives, the featurette highlights what Holodeck experience they would like, how characters use it, and how it's not only used for skills training, but sanity.
Lower Decktionary: Division 14 (Episode 107) (4:05) - Not everything goes right for Starfleet - catch up with Division 14 who is tasked with dealing with all the unexpected mishaps.
Lower Decktionary: Deck Dynamics (Episode 108) (5:06) - A dive into the upper and lower deck dynamics, and how their comedic interactions contribute to the storyline throughout season one.
Lower Decktionary: The Music of Lower Decks (Episode 109) (6:19) - Star Trek music is iconic. Explore how traditional themes have been integrated into Lower Decks and the episode's in-story movie in this deep dive into the differences of scoring for animation versus live action, and comedy versus drama.
Crisis Point: The Rise of Vindicta Trailer (1:28) - An exclusive, over-the top action trailer based on the in-episode movie from "Crisis Point."
Lower Decktionary: All in the Family (Episode 110) (6:31) – As the debut comes to a close, fans can take a look at evolution of the crew and their relationships over the last year, and how Lower Decks fits into the Star Trek family as a few legacy characters appear.
Faces of the Fleet (24:42) – A deep dive into the crew of the U.S.S. Cerritos, alongside producers, writers and the cast of Star Trek: Lower Decks. Highlighting character backstories and the behind-the-scenes development of their hilarious on-screen personalities, this exclusive featurette takes a look at Ensigns Beckett Mariner, Brad Boimler, Samanthan Rutherford, D'Vana Tendi, and more.
Hiding in Plain Sight (7:39) - An inside look at canon and hidden Easter eggs throughout the series, including freeze frame images and insightful commentary from producers, creatives and cast.
[ ADDITIONAL INFORMATION ]
No Digital Copy voucher is included. The first print run includes a slipsleeve.
[ PURCHASE LINKS ]
Star Trek: Lower Decks: Season 1
is available on
Blu-ray
,
Blu-ray in Steelbook Packaging
, and
DVD
. Any version is highly recommended, as all contain the same special features.
This item has been provided by CBS for review on this site.
No feedback yet
Leave a comment