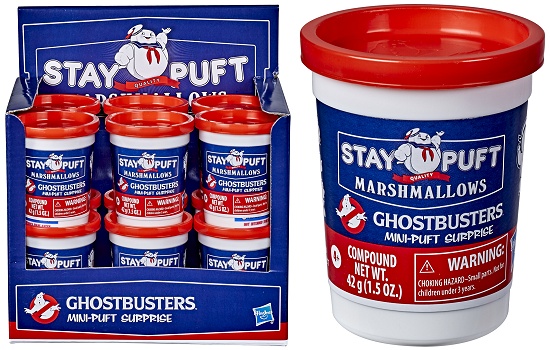 One of Hasbro's latest Ghostbusters offerings is the
Mini-Puft Surprise canisters
, which they sent me as part of the
Ghostbusters Training Kit
. Read on to find out more about it...
The official description for this product is:
GHOSTBUSTERS MINI-PUFT SURPRISE
(Ages 4 and Up / Approx. Retail Price: $5.99 / Available: Fall 2021)
No matter what supernatural sticky situation they may have to face, the Ghostbusters are ready to answer the call! Kids and collectors alike can imagine ooey-gooey encounters of the marshmallow kind with Mini-Puft Surprise figures from Ghostbusters! Dig into the goopy marshmallow-like compound to discover which Mini-Puft Surprise figure is buried inside. Reload the can with the compound and figure over and over to dig up even more ghostly good times! With 6 unique figures available, boys and girls can collect them all (Each sold separately. Subject to availability.) Look for other movie- and entertainment-inspired Ghostbusters toys to scare up a spooky collection (Each sold separately. Subject to availability) These 1.5-inch-scale figures are detailed to look the characters from the 2021 Ghostbusters: Afterlife movie!
Back in the 1980s, Kenner released little plastic canisters of Ecto Plasm, each containing a surprise mini-ghost inside. Hasbro decided to build upon the idea with the adorable Mini-Pufts from
Ghostbusters: Afterlife
. In this case, instead of slime, the canisters are filled with an INEDIBLE faux
Marshmallow Fluff
. Buried inside this "gooey compound" (as the retail box calls it) is a 1.5"-2" little Mini-Puft figure, though he's double-bagged to prevent unwanted pregnancy. No glove, no love, kids.
Each canister, which has a red lid with the No Ghost logo branded on it, has a paperboard wrap around it featuring the blue and white "Stay Puft Marshmallows" branding. Remove that wrap, and you'll find a beautiful "Mini Stay Puft" logo printed on the plastic canister itself.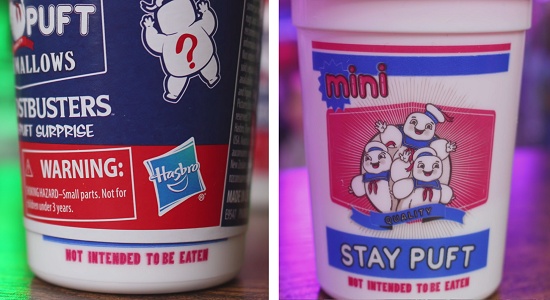 You will find these in stores in display boxes containing 12 canisters. Although intended to be a "blind bag", you can actually tell which figure is inside if you grab your magnifying glass, or your reading glasses, and look for the nearly-hidden manufacturing code imprinted on the side of the white plastic canister just below the red lid.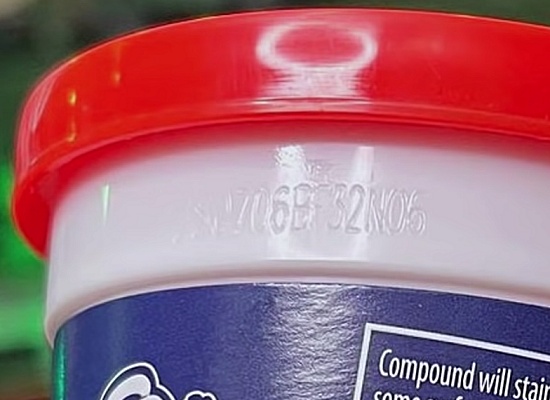 The last three characters on the right are the important part. The number after the "N" tells you which figure is inside. It is assumed that Series 2 would contain figures numbered "N07" through "N12", and Series 3 would have N13" to N18".
N01: Melted Mini-Puft
N02: Mini-Puft Eating Chocolate
N03: Mini-Puft with Drum
N04: Rocket Mini-Puft
N05: Mini-Puft on Fire
N06: Mini-Puft with Pencil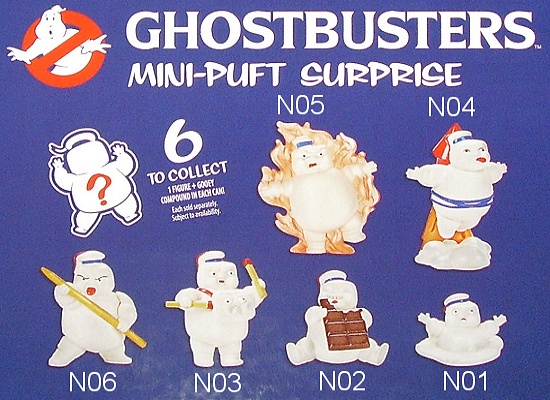 (retail box back, with numbers added - click for full back box photo)
If you can look at that number in the store, you will be able to
only
buy the six canisters you need for a complete set (assuming all six are in stock), which is great considering these things are nearly $6.00 each! Yes, a set will cost you about $36.00 at regular retail pricing. Expect to pay a lot more than that on eBay. Of course, buying a pre-made set on eBay means you'll have the luxury of avoiding the one thing EVERYONE hates about these Mini-Puft Surprise canisters: THE CRAP INSIDE!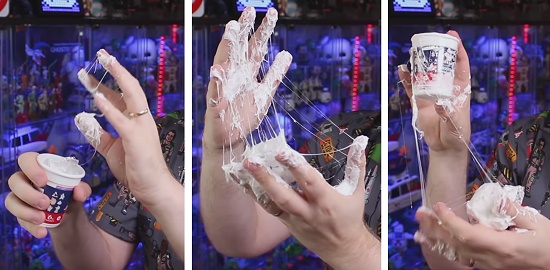 (Jason from
Ghostbusters News
demonstrating the messiness)
Knowing the horror that awaited me, I opened all six of my canisters - I scoped the numbers on all of them so I'd know
exactly
which six to open to make the set - in the kitchen sink, and it was
still
an utter nightmare. That crap - and yes, it reminds me of bird poop - made a utter mess of my sink! I was doing my best to keep everything clean (impossible!), and all figures dry (which I did), but man oh man was it NOT fun. If you have little kids, do NOT buy this for them. Sure, they'll love the stuff, but you will NOT love having to clean up the mess they make around the house. (Side Note: In writing this article, I did not want to re-open the re-sealed canisters and have to deal with the remains of the goop just to take some photos of the stuff inside. So, I grabbed some frames from Jason's review video (link at the end), which is the source for the three-frame composite above. I try not to "take from others", but there was no way in Hell I was going to clean up that mess again.)
Adding insult to injury: foreign markets have the same figures in blind bags *WITHOUT* the compound to dig through. Why does Hasbro hate all of us Americans?!?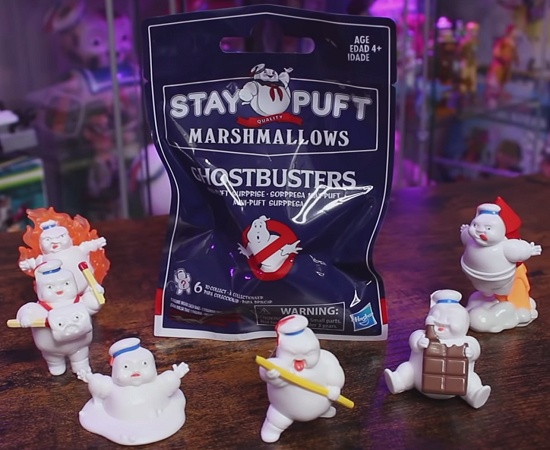 (bag found in a Canadian Toys R Us)
After all of that detailing of the canisters and the gunk, let's take a look at each of the six little vinyl/plastic figures. Each is roughly 1.5" to 2" tall. Details are decent, but far from perfect, especially the eyes.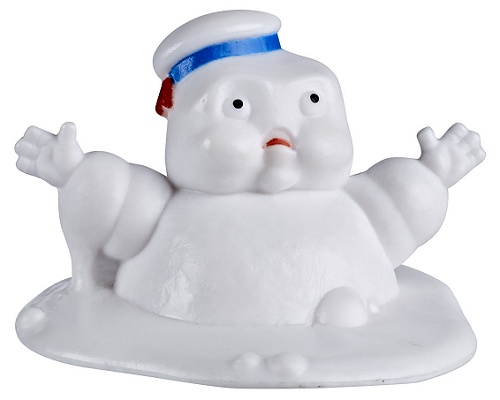 N01: Melted Mini-Puft
- Oh, no! What a predicament this little guy has gotten himself into. We can't hear his final words, but I'm guessing they'd be something along the lines of, "I'm melting, melting. Ohhhhh, what a world, what a world..."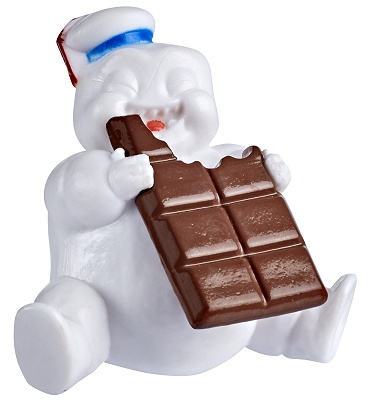 N02: Mini-Puft Eating Chocolate
- He's just sitting there gleefully eating a chocolate bar without a care in the world.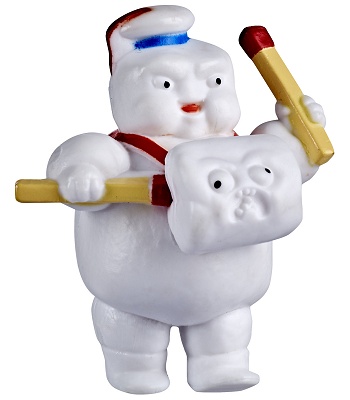 N03: Mini-Puft with Drum
- Well, that ain't right. He's pulled off his brethren's head and is beating it like a drum with some matchsticks. Is he trying to recreate
Archibald Willard's "The Spirit of '76"
? Of note is the detail on the "drum" head. The eyes are purposely wonky, and his teeth are all mangled. What kind of horrors did the Little Drummer Puft put this guy through?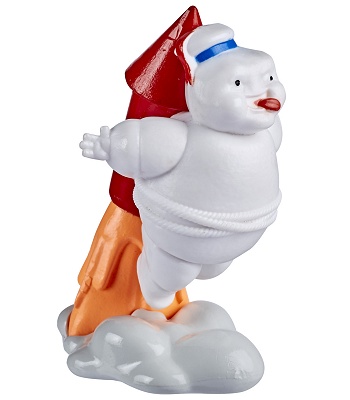 N04: Rocket Mini-Puft
- I think it's gonna be a long, long time until this Rocket Puft touches down upon Earth again. I don't think that he cares, as he looks awfully happy to be going to infinity and beyond!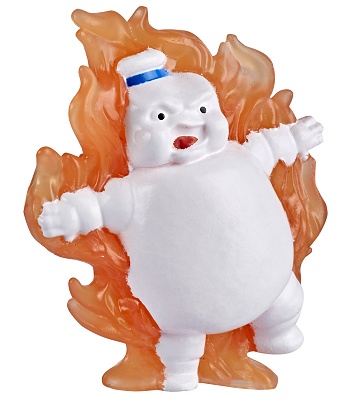 N05: Mini-Puft on Fire
- It smells like toasted marshmallow in here. Oh, that's why. Anyone have a fire extinguisher handy?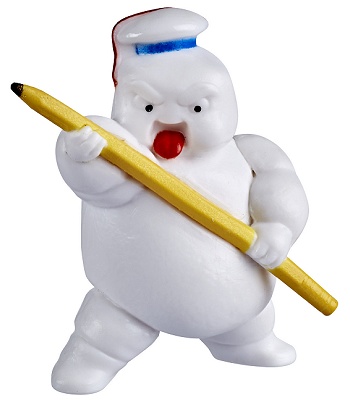 N06: Mini-Puft with Pencil
- While all of his brothers are busy wreaking havoc, this guy is studying hard to better himself. He's picked out the right
#2 Ticonderoga
and is ready to hit the books. Now if only his sinister siblings would give him some peace and quiet.
As I previously mentioned, these six figures are only Series 1. Hasbro has, at least, two more series planned.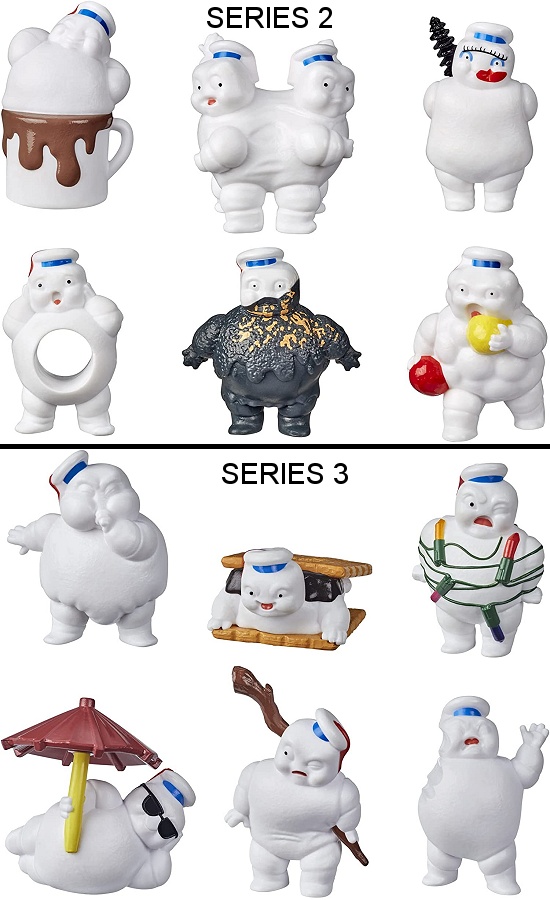 I sincerely hope that the fine folks at Hasbro have read all of the negative feedback regarding the marshmallow mess, and ditch it by the time Series 2 (and 3) goes into production.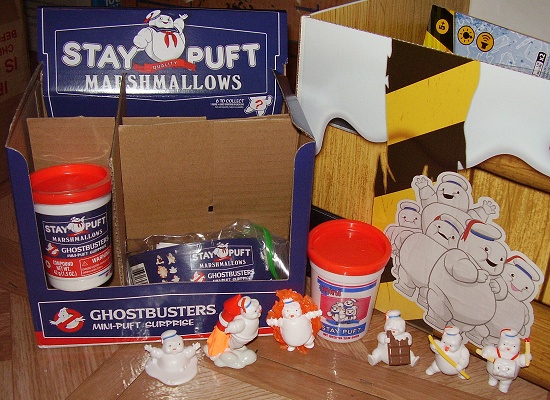 (My Mini-Puft Surprise Collection [some canisters not shown], click to enlarge)
The
Ghostbusters Mini-Puft Surprise
canisters carry a MSRP of $5.99 each and are available from a wide variety of retailers. The links provided here are for Amazon, from which Spook Central will earn a small commission.
Images photographed by me, provided by Hasbro, and provided by Jason Fitzsimmons of Ghostbusters News (used with permission). Four canisters were provided by Hasbro for review on this site; the other ten canisters and the retail display box were purchased from Target with my own money. For addition information, check out the
Ghostbusters News review
, which was the source for the canister codes (at 1:35 in the video).
No feedback yet
Leave a comment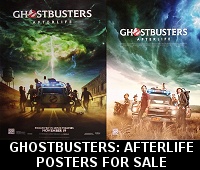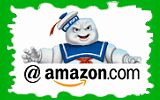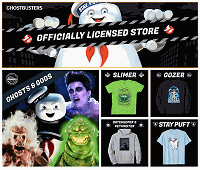 Please be aware that as an Amazon Associate, I earn a very tiny commission from purchases made though the Amazon links on this site.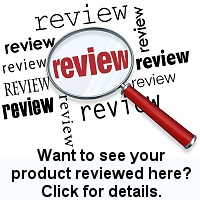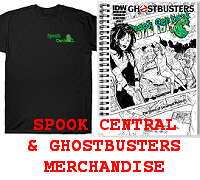 (
MY COMPARISON REVIEW
)
(
AVOID SHIPPINGEASY/STAMPS.COM
)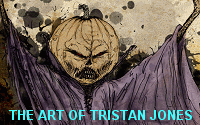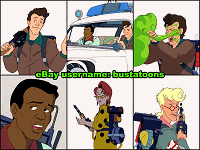 U.S. eBay (Ghostbusters stuff)
U.K. eBay (Ghostbusters stuff)