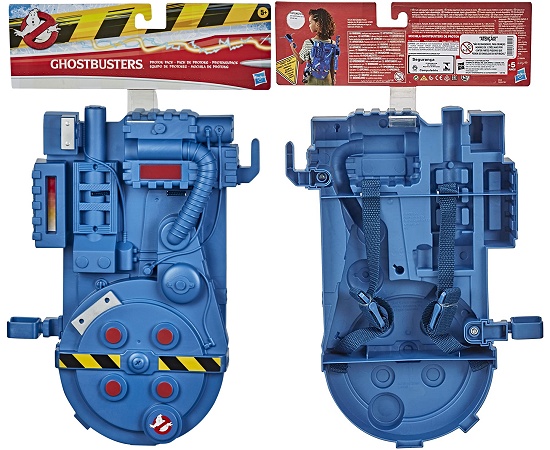 One of Hasbro's latest Ghostbusters offerings is the
Proton Pack roleplay toy
, which they sent me as part of the
Ghostbusters Training Kit
. Read on to find out more about it...
The official description for this product is:
GHOSTBUSTERS PROTON PACK
(Ages 5 and Up / Approx. Retail Price: $14.99)
Strap on the GHOSTBUSTERS Proton Pack toy from Hasbro for fun, ghostbusting roleplay. With design and deco inspired by the new GHOSTBUSTERS: Afterlife movie, kids can imagine gearing up for ghostbustin' adventures! The Proton Pack can store other ghostbusting role-play accessories (Sold separately. Subject to availability) and features two straps for an adjustable fit.
If you grew up in the 1980s, there's a good chance that you owned
Kenner's Proton Pack
. I certainly did.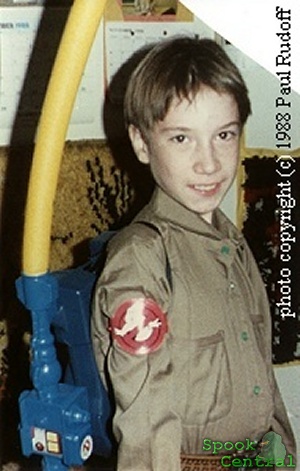 For $21.99 in 1988s Dollars (
$50.99 in 2021
), you not only got a Proton Pack, but also a Nutrona Blaster (connected to the pack) with a foam "stream", a P.K.E. Meter, an armband, and an ID card.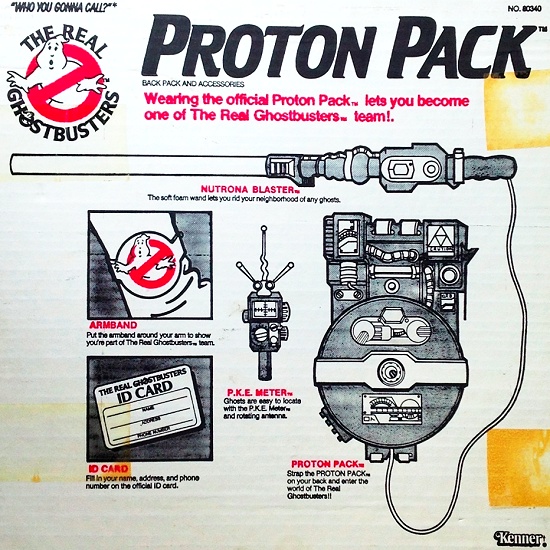 Rather than give kids a complete package like Kenner did, Hasbro has chosen to sell everything separately. The
Proton Pack
,
Ghost Whistle
(more on that in a future review), and
P.K.E. Shocker (Meter)
will cost you around $16.00 each. As for the Neutrona Wand (what Kenner called a "Nutrona Blaster"), you'll have to choose whether you want the no-frills
Proton Blaster
for about $15, or the
Proton Blaster M.O.D.
with lights and sounds for around $32. The equivalent of the Kenner set would be the Proton Pack, P.K.E. Shocker, and no-frills Proton Blaster. That would be about $48 in total, and you still wouldn't get an armband or ID card.
I'm really getting ahead of myself here. Let's look at the Proton Pack by itself. I'll review the other children's roleplay toys over each of the next few days.
All of Hasbro's children's roleplay toys are colored blue, just like the classic Kenner children's roleplay toys. That's cool. The Hasbro pack is designed to look like the one in the movies, while Kenner's was made to look like the one from
The Real Ghostbusters
animated series. The Hasbro pack measures 10"W x 14"H x 2"D, which makes it sized right for a small child, but not for an adult. The Kenner pack was a hollow piece of hard plastic, while the Hasbro pack is just a thin sheet of hard plastic with NO backing! While it's about 2" thick on the sides, it's a half inch (or less) thick overall. I understand that they're trying to cut costs by using less material, but Hasbro should have put a large piece of foam on the back so there would be something soft against kid's backs.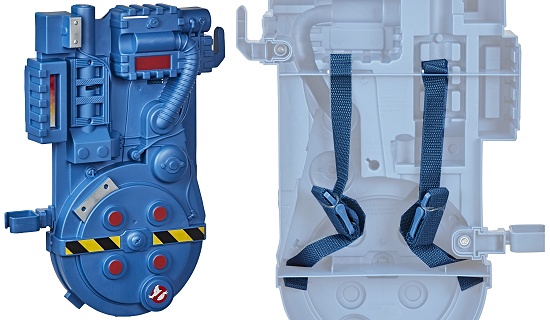 Since you have to buy the blaster separately, it's quite obvious that the PROTON BLASTER (NEUTRONA WAND) IS NOT CONNECTED TO THE PROTON PACK! Now, if we were to look at this item as if it were a real Proton Pack, it simply would not work. It's BROKEN! You see, the Proton Blaster (Neutrona Wand) and the Proton Pack are meant to be connected together via a hose. The way the technology is supposed to work, if this were all real, is that the components in the pack generate the protons that come out from the wand as a stream, which is then fired at the ghost. They are not wireless. The Proton Pack is not Bluetooth-enabled.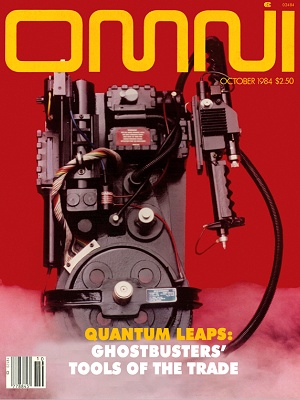 I think I know why Hasbro did this. For starters, it allows them to sell the blaster separately; with the customer having a choice between the no-frills and deluxe versions. I think the other reason is the bigger one: The cord that would connect the blaster to the pack (like in the Kenner pack) could be considered a strangulation hazard now. It's probably a little bit of both. Such a shame, since I think it looks stupid unconnected, but I'm sure the little kids this is intended for won't care.
In and of itself, the Proton Pack is much of nothing. No kids will have fun playing with this by itself. They could make their own Proton Pack with a cardboard box and have the same "fun". You MUST buy the accessories in order for the Proton Pack to have any value. What Hasbro's Proton Pack really is is a "holder" for the Proton Blaster (regular or M.O.D.) and the P.K.E. Shocker or Ghost Whistle that you wear on your back that just happens to be shaped like a Proton Pack. If kids are able to believe that it, magically, has a connection to their blaster and is an important part of their roleplay fun, then the more power to them. Otherwise, it doesn't do anything that a utility belt wouldn't also do. Here's a photo from
Toy Fair in February 2020
showing off the pack holding the accessories; with a Ghost Whistle on the lower left hook (you could put the P.K.E. Shocker there instead), and the no-frills Proton Blaster hanging on the upper right hook.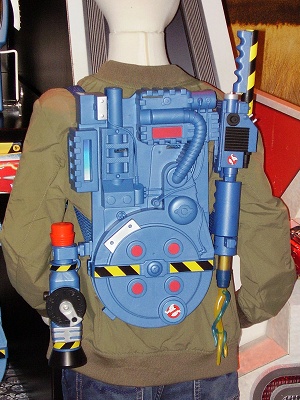 The
Proton Pack
carries a MSRP of $14.99 and is available from a wide variety of retailers. The links provided here are for Amazon, from which Spook Central will earn a small commission.
Toy Fair images photographed by me, product images provided by Hasbro, and all other images were found online. This item has been provided by Hasbro for review on this site. For addition information, check out the
Ghostbusters News review
.
No feedback yet
Leave a comment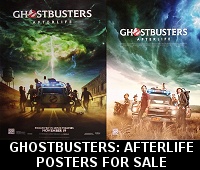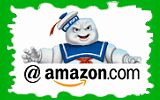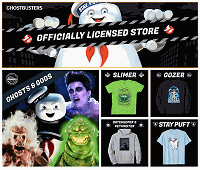 Please be aware that as an Amazon Associate, I earn a very tiny commission from purchases made though the Amazon links on this site.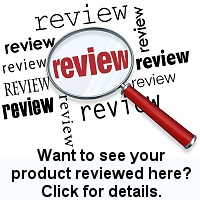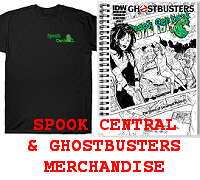 (
MY COMPARISON REVIEW
)
(
AVOID SHIPPINGEASY/STAMPS.COM
)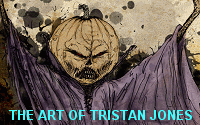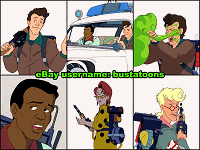 U.S. eBay (Ghostbusters stuff)
U.K. eBay (Ghostbusters stuff)