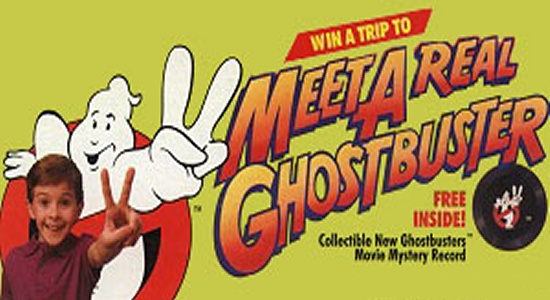 Back in 1989, to coincide with the release of
Ghostbusters II
, Ralston-Purina, makers of the Ghostbusters cereal, held a contest to meet an actual Ghostbuster. To win the contest, kids would look inside their box of Ralston-brand cereal - be it Ghostbusters, Cookie Crisp, or Dinersaurs - to find a
Flexi-disc
record inside. What was on it? Read on to find out...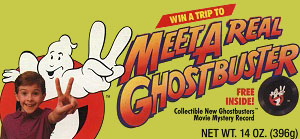 (click for full box scan [
VIPs get more boxes
])
The recording on the Flexi-disc featured an announcer (Rob Paulsen) and "Egon Spengler" (Maurice Lamarche from
The Real Ghostbusters
). (Rob and Maurice would later go on to be Pinky and the Brain.) Over a minute was spent telling kids to see the new movie before Egon read a series of really easy questions. Kids would then send in their answers in the hopes of winning. It is not known who actually won, and which "real Ghostbuster" they met.
There were two versions of the Flexi-disc. (Buy more cereal kids!) Essentially, they are both the same, audio wise, only Egon asks a different set of questions. Both discs are black, but one is printed in blue/white, and the other is printed in gold.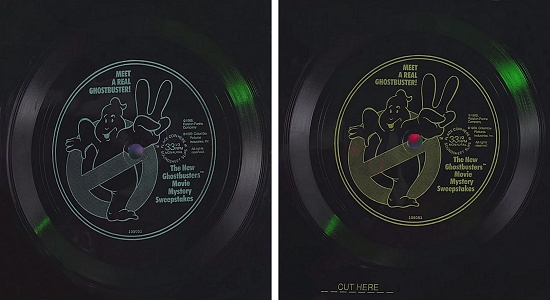 Version 1: Blue (2:29, 3.5Mb, 192kBit/s, 44100Hz, Stereo)
1. Name the woman who works at the art museum who's Peter Venkman's girlfriend?
2. On what holiday does the big bust happen at the end of the movie?
3. What U.S. monument do the Ghostbusters work from to save the city?
Version 2: Gold (2:31, 1.8Mb, 96kBit/s, 44100Hz, Mono)
1. In what city does the new Ghostbusters movie take place?
2. What lurks beneath the city and is the Ghostbusters biggest bust?
3. What must people do to ward off this evil?
Here's the television commercial for the cereal which advertises this contest at the end.

Version 1 and the full box scan were provided by myself, Paul Rudoff. Version 2 and the "Meet a Ghostbuster" header image was provided by
Chris Stewart
(used with permission). Flexi-disc images provided by
Ghostbusters News
(
Gold one here
).
No feedback yet
Leave a comment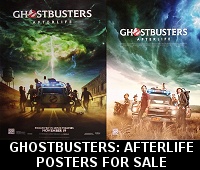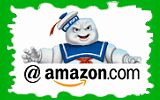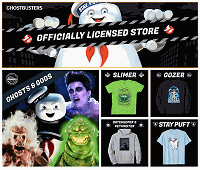 Please be aware that as an Amazon Associate, I earn a very tiny commission from purchases made though the Amazon links on this site.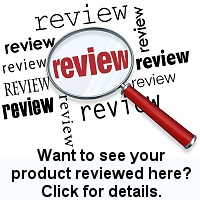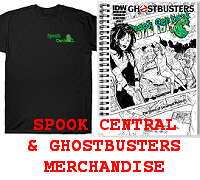 (
MY COMPARISON REVIEW
)
(
AVOID SHIPPINGEASY/STAMPS.COM
)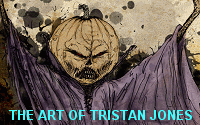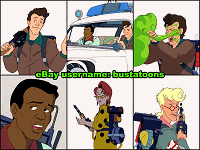 U.S. eBay (Ghostbusters stuff)
U.K. eBay (Ghostbusters stuff)