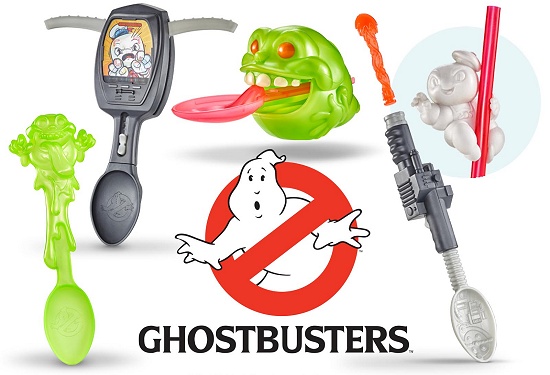 Last week, the
Sonic Drive-In restaurant chain
added Ghostbusters spoons and a "straw buddy" to their
Wacky Pack! kid's meal
as the October and November 2022 promotion. Read on to find out more about it...
Before I get into this, I would like to send a HUGE THANK YOU to all of the Spook Central VIPs for providing the funds that allowed me to buy this item and review it for all of you. This item was NOT provided by the manufacturer.
Now, let's watch Sonic's official video for the promotion. Don't bother turning on your speakers because it's silent. (You can
download the 1920x920 original
from Sonic's site right now.)

As the video shows, the collection includes the five items listed below, all of which were designed and distributed by
C3 Brand Marketing of Overland Park, Kansas
.
Proton Blaster Spoon
P.K.E. Meter Spoon
Glow-in-the-Dark Slimer Spoon
Slurpin' Slimer Spoon
Stay Puft Straw Buddy
The official description for the collection is as follows...
Ghostbusters spoons and straw buddies are here to make your favorite SONIC eats and treats taste even better!

There are 5 Ghostbusters surprises to find in the Wacky Pack Kids Meal for 5 different ways to make any meal more fun - P.K.E. meter, Proton Blaster and Slimer Tongue action spoons, a glow-in-the-dark Slimer spoon, and a Stay Puft straw buddy!

And parents, don't forget: the original Ghostbusters is available on disc and digital!

Only at participating locations for a limited time and while supplies last! Valid for one toy per Wacky Pack Kids Meal.
TM & © 2022 Columbia Pictures Industries, Inc. All Rights Reserved.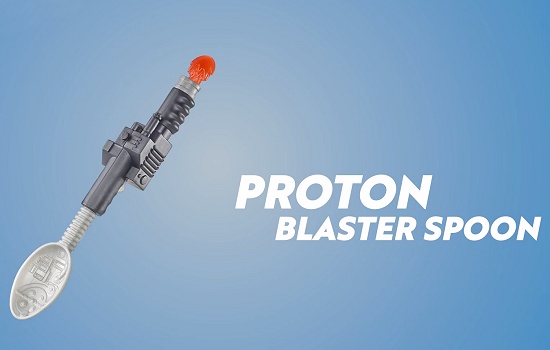 Proton Blaster Spoon
The spoon handle is designed to look like a Neutrona Wand, while the scoop has a bit of a Proton Pack and Cyclotron embedded in it. A small "Proton Stream" goes into the tip of the handle and pops out when the trigger is pressed.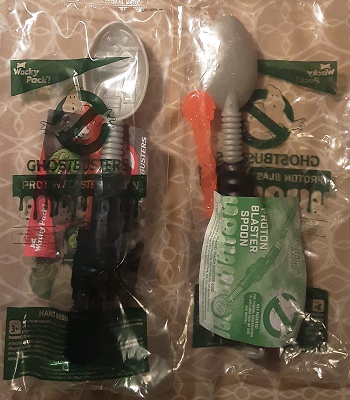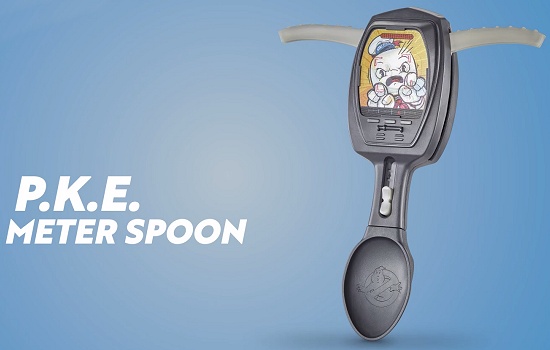 P.K.E. Meter Spoon
The spoon handle is designed to look like a P.K.E. Meter, while the scoop has a No Ghost Logo embedded in it. On the handle is a little switch that when slid causes the wings on the Meter to extend outward. On the face of the Meter is a lenticular image of a Mini Puft, which alternates between a happy and angry little guy.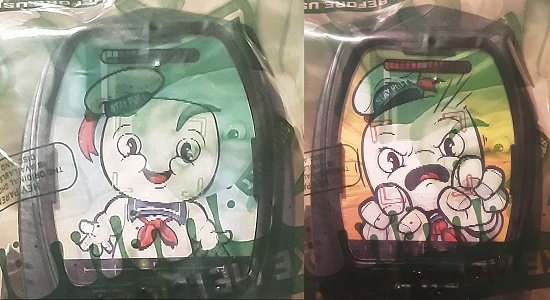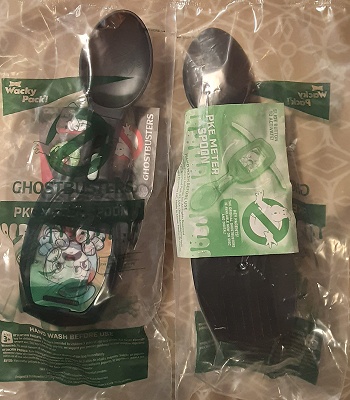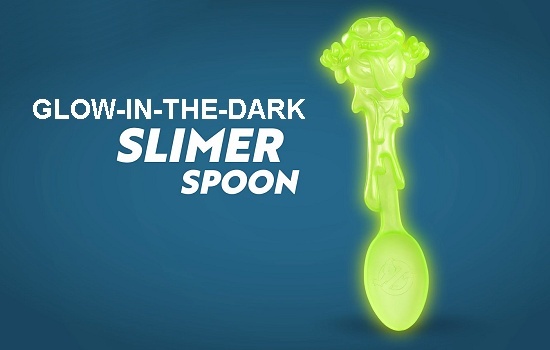 Glow-in-the-Dark Slimer Spoon
The spoon handle is designed to look like Slimer with slime oozing off his bottom and dripping down the handle to the scoop, which has a No Ghost Logo embedded in it. This spoon glows in the dark.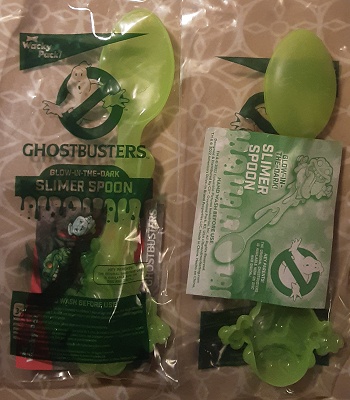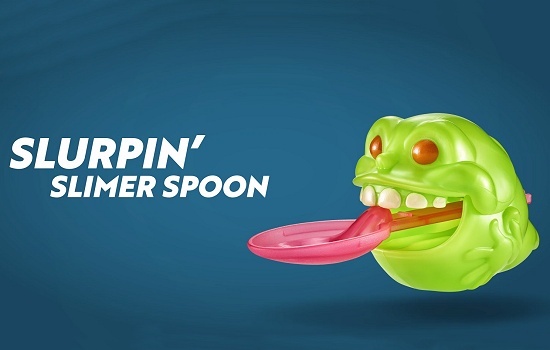 Slurpin' Slimer Spoon
This spoon is unique in that it isn't designed to resemble a normal spoon. The "handle" is Slimer's bulbous body, while the "scoop" is his pink tongue that extends out from his mouth.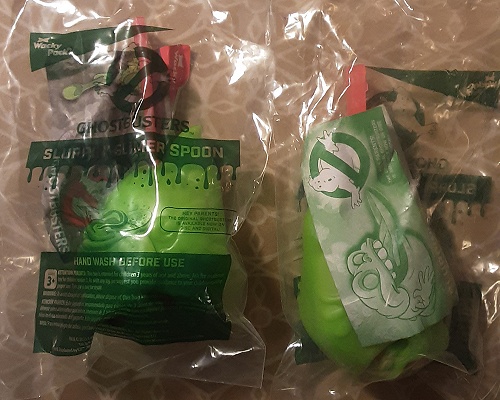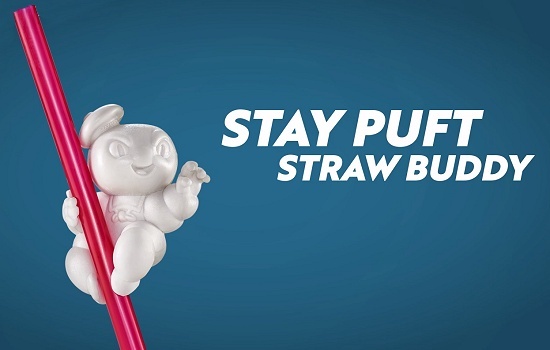 Stay Puft Straw Buddy
The oddity of the set as it is the only item that is
not
a spoon. It's a "straw buddy", which is a little Stay Puft (or Mini Puft) that clips onto a straw (not provided). The concept is exactly the same as
Neca's Scalers line
of wire clips. Also, this is the only item not in see-through packaging.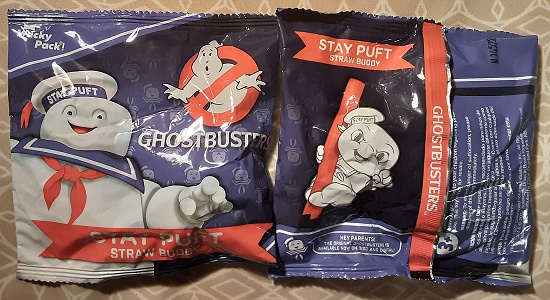 The collection of Ghostbusters spoons (and one straw buddy) should be available right now at a Sonic Drive-In near you (there are
locations in 46 of the 50 United States
). The Sonic here in Valley Stream, New York charged me a mere $6.42 (with tax) for two complete sets of the five items (10 items in total). That's just $0.64 each! A
Ghostbusters News reader
in Greensburg, Indiana reported being charged $1.09 each by their local Sonic restaurant. So, I'm thinking that there is no set price, and it's up to each individual restaurant to decide how much they want to charge.
Long story short: If you want them, GO TO SONIC NOW!!! (Assuming they have restaurants in your state.) For prices that low, even if it's not something you'd normally get, buy a set or two "just because". You know the eBay prices will be triple that!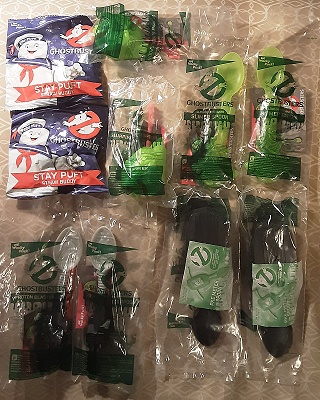 No feedback yet
Leave a comment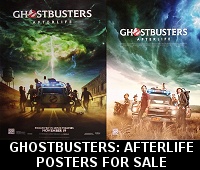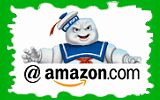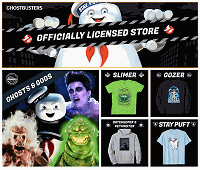 Please be aware that as an Amazon Associate, I earn a very tiny commission from purchases made though the Amazon links on this site.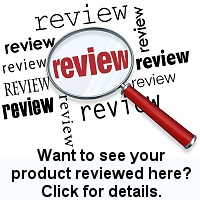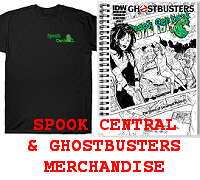 (
MY COMPARISON REVIEW
)
(
AVOID SHIPPINGEASY/STAMPS.COM
)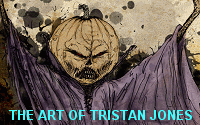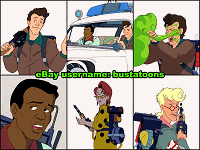 U.S. eBay (Ghostbusters stuff)
U.K. eBay (Ghostbusters stuff)