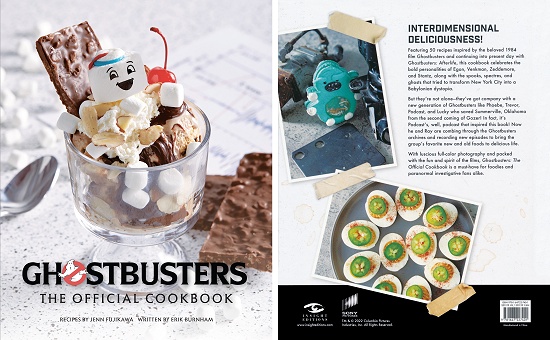 Insight Editions just released
Ghostbusters: The Official Cookbook
by Jenn Fujikawa and Erik Burnham. Let's take a closer look at it...
This first official Ghostbusters cookbook has been produced as a hardcover book, roughly 8"x10" on the inside, with 128 pages, featuring high-quality printing on thick paper. The recipes were created by noted food author
Jenn Fujikawa
, while the in-character text was written by IDW Ghostbusters comic writer
Erik Burnham
. It is described on the back cover as such:
Featuring more than 50 recipes inspired by the beloved 1984 film Ghostbusters and continuing into the present day with Ghostbusters: Afterlife, this cookbook celebrates the bold personalities of Egon, Venkman, Zeddemore, and Stantz, along with the spooks, spectres, and ghosts that tried to transform New York City to a Babylonian dystopia.

But they're not alone - they've got company with a new generation of Ghostbusters like Phoebe, Trevor, Podcast, and Lucky who saved Summerville, Oklahoma from the second coming of Gozer! In fact, it's Podcast's, well, podcast that inspired this book! Now he and Ray are combing through the Ghostbusters archives and recording new episodes to bring the group's favorite new and old foods to delicious life.

With luscious full-color photography and packed with the fun and spirit of the films, Ghostbusters: The Official Cookbook is a must-have for foodies and paranormal investigative fans alike.
Lets first look at the 50 recipes Jenn contributed. They fall into five categories: "Ethereal Appetizers", "Manifesting the Mains" (entrees), "Spectral Sides" (side dishes), "Supernatural Sweets" (desserts), and "Paranormal Potables" (beverages). Below is the table of contents, which you can enlarge to read.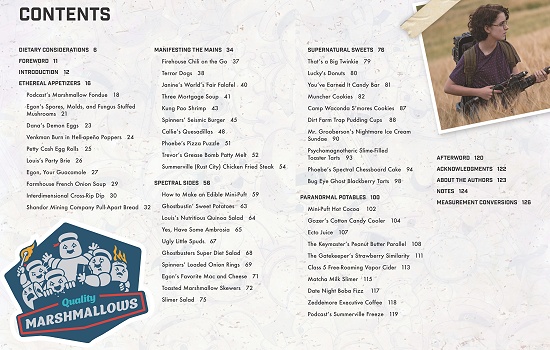 On the very next page is a handy Dietary Considerations guide, which re-lists all of the recipes, only this time telling you if they are Gluten-Free, Vegetarian, Vegan, or none of the above. Again, the image below can be enlarged to read.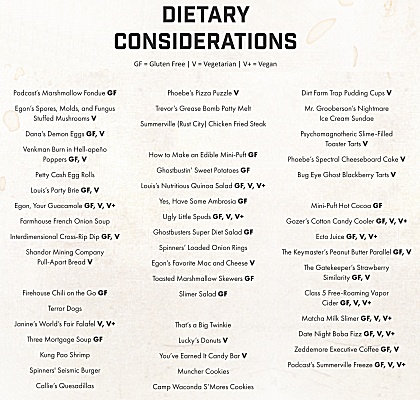 All of the recipes are named after things from
Ghostbusters
and
Ghostbusters: Afterlife
, with
Ghostbusters II
only represented by the "Psychomagnotheric Slime-Filled Toaster Tarts" recipe. There are no Jell-O recipes, even though Ghostheads would have expected to find one. (Three photos from
Ghostbusters II
have been snuck into the book, though they are unrelated to any recipes.) Some of the recipe names are clever, and some are really stretching the concept. "Lucky's Donuts"? I must have missed the scene in the movie where lovely Lucky was munching on some donuts with her father's co-workers. Isn't "Kung Pao Shrimp" just a normal recipe? It's tied in to Gary and Callie's date, but surely the recipe could have been given a more Ghostbuster-fied name. "Slimed By The Shrimp", perhaps?
Most of the recipes are accompanied by beautiful photos showing off the final product. However, the 18 recipes listed below lack food photos, so it is anyone's guess what they should look like if done correctly.
Page 024 - Venkman Burn in Hell-apeño Poppers
Page 025 - Petty Cash Egg Rolls
Page 026 - Louis's Party Brie
Page 027 - Egon, Your Guacamole
Page 032 - Shandor Mining Company Pull-Apart Bread
Page 040 - Janine's World's Fair Falafel
Page 041 - Three Mortgage Soup
Page 048 - Callie's Quesadillas
Page 052 - Trevor's Grease Bomb Patty Melt
Page 054 - Summerville (Rust City) Chicken Fried Steak
Page 064 - Louis's Nutritious Quinoa Salad
Page 065 - Yes, Have Some Ambrosia
Page 068 - Ghostbusters Super Diet Salad
Page 069 - Spinners' Loaded Onion Rings
Page 080 - Lucky's Donuts
Page 081 - You've Earned It Candy Bar
Page 118 - Zeddemore Executive Coffee
Page 119 - Podcast's Summerville Freeze
While Jenn handled food duties, Erik's portion of the book is what ties the food to Ghostbusters. The concept of the book is that back in the 1980s, the Ghostbusters started to write a cookbook; one of many merchandising opportunities that Peter brokered. As "Ray" describes it in his Introduction, "We had to pick the dishes we wanted in the book and write introductions for each. Sounds simple, and it was - except for the fact that we barely had time to eat, let alone write the material needed for a book. But we could always talk - so I came up with the idea of recording our thoughts and transcribing them later. We collected enough material en route to and from our regular caseload that we were able to get about halfway done before the whole thing was abruptly canceled - at which point all the tapes we'd recorded found a new home in a small box placed in the back corner of my storage locker in Queens."
Ray recently found the remains of the project. As "Winston" says in his foreword, "Ray decided he wanted to complete it (with the encouragement of and help from a new friend, a kid who calls himself Podcast - the first person I've ever met that was as enthusiastic about things as Ray). I was asked to invest in a small print run of the cookbook for Ray's bookstore, and that's when I knew I had found the perfect thing to test the waters with." "Ray" says that "Podcast not only found a computer program to automatically transcribe our tapes from the early '80s, but also was instrumental in gathering several new recipes from the next generation of Ghostbusters, which filled out this book. [...] The introductions to each recipe are direct transcriptions of either newly recorded or archival audio from 1984, making this the literary equivalent of cinema verité." (The kayfabe also includes an Afterword written by "Peter".)
In addition to the food photos, there are also stills from
Ghostbusters
and
Ghostbusters: Afterlife
used throughout
. Several from
Afterlife
are from deleted scenes, as noted in
my article
. The commonly-seen
Ghostbusters deleted scene
photo of Egon working on a trap appears on Page 70, though it was printed sidewards - and that's not the first time I've seen that done. Does no one understand that that's a vertical photo, not a horizontal one?!?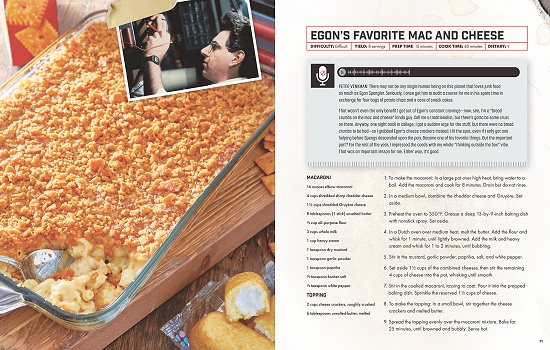 Thankfully, there are only two
Ghostbusters
photos of the
altered variety
: No "Pro-Tec" on Louis' strap on page 64, and no hood emblem on Ecto-1 on page 107. We do get our first altered
Ghostbusters: Afterlife
photo: the "Hershey's" label has been erased from the candy bar in the background of the photo on page 103. (Click on the image below for the full unaltered photo.)
Two
Ghostbusters II
stills appear on pages 17 and 67: the front-on shot of the guys firing at the museum and Slimer eating Louis' lunch. These two photos are commonly mistaken as being from the first film, so I suspect that they were not included to represent the second film. There is also a photo of the Vigo painting on the Spectral Sides main category page (page 57), but it's a recent photo of the sad-looking un-restored painting as it (presumably) sits in Sony's warehouse and not the beautiful photo of the painting that appeared in the
Ghostbusters II storybook
back in 1989. Does Sony not still have that photo in their archives? I'm curious as to why any photo of the Vigo painting, be it a good or bad one, was included since none of the recipes have anything to do with him and he's not mentioned anywhere in the book.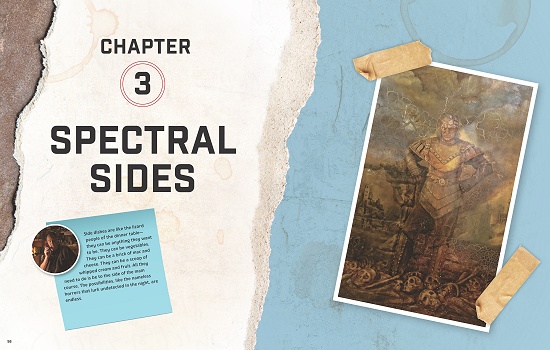 Overall,
Ghostbusters: The Official Cookbook
is a great book. Even if you don't cook or bake - I haven't since high school, when I used to make a pretty mean M&M cookie - you can still get something out of this book thanks to Erik's "fan fiction" part of it. The book carries a list price of $29.99 ($39.99 in Canada), but you can always find it
a little cheaper at Amazon
.
This item was provided by Insight Editions for review on this site.
No feedback yet
Leave a comment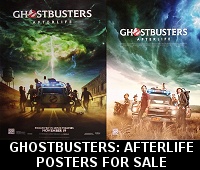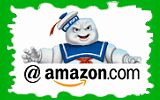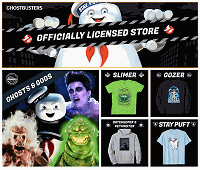 Please be aware that as an Amazon Associate, I earn a very tiny commission from purchases made though the Amazon links on this site.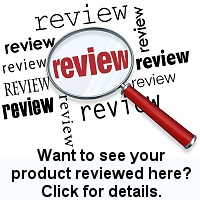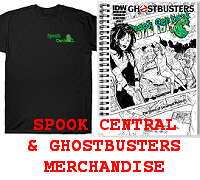 (
MY COMPARISON REVIEW
)
(
AVOID SHIPPINGEASY/STAMPS.COM
)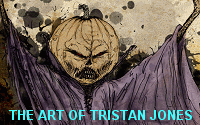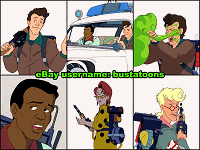 U.S. eBay (Ghostbusters stuff)
U.K. eBay (Ghostbusters stuff)