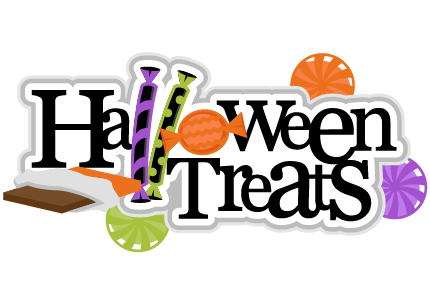 I shop at a lot of thrift stores, yard sales, garage sales, white elephant sales, and flea markets to find dirt cheap physical media. I mainly buy DVDs and Blu-rays to add to my "I have way too many" collection (or to buy for friends), but on occasion I find a CD or book of interest. This past Summer, I found the
Moans from the Mausoleum CD
, originally released in 2007 by Digiview Productions. Let's take a look at it...
If the name
Digiview Productions
sounds familiar, then you probably used to scour the bins at Dollar stores in the early 2000s. Digiview was one of many companies that
released cheap DVDs with common public domain content
. Digiview went out of business over a decade ago.
I didn't think much of this CD until I noticed the big yellow burst on the front cover proclaiming, "Featuring The Smash Hit 'Ghostbusters' and more..." The Ghostbusters connection is subtly hammered home with a faint prohibition circle in the background behind the ghosts.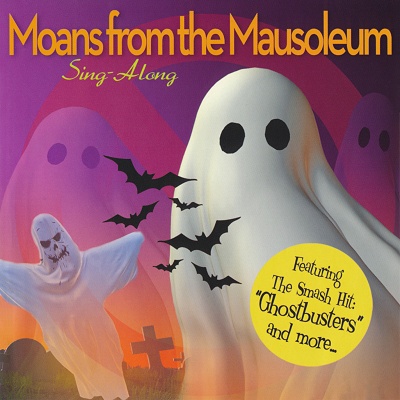 I flipped it over to look at the track list.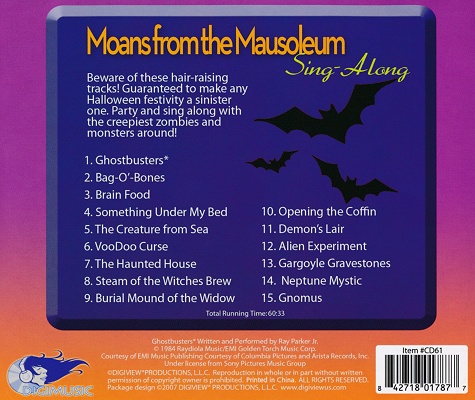 1. 4:12 Ghostbusters
2. 2:14 Bag-O'-Bones
3. 3:25 Brain Food
4. 2:06 Something Under My Bed
5. 2:40 The Creature from Sea
6. 2:36 VooDoo Curse
7. 6:06 The Haunted House
8. 4:19 Steam of the Witches Brew
9. 4:11 Burial Mound of the Widow
10. 2:18 Opening the Coffin
11. 6:25 Demon's Lair
12. 6:07 Alien Experiment
13. 3:19 Gargoyle Gravestones
14. 5:08 Neptune Mystic
15. 5:21 Gnomus
(total time - 60:33)
I've never heard of any of those songs, other than "Ghostbusters", which is listed on the back cover with an asterisk next to it leading to this text at the very bottom: "Ghostbusters* Written and Performed by Ray Parker Jr. © 1984 Raydiola Music/EMI Golden Torch Music Corp. Courtesy of EMI Music Publishing. Courtesy of Columbia Pictures and Arista Records, Inc. Under license from Sony Pictures Music Group." Maybe this album would be a hidden gem, or maybe it would be total crap. At least I know there would be one good track on it, and it's the original version!

The back cover warns, "Beware of these hair-raising tracks! Guaranteed to make any Halloween festivity a sinister one. Party and sing along with the creepiest zombies and monsters around!" The album title is listed as "Moans from the Mausoleum Sing-Along" on the front and back, though the spines leave out "Sing-Along". I'm not really sure how you can sing along when THERE ARE NO LYRICS PRINTED INSIDE! Also, tracks 7 through 15 are instrumentals. YOU CAN'T SING ALONG TO INSTRUMENTAL MUSIC! Hum along, sure, but not sing along.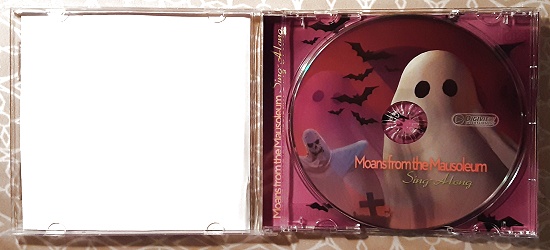 Well, "Ghostbusters" is the first track, so let's take a listen.
My, my, my. That doesn't sound like Ray Parker Jr. at all. Not even close. Didn't the back cover say "Performed by Ray Parker Jr."?

Why, yes it did! Talk about false advertising. What we have is yet another cover version. I already wrote not
one
but
TWO
previous Halloween Treat compilation posts with "Ghostbusters" covers. There are way too many out there, and most of them are not worth your time to listen to. This one, by Not RPJ, is decent. There are moments where the brother tries a bit too hard, and he changes "it likes the girls" to "it likes to dance" in the middle (but leaves in "girls" at the very end), but I didn't hate it. Not the best, but not the worst.
The album has no liner notes, lyrics, or even song publisher information for the remaining songs. I have no idea if tracks 2 through 6 are original songs written specifically for the album, or if they are also covers. I do know that they are also performed by unknown studio musicians, making this album not very different from the hundreds of cheap Halloween CDs that clutter up stores every October. Well, it is a bit different in that it isn't filled with garbage cover versions of popular tunes.
2. Bag-O'-Bones (2:14)
- "Let the skeleton inside you dance around."
3. Brain Food (3:25)
- A zombie sings, "I'm going to eat your brains tonight."
4. Something Under My Bed (2:06)
- A kid thinks there's a monster hiding under his bed.
5. The Creature from Sea (2:40)
- A '60s surf rock song that plays like an off-brand version of
Dave Edmund's "Creature from the Black Lagoon"
. I have no idea why there is no second "the" in the title.
6. VooDoo Curse (2:36)
- A kid eats too much candy and thinks that his upset tummy is a voodoo curse.
These five tracks aren't that bad. I wouldn't call them favorites, and they can be a tad repetitive, but I didn't hate them, either.
Tracks 7 through 15 are instrumentals, which sound like movie scores. The track names are kinda weird; some fitting better than others. These tracks are a VAST improvement over all of the shitty sound effects these type of CDs usually contain. I don't understand the point of including pre-sequenced selections of sound effects. No one creating a haunted house is going to design their attraction around someone else's sequence of sound effects. They would want a CD of individualized sound effects that they could program themselves. No one would play pre-sequenced selections of sound effects at a party to dance to, and no one is going to sit there and listen to them with headphones. What is the point of having a CD that starts with real songs and then concludes with a second half of pre-sequenced selections of sound effects?
Spook Central visitors can
download the entire album as 192kbps MP3s
(87MB).
Spook Central VIPs
get
the higher-quality 320kbps MP3s
. Both zips contain 300dpi scans of the artwork. If you want a physical disc copy, and don't want to burn a CD-R and print out the artwork yourself, you can buy a used CD on
Amazon Marketplace
.
SPOOK CENTRAL VIP BONUS FEATURE:
Johnny Splitz's
The Real Ghostbusters: "The Halloween Door" ABC Premiere Restoration
. Witness the special as it originally aired on ABC in primetime on October 29, 1989; only without the commercials.
---
For the complete list of Spook Central's Halloween Treat posts from years past,
click here
. Thanks to
Miss Kate
for the "Halloween Treat" title banner that appears at the top of this post.
No feedback yet
Leave a comment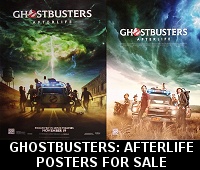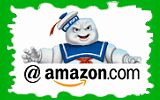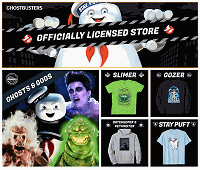 Please be aware that as an Amazon Associate, I earn a very tiny commission from purchases made though the Amazon links on this site.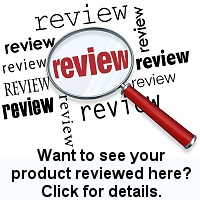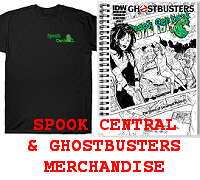 (
MY COMPARISON REVIEW
)
(
AVOID SHIPPINGEASY/STAMPS.COM
)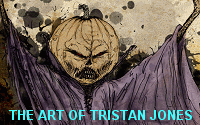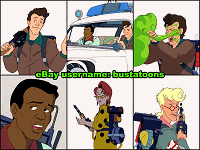 U.S. eBay (Ghostbusters stuff)
U.K. eBay (Ghostbusters stuff)