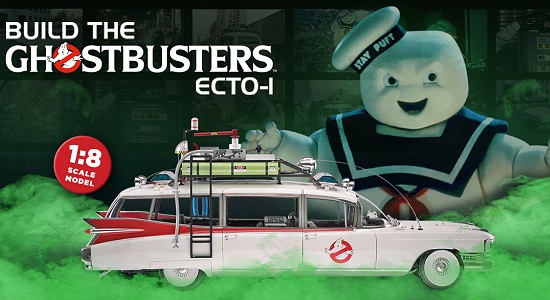 This is one of an
ongoing series of reviews
that looks at the
"Build The Ghostbusters Ecto-1" model subscription
from Eaglemoss, through their Hero Collector imprint. Let's take a closer look at the Special issue...
Normally, the Ecto-1 model subscription runs from magazine Issue #1 through Issue #36 (and 141 parts sets, generally four per issue), with a few bonus items included throughout (as detailed in
my review of the introductory package
). What I did not originally know is that there is an OPTIONAL "SPECIAL" ISSUE/PACKAGE that subscribers become eligible for after shipment #3. At that time, you will be notified via e-mail that the special issue is coming up and can decide to opt in for an additional cost of $49.95 (free shipping). I received my special issue today, so let's see what's so
special
about the Special Issue.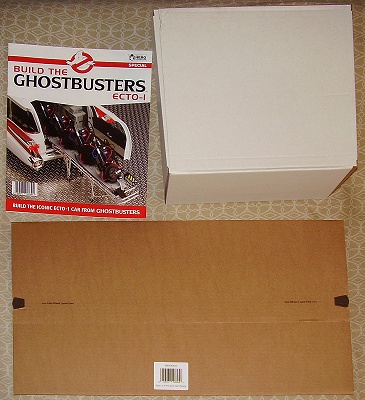 (click for enlargement)
Taking everything out of the large box, I find the Special Issue magazine, a square white cardboard box, and a large flat brown cardboard mailer that says "Ecto-1 Print and Certificate" (GBUUK502) on it. I wonder what's in those mysterious packages. Let's let the anticipation simmer a little longer as I look at the magazine first.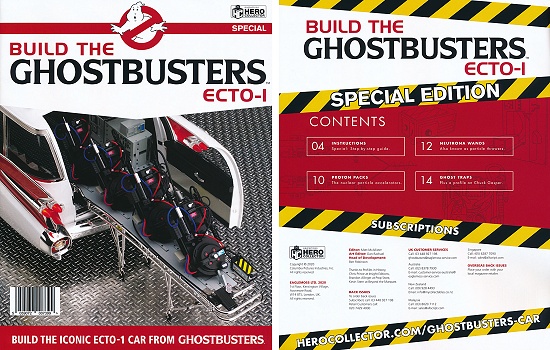 (click for enlargement)
The magazine is slightly bigger than 8.5"x11", which is the same size as all of the magazines from the normal shipments. The magazine contains a parts list (so you'll know what parts accompany that issue) with instructions, followed by articles about the Ghostbusters' equipment: Proton Packs, Neutron Wands, and Ghost Traps.
It should be stated that the majority of the articles from the magazines included with the model subscription have been collected in the
Ghostbusters: The Inside Story hardcover book
(
reviewed here
). So, if for some reason, you want the magazines, but not the Ecto-1 model, you can get most of the content in that book. However, the magazines do have an exclusive "Ecto-101" feature, and *MAY* have exclusive articles. I can't confirm that until I have all 36 issues, but doing a little mathematics tells me there will be more articles in the magazines than in
The Inside Story
.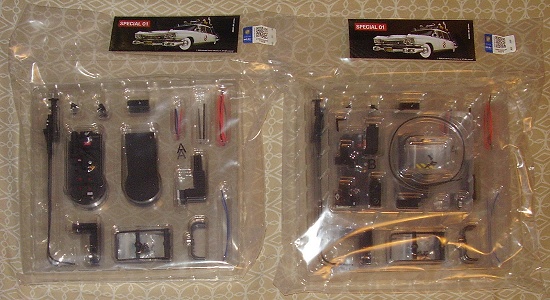 (click for enlargement)
HOLY SHINOLA! Inside that white box are the parts to build FOUR PROTON PACKS AND A GHOST TRAP!!! When completed, the packs and trap will sit on the gurney in the back of the Ecto-1.
Each of those bags contains two "Part A" trays with the parts for one Proton Pack each. One also contains a "Part B" tray with the parts for one Ghost Trap. All parts either snap or screw in place. No glue or paint is needed, though you will need the mini-screwdriver included with the introductory package and your own pair of pliers.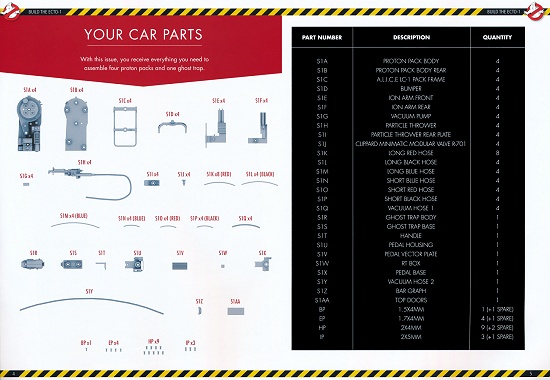 (click for enlargement)
The magazine, of course, gives us a complete parts list. That's a LOT of parts for these little things. Eaglemoss made sure that these little things are highly detailed.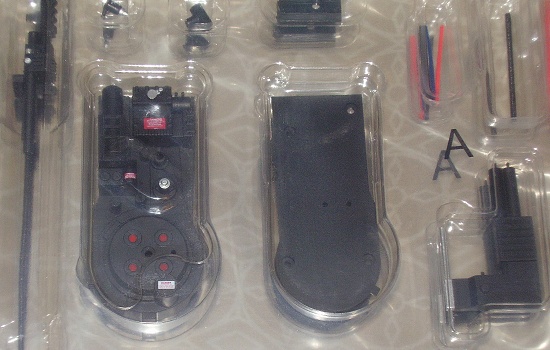 (click for enlargement)
The Proton Packs have the appropriate labels on them. All of the components that you don't see on the ALICE pack are parts that you PUT ON THERE YOURSELF!
(click for enlargement)
Yes, you get to put this all together, just like Egon.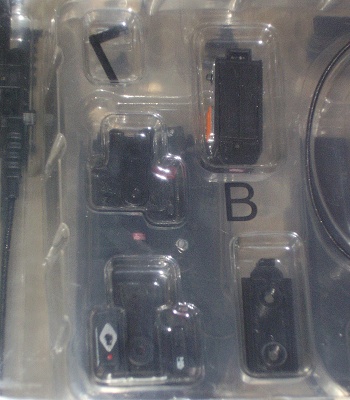 (click for enlargement)
Even something as really tiny as the Ghost Trap has to be completely assembled.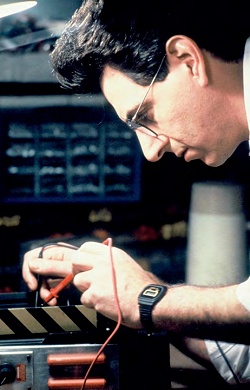 (click for enlargement)
Egon would be proud of you.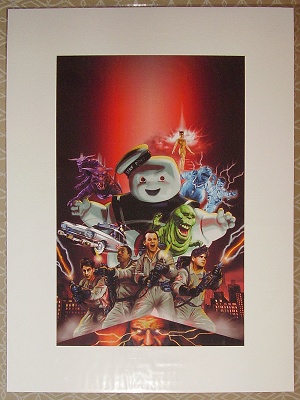 (click for enlargement)
That large flat mailer contains a
really
special bonus item that is NOT a part of the Special Issue with the magazine, packs, and trap. This SECOND "special" would normally come after shipment #6, though it is a
limited edition/seasonal item that is ONLY be offered in Summer 2020
. It's a 12"x16" art print of Brian Williamson's "Here to Save the World", which was used as the cover artwork for the
Ghostbusters: The Inside Story hardcover book
. The image itself is 7.5"x12", and the rest is occupied by a large white border. I liked this artwork the instant I saw it on the book, and I'm happy to have this item.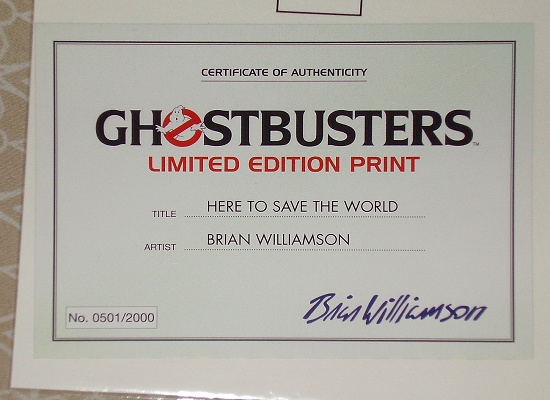 (click for enlargement)
The print comes with an individually numbered Certificate of Authenticity. My print is #501 out of 2,000. I believe that these prints were a San Diego Comic Con exclusive this year, and are available as part of a
bundle with the book on the Eaglemoss site for $69.95
.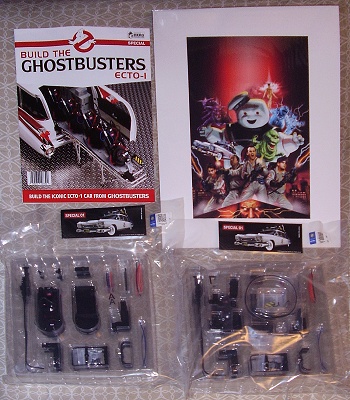 (click for enlargement)
The above photo shows everything that comes in the normal Special package (magazine, packs, and trap), along with the Summer 2020-exclusive art print. If you want this art print,
SIGN UP NOW!!!
If you wait until next year, you won't get it.
It should be noted that the first special package - with the Proton Packs, Ghost Trap, and Magazine - is the only one that is
directly
connected to the Ecto-1 model. All of the other optional specials (offered after every three packages) are surprise bonus items that are separate from the model.
I'm opting not to assemble the car or the packs and trap until I have everything. Then I will post a daily build report for an entire month taking you through the process from start to finish. The packs and trap will be the final build at the end, like the cherry on the top of the sundae.
You start your subscription with the introductory package, which contains the "Introduction" magazine, Issue #1 and Issue #2 magazines, a fold-out poster that shows you the model in full actual size, and the first two sets of Ecto-1 parts for just
$1.95 with FREE SHIPPING!!!
Further issues are $10.90 per issue plus $2.45 for shipping per issue. In addition to the 36 magazines and 141 model parts sets, you will also get a beautiful binder in which to store all of your magazines, an Ecto-1 license plate replica, an exclusive baseball cap, an exclusive t-shirt, and a display base for your model. If you're willing to pay an extra $1.00 per issue, you can upgrade to a Platinum subscription, which entitles you to a specially-designed crystal case with an amazing lighting kit to add onto your display base.
I will continue to
review all of the magazines and model pieces that Eaglemoss sends me
, and in a few years, I'll build the Ecto-1 and show it off to all of you.
All photographs and scans used in this review were taken by me, Paul Rudoff. This item was provided by Eaglemoss for review on this site.
No feedback yet
Comments are closed for this post.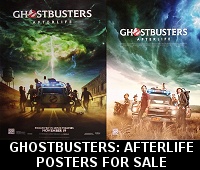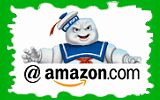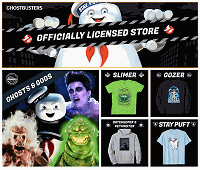 Please be aware that as an Amazon Associate, I earn a very tiny commission from purchases made though the Amazon links on this site.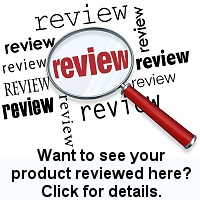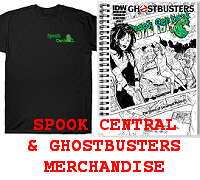 (
MY COMPARISON REVIEW
)
(
AVOID SHIPPINGEASY/STAMPS.COM
)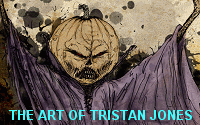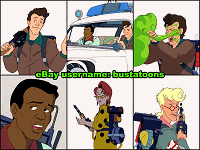 U.S. eBay (Ghostbusters stuff)
U.K. eBay (Ghostbusters stuff)