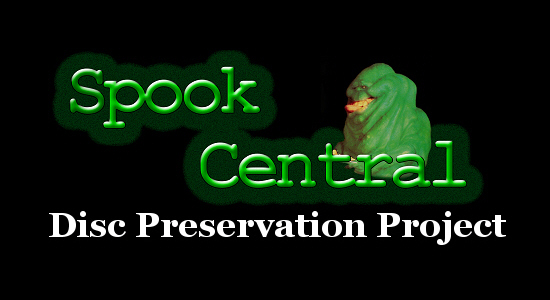 The
Spook Central VIP Exclusives Area
is the home to content that has been made exclusively available for supporters who pledge a monthly donation through the
Spook Central Patreon page
. Said content is either downloadable through the VIP Exclusives Area here or on the Patreon page, though I link to some exclusive content throughout Spook Central where appropriate. You can learn more about the Spook Central VIP Area
in this blog post
. The VIP articles that are posted on Spook Central, which are easily distinguishable by the "[VIP]" at the start of the article title, are readable by all visitors, but contain
download links that will only work for VIP members
. If you wish to download this content, become a supporter through the
Spook Central Patreon page
. With that out of the way, let's continue...
For many years, Spook Central has spearheaded the
Ghostbusters PDF eBook Preservation Project
, an effort among fans to preserve out-of-print Ghostbusters books so that pieces of the franchise's history are available to all, and are not lost to time, or held hostage by price-gouging aftermarket sellers. Thanks to the gracious amount of webspace provided by Raffaele, Spook Central is able to do the same with selected fan-made and promotional digital disc content. I have a few discs that are suitable for the
Disc Preservation Project
, though if the primary content from them ends up on an official, commercially-available, easy-to-obtain Blu-ray/DVD/whatever, then I won't include it in the project (or will remove it if it's already been included). This is about preservation, not piracy.
Originally, the plan was to make .ISO images files available, which could be downloaded and burned onto DVD-R discs, which would give you an exact copy of the original DVD. However, even with the gracious amount of webspace provided to Spook Central, I find that that may not be completely feasible in the long-term. Most of the disc images are 4GB each, and that adds up pretty quickly. Also, some people may not be able to to download files that large. There's also the concern that there may not be many dinosaurs like me left, who would prefer a "physical disc"-suitable file. With all of that in mind, I felt that the best thing for the project is to proceed with DVD-ripped .MKV video files of selected content from each disc. These files would have the same quality as the video on the disc (I won't recompress them), but they could be immediately played without the need to burn a disc or mount an image file. Anyone who
does
want the .ISO image files for all of the discs in the project, can buy the
limited-edition physical flash drive release
, which is a copy of my master flash drive for the small amount of people who may want those files.
Some time around 2005, a fellow Ghosthead named
Dan Liberg
made me a copy of the fan-made
Ghostbusters Interviews and Music Videos Vol. 1
DVD, which contained the entire
Ghostbusters II Electronic Press Kit
and various Ghostbusters interviews and music videos. It has a very crude-looking cover image and DVD menu, but it was (and still is) the only source for the complete multi-audio Electronic Press Kit.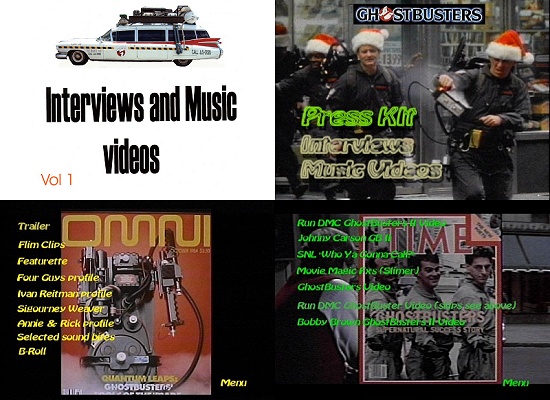 The Electronic Press Kit on it was a direct copy from someone's original press VHS copy, which had split audio tracks: production audio on the left channel and the narrator/music on the right channel. This was the only way they could do "multiple audio tracks" back in 1989, so press outlets could use the audio track they needed. With the advent of multiple audio tracks in the DVD format, I felt that the EPK could be improved upon, but I lacked the skills to do it.
I put out a call for help, and it was answered by Brian Grimes. With my suggestions, he created three distinct switchable DVD audio tracks: stereo combined, stereo production audio, stereo narration/music. Brian authored an entirely new DVD, which included the EPK and other materials from the
Ghostbusters Interviews and Music Videos Vol. 1
DVD, plus added some more stuff that we shared.
Now, at this point you're probably thinking to yourself, "Why do I need this? Sony released the Ghostbusters II Electronic Press Kit in the
Ghostbusters 1 & 2 4K UHD & Blu-Ray set
, which I can
buy here
." Well, first I'd thank you for putting up that Amazon link, and second I'd tell you that the copy included in that set is incomplete (it leaves out everything before the Featurette and after the Selected B-Roll), and it does not benefit from the multiple audio tracks. So, with that in mind, I feel that there is still a need among the fans for this copy.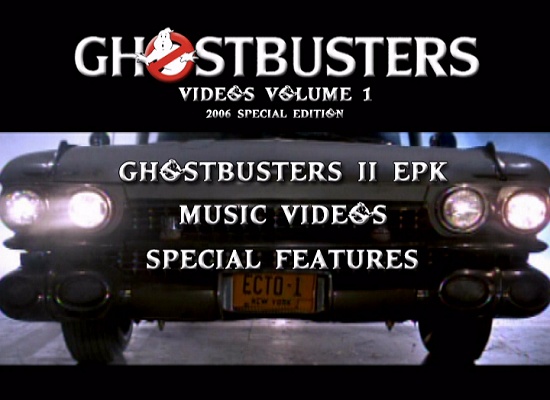 The main item on this disc is the complete Ghostbusters II Electronic Press Kit (51:35):
0. Table of Contents (0:20)
1. Trailer (2:29)
2. Film Clips (5:17)
A. Montage (2:10)
B. Slime Test (1:31)
C. Charming The Baby (0:41)
D. Louis & Janine (0:39)
E. Interesting Role Model (0:56)
3. Featurette (6:04)
4. Four Guys Profile (3:14)
5. Ivan Reitman Profile (2:40)
6. Sigourney Weaver Profile (2:33)
7. Annie And Rick Profile (3:13)
8. Selected Soundbytes (17:25)
A. Bill Murray (0:41)(0:38)(0:47)
B. Dan Aykroyd (0:37)(0:48)
C. Harold Ramis (0:47)(1:35)
D. Ernie Hudson (0:46)(1:05)
E. Sigourney Weaver (0:56)(0:28)
F. Rick Moranis (0:09)(0:33)(0:33)(0:43)
G. Annie Potts (0:29)(1:11)
H. Ivan Reitman (0:42)(1:10)(1:01)
9. Selected B-Roll (5:11)
X. Pay Per View Trailer 8-17-89 (0:30)
To switch between the 3 audio tracks below, use your player's "Audio" feature.
* Track 1: Production Audio & Narrator/Music
* Track 2: Production Audio
* Track 3: Narrator/Music
Do be aware that this copy of the EPK is glitched during a Ghostbusters film clip at start of the featurette (at the 10:28 mark). It's a digital glitch that the video obtained as it was passed around from fan to fan.
In the Music Videos section, you'll find the following:
1. Ray Parker Jr. - Ghostbusters (4:05)
2. Run-D.M.C. - Ghostbusters (4:09)
3. Bobby Brown - On Our Own (4:20)
Obviously, the first and last ones are not needed anymore as better quality copies are available in the 4K/Blu set. The Run-D.M.C. music video still has not appeared on an official Ghostbusters release.
Under Special Features, you'll find a bunch of interview and references clips:
1. Saturday Night Live "Race And Racism" Sketch with Tim Meadows and Sting - March 15, 1997 on NBC (2:48)
2. Family Guy "The Story On Page One" Clip - July 18, 2000 on Fox (0:27)
3. Movie Magic - Ghostbusters Special Effects Clip (2:50)
4. Bill Murray & Dan Aykroyd on The Tonight Show With Johnny Carson - June 15, 1989 on NBC (show #3991) (in progress) (8:41)
5. CBS 20th Anniversary - Ivan Reitman and Harold Ramis on The Early Show - August 2, 2005 on CBS (5:43)
6. The Computer Chronicles episode "Games" (show #203) featuring David Crane showing off his new Ghostbusters computer game - January 21, 1985 (title screen is incorrect) on KCSM TV (San Mateo, California) (5:13)
Obviously, Sony can't use the stuff from this section without licensing it, and I would hope they'd get high-quality copies from the copyright owners' masters. None of this stuff is in better quality on the DVD than on YouTube or elsewhere online, so there's no need to preserve it.
Brian also added a hidden easter egg menu: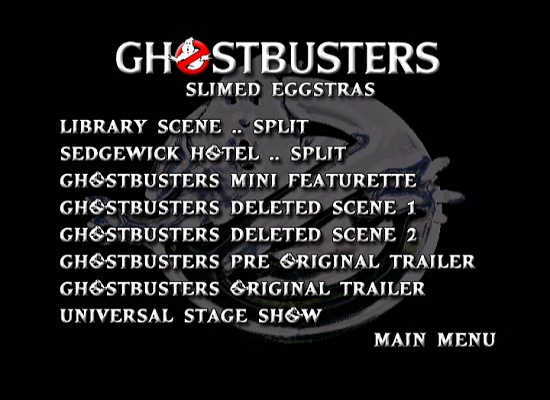 The majority of the items in this section came from the VHS copy I passed around in the early 2000s of the bonus materials from the
Criterion Collection laserdisc
. This was before Raffaele made his
much higher quality DVD-R
. As such, the first seven items here can be completely ignored. In fact, the mini featurette (from the "making of" featurette), two deleted scenes, and two trailers are on the 4K/Blu set in much higher quality. The "Universal Stage Show" is just a clip from a promotional video of Universal Studios Florida. I have the full thing on another fan-made DVD-R that will be inducted into the Disc Preservation Project later this year.
Disclaimer:
No copyright infringement is intended with the content on this page. The presentation of disc content is done solely to preserve materials that are no longer being published, or in the case of fan-made discs, may have never been made available for public purchase in the first place. These materials will be lost and gone forever if the fans don't properly preserve them. Please note that the money paid to me as a Spook Central supporter is for my hard work in bringing this material to you since August 1996. You are not paying for the content itself. The money I receive is used to fund Spook Central and to pay for my living expenses.
No feedback yet
Leave a comment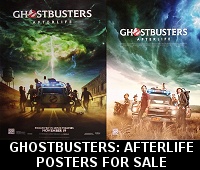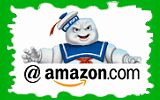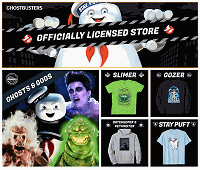 Please be aware that as an Amazon Associate, I earn a very tiny commission from purchases made though the Amazon links on this site.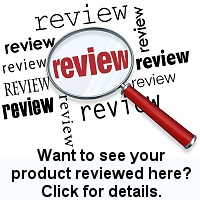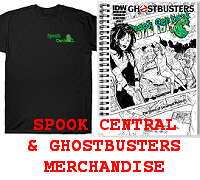 (
MY COMPARISON REVIEW
)
(
AVOID SHIPPINGEASY/STAMPS.COM
)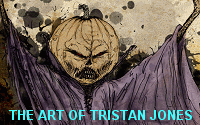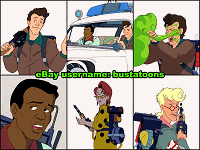 U.S. eBay (Ghostbusters stuff)
U.K. eBay (Ghostbusters stuff)