By Paul Rudoff on Nov. 30, 2015 at 8:42 PM in Tributes
In Loving Memory of
Linda Joyce Rudoff
July 12, 1948 - November 29, 2015
~~~~~~~~~~~~~~~~
*
Page 1
- Introduction
*
Page 2
- The Funeral
*
Page 3
- A Life In Pictures
~~~~~~~~~~~~~~~~
The funeral was held on Friday December 4, 2015 at 10 AM at
The Moore Funeral Home
in Valley Stream, NY. I can't thank the staff enough for everything they did for me and my family, especially Donna and Marianne Moore. Longtime family friend Rabbi Anchelle Perl was kind enough to offer his services free of charge, and gave a very moving speech, after which I gave one too. After a half-hour service, it was off to the cemetery. The Rabbi said some prayers, everyone took turns shoveling some dirt into the open grave, and after a few more prayers and niceties, my mother was settled into her final resting place next to my father.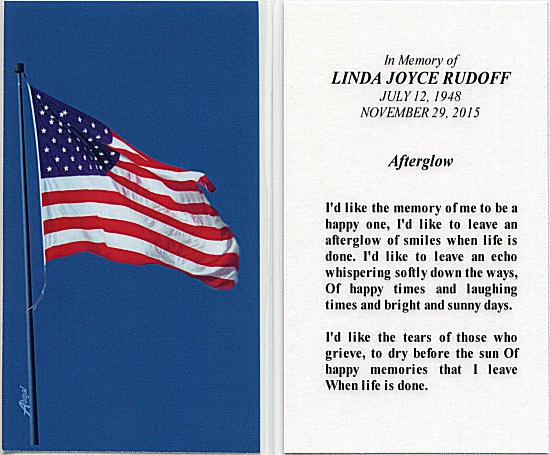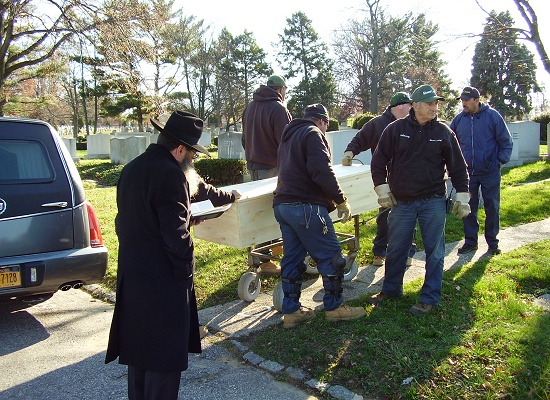 Rabbi Anchelle Perl standing by as my mother's coffin is brought to the grave. My father and mother should have switched coffins. She would have loved his blue coffin (it's her favorite color), and he should have gotten the plain wooden coffin since (as I just learned) the Rabbi's associates removed all the metal from the blue one due to a Jewish custom that I've never heard of.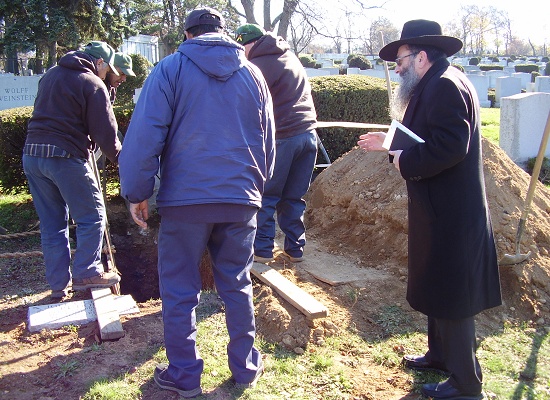 My mother's coffin being lowered into the grave. The board on the left is placed on my father's footstone.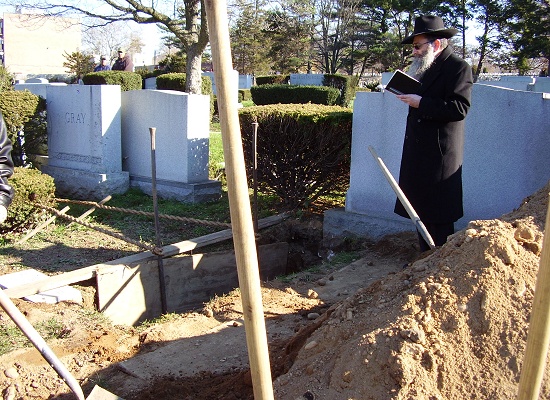 Rabbi Perl saying prayers by my mother's open grave.
We wanted my mother to be buried with many personal artifacts that reflected who she was and the life she lived. Unlike my father, whose items were kept a Ziploc-type bag, mom's items were lovingly spread around the coffin. In the photo below, you can see each of the individual items.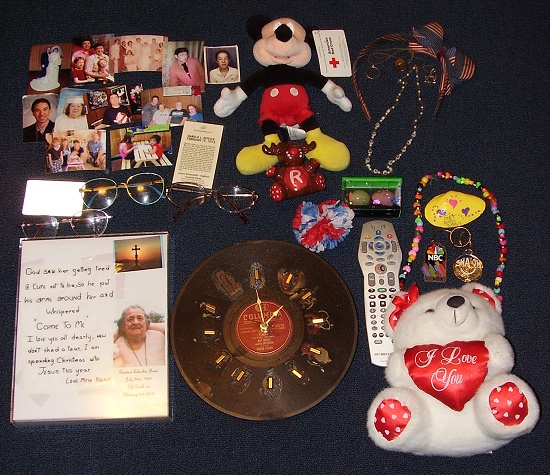 Eleven Family Photos - Essentially, I went with all of the photos we buried with my dad, and swapped out some of his family with ones of her family. Because I didn't have any more "Spook Central 15th Anniversary" patches (I buried my spare with my father), I included a copy of my "Ghostbusters Headshot". Since my website is my greatest accomplishment so far, I wanted her to be buried with something that represented it.
Harold's Memorial Card - Her father died in 1993, and we had two of these cards, so I only felt it right to put one in with her.
American Red Cross Mickey Mouse Doll - Mom got this on December 10, 2012, the day we "moved" from the Red Cross emergency shelter (where we lived for six weeks due to Hurricane Sandy) to our Valley Stream home. There's a photo of her with it on page 3 of this blog article. I remember her liking it a lot, so I felt that it should go with her.
American Flag Headband - Mom was very patriotic, proudly flying Old Glory in front of our houses for many years. As I was looking through my digital photos to find some of her to include in this article, I noticed that she was wearing this headband in nearly every photo. That she liked wearing it so much, it was only fitting to have her wear it for all eternity.
Wedding Ring & Wedding Band - Dad was buried with his, so it seemed only fair for mom to be buried with hers.
Star Of David Necklace - There was one thing, and ONLY one thing, that mom specifically said that she wanted buried with her, and this was it. She's wearing it around her neck for time and eternity.
"Paul Dorian Rudoff" Bead Necklace - I'm not sure if I made this for her, or if she made this for me. I know that we had it since I was a little kid, and since I have no real desire to keep it, I felt that it should go with her.
Porcelain "R" Reindeer - Mom loved Rudolph the Red-Nosed Reindeer, not least of which is because we kinda share the same name. This little Rudolph is one that she painted at the senior center years ago. I felt that she should have some kind of Rudolph figure busied with her.
Her Old New York State ID Card - We buried my father with his old driver's license, so it was only fair that she was buried with her old non-driver photo ID. (NOTE: In the photo above, this is the white rectangle to the left of the eyeglasses. The security used on the card prevents it from photographing properly when a flash is used.)
3 Pairs of Eyeglasses - We didn't really know what to do with these, and since dad was buried with a pair of his, we figured we'd bury her with all of hers. She's wearing the blue-framed pair (blue is her favorite color), and the other are placed around the coffin).
Red, White, Blue Fake Flower - Just something I found around the house that I thought could be placed behind her ear as she took her final rest.
Mini-Faux Aquarium - I bought this for her on Monday November 16, 2015 when I went to the Waldbaum's supermarket in Merrick, NY for their Going-Out-of-Business sale. Mom used to take care of fish, and always bought more after they inevitably died. I just happened to stumble upon this item in a throwback-bin and thought she would like to have it with her in the rehab facility. The little faux fish grow larger when water is added to the aquarium. I couldn't look at this item without remembering the situation in which it was given to her, so I felt she should have it forever.
Colored Bead Necklace - My sister, Michelle, made this and felt that she should be buried with it.
"Get Well Soon" Painted Seashell - My sister, Michelle, painted this and gave it to her while she was in the hospital or rehab.
NBC New York "Linda" Keychain - My entire family took, what would be, our last family trip together on December 28, 2013. To celebrate our parents 38th wedding anniversary, we went into New York City. We went to Rockefeller Center to see the tree, and got a few of these keychain at the NBC Store there, each with our names on them.
Shalom Keychain - This was attached to the NBC keychain, and I just figured that I'd leave it be.
Cable TV Remote Control - My mother not only watched a lot of television, but she spent hours each day playing the set-top box video games provided by Cablevision. She loved playing solitaire, along with Bejeweled 2, Bookworm, and a few other games. The funeral home put this by her head (instead of in her hand) in the coffin.
Beatrice Memorial Plaque - My mother's mother died in February 2013. Her sister Vicky put this together and sent it to us. It's not something that *I* want to keep looking at, and even though my mother didn't have the best feelings towards her mother, I felt this should go with her.
"Linda" Record Clock - A 12" record for the song "Linda" by Ray Noble and his Orchestra with Buddy Clark that was made into a clock. My mother had this for many decades, and even after the numbers fell off and the record cracked, she kept fixing it to the best of her ability. That she liked it *that* much, told me that it should go with her.
White "I Love You" Bear - I don't remember where she originally got this, but we've had it sitting in the living room for the past few years. Around the end of October, when we were looking for something to give her while she was in the hospital, we saw this bear sitting in the corner of the room, and thought that it would be a great thing to give her. We were right. That day, when my sister and I visited her in CCU, she had the brightest smile on her face when she saw it. I don't think she remembered that it was her bear from home. I think she thought we bought it specifically for her as a "Get Well Soon" gift. What ever the case, it made her happy, and she had it in her room at the hospital and in the rehab until the very end.
Unlike my father, who was buried in a special religious outfit, mom was buried in the clothes we selected for her. I always assumed that people have to be dressed in nice dress clothes when they die, but the lady at the funeral home told me last year that they can be buried in whatever they, or their family, wants. (I want to be buried in a Ghostbusters jumpsuit.) So, we chose clothes that reflect who she was in life. As previously stated, Mom was very patriotic. We knew that she had to be buried in this American Flag sweater, which she wore many times. The pajama pants with the beer bottles aren't there to reflect any sort of drinking problem. I would have preferred her pajama pants with the little skulls on them, but that never came back from the rehab facility. So, the beer bottle pants were the best we could find. Her favorite color was blue, hence the blue slippers.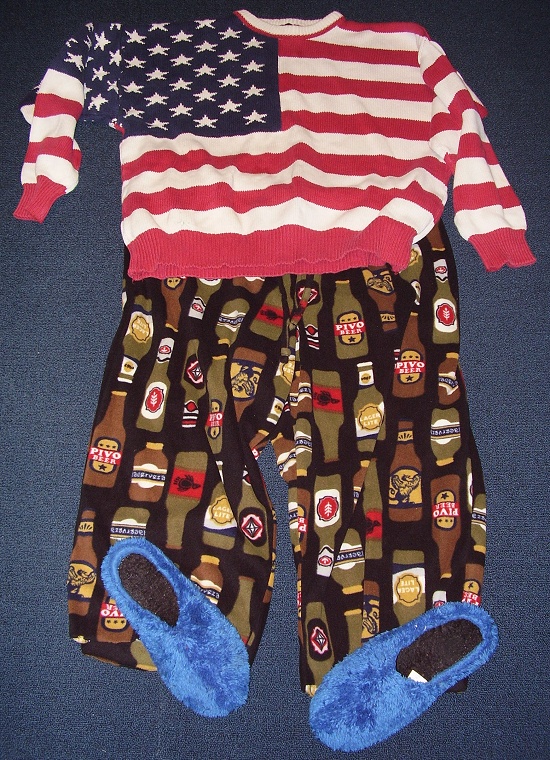 What follows for the rest of this page are close-ups of the various items we put in the coffin, as listed above.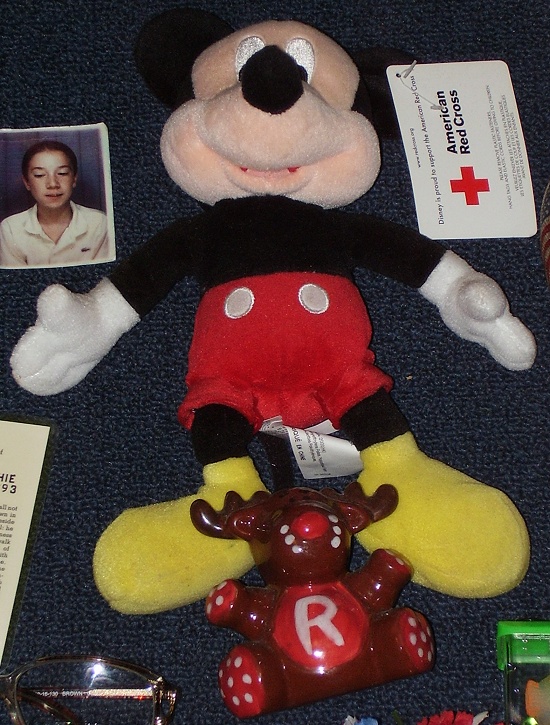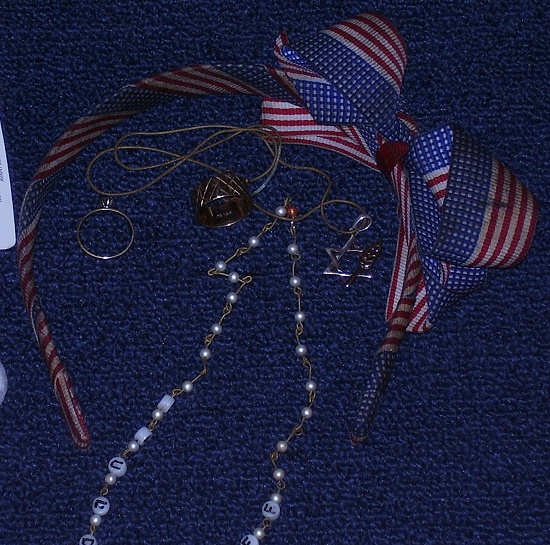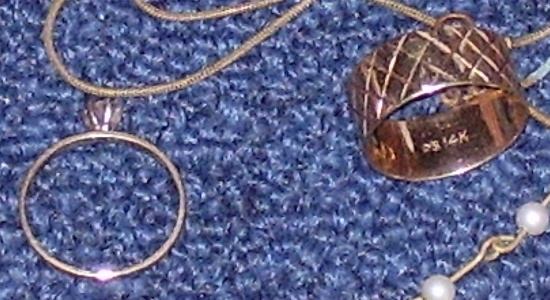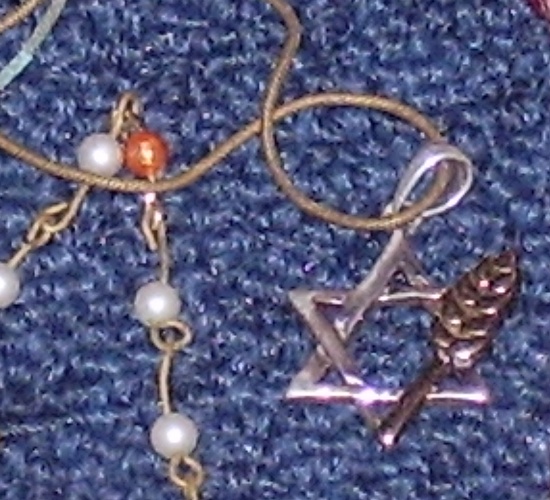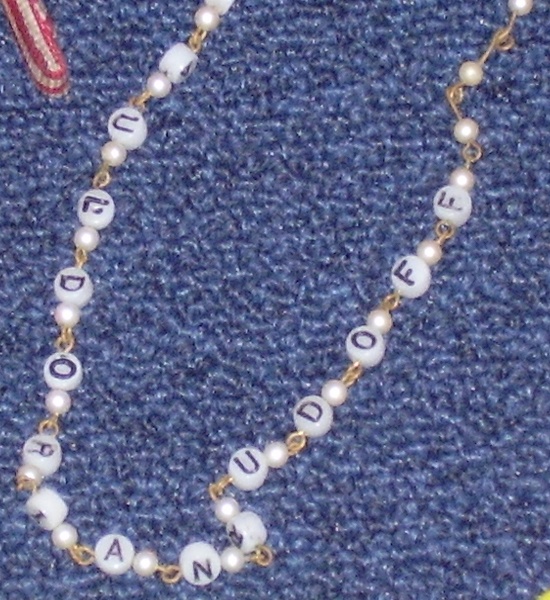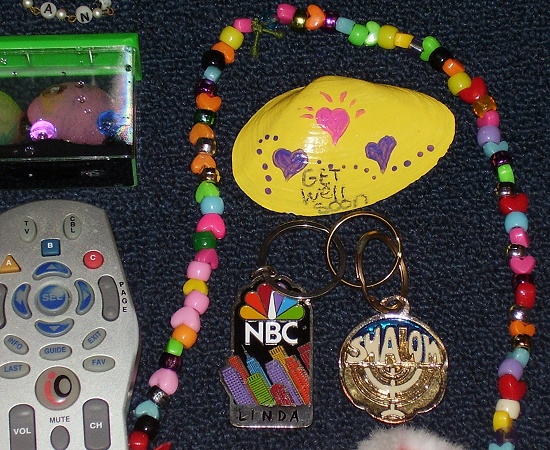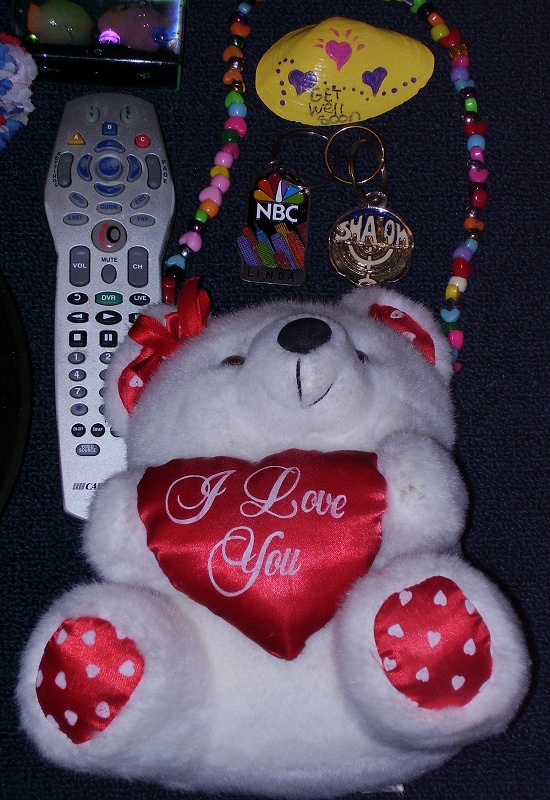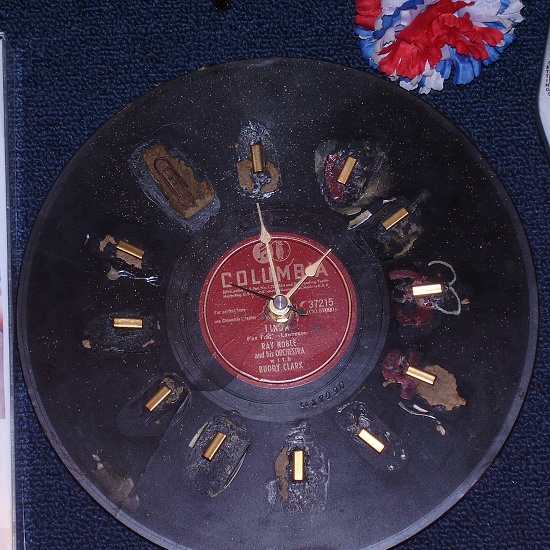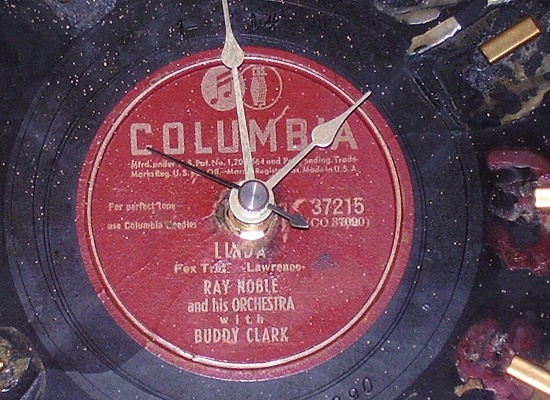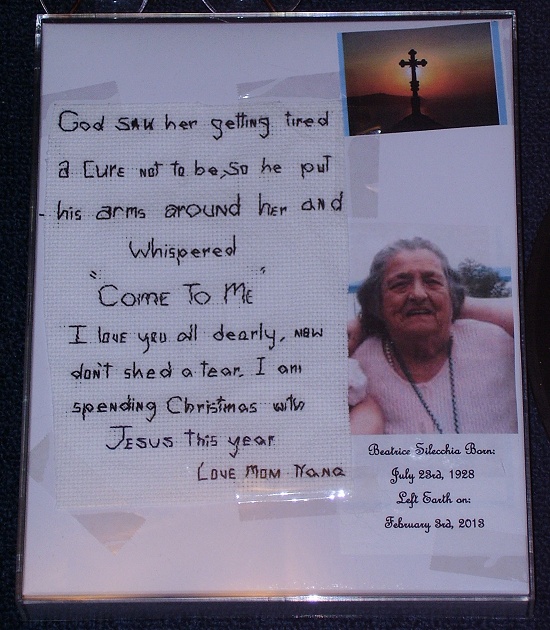 In Loving Memory of
Linda Joyce Rudoff
July 12, 1948 - November 29, 2015
10 comments
My condolences, Paul. I'm sorry to hear you lost both parents in such a short span of time.
Dec. 1, 2015 @ 03:32
Comment
from:
Ghostbuster-Adem84
[Visitor]
I'm very sorry my friend, i've been following you for some time on this site and losing loved ones can harsh. I know I lost a few in my time. Love you all.
Dec. 1, 2015 @ 06:25
Very sorry to hear about your loss Paul. My family and I send our deepest condolences. Hopefully she isn't in any pain anymore and is with your dad. I'm glad I was able to meet them, although for a short time. I will try my very best to make it to the funeral.

Dec. 1, 2015 @ 09:54
Comment
from:
Rolo (Ghostbusters México)
[Visitor]
I´m sorry for your loss my friend, my prayers are with yours.
Dec. 1, 2015 @ 10:59
I'm sorry for your loss Paul. I know it's been a very rough 2014 and 2015 for you and your family.
Dec. 1, 2015 @ 11:52
Comment
from:
Stacey maretich
[Visitor]
I am so sorry for your loss. I went to school with Victoria and I knew most of the family. I knew your mom Linda as well. She was a wonderful woman , both of your parents were wonderful I remember your fathers sense of humor and I remember how much your mom cared about you kids. The picture you have from 1983 is the way that I remember your mom the most. I vividly remember the dress that your sister is wearing in that picture she loved it so much. Your mom will be missed by everyone .
Dec. 1, 2015 @ 15:37
I am sorry for you loss, i know your mom a long time from the pool.
Dec. 1, 2015 @ 16:50
Thank you, everyone, for your kind words and warm thoughts. Michelle and I really appreciate it.
Dec. 1, 2015 @ 23:45
Comment
from:
Egon Melnitz
[Visitor]
I'm sorry Paul, best wishes for you and your sister.
Dec. 4, 2015 @ 16:11
Comment
from:
Michelle Rudoff
[Visitor]
Thanks everyone for your love and support. It means a lot to my brother and I.
Dec. 4, 2015 @ 23:50
Leave a comment