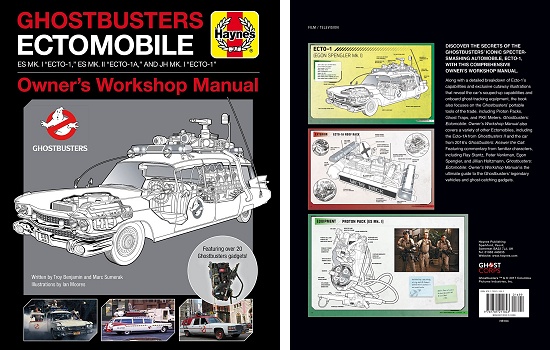 For the past few years, Insight Editions has been publishing deluxe collector's quality hardcover Ghostbusters books. It started with
Ghostbusters: The Ultimate Visual History
(
reviewed here
) in 2015, continued with
Tobin's Spirit Guide: Official Ghostbusters Edition
last year, and continues once more with the recently-released
Ghostbusters: Ectomobile Owner's Workshop Manual
. This 144-page tome was written by Troy Benjamin and Marc Sumerak, with illustrations by Ian Moores. Longtime members of the Ghostbusters Online Community (trademark pending) will remember Troy as the webmaster of
Ghostbusters Headquarters
(
old school mode
). Coming in at a nice size of 8.5" x 11" closed, with full color print on high-quality semi-glossy thick paper, the first two-thirds of the book deals with the original Ghostbusters, while the remaining one-third is about the 2016 film, and the last page is credits.
Although titled "Ectomobile: Owner's Workshop Manual", it covers all of the Ghostbusters equipment from both original movies and the 2016 movie. The book is written in kayfabe from the perspective of the characters and outside third parties Troy and Mark, who exist in the same universe as the characters and the reader (you), who is a potential franchisee. In that regard, the book is similar to
The Official Ghostbusters Training Manual
and the
Ghostbuster's Handbook
books.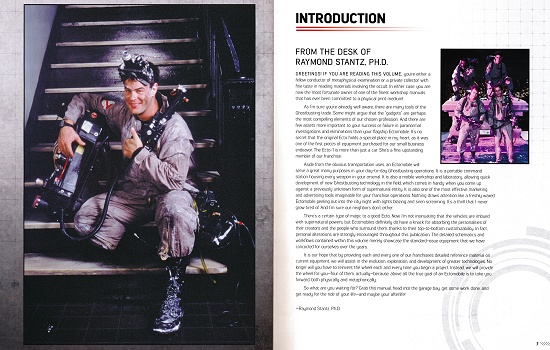 Pages 6-7
The book opens with a great photo of Dan Aykroyd with the Proton Pack from the
Ghostbusters stairwell shoot
. It is accompanied by an introduction written by Ray Stantz, the heart of the Ghostbusters.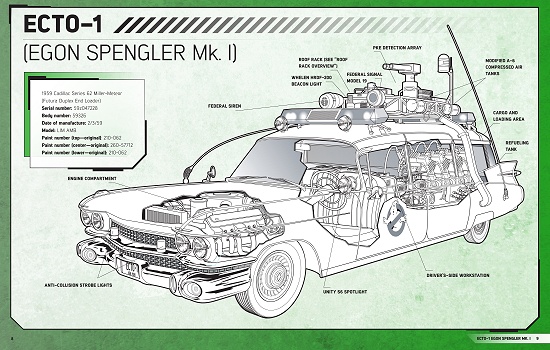 Pages 8-9
That is immediately followed by 30 pages detailing
every
nook and cranny of the Ecto-1 (Egon Spengler MK. I model), starting with a new equipment cutaway diagram by Ian Moores. These illustrations are awesome and a real visual draw of the book. The drawing is accompanied by an infobox that gives car details that (based on my knowledge) are true to real life: 1959 Cadillac Series 62 Miller-Meteor Futura Duplex End Loader with a date of manufacture of February 3, 1959.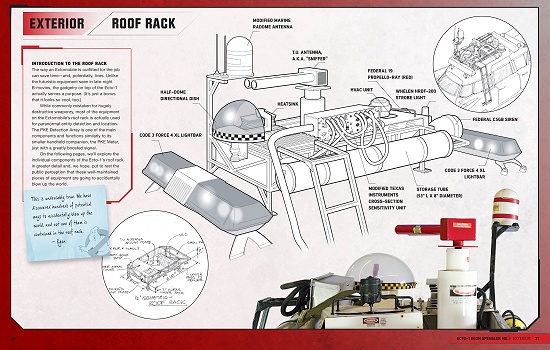 Pages 20-21
In the Ecto-1 section, you get an "Overview" on the car's history, which mixes in the real history of the original 1959 vehicle with the fictional Ghostbusters history. Then it covers "Engine and Basic Care" and proper usage of "The No-Ghost Logo/Mooglie" on the car doors. Eight pages are used to detail every doodad on the "Roof Rack": "Modified Marine Radome Antenna", "Modified Texas Instruments Cross-Section Sensitivity Unit", "T.U. Antenna, aka the Sniffer", "Half-Dome Directional Dish", "Modified Federal Siren", "Unity S6 Spotlight", and "Roof Rack Ladder". Yes, the ladder gets its own subsection, and it won't be the only ladder to earn that honor. If that wasn't enough, the "Interior Floor Plan" is fully documented with the "Drivers-Side Rear Workstation" and "Cargo Area" getting special attention.
I should make note of two small little annoyances here. In the Ecto-1 overview, one line uses slang: "...passers-by simply can't resist snapping a selfie with it". As a book that's supposed to be a professional company manual (in a manner of speaking), that bit of slang seems unprofessional. Not to mention that it will date the book in a few years, if it doesn't already. It would have been better to use "photo" in place of "selfie". Also, some pages have print that goes right into the crevice of the book, which is impossible to see. (See the Particle Thrower image below.)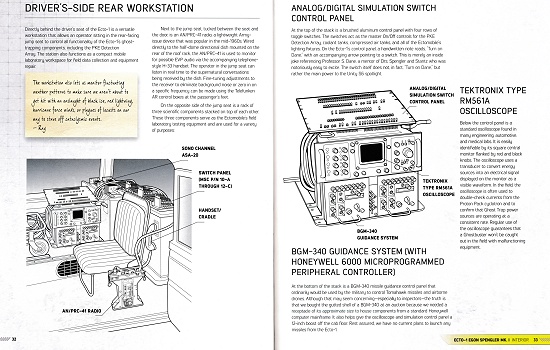 Pages 32-33
That's really just one minor nitpick in an otherwise well-written textual and pictorial narrative. Perhaps,
too
well-written. The book is filled with a lot of technical jargon that, in some parts,
reads like stereo instructions
. This is alleviated by the use of Post-It Notes commentary from the Busters that provide some levity throughout. Troy and Mark also throw in a lot of inside jokes that only true Ghostheads will get, such as when (on page 12) they say that the Ghostbusters "considered restoring the vehicle's original color, but ultimately decided that white would make the car more visible during evening hours." This is actually the real reason why the filmmakers chose white instead of black for the Ecto-1, because a black car wouldn't show up very well on film during night scenes. Be sure to also look out for name-checks to artists Michael C. Gross and Brent Boates, and the "notoriously easy to excite" Stephen Dane, the creator of the Ecto-1 customization and equipment, whose original pencil blueprints appear throughout.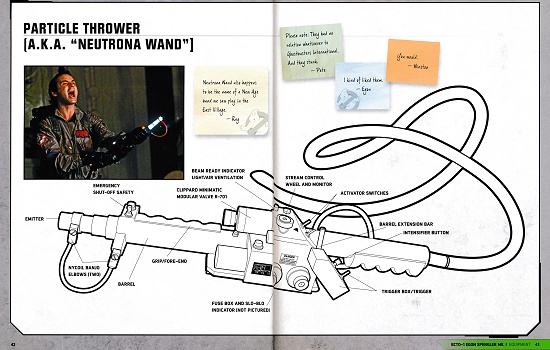 Pages 42-43
As previously stated, while the Ectomobiles (all three of them) are the headliners, every single piece of ghostbusting equipment gets a nod. A few pages are given for each of the following: "Proton Pack (ES Mk. I)", "Particle Thrower (ES Mk. I)", "Ghost Trap (ES Mk. I)", "Ecto-Containment Unit (ES Mk. I)", "Modified Bacharach 300 Series Sniffer", and "PKE Meter (ES Mk. I)". I love how the history of the real props are done in-canon, such as for the PKE Meter, where (on page 58) it mentions the use of an Iona SP-1 Electric Shoe Polisher as the chassis for the device. Later on (on page 89), it is said that "Dr. Spengler built the Giga Meter from a device that was collecting dust in the firehouse closet: a Redman Brothers Inc. Power Scrubber 'N' Buffer." That way you get the true prop history, as well as an in-canon history. This is a huge benefit to those of us who aren't prop builders.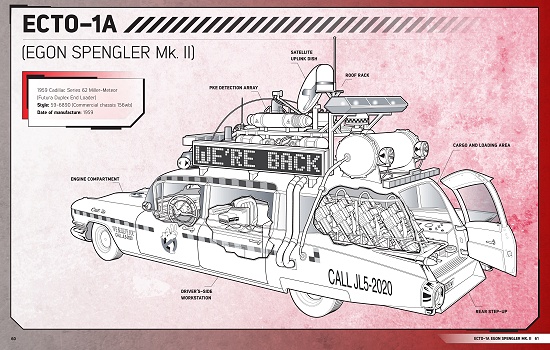 Pages 60-61
"The Ecto-1A (Egon Spengler Mk. II)" gets the next 24 pages, which gives an "Overview", followed by "Revamping the Ecto-1's Performance", "Marketing and Brand Awareness", and the "Rear Step-Up" - the latter three covering the changes made between this and the previous model. As expected, the new "Roof Rack" gets a lot of coverage: "Digital Satellite Uplink Dish", "Alphanumeric Dot-Matrix Display Screens", "Proton Charging Tank and Liquid Helium Cooling Unit", "Mk II Cross-Section Sensitivity Unit", and "US Navy Sonobuoy (in Protective Container)". Because the book wants to make sure you're getting the complete story, the "Floor Plan" is detailed with "Raytheon RDS-3458 Computer Terminal, "ID-1732/AYQ-5 Computer", and "Cargo Area".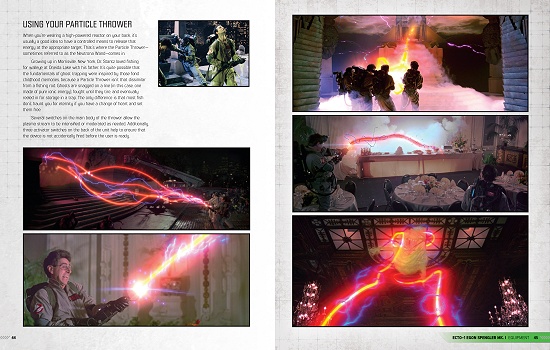 Pages 44-45
The book is filled with lots of photos, including lots of close-up photos of the car/equipment features, and none of them are blurred! That was a major gripe of mine with the
Ultimate Visual History book
, though I later learned that it was Sony who blurred the photos, not Insight Editions, since they also appeared blurred on the official Ghostbusters site. I was also quite pleasantly surprised to see a lot of photos that I've never seen before, and a few that I rarely see, in addition to lots of movie framegrabs.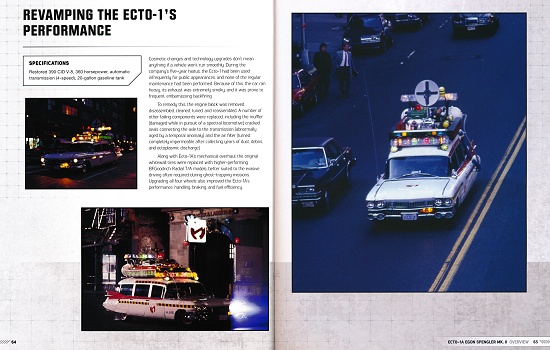 Pages 64-65
On page 65 is a nice large photo of the Ecto-1A from the
Possessed Ray Driving deleted scene
, in a shot used in the
Coca-Cola "Win An Ectomobile" commercial
.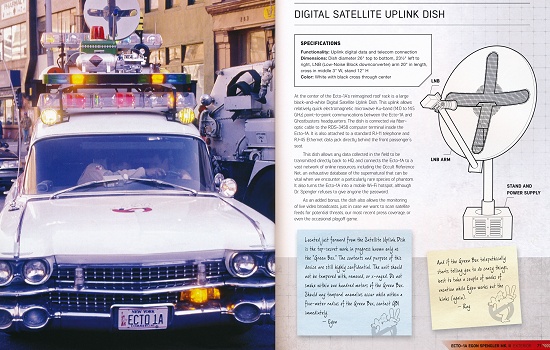 Pages 70-71
On page 70 is an Ecto-1A photo I've never seen before, taken down the block from the firehouse (near the
Louis escaping shot
and the
Zoolander gas station
) with Winston & Ray inside. It's the same location as the rarely-seen color photo on page 78 of
press kit photo #99
. I'm positive that this is from the end of the aforementioned Possessed Ray Driving deleted scene, as it shows Winston in the passenger seat yanking the wheel away from Ray.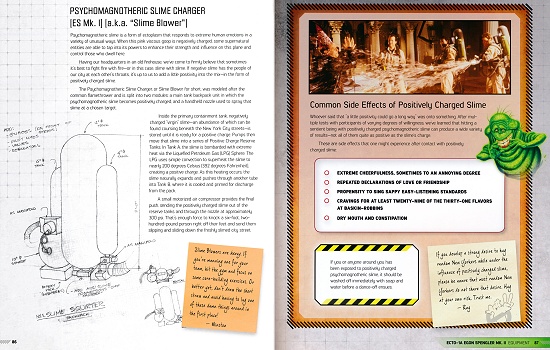 Pages 86-87
The new Ghostbusters II equipment gets some love. After learning about the "Psychomagnotheric Slime Charger (ES Mk. I)", "Giga Meter (ES Mk. I)", and "Ecto-Goggles (ES Mk. I)", you'll be instructed on "Uniforms and Acceptable Variations" and "Implementing Company Logos and Identification on Uniforms". The Ecto-Goggles are misplaced at the end of the Ghostbusters II section. If a Ghostbusters II photo were used it in, I could understand it being there, but with all Ghostbusters 1 images, it just looks like it's out of order. It's a minor nitpick, but it does jump out at you.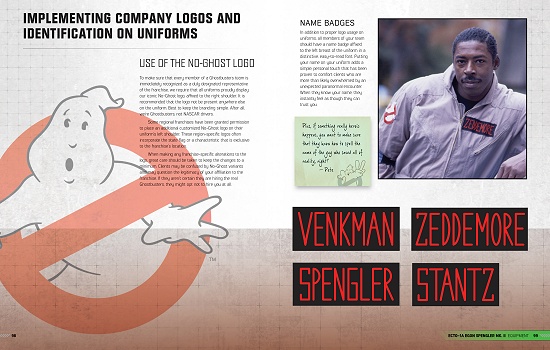 Pages 98-99
The Ghostbusters 2016 section starts on page 100. Oddly, there is no "bridge" between the original and 2016 sections to explain why there is now another group of Ghostbusters in New York. I know that a lot of Ghostheads hate the 2016 film, so you may be tempted to stop reading the book at this point. I can assure you that this section of the book is not bad. Remember, this book was written by professionals, not a hack like Paul Feig. There are only a few photos of the cast, and only a tiny mention of the movie plot. It's mostly just photos and diagrams of the equipment, with the close-ups of the car parts having been photographed outside of Ghost Corps headquarters. If it eases your mind, you could always pretend that this section is about fan-created equipment, like those made by the fan franchises.
Not that you need to "pretend", because this book "corrects" one of the major gripes about the whole "reboot" concept. Because this book is written in-canon for franchisees, covers equipment related to ALL movie Ghostbusters, and includes both an introduction by Ray Stantz and an afterword by Jillian Holtmann, this book puts ALL Ghostbusters in the same "universe". So, despite Feig's best efforts, as far as this book is concerned, they all exist together! No parallel dimensions needed. No "let's pretend the old crew never existed". None of that nonsense.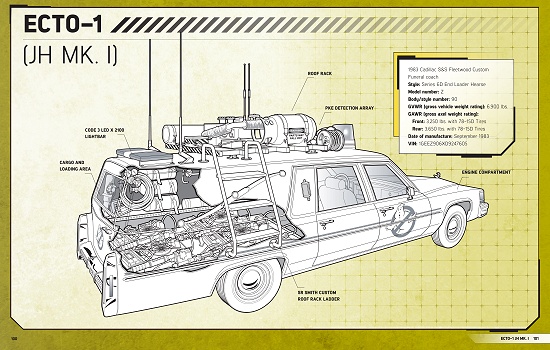 Pages 100-101
The first 22 pages is the "Ecto-1 (Jillian Holtzmann MK. I)", which is a 1983 Cadillac S&S Fleetwood Custom Funeral Coach, Series 6D End Loader Hearse with a date of manufacture of September 1983. After the "Overview", you get some "Engine and Basic Care" information, details on the "Ecto-1 Hood Ornament" (with a shout-out to designers Peter Rubin and
Shawn Thorsson
), and a look at the "Warning Labels". The "Roof Rack" is extensively covered with "Long-Range PKE Scanners", "Ectoplasm Analysis Unit", "Loudspeaker/Siren", "Nuclear Power Cell", "Reserve Liquid Helium Dewar/Hydrogen Tank", and "Roof Rack Ladder". Yes, the ladders on all three cars have write-ups! For the "Floor Plan", we get "Cargo Area" and "Main CPU Unit" coverage. When talking about the Main CPU Unit in the 2016 car (page 121), the "popular 1980s arcade game" being referenced is Midway's Ms. Pac-Man. Yeah, I actually
looked it up
.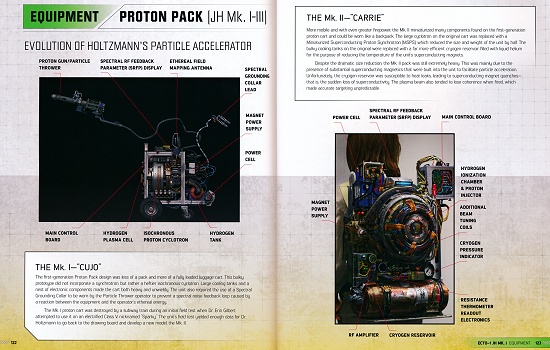 Pages 122-123
Over the next 14 pages, we learn about the "Proton Pack (JH Mk. I, II, and III)", "Ghost Trap (JH Mk. I)", "PKE Meter (JH Mk. I)", "Additional Innovations" (all of the Times Square battle gadgets), and "Uniforms". Five pages are dedicated to the "Ecto-2 (Kevin Beckman MK. I)", Kevin's 1975 Harley Davidson SX-250 single-cylinder, two-stroke, five-speed motorcycle. After the "Overview", all of the doodads attached to it are detailed in length, even though they're all superfluous: "Handlebar-Mounted Proton Guns", "Cargo Basket and Components", "(Not So) Nuclear Gas Tank and Other Mislabelings", and "Custom Motorcycle Helmet".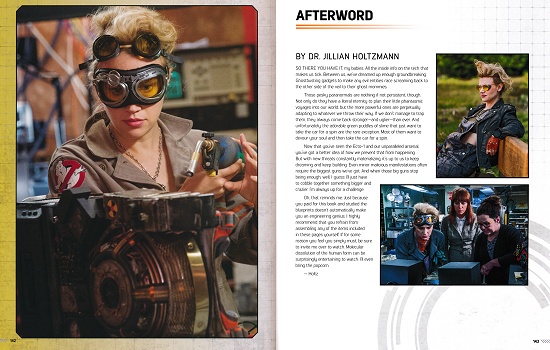 Pages 142-143
Closing out the book is an afterword written by Jillian Holtzmann, the manic scientist of the female crew. I was pleased to see that Jillian and Kevin were always mentioned by their full names. It's never just "Kevin" or "Holtzmann", which is a pet peeve of mine from all of the merchandise I reviewed last year.
The last page starts with a dedication to Harold Ramis, Michael C. Gross, and Stephen Dane. It ends with the Ackowledgements section, where
you'll see my name (Paul Rudoff)
about halfway though the "fan thank you" paragraph, placing me in good company between Zack Myers and Richard Roy. I was rather surprised to see my name because I didn't contribute anything to the book, and I'm not part of the prop builders part of the community. Then again, I did work with co-author Troy Benjamin on the
Egon's Workshop website
around 2004 (or earlier), and am one of the original members of the Ghostbusters Online Community (trademark still pending), so I guess I can understand why I was thanked.
Ghostbusters: Ectomobile Owner's Workshop Manual
, which carries a MSRP of $29.99 ($39.99 in Canada), is geared a little more towards the prop builders than the average fan because it is filled with a lot of technical jargon that some may find boring. That said, this is the definitive, most comprehensive book on the Ghostbusters equipment that you will ever find.
FINAL VERDICT:
Highly Recommended
if you're a Ghostbusters prop builder, and
Recommended
if you're just a regular Ghosthead. If you're neither of those, check out the
preview pages
and make up your own mind.
No feedback yet
Leave a comment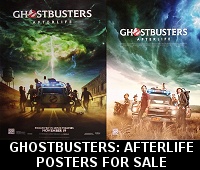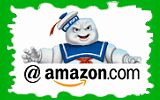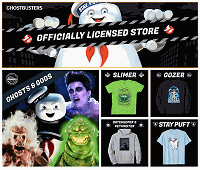 Please be aware that as an Amazon Associate, I earn a very tiny commission from purchases made though the Amazon links on this site.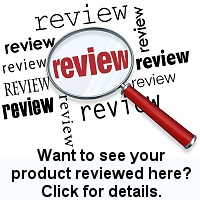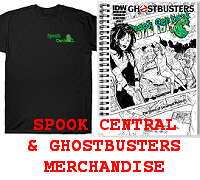 (
MY COMPARISON REVIEW
)
(
AVOID SHIPPINGEASY/STAMPS.COM
)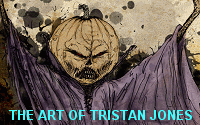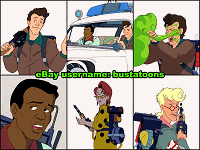 U.S. eBay (Ghostbusters stuff)
U.K. eBay (Ghostbusters stuff)