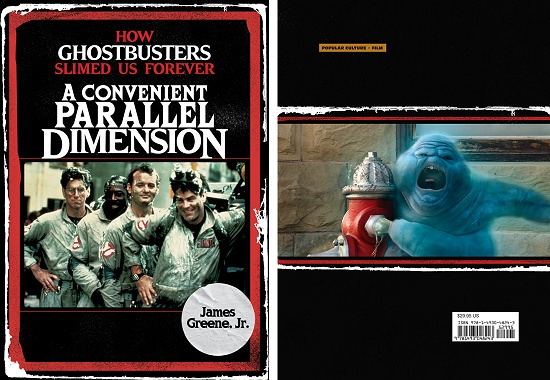 Lyons Press just released
A Convenient Parallel Dimension: How Ghostbusters Slimed Us Forever
by James Greene, Jr. Let's take a closer look at it...
This unofficial story of the Ghostbusters franchise has been produced as a hardcover book measuring 7.0"x10.25" in size. Although there are a total of 336 text pages, the narrative portion is only 251 pages; the rest at the end is primarily Notes (references) and the Index. The book features a beautiful dust jacket that looks like the original
Ghostbusters VHS
(the book underneath is plain gray), though the title and subtitle are transposed on the cover. Here's what the entire dust jacket looks like:
The book is described on the inside of the dust jacket as such:
"Rarely has a movie this expensive provided so many quotable lines." So wrote Roger Ebert in his review of Ghostbusters, the 1984 blockbuster that handed our paranormal fears over to some of the sharpest comic minds of the day. Ghostbusters instantly resonated with audiences thanks to eye-popping special effects and crackling wit; to date, it remains the highest-grossing horror comedy of all time. The film spawned an Emmy-nominated Saturday morning cartoon, a tentpole 1989 sequel, a contentious 2016 reboot, legions of merchandise, and one of the most dedicated fan bases in history. Ghostbusters also elevated its players to superstardom, something a few cast members found more daunting than the Stay Puft Marshmallow Man.

Now, for the first time, the entire history of the slime-soaked franchise is told in A Convenient Parallel Dimension: How Ghostbusters Slimed Us Forever. The cohesion of talent during the mid-'70s comedy revolution, the seat-of-their-pants creation of the first Ghostbusters, the explosive success that seemed to mandate a franchise, the five year struggle to make Ghostbusters II, the thirty-one-year struggle to make Ghostbusters III - it's all here, with incredible attention to detail. Thoroughly researched and engaging, A Convenient Parallel Dimension smashes long-held myths and half truths about the dynamics behind this cultural juggernaut and presents the real story, down to the last drop of ectoplasm.
A 16-page full color photo section has been placed in between pages 160 and 161. There are 29 common photos from all four Ghostbusters films (GB1, GB2, 2016, GBAL), plus one from the set of Animal House. Since this is an unofficial book, the photos are unaltered.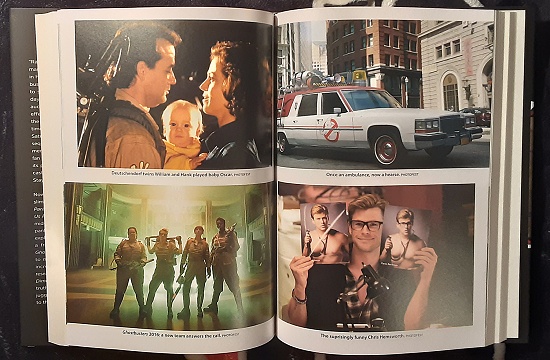 In the interest of full disclosure, author James Greene, Jr. e-mailed me about the book on June 18, 2019.
Hello, I'm a writer who is currently working on a book about the history of the "Ghostbusters" films for Lyons Press. I'd love the opportunity to interview you for the book about various aspects of "Ghostbusters" history and lore. I know your knowledge and insight can only help to enrich the narrative. Please let me know if you have the time or interest to help me. Thank you.
We spoke briefly over the phone a few days later, but that was the extent of my personal involvement with the book. That said, I am surprised James didn't mention me in the Acknowledgments section since it seems like he used Spook Central extensively in his research. The use of the
Ghostbusters scripts
,
Ghostbusters II scripts
,
Ghostbusters III News Archive
, and my
Ghostbusters II Alternate Scenes Theory article
are acknowledged throughout the
Notes section
, where my name (Paul Rudoff) usually appears with each reference, but I have no doubt that Spook Central was also useful in providing copies of some of the old books and articles that are also referenced in the Notes section. After all, Spook Central is the leading online Ghostbusters reference library.
At least Spook Central is listed first among the old-school Ghostbusters websites mentioned on Page 161. Spook Central is also the only site from that bygone era of the mid-1990s that is still active.
Spook Central is listed between Spielberg and Stallone in the Index on Page 333. This will be the only time I'll be in such illustrious company.
In his Introduction, author James Greene, Jr. gives his mission statement.
Other books about Ghostbusters have been published throughout the years, but even the official accounts omit a wealth of details pertaining to the films, their internationally renowned players, and the brand's place in our cultural history. This volume aims to fill in the gaps and facilitate a better understanding of everything surrounding these movies. [...] In the early stage of this book, there was a conversation with Ghostbusters majority rights holders Sony Pictures Entertainment about making my work officially licensed. The caveat was that my manuscript would be subject to their approval. In the interest of objectivity, I declined. I'm trying to tell the full story.
The thing to note about this book is that it is, primarily, all text and trying to tell the story of the
entire
franchise over the course of about 250 pages. While details are given for various things, if you're looking for the details on how each and every special effect was created, consult another book. No single Ghostbusters book is perfect; each providing something the others don't. Look at this book as the "inside story" of the franchise, warts and all. While there is nothing in here that I would call "scandalous", I have no doubt that if Sony were allowed to approve the book, there would be no mention of the numerous lawsuits that plagued the franchise, no mention of the fight Bill had with a prop master on the set of
Ghostbusters II
, and no details on the making of the 2016 remake (it's not a reboot) that was culled from the private Sony e-mails that were leaked years ago. There also would be no profanities, of which there are a few in some of the quotes used throughout.
I should also point out that each film's plot is detailed, so there will be some spoilers if you never saw any of them...but that's highly unlikely at this point. I only noticed three typographical errors: one is a foreign character in a name that was replaced with the "object missing" character, one is "City of Embers" (there is no "s" in that film's title), and the last is a missing word in one of the last few chapters.
Now, let's take a look at the 12 chapters and an overview of what subjects are covered therein. I will also point out a few interesting tidbits.
##### CHAPTER 1: RUBBER SOULS (PAGES 1-24) #####
Background of Ivan Reitman, Dan Aykroyd, Bill Murray, and Harold Ramis; and their careers pre-
Ghostbusters
. Dan starts writing the script. John Belushi dies.
##### CHAPTER 2: THIS IS A PIECE OF CAKE (PAGES 25-54) #####
Filmation and the "Ghostbusters" name. Script changes. Casting. Production begins in New York City. Effects work. Editing. Music.
• PAGE 32 -
Dave Ivey's
animated short
Ultra Ghoul vs The Abominable Doughman
(1979) features a radioactive knockoff of Poppin' Fresh (aka The Pillsbury Doughboy) rampaging through Detroit. One spot at the 1:58 mark is of interest to Ghostheads.

That seems awfully familiar. Where have I seen that before?

The book states that the "cartoon aired on syndicated horror host program
The Ghoul Show
. Aykroyd's 'Ghoul' fandom was suggested when he appeared to imitate 'Ghoul' character Froggy during a scene in
1982's Neighbors
." (If you know the spot in the movie where this occurs, including the timestamp of the scene, post a comment below.)
• PAGE 48 - After it was determined that Bill and Dan could not play the bums in
Ghostbusters
, as it would lead to audience confusion, the roles were recast with actors
Joe Schmieg
and Robert Englund, but the chemistry wasn't the same. Does Joe and Robert's audition footage exist? If yes, will Sony release it in my lifetime?
• PAGES 54&68 - When discussing the Huey Lewis lawsuit, it is claimed that Ray Parker, Jr. stole the idea for the "Ghostbusters" chant from
"Soul Finger" by the Bar-Kays
. I don't hear it, but I can tell you that he stole the structure of the song from
"Let It Out (Let It All Hang Out)" by The Hombres
.
I noted as such
15 years ago, but plan to do a full analysis of both songs in the future.
##### CHAPTER 3: BIBLICAL PROPORTIONS (PAGES 55-76) #####
Ghostbusters
is released. Box office. Critics. Fan club and unofficial merchandise. Immediate aftermath. Legal woes. Ernie's career afterward. Awards for song only. Ray Parker Jr.'s career. HBO's Christmas present broadcast.
• PAGE 60 - High school student Jeff Nichols appears in the background of the Rockefeller Center montage shot, which made him a celebrity in his community, and got him
interviewed by the New York Times
. I have no idea why this random bit of information was deemed worthy enough to include in the book, but if you can identify Jeff in the shot, post a comment below.
• PAGE 67 - It is said that the Casper logo lawsuit was settled by both parties, whereas I always heard that the judge ruled in Columbia's favor when he deemed it to be a generic depiction of a ghost.
• PAGE 70 - It is mentioned that Ernie was in a mid-1980s TV pilot called "Full House", which is of no relation to the
Bob Saget series of the same name
that came out a few years later. However, James failed to mention that Ernie
guest starred in the first season
of the popular series.
##### CHAPTER 4: THE TYRANNY OF THE BOX OFFICE (PAGES 77-100) #####
David Puttnam's career. Post-
Ghostbusters
careers of the major players.
The Real Ghostbusters
. Puttnam's brief reign at Columbia ends; enter Dawn Steel.
Ghostbusters II
talks start.
• PAGES 77-80 - There are a couple of instances in the book where James spends time on details that don't matter to the overall narrative. The most egregious example is here on pages 77-80 where he wastes several pages detailing the career of David Puttnam, a man who has nothing to do with Ghostbusters, other than being a minor stumbling block in getting a second film made during his brief tenure as head of Columbia. No one wanting to learn the history of the Ghostbusters franchise would care to know that Puttnam was a dick who took credit for things on the movie
Chariots of Fire
that he had nothing to do with. (In short, when you get to Chapter 4, start reading at the ink blot on page 80.) Another example is where space is used on pages 81 & 82 to detail the problems in the production of Ivan's
Legal Eagles
, starring Robert Redford and Debra Winger. Who cares?!? All that needed to be said was that Ivan made the film following
Ghostbusters
and nothing more. Yet one more example is on page 97 where there are details about Bill's work on
Scrooged
that are superfluous to the story. Parts like these feel like padding in order to reach a minimum word or page count. I noticed the same issue with the
Ghostbusters (2016) adult novelization
.
##### CHAPTER 5: SOMEWHERE IN BETWEEN (PAGES 101-128) #####
Ghostbusters II
pre-production. Casting. Bad vibes, fights, and difficulties. Music. Moved to June 16th to be ahead of Batman.
• PAGE 106 -
Elaine May
read the
Ghostbusters II
script and gave feedback to Harold.
• PAGE 107 - Peter McNichol was cast after the filmmakers saw him playing Steve Cooper in the
Season 1 episode
of
The Days and Nights of Molly Dodd
entitled "Here's Why They Call the Little One a Jingle and the Big One the Blues", which aired on July 9, 1987. (The series is not available on DVD and I can't find the episode online in order to provide a clip.)
• PAGE 109 - "Kurt Fuller initially auditioned to play a banker named Ed Petrosius whose irate nature is causing his office to periodically catch fire. The producers were looking for Gilbert Gottfried energy and that's who got the part of Ed Petrosius over Fuller, though the sequence featuring the character was ultimately cut from the movie." I wonder if the scene was ever filmed. If so, that's yet another
Ghostbusters II
deleted scene that we'll likely have to wait a lifetime for Sony to release.
• PAGE 110 - There were 10 or 11
Ghostbusters II
drafts in total. Four of them are available
here on Spook Central
.
• PAGE 114 - Bill saw some "really terrible" (his words)
Ghostbusters II
movie posters in Ivan's trailer while they were filming the movie. Bill may have kept them for his collection. I'd love to see them if he still has them.
• PAGE 115 - Bill got into a physical altercation with a propmaster on the courtroom set while filming.
• PAGE 119 - Kids who visited the
Ghostbusters II
set always wanted to see Ernie the most, according to Rick Moranis.
• PAGE 125 - Ivan didn't like the original ending to
Ghostbusters II
, so he decided to reshoot the last 25 minutes on his own accord.
##### CHAPTER 6: I HATE THAT PAINTING (PAGES 129-148) #####
Ghostbusters II press conference
. Critical reaction. Soundtrack music. Lawsuits. Alternate versions/Slimer ending. Kid's Television reform. Ecto Cooler. Saturday Night Live.
Ghostbusters II
theatrical run ends.
• PAGE 139 - It is said that Bobby Brown (and other parties) were sued over the song "Own Our Own" by Derrick Moore, who claimed that it ripped off his song "She Can't Stand It". (I can't find the song online to compare it myself.)
• PAGE 142 - References #84, #85, #89 point to my
Ghostbusters II Alternate Scenes Theory article
.
• PAGE 144 - "We now return to The Rape Ghostbusters." Report of an unfortunate incident where a local San Antonio station accidentally aired a portion of the rape scene from the 1977 film
Looking for Mr. Goodbar
during a 7:00 am broadcast of
The Real Ghostbusters
. Another instance of trivia that is random and inconsequential to the history of the Ghostbusters franchise, but was included in the book instead of the pre-2009 video games (there's an old
David Crane Computer Chronicles interview
that could have been referenced), the NOW Comics books, and the Kenner toyline (which only got one paragraph).
##### CHAPTER 7: THE LONG WINTER (PAGES 149-166) #####
Universal Studios Florida attraction
. Post-
Ghostbusters II
careers. Sony buys Columbia. Bill & Harold have a lover's quarrel. Columbia wants a third film.
Extreme Ghostbusters
is made. First
Ghostbusters 3 script details
. Ghostbusters fan sites, including Spook Central.
Ghostbusters 3: Hellbent
script details.
Ghostbusters 3
is dead; script revived in 2006.
• PAGE 157 - Jeff Kline reveals the origins of the
Extreme Ghostbusters
character names. "Kylie was named after Kylie Minogue, Roland was named after a FOX Kids executive named Roland Poindexter, and Garrett was named after the son of a woman I was dating. Eduardo was just a languid name I liked."
• PAGE 161 - Ghostbusters fansites are mentioned, including Spook Central, and some quotes from Bill Emkow of the now-defunct Ghostbusters Homepage.
##### CHAPTER 8: I'LL TELL MY BROTHER (PAGES 167-182) #####
Ivan's 1990s career. Making
Evolution
. Dan lets go of
Ghostbusters 3
. Huey Lewis talks on Behind the Music. Ray Parker Jr. re-records the song. Bill's career in the 2000s. Ghostbusters: The Video Game is made.
• PAGE 178 - Brian Doyle Murray replaces David Margulies as the mayor in the video game, in an effort to cajole Bill into participating.
##### CHAPTER 9: ALIVE AGAIN (PAGES 183-196) #####
Gene Stupnitsky and Lee Eisenberg write a
Ghostbusters 3
script, but it stalls. Harold gets sick. Etan Cohan writes a
Ghostbusters 3
script called
Ghostbusters: Alive Again
. Sony executives toss around casting ideas. Rights issues and making Ivan a producer, instead of a director, on the project. Harold dies.
##### CHAPTER 10: GIRLS TO THE FRONT (PAGES 197-210) #####
Ivan and the guys sell primary control of the franchise rights to Sony. A female remake is underway. Directors embarrass themselves by begging Amy Pascal via e-mail for the job. Paul Feig is hired. Leaked internal Sony e-mails provide details on how the movie is made. Meanwhile, Channing Tatum and friends want to make a serious action-packed
Ghostbusters
movie, with dreams of being part of a multi-movie cinematic universe. Ivan pushes for the female-led film to be connected to his films, but Feig wants the film to be a "clean slate". Actresses plead to be in the film. Scriptwriter Drew Pierce comes aboard Tatum's film. Ghost Corps is created. Tatum's film will be one in a four-part series of connected films. Tatum's film is dead because parties didn't communicate with each other. Feig receives hateful comments online from trolls about his female-centric film.
##### CHAPTER 11: ANSWER THE CALL (PAGES 211-228) #####
The 2016 film begins production. Trailer is released online; voted most disliked in YouTube history. (Mention is made of the "four scientists" line in the trailer, but no mention is made of Winston
not
being a scientist.) Sony holds inept press screenings for the film. Aftermath and film's legacy.
##### CHAPTER 12: HAVE YOU MISSED US? (PAGES 229-251) #####
Ghostbusters 3
happening? Jason Reitman announced as director of the next film. Teaser revealed. Jason's career.
Afterlife
begins. Leslie Jones upset about her Ghostbusters being ignored (the irony!).
Afterlife
is cast. Filming and effects. Filming concludes and first trailer is released. Delayed due to COVID-19 pandemic. Surprise screenings at CinemaCon in August 2021 and New York ComicCon in October 2021. Critic reviews. Box office take. Author's take on the film. Ivan dies in February 2022. An
Afterlife
sequel is announced in April 2022 just as the book goes to press.
A Convenient Parallel Dimension: How Ghostbusters Slimed Us Forever
is a good book, but it's not perfect. The only real issue I have with it is the inclusion of extraneous details that only serve to pad out the book, and some of the information is completely random and inconsequential to the history of the Ghostbusters franchise. It's not the "be all, end all", but a companion piece to all of the other Ghostbusters books released over the past 35+ years. Sure, longtime Ghostheads will find a lot of it to be a well-trodden path, but there is some new material here and there, and it's nice to have an uncensored look at the franchise. The book carries a list price of $29.99, but you can always find it
a little cheaper at Amazon
.
This item was provided by Lyons Press for review on this site.
1 comment
I thought the book was awful. Sure a couple new things come to light but it's just so….blah. It's poorly written. It's written like a middle of the road like a high-school essay copied from Wiki. The writer 1000% pads out the book with details that do not matter one little bit. Then comes the COVID & Politics. I'm reading a Ghostbusters book, ok? Leave your politics out of it. Yes there were sexist morons back in 2016 but that's not why most people disliked Answer the Call or it's trailer. Remaking a bonafide classic movie like Ghostbusters? That's why people hated it. But Remaking it and it being a complete unfunny, unscary, unthrilling disaster? That should be illegal. People waited, what? 25 years for a new Ghostbusters movie? Constant hype & promises and then tragically Harold Ramis passes away & Sony dances on his grave by releasing that garbage remake. The fact that any fans enjoy that POS just shocks the hell out of me.
It's also total BS you didn't get an acknowledgment in the book. You are easily the greatest GB source on the internet & it's not even close. You must get tired on people stealing your research and scripts & profiting on it.
If anything, and I've heard this said elswhere, the 2 latest GB movies show how special Ivan, Harold & Dan were as creative partners. Because 2 very talented filmmakers have tried making a Ghostbusters movie & each kinda failed. Afterlife was fan service shlock with an ending that Harold Ramis would've no doubt loathed. It had some moments and was at least better than Answer the Call. But there's just so much wrong with it. The cameos? The fan service? The lack of comedy? Apparently making Ghostbusters movies is really, really hard. Same with writing "Making of Ghostbusters" books because this is just a complete dud. I'd give it a 5 out of 10.
Nov. 10, 2022 @ 23:35
Leave a comment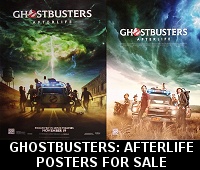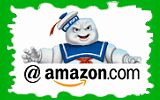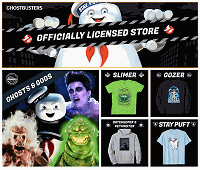 Please be aware that as an Amazon Associate, I earn a very tiny commission from purchases made though the Amazon links on this site.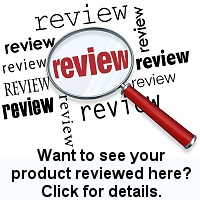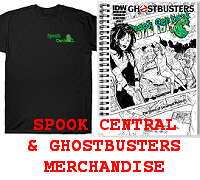 (
MY COMPARISON REVIEW
)
(
AVOID SHIPPINGEASY/STAMPS.COM
)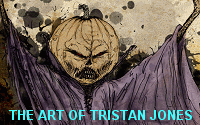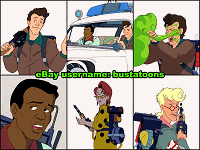 U.S. eBay (Ghostbusters stuff)
U.K. eBay (Ghostbusters stuff)