By Paul Rudoff on Apr. 30, 2019 at 11:55 PM in Home Video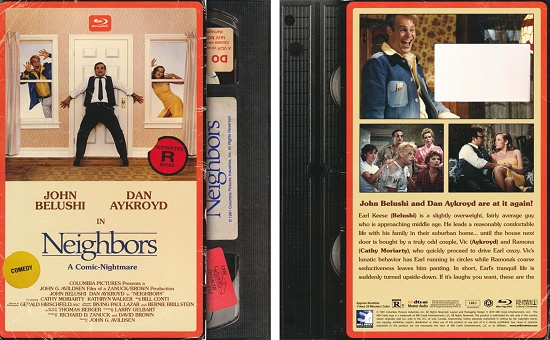 Neighbors
arrives on Blu-ray as part of Mill Creek Entertainment's Retro VHS Look Series, part of a
growing trend of physical media releases
with packaging designed to look like the VHS videocassettes of the 1980s and 1990s. I have reviewed
several other titles in the series
here on The Corner Penthouse.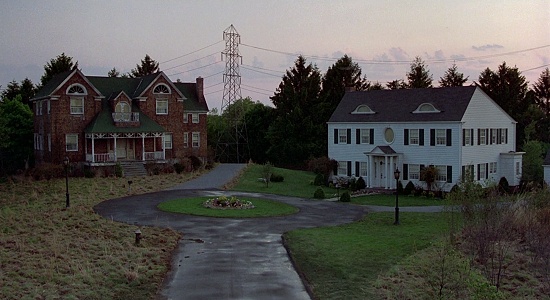 Neighbors
(1981) is the story of Earl Keese (John Belushi), a slightly overweight, fairly average guy who is approaching middle age. He leads a reasonably comfortable life with his wife Enid (Kathryn Walker) in their suburban home... until the house next door is bought by a truly odd couple, Vic (Dan Aykroyd) and Ramona (Cathy Moriarty), who quickly proceed to drive Earl crazy. Vic's lunatic behavior has Earl running in circles while Ramona's coarse seductiveness leaves him panting. In short, Earl's tranquil life is suddenly turned upside down.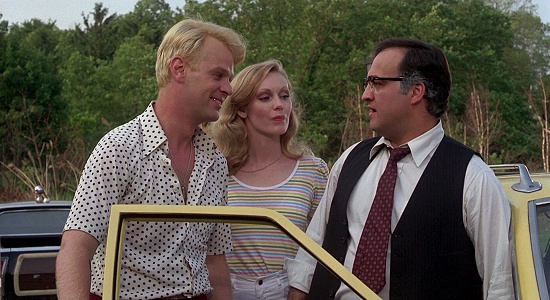 After teaming up on
Saturday Night Live
and in
The Blues Brothers
, John Belushi and Dan Aykroyd are back for their last movie together. John and Dan were supposed to reunite for
Ghostbusters
, but that was not meant to be as Belushi passed away a few months after this film was released.
Neighbors
was directed by John G. Avildsen (
Rocky
,
The Karate Kid
) from a screenplay by Larry Gelbart (
Tootsie
), based on the
novel by Thomas Berger
. It's a wild 24 hours for Earl, who feels like the victim here as he didn't do anything to Vic and Ramona to warrant the bizarre behavior from them. Honestly, no human beings act the way Vic and Ramona do, so the whole time I'm watching the movie, I kept wondering if they were aliens or something. Seeing Dan with blonde hair and wearing contact lenses that give him blue eyes with constantly-dilated pupils, certainly makes him looks like an alien. The movie doesn't really tell you anything about their "origins". Sure they tell the Keese's a backstory, but they're known liars, so one is never sure if they're really who they say they are.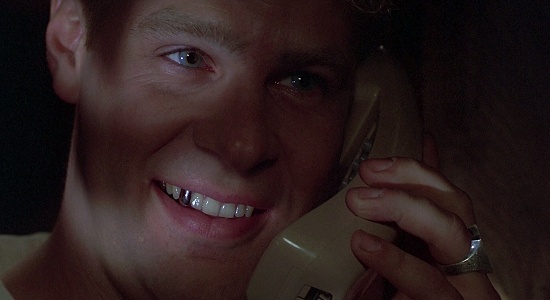 The movie is a fun ride, and while I didn't necessarily find it laugh out loud funny, it had a fair share of humorous moments. If you don't think so, the score by
Rocky
composer Bill Conti will make sure you know that it's a comedy. I don't think I've ever witnessed a more noticeable music score in any movie ever. Subtle this score is not. It's the theatrical equivalent of a laugh track in a TV sitcom. To give one example, when Ramona drops her towel to reveal her nude body to Earl, the score opts for a "woo-hoo" slide whistle. Sadly, for an R-rated film, and a very horny Ramona, never once we do ever see any of Cathy Moriarty's fine feminine form. Cathy Moriarty, and Leslie Ann Warren in
Clue
, are two of the movie sex symbols of the 1980s - in my opinion, at least.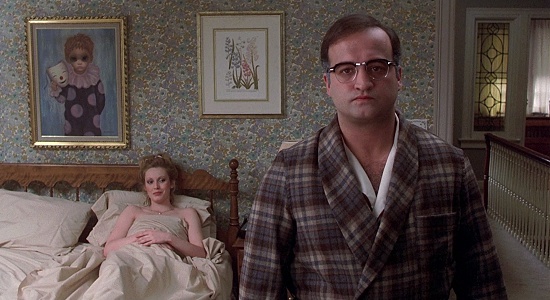 I think the only reason this film got an R was because it would be a few years before the PG-13 rating would be created. Sure, this isn't a film for little kids, but
Neighbors
is definitely safe for the teenage crowd. It would make a nice double feature with another 1980s movie about crazy neighbors,
The Burbs
. You could even pair it with the unrelated 2014 film
Neighbors
, starring Seth Rogen and Rose Byrne.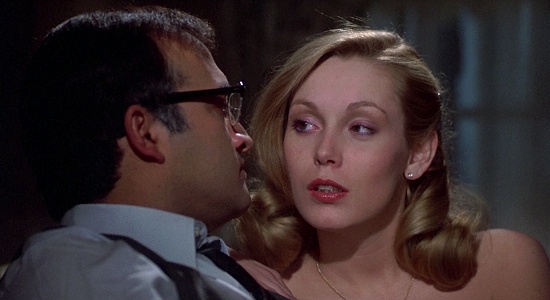 A little fun fact for all of you Ghostbusters fans out there. Cathy Moriarty and Aykroyd would briefly reunite in the live action
Casper
(1995) movie, where she plays the villain, and he reprised his Ghostbusters character Ray Stantz in a small cameo. In the photo below, that's Eric Idle on the left, Cathy in the middle with her back to us, and Dan on the right.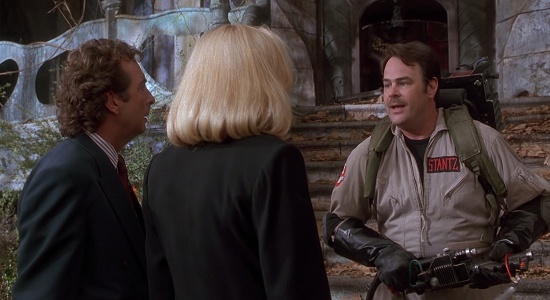 Neighbors
is presented in its original 1.85:1 aspect ratio with a runtime of 1:35:08. On the audio side, there is only an English 2.0 Dolby Digital track (the back of the underlying case incorrectly says it's DTS-HD Master Audio). There are no subtitles, even though the back of the underlying case says that there is. As is the case with most Mill Creek Entertainment releases, there are no special features - just like the original videocassette!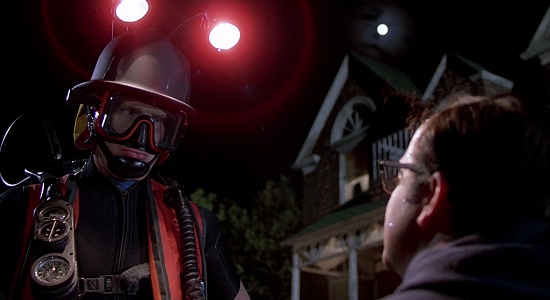 The real "bonus feature" here is the vintage-looking VHS-inspired slipsleeve, with faux wear and tear, and fake "rental stickers" on it, while giving the appearance of a videocassette being pulled out from the right side (though the original VHS may have been in a bottom-loading box), complete with tape label side on the right spine. Here's a complete look at this special slipsleeve. Click on it to get a better look.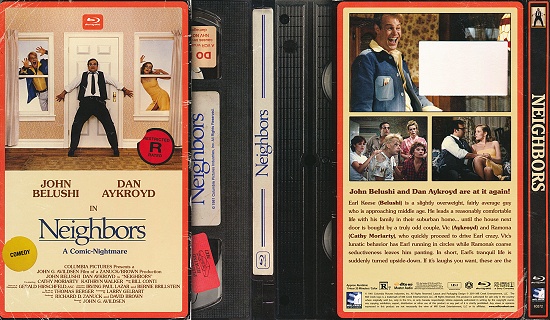 The front artwork is based on the original U.S. VHS box art, as seen below. Ghostbusters fans will recognize this box style as most of the 1980s RCA/Columbia Home Video VHS releases came in boxes with a thick red border around the edge, like this. The back of the slipsleeve bears a similarity to the original VHS box art, using the same photos, but in a different orientation. It should be noted that there is a BIG ERROR on the back of the case: The plot synopsis text suddenly ends with "these are the". The rest of the sentence - "neighbors to look in on." is missing, even though there is plenty of blank space in which it could have been printed. (The movie was later re-released on VHS by budget company Goodtimes Home Video, who duplicated their tapes in the crappy LP speed. That release, which my family owned when I was a kid, featured different artwork and design.)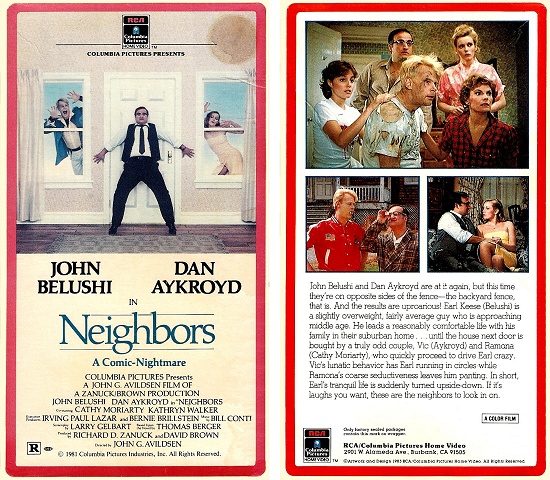 The case artwork underneath is of a modern style, which means that the VHS-style slipsleeve may only be available for a limited time. In the photo below, the slipsleeve cover is on the left and the case artwork underneath is on the right.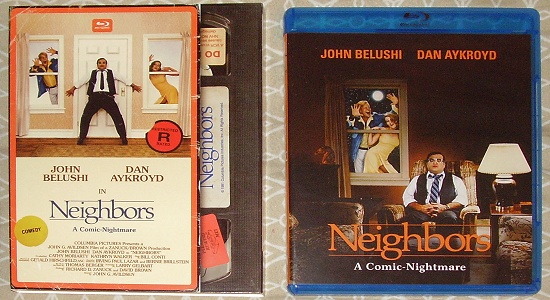 If you're not already aware of Mill Creek Entertainment, they are a budget company, which results in their products having a lower cost than the big studios. Right now,
Neighbors
is listed on Amazon for less than $10.

The
Retro VHS Look Series
includes the following Blu-ray releases. Do note that there is a new
1990s-centric Retro VHS Look Series
from Mill Creek. That is a separate series from this one.
Images used come from the
Internet Movie Database gallery
of the film. The Blu-ray has been provided by Mill Creek Entertainment for review on this site.
No feedback yet
Leave a comment