By Paul Rudoff on Aug. 30, 2010 at 4:00 PM in Other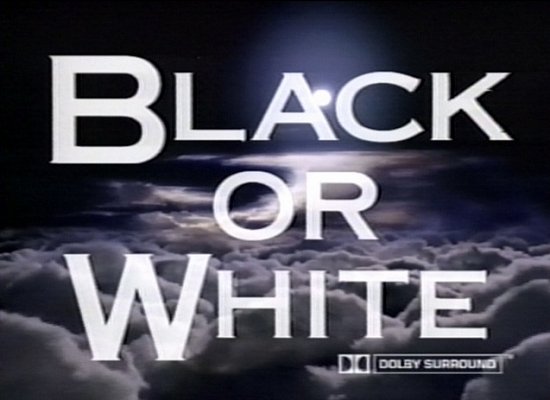 Way back in 1991, Michael Jackson released the song "Black or White" as a single from his album,
Dangerous
. The song is a fusion of pop rock, dance and hip hop, which Epic Records described as "a rock 'n' roll dance song about racial harmony". The music video for "Black or White" was directed by John Landis, who previously directed Jackson's "Thriller" music video. There are three versions of the music video. Let's take a quick look at them...
The first version of the "Black or White" music video premiered on MTV, BET, VH1, Fox, and other networks around the world on November 14, 1991. It runs for a rather lengthy 11-minutes and features an introduction with Macaulay Culkin, Tess Harper, and George Wendt portraying a family. After the song concludes, the video continues with the infamous "panther sequence" in which a black panther walks out of a studio into an urban street and transforms into Jackson, who dances furiously and destroys a glass beer bottle, a building window, and a parked car. After the property damage, he transforms back into a panther. The video then ends with a brief animated scene between Homer and Bart Simpson.
During the "panther sequence", Michael grabbed his crotch and zipped up his pants, which caused quite a bit of controversy for being sexually suggestive. The singer asked his fans for forgiveness, saying that the violent and suggestive behavior had been a dance-style interpretation of the animalistic instincts of a panther. Jackson ordered the removal of the video's final scenes from subsequent broadcast. The video was edited down to about six and a half minutes, removing the post-song "panther sequence" and the Simpsons end scene.
In 2001, Jackson re-issued the video with the final scenes restored in a digitally altered form. The glass windows on the car and door now had racist graffiti spray-painted on them. These alterations were meant to provide justification for Jackson's destruction of property.
I just put together this collage comparing the original and racist graffiti versions of the video. (Redistribution of my collage is allowed as long as it is not altered in any way. You must use it in it's original 550x1250 or 1300x2950 sizes and not edit it at all. I also ask that you include a link back to my website.)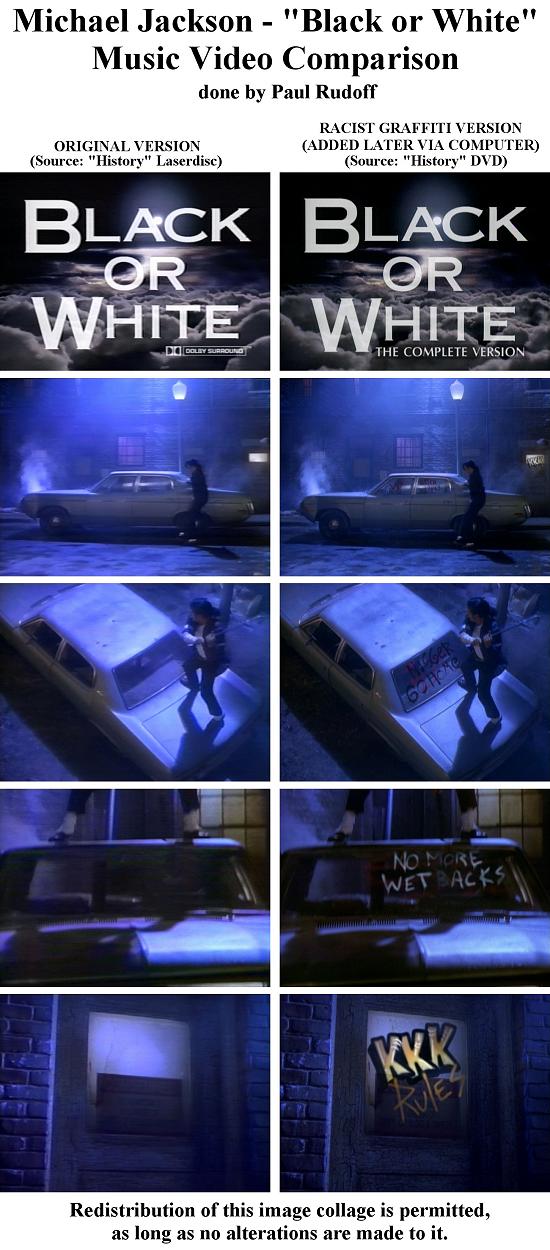 The music video of the song appears on several home video releases. The Original Version can be found on the
Dangerous: The Short Films DVD
,
Michael Jackson's Vision DVD
(supposedly 16:9 windowboxed), and
Video Greatest Hits: HIStory VHS
(and Laserdisc). The Graffiti Version can be found on the
Video Greatest Hits: HIStory DVD
. The Short Version can be found on the
Number Ones DVD
.
No feedback yet
Leave a comment