By Paul Rudoff on Aug. 2, 2011 at 12:00 PM in Home Video, Animation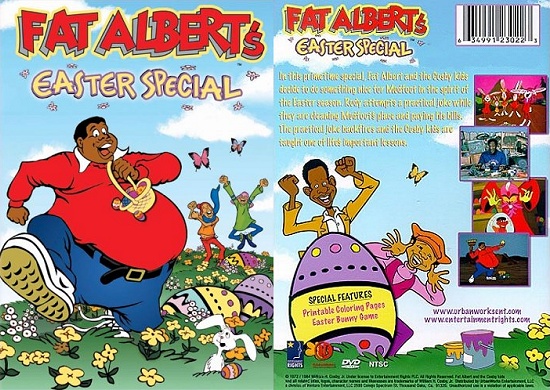 This review was originally written on August 2, 2011
Not Very Much Easter-Related, Very Little DVD Content
The
Fat Albert's Easter Special DVD by UrbanWorks Entertainment
contains just one episode, "The Fat Albert Easter Special", which aired on 4/3/1982 on CBS (according to the insert card), and has an exact runtime of 23:12. This so-called Easter Special really has very little to do with Easter. For a minute or two at the very beginning the kids are painting Easter eggs, and for a minute at the end they're eating hard-boiled Easter eggs, and that's all there is in the main story that's Easter-related. There's a Brown Hornet short (which the insert card says is entitled "Casnac") randomly inserted a few minutes into the episode as a way to eat up some of the special's short runtime, which is the most Easter-related part of the entire special, and it's a trippy adventure in outer space on a planet inhabited by Easter bunnies!
The main story is about the kids deciding to clean up Mudfoot's house and pay his bills, as a kindness for the Easter season. They could have decided to do these good deeds for Christmas, Rosh Hashanah, or just for no particular holiday reason at all. That they SAY it's for Easter is apparently all that's needed to make this an Easter special! Anyway, Rudy attempts to pull a practical joke, but it backfires causing Mudfoot to end up in the hospital. Naturally, Rudy feels bad, so do the rest of the kids. The kids want to visit Mudfoot, but the head nurse won't allow the teens into the hospital. I really can't imagine anyone looking at Fat Albert and thinking that he's a teenager when he's bigger and has a deeper voice than most adult males. Anyway, long story short, as expected, everything works out in the end and the kids are taught a valuable life lesson.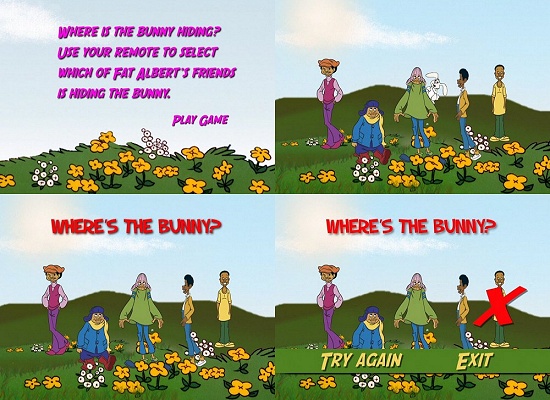 The DVD includes "Special Features" that aren't very special. On the video portion of the disc is a "Find The Bunny" set-top game. It's a simple guessing game. There's a static screen featuring five of the Cosby Kids, and you have to guess behind which one the bunny is hiding. Since the same animation is played at the start of every game, you can't use that as a clue. In fact, you have NO clues. It's simply a matter of trying each one until you find him. Yes, the game lets you keep trying until you find him. So much for the game having any sort of challenge.
On the DVD-ROM portion of the disc, accessible in a computer, you'll find 3 Printable Coloring Pages (PDF files). The three uncolored drawings are of the whole gang, Mushmouth, and Russell. Neither of these add any sort of added-value to the special's woefully short runtime.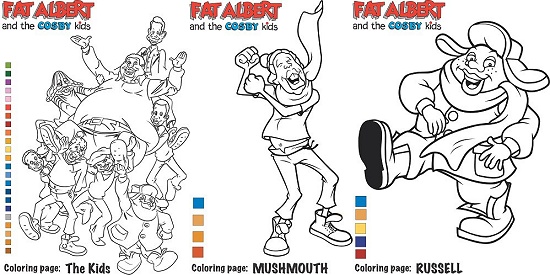 The back of the case shows a photo of a live-action Bill Cosby segment, but you will not find that in the Easter Special. Since I was looking forward to seeing the live-action Bill Cosby segment, I'm rather annoyed that UrbanWorks would deceive customers like that.
Luckily, if you have any desire to see The Fat Albert Easter Special, it was
re-released on DVD in 2009 by Classic Media
under the actual on-screen title, The Fat Albert Easter Special, with two bonus episodes ("Junk Food" and "Millionaire Madness"), bringing the total runtime up to 64 minutes. Even though I only paid $2.50 for the UrbanWorks DVD (it was marked down several times), I don't feel like I got my money's worth. A 23 minute episode should not be released by itself, but rather included with a bunch of other episodes in a compilation or season set. The only reason it was released individually was as a cash-in for the Easter season, and that's not right, even though there are other companies that do it, too.
No feedback yet
Leave a comment