By Paul Rudoff on Jan. 20, 2014 at 8:42 PM in Tributes
In Loving Memory of
Joel Richard Rudoff
July 28, 1944 - January 20, 2014
~~~~~~~~~~~~~~~~
*
Page 1
- Introduction
*
Page 2
- The Funeral
*
Page 3
- A Life In Pictures
~~~~~~~~~~~~~~~~
The funeral was held on Thursday January 23, 2014 at 10 AM at
The Moore Funeral Home
in Valley Stream, NY. I can't thank the staff enough for everything they did for me and my family, especially Donna and Marianne Moore. Longtime family friend Rabbi Anchelle Perl was kind enough to offer his services free of charge, and gave a very moving speech, after which I gave one too. After a 40 minute service, it was off to the cemetery. Things moved VERY quickly at the cemetery. I didn't even get out of the car and they already had the coffin out of the hearse and a quarter of the way down the path to the grave site. The Rabbi said some prayers, everyone took turns shoveling some dirt into the open grave, and after a few more prayers and niceties, my father was settled into his final resting place.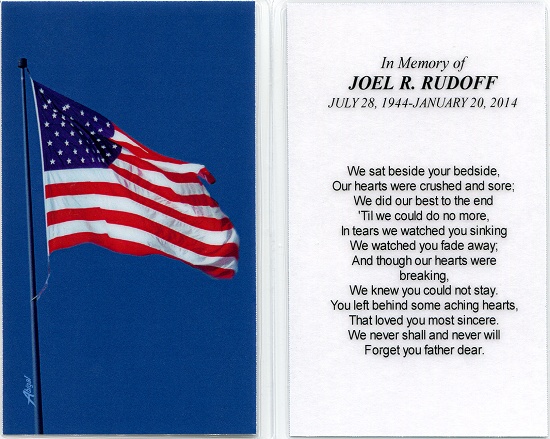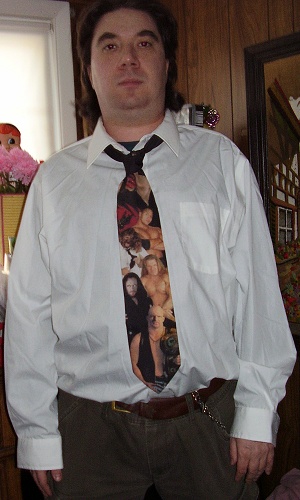 This is the outfit I wore to the service. The tie, which was my father's, features wrestlers from the late 1990s WWF. I also wore my father's red coat, brown/tan woolen hat, and sunglasses, instead of my own. This was my way of honoring him further.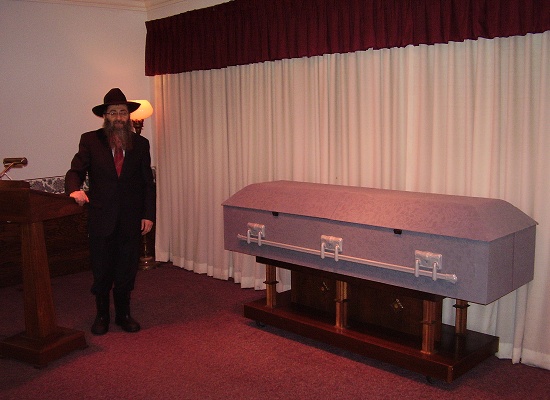 Rabbi Anchelle Perl standing by the podium where he delivered his speech, with my father's coffin nearby.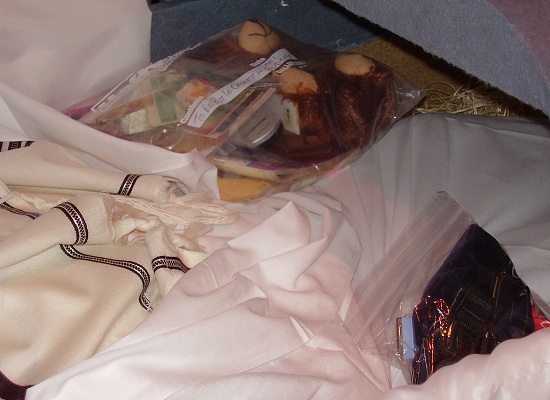 Personal artifacts in the coffin with my father. More detail about these below.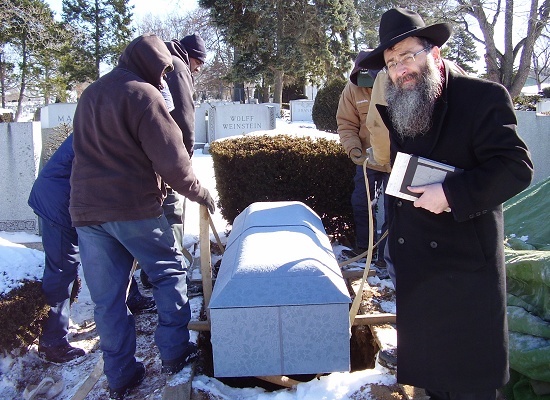 My father's coffin being lowered into the grave.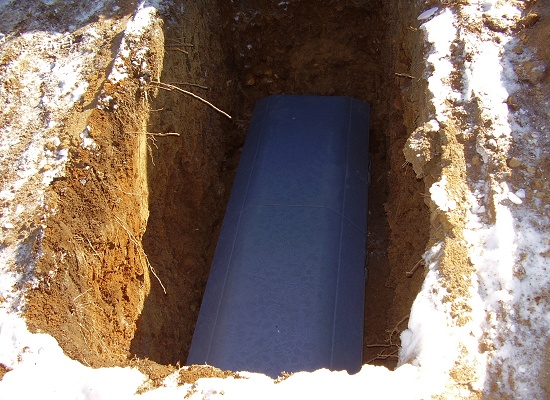 My father's coffin sitting in the grave.
We wanted my father to be buried with many personal artifacts that reflected who he was and the life he lived. We were hoping for these items to be spread around the bed of the coffin, but the funeral home kept them in the Ziploc-type bag we gave the items to them in. In the photo below, you can see each of the individual items.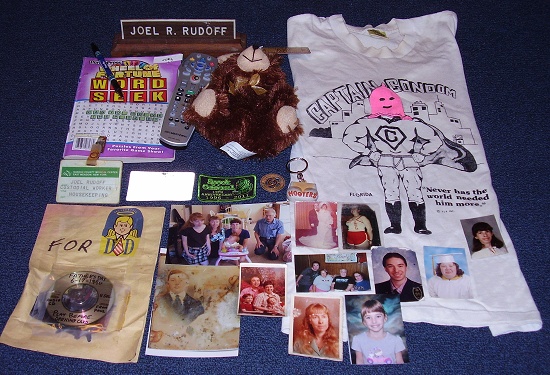 "Joel R. Rudoff" Desk Name Plaque - I believe he used to have this on his desk when he worked at the Nassau County Medical Center. When we were living in East Rockaway, he had this on the desk we had in the living room. For the all-too-brief time he lived in Valley Stream, this sat atop the cable box.
"Wheel of Fortune Word Seek" Book - He started this, but never finished it.
"Seasons Greetings From The Rudoff Family" Pen - He ordered a bunch of these a few years ago and gave them out to friends and relatives for the holidays. I clipped it on the book at the page of the puzzle he started before he died.
Cable TV Remote Control - My father not only watched a lot of television, but he spent hours each day playing the set-top box video games provided by Cablevision. He loved playing pool against people in other houses, along with Bejeweled 2, Bookworm, and a few other games. We wanted the funeral home to put this in his hand, but they left it in the plastic bag with the other items.
Chocolate-Scented Stuffed Bunny - My mother gave this to him as a Get Well Soon present on Saturday January 18th; a day and a half before he died. I have to wonder if he even knew it was sitting there on the table by the bedside.
"Captain Condom" T-Shirt - I don't remember where he picked this up (it says "Florida" on it, but he could have gotten it elsewhere), but this was one of his favorite shirts. He kept it long after he stopped being able to fit into it.
His Nassau County Medical Center ID Badge (with photo and signature on the back) - He worked as a custodian here for many years. This is where he met my mother.
His Old New York State Driver's License - My father last drove a car back in the 1980s when my family last owned a car, but that didn't stop him from renewing his license again and again over the years. He did so because he hoped that he would own a car again someday, but we never had the money to afford it. In 2011 the DMV wanted $80 for the license renewal, and only $6 for a non-driver photo ID. My mother and I didn't see a point in paying a much higher price for something he hasn't used in over 20 years, so we talked him into giving up the license for the ID. He always regretted doing this, especially after Hurricane Sandy struck on October 29, 2012, as his license would have come in handy for Uhaul rentals. Putting this in the coffin was our way of giving him back his driver's license. (NOTE: In the photo above, this is the white rectangle between the NCMC ID Badge and the Spook Central patch. I didn't realize it failed to photograph properly until it was too late to take a new photo.)
"Spook Central 15th Anniversary" Patch - I had these patches made in 2011, and since my website is my greatest accomplishment so far, I wanted him to be buried with one.
Good Luck Charm - This is some sort of token with his full name stamped onto it. I have no idea where he got it from, but it just seemed like something he should have with him in the afterlife.
Hooters "Breasts In A Shirt" Keychain - We took him to the Hooters restaurant that used to be in East Meadow, NY a few years ago as a Father's Day gift. We got off the bus in front of the Wendy's next door, and he actually thought we took a three-bus trip just to go to Wendy's. We had a Wendy's in the town we lived in, so we didn't need to travel that far for Wendy's :-)
Handmade Father's Day Audio Card - I gave him this card on June 17, 1990. I made it out of construction paper, recorded a brief message onto an audio cassette, and glued a cassette holder onto the front. A few years ago I converted the audio cassette to a mini CD-R, removed the cassette holder from the front of the card, and put the mini CD in its place. I saved an MP3 of my message, and if you want to hear my almost 13-year-old voice, use the player below. To explain the message, I should tell you that inside the card I glued a picture of a Hershey Kiss.
Paul: I didn't...I didn't have much money to get you a gift, Dad, but I was able to get you a kiss. Open the card and you will get my kiss.

Your browser does not support the audio tag.
Eleven Family Photos - I started with all of the photos he had in his wallet, removed a few "duplicates" (multiple photos of the same person), added the last family photo we would ever take to go with the one he had from 30 years earlier, a copy of a photo of his mother and uncle (sadly the hurricane ruined the original), my high school graduation photo, and a photo of his sister's entire family celebrating his niece's daughter's first birthday.
He was originally going to be buried wearing the items seen in the photo below, but the Rabbi put him in a special religious outfit (a white shroud and some white clothes), so all of these clothes were just put in the coffin with him, and not on him - except for the rings. (NOTE: I have my doubts that the two shirts, two pants, socks, and shoes were in the coffin, unless they were hiding under the lower half which wasn't opened for me. I hope nobody at the funeral home stole them or threw them out.)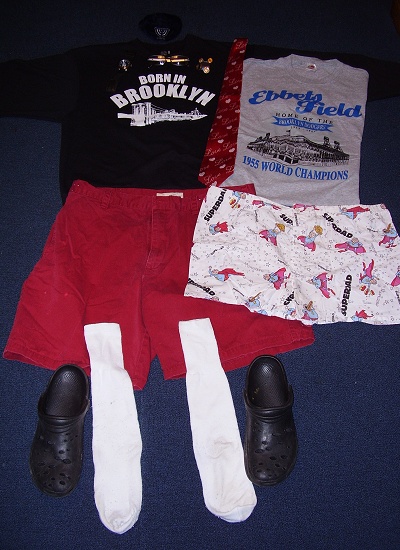 At the bottom of this photo are a pair of red shorts (his favorite color), a pair of white socks, and a pair of black Crocs shoes (plastic shoes with holes in the front) that he wore to the hospital. The rest of the items are detailed below.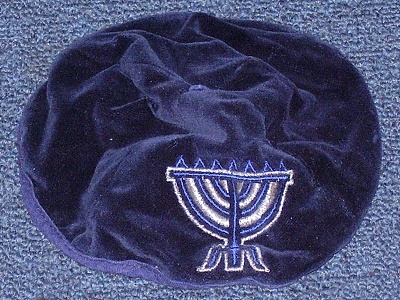 Blue Suede Yarmulke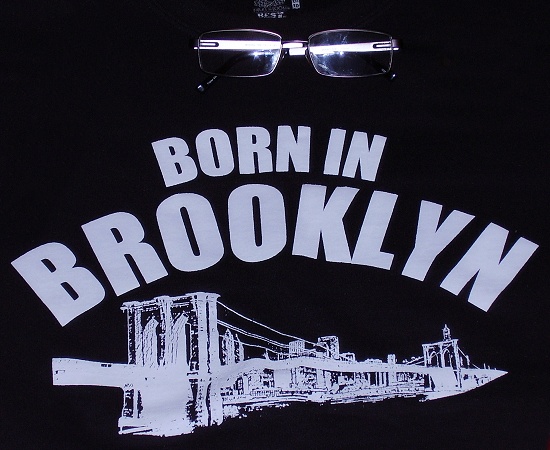 His Reading Glasses (which he wore to the hospital) & "Born In Brooklyn" Sweatshirt. This was one of his favorite shirts, and he would always tell everyone he met while wearing it that he had to come all the way to Valley Stream to buy a Brooklyn shirt.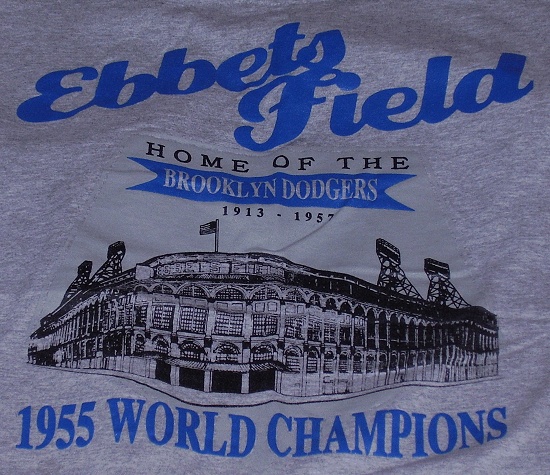 Ebbets Field T-shirt (would have been worn underneath the Brooklyn shirt). My father was a big Brooklyn Dodgers fan.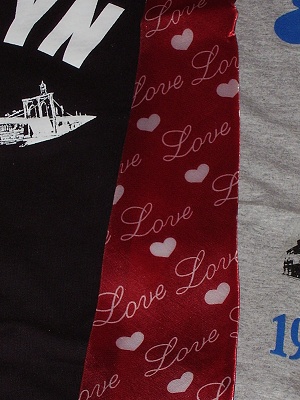 Red "Love" Necktie. My mother was planning on giving this to him for Valentine's Day next month. Putting it in the coffin was her way of still giving it to him.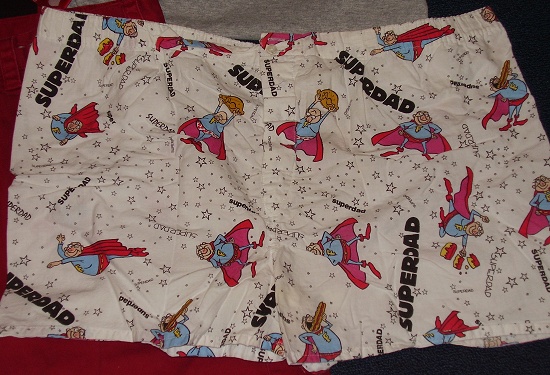 "Superdad" Boxer Shorts. Joel Rudoff was most definitely a SUPERDAD!!!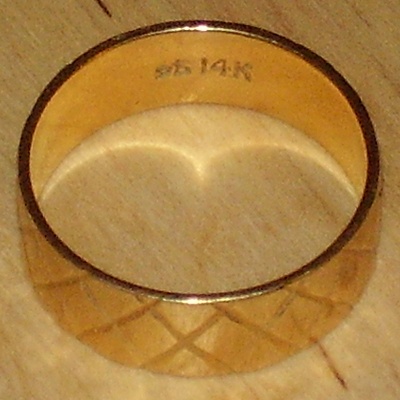 His Wedding Band. This was put on the ring finger on his left hand.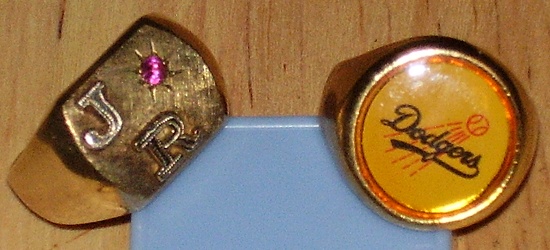 Two Rings: "JR" with a red jewel, the "Dodgers" logo. These were put on fingers on his right hand.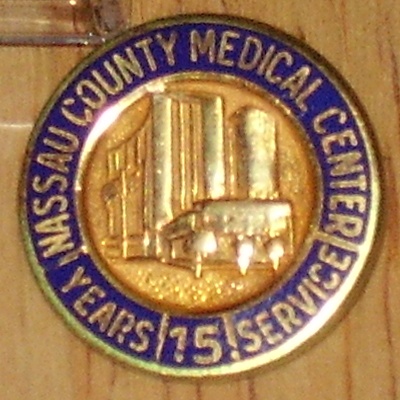 "Nassau County Medical Center 15 Years of Service" pin. They didn't pin this on him; it was left in its little plastic case and put into a second little zipper bag with the watch below, the Love tie, his reading glasses, and the yarmulke.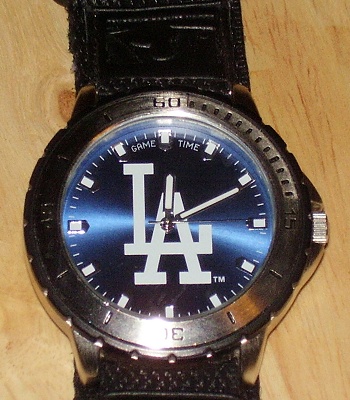 L.A. Dodgers "LA" logo wristwatch. My sister gave this to him a few years ago.
In Loving Memory of
Joel Richard Rudoff
July 28, 1944 - January 20, 2014
8 comments
I'm sorry for your loss Paul. Take all the time you need with this. I wish you well and send my sympathies for your loss.


Jan. 20, 2014 @ 13:38
My condolences to you and your family, Paul.
Jan. 20, 2014 @ 21:21
I read all this, and saw all the pictures, I don't know you, and neither knew your father, but i saw a beautiful person in his eyes, and cried for him
i dont know why… sorry for my bad english, i am from argentina, and today I put my thought , and my good intentions, for your father, he realy looks like a great person, that can easily be seeing in his eyes…
I am sorry for your loss.
Jan. 20, 2014 @ 23:08
Comment
from:
Ryan LeClair
[Visitor]
Paul- My absolute sincerest condolences and love. I also know the pain well. I lost my step-father right around New Years. He was 60 and passed from an undetected brain tumor. The man was more of a father to me than my own biological father. He taught me everything I know. From tying my shoes when I was 5, to everything else in-between, with me now being at 30 years old. At first, for awhile, it almost doesn't even seem real. It's hard to understand why such good people have to pass on leave us from this earthly plain. But I have no doubt your father is looking on with a big smile and love. My thoughts & prayers are with you and your family, Paul. God Bless, my friend.
Jan. 21, 2014 @ 03:58
I know some of what you are going through paul, I don't know you but I know your grief. In 2011 my Father passed away, after moving out to Arizona a few years prior after surviving and partially recovering from a stroke. Seeing my father under the effects of a stroke was one of the hardest things I've ever encountered, at that time. My father was on his way to see me to talk to me about something, and on the way to my apartment he had a stroke. I had no idea what was wrong with him and seeing my father like this just made me brain dead. Thankfully my father hit a mailbox on the way and someone called the cops, to which they followed his trail and then came to my apartment and diagnosed him.
He stayed with me a few months after the nurses let him check himself out of the Hospital, instead of explaining that the VA would help to cover his stay.
One day he came home with a camper in tow and told my wife and I he was leaving for Arizona. I physically never saw him again. We talked over the phone several times over the next few years, with him saying constantly he would come home for a visit one day. And he sent me money every month, to which I have no clue why. One day in August of 2010 a Police Officer I'm aquainted with comes to my mother in law's home and says to call my Uncle handing me a piece of paper with a number I'm unfamiliar with, thinking it's my wifes uncle I go in the house, grab my phone and call it. It's my Dad's brother who I've never spoken to in my life. Says my Dad's been trying to get ahold of me, after a brief conversation he hangs up and my Dad calls me, he says he's ready to come home, and I tell him that I'll help him find an assisted living area for him to move into, and that I'll come get him afterwards. My Wife and I immediately begin looking, going to her work and beginning the paperwork and about a week later my Dad calls back and we speak and I tell him it won't be long.
A day later my Uncle calls again telling me the Arizona VA is trying to contact me, giving me a number to call. Which I do, then I'm told they'll return my call as soon as possible. Telling me they're dealing with a critical patient and as soon as they're finished they'll call me right back. They never tell me it's my Dad and that he may be dying. They've had him in the Hospital all day and just now contacting me. A half hour later they call back and tell me my Father passed away while they were trying to bring him back. He passed from complications brought on by pneumonia and bronchitis. I sat on the phone with the Dr. for 2 straight hours crying profusely and talking with the kindest Doctor I've ever heard from. We talk about the most morbid thing I've ever discussed in my life, my Father's last moments.
As the first born child I now have to drive to Arizona from Ohio and take care of my Father's affairs. I tell my Wife when I go back inside who was not born of this man but breaks down in tears because of this man, how he touched her and made her feel. My Father loved my Wife, loved my kids, because of him, I married her. He treated her like she was his daughter. Always asking about my kids, and talking, flirting, teasing my wife.
I have to ask people for money, beg for money from my Uncle so I can drive to Arizona after spending a week with the Hospital and the Funeral Home on the phone or fax machine making arrangements for my Father's cremation. As the VA didn't give my father, who served the entire Vietnam War enough money to have a casket, or shipped home or buried at home in the Arlington Cemetary.
After that I'm off to Arizona, in an unfamiliar, scary territory, talking with all my Dad's aquaintances. Crying my eyes out as these people tell me about my father and how much he talked about me. Going through his personal belongings, I can't take anymore and even before finishing I turn tail and run home.
I'm truly sorry for your loss paul, it doesn't get any better. I eat myself up inside with a lot of guilt and I miss my father terribly every day. I know my Dad loved to talk, to anyone about anything. So maybe our Dads' are in Heaven, watching us and talking to each other constantly. May they have finally found peace

Jan. 21, 2014 @ 05:56
I am so sorry for your loss. I wish you peace.
Jan. 29, 2014 @ 20:55
Leave a comment