By Paul Rudoff on Jan. 19, 2015 at 8:20 PM in Filming Locations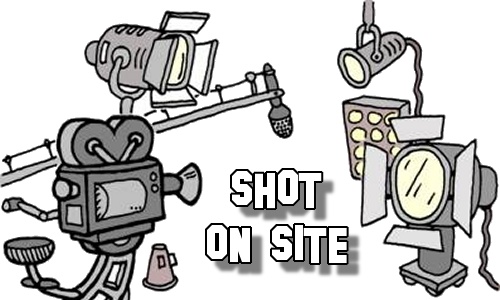 On
Spook Central
, I have a series of
Shot On Site articles
detailing
Ghostbusters filming locations
and how I, or others, were able to identify them. I like working on those articles, but the amount of
Ghostbusters filming locations left to identify
is very slim, and likely unidentifiable. So, the only way to continue the fun is to write articles about non-Ghostbusters filming locations. That's what I will be doing from time to time on this blog/site. The locations will be rather random. If I watch a movie or TV show, and I see a location that I'm able to identify, then I'll write about it. Sometimes it'll be a kids show, sometimes it'll be something for the adults...there'll be no rhyme or reason as to what I choose to write about, other then it being something I was able to identify and had fun doing so.
I'm starting this blog/site's "Shot on Site" series with the most recent episode of the Disney Channel series "Girl Meets World", entitled
"Girl Meets Master Plan"
(January 16, 2015, Season 1). In this episode, Maya's mother, Katy, works at the Nighthawk Diner. Those of you who know your art history will already know that
"Nighthawks" is a famous 1942 painting by Edward Hopper
that portrays people in a downtown diner late at night. Anyway, we get to see the diner exterior a few times.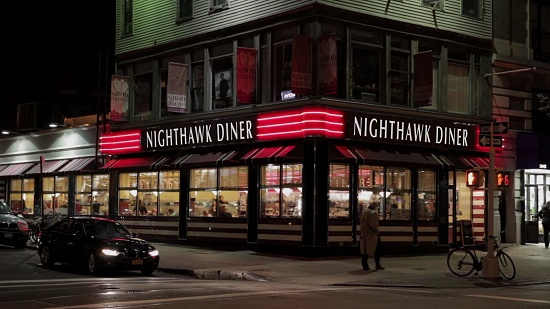 (click to enlarge)
While I could easily see that the "Nighthawk Diner" sign was digitally-added, I looked over the shot for any identifying marks. Thankfully, I was able to read the banners above the diner which say "Salon Above" on them. A quick search of the internet shows that there is a place called
Salon Above
in New York City. Popping up Google Maps thus gave me the real name and address of the diner below:
Metro Diner at 2641 Broadway, New York, NY 10025
: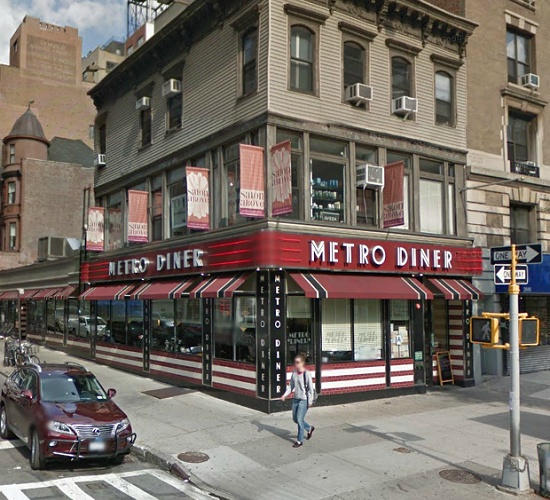 (Google Maps photography, Sept. 2014)
Although the identifying job is done, this episode has a very special, and I'm sure unintentional, Easter Egg in it that I'd like to mention. In the diner, behind Katy is a soda machine stocked with
Wahoo Punch
,
Power
,
Schneider's Root Beer
, and
Blix soda
.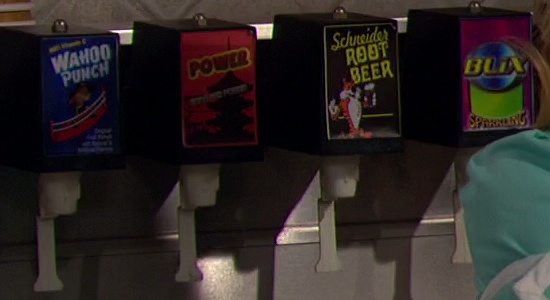 (click to enlarge)
These are all fictional beverages in the Dan Schnider-universe of Nickelodeon shows, such as Zoey 101, iCarly, and Victorious. Since I doubt Disney would intentionally reference their rival's shows, I believe this is a reused prop from one of the Dan Schnider-created shows, and no one realized it originated with Nickelodeon.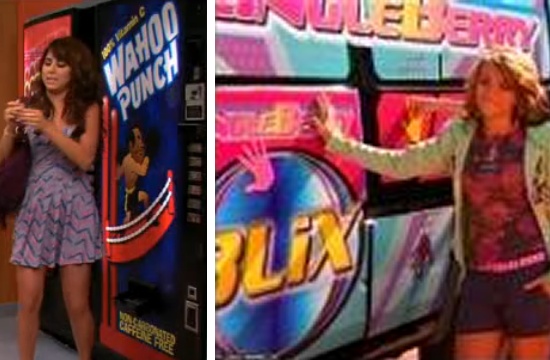 This now puts Girl Meets World in the same universe as Zoey 101, iCarly, Victorious, etc., but don't expect Tori Vega or Sam Puckett to pop up on the show. Nickelodeon and Disney would never let that happen, though Sam is a more hardened version of Maya and would probably get along very well with her - much better than she did with Cat Valentine.
For more information about non-Ghostbusters filming locations, be sure to check out the
rest of this site/blog's Shot On Site articles
. For Ghostbusters filming locations, check out
Spook Central's Filming Locations page
(Shot on Site articles are linked off the individual pages).
1 comment
I wonder if the various drinks are from the same collection that brought about the "Oaties" cereal that was on Boy Meets World.
Jan. 19, 2015 @ 22:58
Leave a comment