By Paul Rudoff on Jul. 15, 2017 at 8:42 PM in Tributes
(circa 2011, from the NassauARES.net website)
The person I will be memorializing today has no connection to the Ghostbusters fandom, though I'm sure he loved the original movie almost as much as the rest of us.
Our long-time family friend Lance Aue passed away on July 9, 2017 at the young age of 64. His wife Linda has known
our mother
from when they were young. Maybe they bonded over their shared name. Linda and Lance have known me since I was a baby. Coincidentally, we went to the same high school, though not at the same time, of course.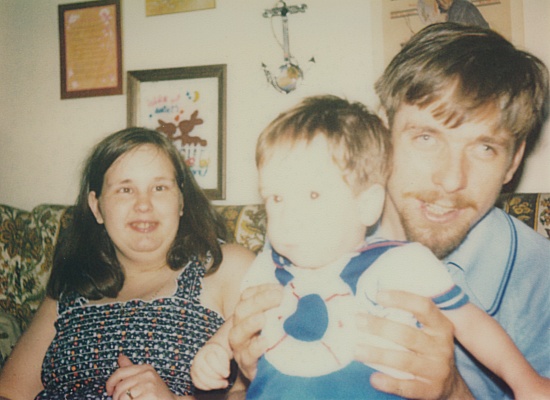 Linda & Lance Aue with one-year-old Paul (Sunday June 25, 1978)
Lance was like a second father, or older brother, to me. Back in the 1990s, we were frequently going to computer shows together. He helped me assemble my computer back in July 2007 (the
one Hurricane Sandy destroyed
). That experience helped me gain the courage to assemble my own rig in early 2014.
For many, many years, Linda and Lance would come to our home every year to celebrate New Years with us. I don't remember when this tradition started, but it went until 2011-2012 in our old East Rockaway home. At that point, Hurricane Sandy halted the festivities for a few years, but thankfully Linda and Lance came over to our new home to celebrate the last two New Years with us. I feel touched that Michelle and I were able to spend, what would be, his last New Years with him and Linda this past December/January.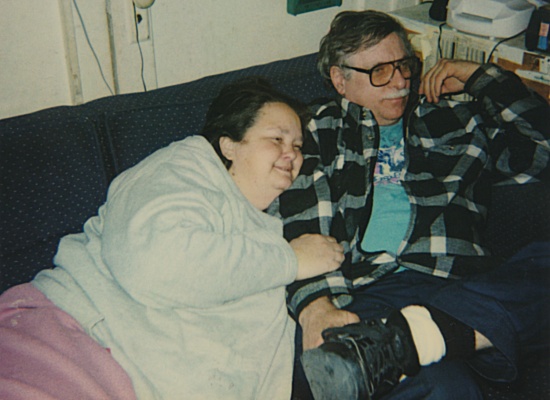 Linda & Lance Aue (New Years 2001-2002)
Lance was a long-time amateur radio enthusiast, and an active member of the
Nassau County Amateur Radio Emergency Service
(seventh from right in back row of
this photo
). Although I never participated in any ham radio activities with Lance, I will never forget his
call sign of KA2EJD
. Amateur radio was his hobby, but he was a repairman by trade. He described himself as follows on
his Facebook page
:
Currently everything from CEO to Janitor at EXPERT APPLIANCE SERVICE Co., serving NASSAU and QUEENS counties. LICENSED EXTRA CLASS AMATEUR RADIO OPERATOR with callsign KA2EJD since 1978. Involved in communications for community events emergency communications.
Play Lance's Business Voicemail Message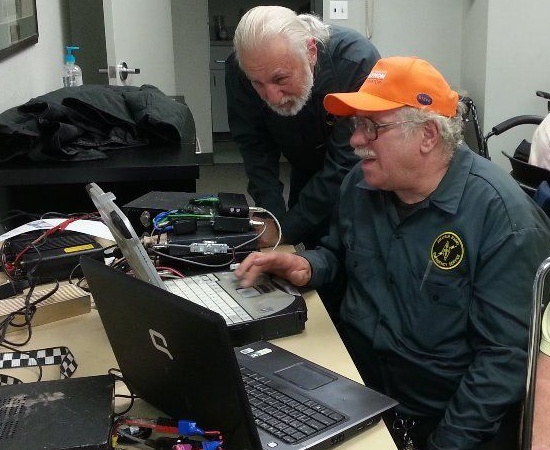 Lance at an Nassau ARES event (date unknown)
Lance was as well-known for his twisted sense of humor as he was for his knowledge of technology. I'll always remember the politically INcorrect jokes and movie one-liners he would constantly tell. Every time I think of "Dirty Little Johnny" or Mel Brooks classics like Young Frankenstein and Blazing Saddles, I think of Lance. If I called him up and said, "Hi, Lance" or "Hello", he would make a comment such as, "That's an accurate statement". You know, as in "Lance is high" or "Hell is low". It's little things like that that I will miss. I've even picked up a few idioms from him that I use from time to time.
In short, even though we rarely saw each other as of late, Lance played a huge part of my life and I will miss him dearly. If you'd like to help his widow Linda, members of Nassau ARES have started up
a GoFundMe memorial fund
. When I was told of Lance's death, I knew instantly what two photos I would include in this tribute. The first is the one with me as a baby, and the other is below. I can't help but think that Lance would approve of closing his tribute this way.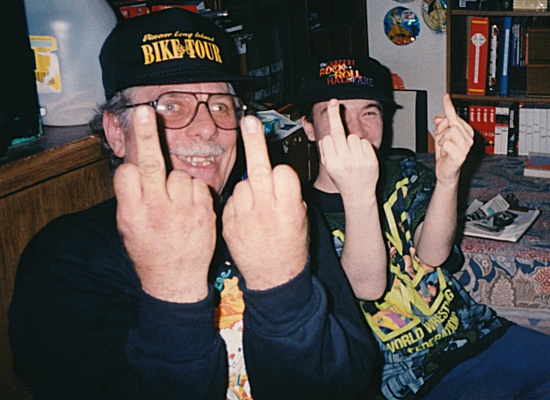 Paul with Lance Aue (October 27, 1996)
9 comments
Comment
from:
Frank Ecker.......Lindas brother
[Visitor]
Great tribute to lance very well done
Jul. 20, 2017 @ 09:29
This tribute tells of my brother Lance just like he was. He always had a joke to tell or one liners from a movie. He loved his ham radios and computers and he loved his wife of 40 plus years with all his heart. Anybody that knew him knew how much he loved Linda. I miss my brother Lance alot. Everyone that knew him loved him. No one ever had anything bad to say about him. Rest peacefully brother l Love you and miss you your brother Gary
Jul. 20, 2017 @ 09:53
Comment
from:
Rebecca Hossenlopp
[Visitor]
What a great tribute to Uncle Lance. Thank you Paul. Uncle Lance was such a sweet and giving man. As a kid I often had no idea what his jokes meant but I would laugh anyway because he was laughing and when he was smiling and laughing it made everyone around him want to do the same. I'm so glad I had the opportunity to see him this summer and that my daughter was able to meant him and experience his love. You are missed Uncle.
Jul. 20, 2017 @ 10:51
Thank you Paul for this tribute. Lance was a very special guy, he got great satisfaction in life when helping people. All people were the same to Lance they were all an opportunity to tell a joke maybe a joke he had told you before. Lance will be so missed by his family and friends.
We pray for his wife Linda of 40 yrs
Love you Lance
Your brother Dennis
Jul. 20, 2017 @ 12:50
Hi Everyone
I'm glad that you found my tribute, and thanks for the kind words. In addition to the tribute, my sister Michelle and I contributed to Lance's memorial fund, as we both know what it's like to lose a loved one. Especially someone whom I depended upon financially. Our father died in early 2014, and our mother followed him in late 2015.
How is Linda doing?
When she and I last spoke last week, she was still in the hospital, but it seems that she's no longer there. I tried the home phone, but it seems to have been disabled as calls don't go through. I tried what I believe to be her cell phone, but it just goes to voicemail and messages are un-returned. Lance's work cell has a full mailbox and the main work number has been (understandably) disconnected.
I'm left with no numbers with which to contact Linda to see how she's holding up. Please tell her to call me. She should remember the number. If not, please shoot me an e-mail to give me the best phone number to reach her at.
Thanks.
– Paul Rudoff
Jul. 20, 2017 @ 20:12
Comment
from:
Barbara Aue bunten
[Visitor]
Thank you so much Paul for your tribute to my brother, He was one of a kind,I can just see him in heaven telling his jokes to everyone he meets. His passing has left a huge hole in my heart. When we were children lance and I made up our own language together, I called him Pierre. He always had a smile on his face, and was willing to help anyone with computer problems or appliances. He was a great Uncle to my son's,and grandchildren..so glad we were together for our Mom's 90th birthday. You are missed by all Lance, thank you for being a Great brother and friend. We will never forget you Lance. All my love, your sister Barbara
Jul. 20, 2017 @ 20:30
Comment
from:
Rachel Mcdonald
[Visitor]
Thank you for writing this tribute about my Uncle Lance. He was a special man and we will miss him dearly.
Jul. 31, 2017 @ 21:26
Comment
from:
Jan Kwartowitz
[Visitor]
Horrible news! Lance was such a great sweet guy. I brought my wife and 2 boys to his classes at Eisenhower Park and we did the annual all nighter. We all loved Lance, a very special person.
Sep. 22, 2017 @ 16:26
Comment
from:
Michelle Rudoff
[Visitor]
I miss Lance dearly.
When Lance died it felt like losing my dad all over again since Lance and Linda knew us since we were born. They were like God parents to us even though we don t have that in the Jewish faith. You are truely missed Lance.
Nov. 5, 2017 @ 21:20
Leave a comment