By Paul Rudoff on Oct. 31, 2017 at 12:00 PM in Home Video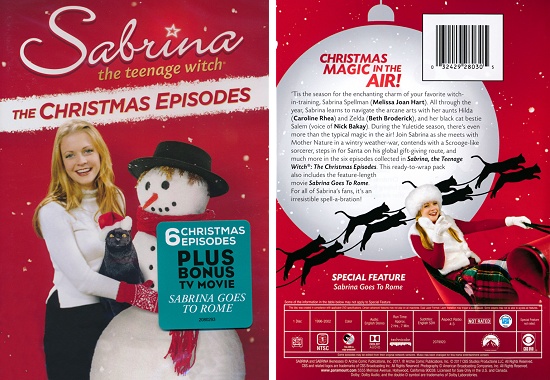 What better day than Halloween to review a Christmas DVD. Actually, this DVD is quite fitting to review today. It's the bewitching
Sabrina The Teenage Witch
, the 1996-2003 television series starring Melissa Joan Hart as the titular character, with Caroline Rhea (
who once wished my sister a Happy Birthday live on air
) and Beth Broderick as her aunts Hilda and Zelda, and Nick Bakay as the voice of her cat Salem. Other reoccurring characters in Sabrina's life include her boyfriend Harvey (Nate Richert), her best friend Valerie (Lindsay Sloane), her high school nemesis Libby (
Extreme Ghostbusters
guest
voice
Jenna Leigh Green), and her young adult roommates Roxie and Morgan (Soleil Moon Frye and Elisa Donovan).
Sabrina The Teenage Witch: The Christmas Episodes
contains all six Christmas-themed episodes from the series' seven seasons (season six didn't have a Christmas episode), along with the
Sabrina Goes To Rome
TV movie that aired on ABC during season three. All episodes and the TV movie have stereo audio with English subtitles (for the Deaf and Hard of Hearing) and are presented in the original 4:3 aspect ratio. Each episode has 4 or 5 chapters, with the TV movie having 8 chapters.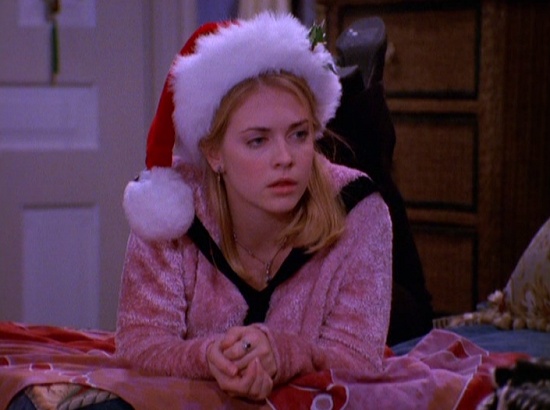 1. "A Girl And Her Cat" (December 13, 1996) (Season 1) (21:47)
- On Christmas Eve, Sabrina's cat Salem sneaks into her backpack so he can go to the local pizzeria, but then is taken home by a little boy who won't give him up.
This episode isn't truly a Christmas episode. Yes, it takes place at Christmastime, but the plot (Salem goes missing and is taken in by another family) could happen at any time of the year. The only part of the plot that ties in with the holiday is Sabrina dressing up as Santa in order to get Salem back. That said, it's still a good episode with some interesting cameos. Melissa Joan Hart "reunites" with her
Clarissa Explains It All
father
Joe O'Connor
(though the two never share any screen time),
Nick Bakay
(the voice of Salem) is the man with the mistletoe who answers the door, and once-famous rapper Coolio literally pops up in a pointless cameo. Of interest to Ghostbusters fans are appearances by Billy West (Slimer in Extreme Ghostbusters) as the voice of Newt and
Dave Gruber Allen
(Sparky/Electrocuted Ghost in Ghostbusters 2016) as the manager of the pizzeria. Speaking of Ghostbusters 2016, director Paul Feig appeared throughout this season as teacher Eugene Pool, but he does not appear in this episode.
Those of you interested in goofs should pay attention to the sequence in which Sabrina and her aunts go door to door looking for Salem. Every door they go to is the exact same one (notice the same photo on the wall in the background inside), they just flipped all of the shots with the door opening on the right to make it look like different doors. It's especially noticeable in the shot of the guy dressed like a Christmas tree because the house numbers on the left side of the screen are backwards! The bottom half of picture on the wall in the background of this sequence appears to be blurred. I'm not sure if it really is, or if it was like that in the original broadcast, so I'm just noting this as an observation for now.
When compared to the
episode transcript
, I see no edits.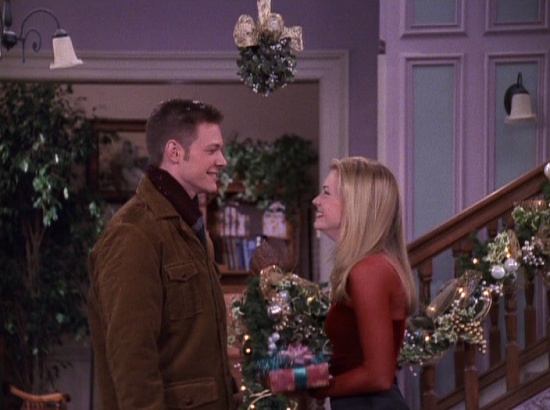 2. "Sabrina Claus" (December 19, 1997) (Season 2) (21:21)
- While trying to work on her selfish attitude, Sabrina accidentally injures the real Santa Claus, and then must do his job for him on Christmas Eve.
Stop me if you heard this one before? Some fool injures Santa Claus and must take his place in order to save Christmas. It's a TV trope as old as TV, and sure enough, Sabrina did it, too. That doesn't mean that it's not enjoyable, especially with guest appearances by John Ratzenberger and Johnny Mathis.
THIS EPISODE IS EDITED
- At 9:50,
Johnny Mathis' performance of "Winter Wonderland"
from the montage of Sabrina and Bob was replaced by an instrumental of "Hark, The Herald Angels Sing"; and thus Johnny's second appearance singing the song in Sabrina's bedroom during that montage has been removed.
DVD Dizzy
and the
episode transcript
(reprinted below) confirm the edits.
Bob - (Cont.) And maybe have a look at the new Chryslers.

Sabrina gets up to follow.

Sabrina - (To her aunts) You have met this guy before, right?

Johnny Mathis sings 'Winter wonderland' over the following.

Ext. Westbridge Main St. Sabrina and Bob walk along the snow covered street where a Santa rings his bell collecting for charity. Sabrina takes a five dollar note to put in his pot but she's having trouble letting go of it. Bob gives her a helping hand.

Int. Spellman Kitchen. Sabrina is baking. She puts the tray of brownies in the oven and High five's Bob happily.

Int. Spellman Kitchen Later. A little too much later as Sabrina takes the tray of charcoal cinders from the oven and tips them onto a pile of matching cinders on the counter.

Int. Sabrina's bedroom. Bob and Sabrina sit listening to Johnny Mathis singing 'Winter Wonderland'. Johnny's actually there with them in the room. Sabrina gets up, takes a tray of charcoal cinders from her desk and hands them to Johnny. Sabrina and Bob leave, Johnny shrugs and carries on singing.

Ext. Westbridge Main St. The sign says 'This LINE to VISIT SANTA CLAUS' The people are queuing down the street. Sabrina and Bob stroll along. Libby's touching up her lip-stick, her step brother Russell is beside her and a mischievous grin spreads across his face before he fakes being hit in the arm.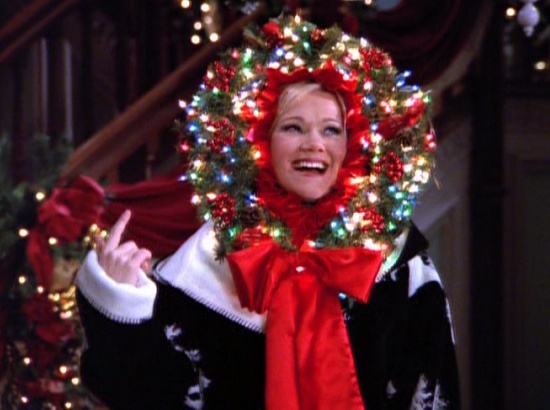 3. "Christmas Amnesia" (December 11, 1998) (Season 3) (21:28)
- At a trendy party in the Other Realm, Sabrina accidentally erases Christmas at the Spellman household and must figure out a way to restore the holiday.
This was a really cool episode with a plot reminiscent of The Real Ghostbusters episode
"X-Mas Marks The Spot"
, in which the Ghostbusters erase Christmas and must do their best to bring it back. Seeing Sabrina try various things, including re-enacting
A Christmas Carol
, was fun and made this one of the best on the disc. Be on the lookout for a young Daveigh Chase (Lilo in Lilo & Stitch, Samara in The Ring 1 & 2, Samantha Darko in Donnie Darko) in her first role as the little girl who won't sit on "Mall Santa" Sabrina's lap.
THIS EPISODE IS EDITED
- (1) At 4:37,
"Rockin' Around The Christmas Tree" by Brenda Lee
from the montage of the aunts trying to get Sabrina into the Christmas spirit has been replaced by "Jingle Bells" by some unknown singer. (2) At 14:03, after Mrs. Quick says, "Please be quiet and get back to your tests",
Sabrina has another idea for getting people to remember Christmas
. She conjures up a pair of drumsticks and taps out "The Little Drummer Boy" on her desk. When that fails, she starts singing 'The Christmas Song" ("Chestnuts roasting..."). On the DVD, it cuts to the cafeteria scene right after Mrs. Quick's line. The
episode transcript
confirms the edits.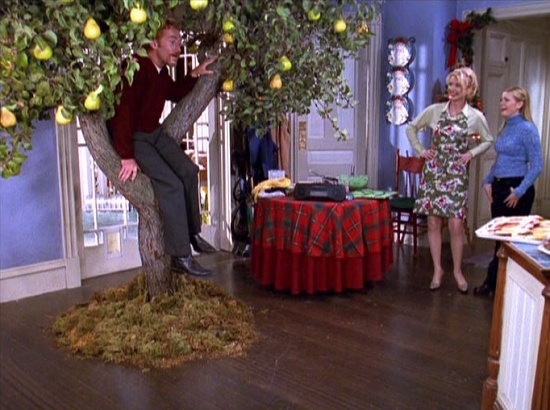 4. "Sabrina Nipping At Your Nose" (December 17, 1999) (Season 4) (21:22)
- After their Christmas week in Jamaica is canceled, Sabrina draws the ire of Mother Nature and has to make amends by cheering up mean Mr. Kraft (Martin Mull).
At this point in the series, Sabrina works in the coffee shop with Josh (David Lascher) and the aunts own the clock store. The show has a new opening title sequence and theme song. A favorite joke of mine involves guest star Danny Bonaduce, who appears as "a Partridge in a pear tree". The other "twelve days" show up as well, much to Salem's chagrin. Famed little person actor Ed Gale (the titular character in the 1986 film
Howard the Duck
, among many other roles) makes an appearance in this episode directed by Anson Williams (Potsie on
Happy Days
).
THIS EPISODE IS EDITED
- At 20:40, just before the end credits, Sabrina and Zelda go outside to find that Hilda has been turned into a snowman.
Hilda sings a little bit of "Let It Snow" before and after her line
, "Yes, I admit it. I'm selfish, but there was no way I was going to Jamaica with Willard Kraft." The singing parts are both cut out, leaving just the dialog and an abrupt fade to black afterward. The
episode transcript
confirms the edits.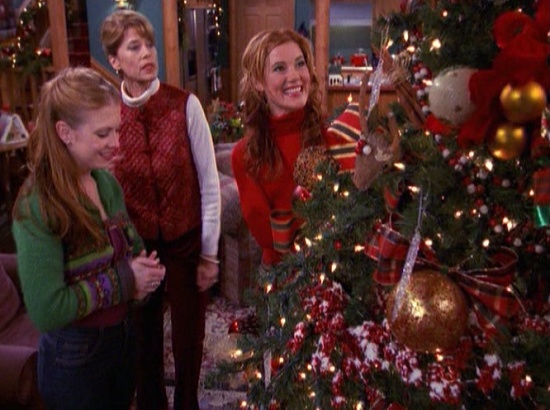 5. "Sabrina's Perfect Christmas" (December 15, 2000) (Season 5) (22:07)
- Morgan invites Sabrina to spend Christmas with her family, who are far from perfect. Meanwhile, Hilda and Zelda take in her other roommate,
Roxie
.
Sabrina, who has now dyed her hair red, is in college and rooming with Roxie, Morgan, and Miles (Trevor Lissauer). Another new opening title sequence and theme song. My other favorite episode on the disc, which especially highlights Morgan and Roxie, who at this point in the series, I liked more than Sabrina. As with the previous episode, it is also directed by Anson Williams (Potsie on
Happy Days
).
Fun Fact: The "Mortals Christmas For Dummies" book that Hilda reads is really a copy of the book
"Wheel of the Year: Living The Magical Life"
written by Pauline Campanelli with illustrations by Dan Campanelli. The prop master
covered the title on the front cover
with a sticker that read, "Mortals Christmas For Dummies", but didn't alter any other part of the book.
When compared to the
episode transcript
, I see no edits.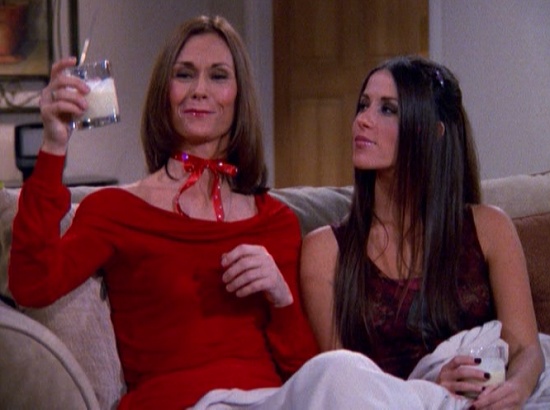 6. "It's A Hot, Hot, Hot, Hot Christmas" (December 6, 2002) (Season 7) (21:58)
- Christmas at Leonard's condo in Miami isn't helping Roxie's holiday spirit, especially after she runs into her ex-convict mother, who may still be a thief.
In this final season of the show, Sabrina works for the music magazine Scorch (which means LOTS of edits on the
individual Final/7th Season set
). She's still rooming with Morgan and Roxie, but Miles is gone. I won't miss him. The previous episode was about Morgan's family, this one - directed by star Melissa Joan Hart, no less! - is about Roxie's; specifically her mom Candy, played by Kate Jackson (from the
original Charlie's Angels TV series
). Look for William James Jones (Tony Wicks in
California Dreams
) as a caroler in his last TV role. Sandra McCoy (Cry Wolf, Wild Things: Diamonds in the Rough) is credited as "Attractive Woman", but it seems that her scene was cut before the episode originally aired.
When compared to the
episode transcript
, I see no edits.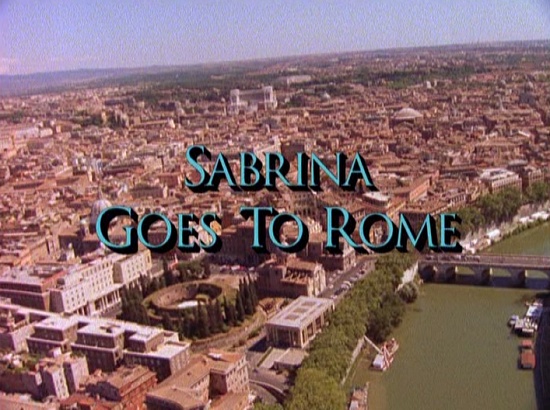 Special Feature: Sabrina Goes To Rome (October 4, 1998) (1:26:50)
- Sabrina and Salem travel to Rome, the last whereabout of her 16th-century aunt Sophia, to find out how Sophia can be freed by opening her golden locket.
This was the first of two Sabrina series TV movies that aired on ABC as part of "The Wonderful World of Disney":
Sabrina Goes To Rome
(October 4, 1998 - during season 3) and
Sabrina Down Under
(September 26, 1999 - during season 4) - not to be confused with the original
Sabrina The Teenage Witch
TV movie that aired in 1996 on Showtime, which served as the pilot for the ABC series. Both of these Sabrina TV movies starred Tara Charendoff (now Tara Strong) as Gwen. Ghostbusters fans would know her as the voice of Kylie in Extreme Ghostbusters, so I will cover both films in-depth on Spook Central as part of the
Ghostbusters Cast Spotlight series
at some later date.
• Edits
- None.
• Music Replacements
- None.
All of the music that I remember being there is still there on the DVD:
"Sky Fits Heaven" by Madonna
still opens the movie, while
"Crush" by Jennifer Paige
remains at 40:29, and
Carl Orff's "Gassenhauer"
is heard during the end credits. If music were to be replaced, these would have been the first to go. The runtime matches the length I wrote on the label of my original ABC recording, so that's a good sign, too. Perhaps the music licensing was done differently because it's technically a "movie" and not an "episode".
In an effort to see how much compression was used for
Sabrina Goes To Rome
on this disc and the previously-released Final/7th Season set, I did a lossless "exact copy" rip of both movies to my hard drive (along with
Sabrina Down Under
). Here are the runtimes and file sizes.
* Rome - Season 7 - 1:26:49 - 3.03 GB (3,259,109,800 bytes)
* Rome - Christmas - 1:26:50 - 2.72 GB (2,929,689,135 bytes)
* Down Under - 1:27:07 - 3.76 GB (4,044,743,280 bytes)
As you can see, the Final/7th Season copy is less compressed by approximately 330MB (329,420,665 bytes), but there isn't much of a noticeable difference in the video quality. Below is a quick one frame test I did (Season 7 on top, Christmas on bottom). As you can see, the copy on the Christmas DVD is a tiny bit more detailed, though (for some odd reason) five pixels at the top are covered over with blackness on the Christmas DVD - which you wouldn't see unless you pulled frames off the movie in the computer as I did :-)
The reason for the file size difference is because on the Final/7th Season Disc 3, the movie shares disc space with five episodes, while here it shares with six episodes. Other than a little bit more compression and one additional chapter mark (at the end), it's the same as on the Final/7th Season set.
I would have preferred that CBS/Paramount released both TV movies together in one "double feature" set. Even better - include the long out-of-print Showtime TV movie that served as the pilot for the series and call it "Sabrina The Teenage Witch: The TV Movie Collection/Triple Feature". In the United States, Sabrina Goes To Rome was first made available on the
Final/7th Season set
(along with the episode "It's A Hot, Hot, Hot, Hot Christmas"),
Sabrina Down Under just came out on DVD in the U.S. in early 2017
(it's been available internationally for years), and
the 1996 movie DVD is long out-of-print
.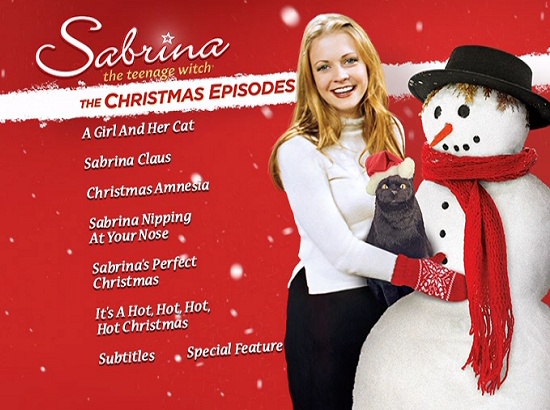 FINAL THOUGHTS
The back of the case carries the standard notices: "Some episodes may be edited from their original network versions. Music has been changed for this home entertainment version." Sadly, both statements are true. Three of the six episodes have edits and changes, as I have noted above for the affected episodes.
All use the same transfers from the individual seasons, maybe just compressed a little bit more. Thus, any edits in the individual sets are carried over to this collection. There is no Play All option. It goes back to the menu after each episode, but the next episode is highlighted, so all you have to do is press Enter to continue watching. The disc comes in a clear standard-size DVD case with inside printing of episode synopses and airdates with nice festive imagery (using the same photo as on the back of case).
The nice thing about
Sabrina The Teenage Witch: The Christmas Episodes
is that you have a collection of episodes from throughout the entire run of the series, so you get to see how the series progressed/changed over the years. That makes this great for people like me, who want some episodes (and
especially
the TV movie), but aren't interested in owning any of the full season sets. (I only previously bought the Final/7th Season set because I wanted
Sabrina Goes To Rome
.) This will also make a great gift for any casual fans of the series. If you own
the complete series
, or all seven individual seasons, you already have everything here. This release is not for you.
Normally, I would not recommend any DVDs with edited/altered content, especially when half of the episodes are affected. However, the edits here aren't too bad, and honestly, only one of the edits is noticeable (snowman Hilda's "Let It Snow" singing). I know from my research that the individual season sets have more edits, and if you're looking to get the
Sabrina Goes To Rome
movie, you're better off getting it here than in the much more heavily edited season 7 set. So, with all of that in mind, I'd say
Recommend, as long as you can accept the minor edits
.
I wish CBS/Paramount would release a Sabrina: Halloween Episodes collection (hopefully not edited/altered), as my all-time favorite episode - "Good Will Haunting" (Season 3, with the Laugh-In cast reunion and Tara Charendoff as the voice of Molly Dolly) - would surely be on it, but since that's not a gift giving holiday, I doubt it would happen. Still, since Mill Creek did a
Roseanne Halloween DVD
, and Fox did one for
The Simpsons
(still waiting for a "complete Treehouse of Horrors" set), maybe CBS/Paramount will do one for Sabrina next year. One could hope.
For more holiday fun, CBS/Paramount also released these other Christmas DVDs on the same day as Sabrina:
Frasier: Christmas Episodes
,
The Honeymooners: Christmas Laughter
, and
A Very Brady Christmas
.
The
Sabrina The Teenage Witch: The Christmas Episodes
DVD was provided for review by CBS/Paramount.
1 comment
I believe that 1st season episode A Girl and Her Cat is edited on the DVD seasons. When they do the montage of knocking on doors, it is generic music instead of Jingle Bell Rock. Can you confirm that this is still the case for the holiday set?
Dec. 7, 2018 @ 13:56
Leave a comment