By Paul Rudoff on Mar. 18, 2019 at 12:00 PM in Home Video
Aquaman
is the latest DC super hero movie. How does it fare? Read on to find out...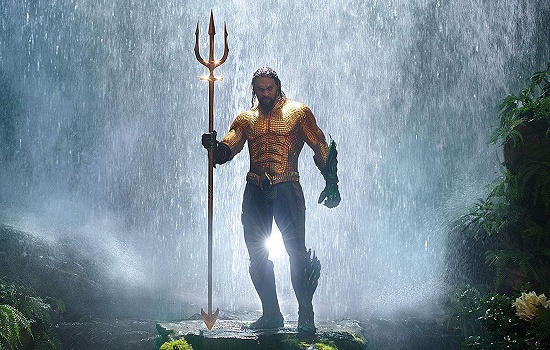 Aquaman
tells the story of the Atlantean child Orin, son to the Queen of Atlantis (Nicole Kidman), who was abandoned as an infant and left to die. Bummer. However, he was rescued and raised by kindly lighthouse keeper Tom Curry (Temuera Morrison), who adopted the boy as his own son, renaming him Arthur Curry (Jason Momoa). Able to survive the harshest conditions of both land and sea, the child of two worlds grew to be a hero, eventually returning to Atlantis to become their King, in addition to being a founding member of the Justice League as Aquaman!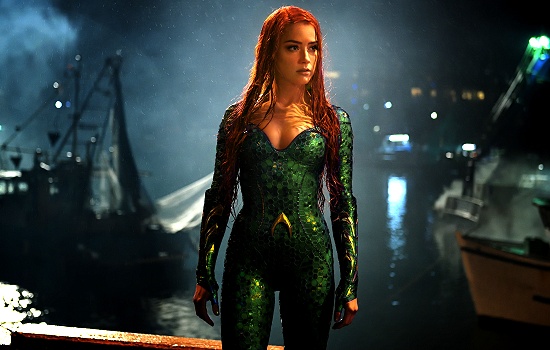 Aquaman
had a big task ahead of it, by centering around a character that has been seen as a joke in the eyes of super hero fans for many decades. I'm happy to report that it succeeds amicably. While I'm not very knowledgeable about the character to pick up on the references, the story was coherent and enjoyable for its over two hour length. Jason Momoa brought the character to life with a level of awesomeness that has never been seen before. He's everything you look for in a leading man. His love interest, Mera (Amber Heard), held her own and was no slouch in the fight scenes, even if her brightly dyed red hair and green outfit kept reminding me of Uma Thurman's Poison Ivy in
Batman & Robin
.
Visually, the film is quite the brightly-colored treat. The underwater scenes are simply breathtaking in a very fantastical sort of way. By that, I mean that it always looks like you're watching special effects - I can only imagine how many people spent hours on all of the flowing hair - but that "fakeness" adds to the otherworld fantasy of the scenes. The fights and battles are fun, especially the HUGE battle at the end. I never thought I could like an underwater movie that didn't feature singing crabs and a red-haired mermaid, but I was wrong.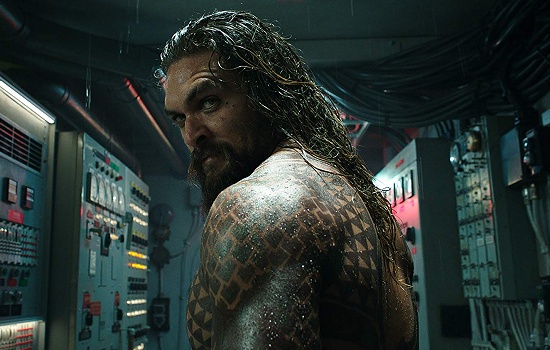 Simply put, This movie does what I never thought possible: it makes Aquaman cool.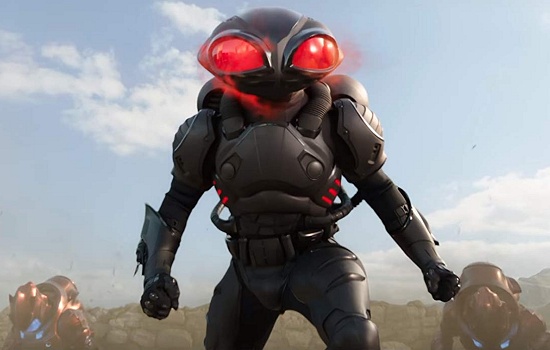 At a runtime of 2:23:21,
Aquaman
is presented in its original 2.40:1 aspect ratio with an 1080p transfer. On the audio side, there are Dolby Atmos-TrueHD and DTS-HD Master Audio tracks for English, and 5.1 Dolby Digital audio tracks for English Descriptive, French, and Spanish. The film includes English SDH, French, and Spanish subtitles. The first print run includes a beautiful embossed shiny slipsleeve. (The title and symbol are the embossed parts, which is nice.)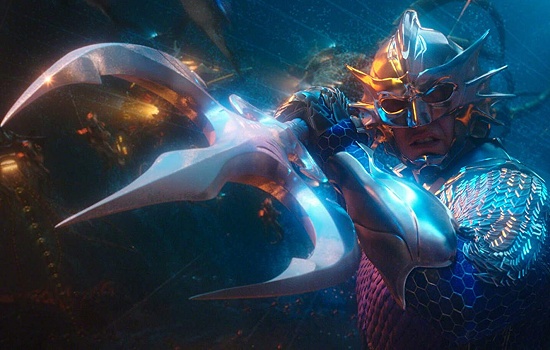 All of the bonus features that can be found on the disc are in HD.
Becoming Aquaman (13:03) - Jason Momoa provides rare insight at what it means to be number one on the call sheet. Watch him become the King of the Seven Seas through rollicking behind-the-scenes footage and exclusive interviews shot before, during and after filming the movie.
Going Deep Into the World of Aquaman (19:28) - Get a unique, revealing look at the creation of all facets of the movie leading up to the unveiling of Aquaman to the world. Experience the hard work required to create a world that has never been seen before through exclusive access to the cast and crew.
James Wan: World Builder (7:42) - James Wan has created one of DC's most ambitious films. With his help, we'll take a deeper look at the inherent challenges and solutions James faced in both performances and visual effects in order to bring a new world to life.
The Dark Depths of Black Manta (6:39) - Aquaman star Yahya Abdul-Mateen II hosts an insightful look into the comic book history and film debut of Arthur Curry's deadliest foe.
Heroines of Atlantis (5:31) - Oscar winner Nicole Kidman (Atlanna) and rising star Amber Heard (Mera) discuss making their way in an action-packed, epic film that hinges on the impact of the two most important women in Arthur Curry's life.
Villainous Training (6:21) - Patrick Wilson (Orm) and Yahya Abdul-Mateen II (Black Manta) unveil a first-hand look at what it's like to face off against Jason Momoa and the training that goes into it.
A Match Made in Atlantis (3:12) - Jason Momoa and Amber Heard's on- and off-screen chemistry is captured in this fun conversation about how their underwater romance developed and their surface friendship blossomed, illustrated with behind-the-scenes footage and bloopers.
Atlantis Warfare (4:40) - Aquaman redefines underwater excitement! The visual effects and stunt departments provide a breakdown of the epic finale.
Creating Undersea Creatures (7:15) - The undersea world of Aquaman has a galaxy of creatures that populates the Kingdoms of the Seven Seas and regions beyond. Teams of creative artists uncover the creation and inspiration for the memorable, and often terrifying, denizens of the deep!
Aqua-Tech (5:42) - Filmmaking has always had a close relationship with innovation and technology and how it aids in the storytelling. Follow director James Wan as he uses both original and classic filmmaking tools to help push the boundaries and tell his story!
Scene Study Breakdown (10:15 total) - Detailed examinations of the most exciting sequences from Aquaman! These include: Submarine Attack (2:44), Showdown in Sicily (3:54), and The Trench (3:36).
Kingdoms of the Seven Seas (6:59) - King Nereus himself, Dolph Lundgren, hosts this tour of Atlantis following the earthquake that sank the kingdom and broke it into pieces, resulting in seven distinct and dangerous undersea regions.
Shazam! Sneak Peek (3:27) - An extended trailer of Shazam!, the upcoming live action feature film starring Zachary Levi as the title character, set for theatrical release on April 5, 2019.
Also included in the Blu-ray + DVD Combo Pack is a second DVD disc, which contains only the "James Wan: World Builder" featurette listed above. The movie on the DVD is presented in its original 2.40:1 aspect ratio with an anamorphic widescreen transfer. On the audio side, there are 5.1 Dolby Digital audio tracks for English, French, and Spanish, plus a Dolby Digital 2.0 English Descriptive track. The film includes English SDH, French, and Spanish subtitles.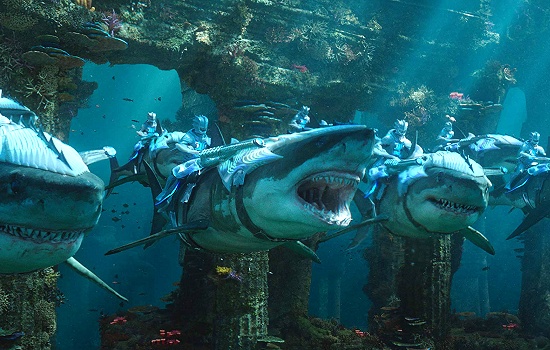 A Movies Anywhere/Vudu digital copy code voucher is also included in the standard two-disc Blu-ray case.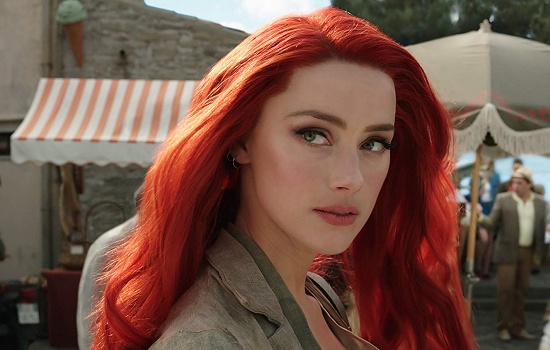 Aquaman
is available on
Blu-ray/DVD Combo Pack
,
4K UHD Combo Pack
,
individual DVD
, and
3D Blu-ray
.
All images were taken from the
IMDB gallery
of the film, and the
official Warner Bros. Flickr gallery
. The Blu-ray+DVD Combo Pack has been provided by Warner Brothers for review on this site.
No feedback yet
Leave a comment