By Paul Rudoff on Apr. 9, 2019 at 6:26 PM in Home Video, Animation, Horror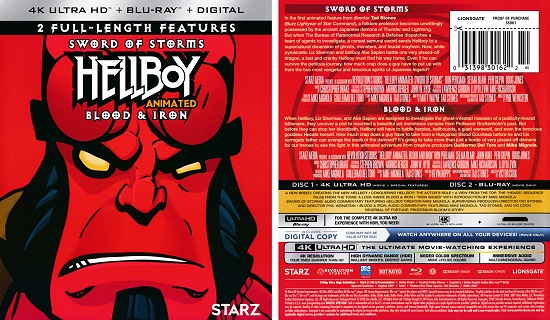 Hellboy Animated Double Feature
is a 4K UHD release of the two animated films
Sword of Storms
(2006) and
Blood and Iron
(2007). How does it fare? Read on to find out...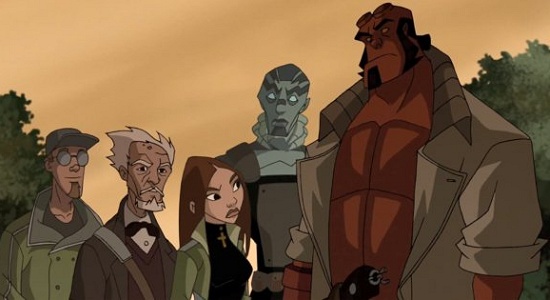 Hellboy Animated
is a double feature of two tales. In
Sword of Storms
, a folklore professor becomes unwittingly possessed by the ancient Japanese demons of Thunder and Lightning. But when The Bureau of Paranormal Research & Defense dispatches a team of agents to investigate, a cursed samurai sword sends Hellboy to a supernatural dimension of ghosts, monsters, and feudal mayhem. Now, while pyrokinetic Liz Sherman and fishboy Abe Sapien battle one very pissed-off dragon, a lost and cranky Hellboy must find his way home. In
Blood and Iron
, Hellboy, Liz Sherman, and Abe Sapien are assigned to investigate the ghost-infested mansion of a publicity-hound billionaire. They uncover a plot to resurrect a beautiful yet monstrous vampire from Professor Bruttenholm's past. Before they can stop her bloodbath, Hellboy will have to battle harpies, hellhounds, a giant werewolf, and even the ferocious goddess Hecate herself.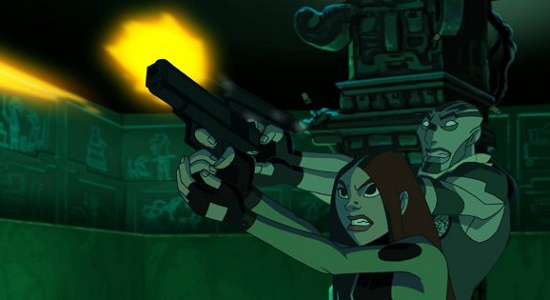 The entire main cast of the Guillermo Del Toro motion pictures returns to voice their characters here: Ron Perlman (Hellboy), Selma Blair (Liz Sherman), John Hurt (Professor Bruttenholm), and Doug Jones (Abe Sapien).
Frasier
alum Peri Gilpin is also on hand to voice Kate Corrigan, a character from the comics that did not appear in the Del Toro films. Overall, watching each of these two films felt like watching combined episodes of a Saturday morning
Hellboy
animated series. It actually makes me wish there
were
such a thing! While both stories were enjoyable, I felt that
Blood and Iron
was the better of the two. Of course, I'm a sucker for a haunted house story. Not a surprise considering what my favorite movie is :-)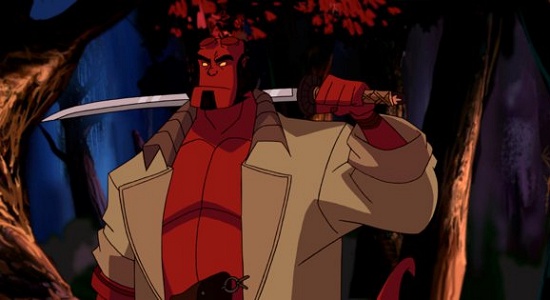 Hellboy Animated
is presented in its original 1.78:1 aspect ratio with a runtime of 1:17:40 for
Sword of Storms
and 1:16:14 for
Blood and Iron
. On the audio side, there is an English Dolby Atmos track. The film includes English SDH and Spanish subtitles. The first print run includes a beautiful slipsleeve.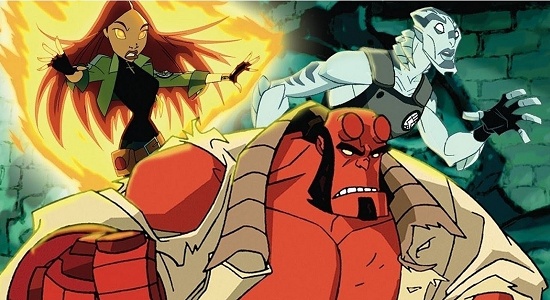 Here's a list of all of the bonus features that can be found on the disc.
Sword of Storms
Audio Commentary - Featuring Hellboy creator Mike Mignola, supervising producer and director Tad Stones, and director Phil Weinstein
A New Breed: Creating The New Hellboy (5:21) - Discussion of the origin of the animated spin-off, including that the character designs had to look different from Mike Mignola's original design.
Conquering Hellboy: The Actors Role (6:28) - A look at the voice actors and the recording sessions.
A View From The Top: The "Heads" Sequence (5:26) - A look at a memorable moment from this film.
Blood and Iron
Audio Commentary - Featuring Mike Mignola, Tad Stones, and Vic Cook
Reversal of Fortune: Professor Broom's Story (20:24) - Discussion of the character.
Tales from the Tomb: A Look Inside Blood and Iron (12:59) - A standard making of featurette.
Iron Shoes with Introduction by Mike Mignola (3:42) - Mike Mignola discusses Redcap, a figure from English folklore.
Also included in the 4K UHD + Blu-ray Combo Pack is a second standard Blu-ray disc, which contains only the two movies (no bonus features at all, not even the commentaries). On the audio side, there is an English 5.1 DTS-HD Master Audio track. There are no subtitles at all. This disc is the same one that was being sold separately, which did not port over any of the bonus features from the original DVDs. Thankfully, they were ported over to the 4K UHD disc.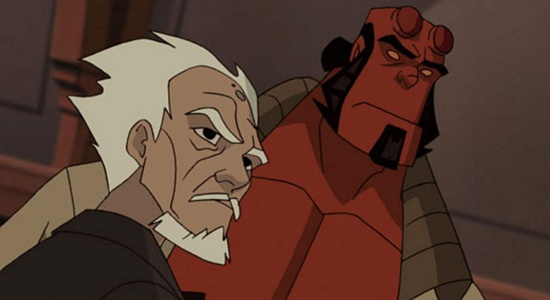 A digital copy code voucher is also included in the standard two-disc black UHD Blu-ray case. What
isn't
included are the two comic books that were inside the cases of the original two DVD releases. Such a shame. If you own those DVDs with the comics, you'll want to hold on to them if you chose to upgrade to UHD.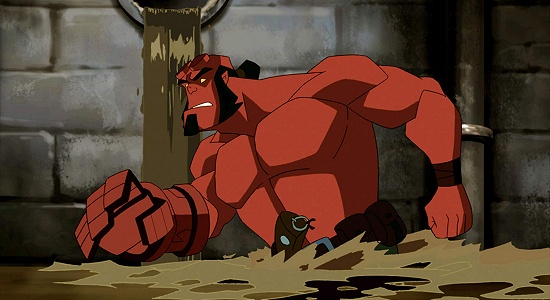 Hellboy Animated Double Feature
is available on
4K UHD Combo Pack
,
Blu-ray
(
also in 20th Anniversary packaging
), and
2-Disc DVD
. The original individual DVD releases with the comic books are still available for
Sword of Storms
and
Blood and Iron
.
All images were taken from the internet. The item was provided by Lionsgate for review on this site.
No feedback yet
Leave a comment