By Paul Rudoff on May. 15, 2019 at 6:35 PM in Public Service Articles
This is another in a series of articles exposing eBay's shady business practices.
About 15 years ago, before eBay was a corporate monolith, the site was tailor-made for the "little guy". The men and women who sold odds and ends from their home in that "worldwide garage sale", as
Weird Al put it
. As the company become more and more corporate, they have gone out of their way to prevent the little folk from being able to sell there. Instead, they favor their "power sellers", who are true businesses with the goal of making profit from a continuous supply of inventory to sell. The people Weird Al sang about in his 2003 Backstreet Boys parody, "eBay", are not welcome by eBay anymore.
In this article, I will take a look at eBay's rigged search engine and how it hurts the regular folk who have to workaround eBay's many restrictions. Let's take a look at eBay's search engine on the top of the main page. Notice how it defaults to a search in "All Categories". Let's do a search for "Ghostbusters DVD" in "All Categories".

You would expect to see results from ALL categories, but instead, eBay switched it to only display results from the "DVD & Blu-ray Discs" category, even though that's NOT what the user selected. eBay does not make the user aware that such a switch even took place. This isn't Google, where they will put up a note at the top of a results page letting you know that they're showing results for what they think you
probably
wanted to search for.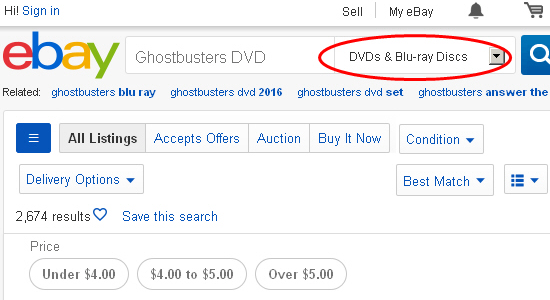 By doing this sneaky maneuver, eBay is hiding any appropriate listings that may exist in other categories. You may be wondering why there may be "Ghostbusters DVD" items in other categories. Well, it all boils down to small-time sellers working around the myriad of restrictions eBay places upon them. You see, eBay misuses categories for things that aren't about organization, such as charging a higher final value fee (12% instead of 10%) in the Books, Blu-rays/DVDs, and Music categories; capping how much you can charge for shipping in certain categories; or removing certain features from certain categories.
At a bare minimum, a seller will need to pay a 10% final value fee to eBay, in addition to a 2.9%+$0.30 fee to PayPal (an eBay company). That's around 13% of the cost of the item and shipping going into eBay's pockets. Add in the USPS's shipping fees, and about half of a $10 sale will go to third parties instead of the seller. For eBay to decide to charge an extra 2% for what is, realistically, "media mail categories", is just another jab at the small-time sellers who struggle just to make pocket change on the site. So, the only alternative the small sellers have is to list those media items in other categories. Unfortunately, with the rigged search engine, those listings will not be seen unless a buyer notices the change at the top of the page, switches it back to "All Categories" and re-runs the search.
There are other reasons why a seller may not be able to list in the "media mail categories" besides the higher final value fee. If they need to use variations for whatever reason, that feature isn't available in all categories. If they have a huge lot of stuff that will incur high shipping costs, they may need to use a category without a shipping cap. Alternatively, they could include shipping in the item price (such as so-called "free shipping"), but the buyer won't be happy if they do a return (assuming the seller accepts returns) and the seller can't refund the entire item price because a portion of it went to the USPS.
In conclusion, there are many valid reasons why a seller can't list in certain categories due to eBay's unnecessary restrictions. If eBay were to level the playing field so all sellers would have a fair advantage, they would find that their coffers would benefit and it would stem the hemorrhaging of sellers to Amazon and Etsy.
No feedback yet
Comments are closed for this post.