By Paul Rudoff on Jul. 15, 2019 at 4:30 PM in Home Video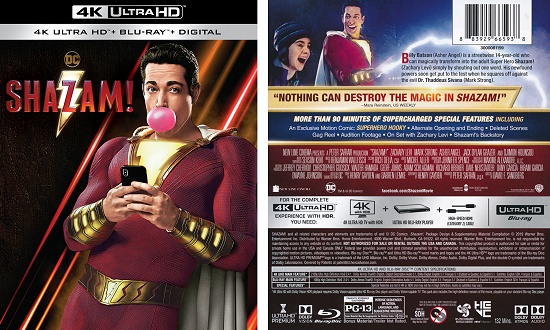 Shazam!
is one of the latest DC superhero movies. How does it fare? Read on to find out...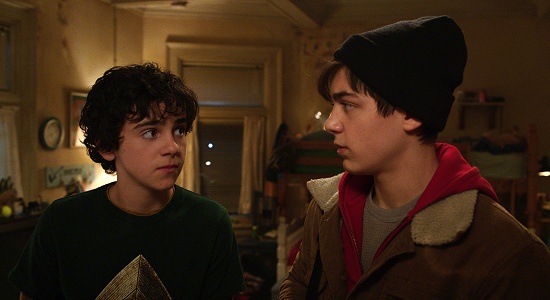 Shazam!
is the story of Billy Batson (Asher Angel), a streetwise 14-year-old foster kid who, by shouting out the word "SHAZAM!" can turn into the adult superhero Shazam (Zachary Levi). Still a kid at heart - inside a ripped, godlike body - Shazam revels in this adult version of himself by doing what any teen would do with superpowers: have fun with them! Can he fly? Does he have X-ray vision? Can he shoot lightning out of his hands? Can he skip his social studies test? Shazam sets out to test the limits of his abilities with the joyful recklessness of a child. But he'll need to master these powers quickly in order to fight the deadly forces of evil controlled by Dr. Thaddeus Sivana (Mark Strong).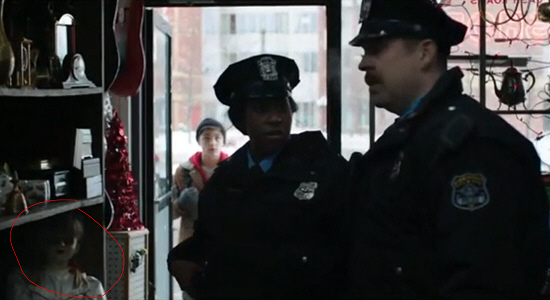 (click to enlarge)
Directed by David F. Sandberg (who
sneaks in an appearance
by the titual evil doll from his prior film
Annabelle: Creation
),
Shazam!
is an origin story that stars Zachary Levi (
see tentative Ghostbusters connection
) as the titular superhero, along with Mark Strong in the role of villain Dr. Thaddeus Sivana, and Asher Angel (whom my sister and I are both familiar with from the TV series
Andi Mack
) as Billy Batson.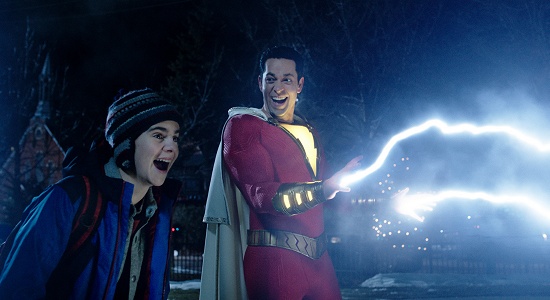 Around April 2019, the commercials for
Shazam!
started to appear on TV. For my sister's birthday, we saw the movie in the theater and we both LOVED it! That says a lot about the film because my sister is not, typically, a fan of superhero movies.
Shazam!
is not like most of the superhero movies these days. With its distinctly fun, family-centric tone,
Shazam!
is essentially
Superman
meets
Big
.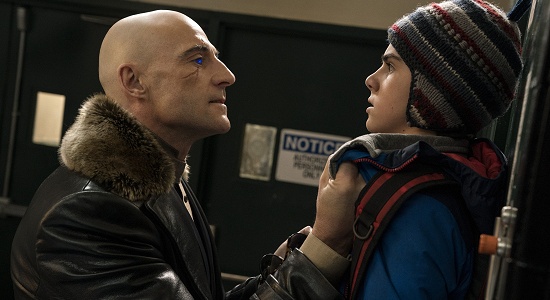 The movie is pure fun from start to finish. It's serious when it needs to be, but overall it just wants you to have a fun time watching the antics of its main characters. Perfectly cast all around, Zachary Levi was born to play the superhero that was originally known as Captain Marvel when he made his comic book debut back in the 1930s. Asher Angel is "gosh, shucks" nice as Billy Batson, and Mark Strong is Lex Luthor-type evil as Dr. Thaddeus Sivana. While the various foster kids get their moments, it's Jack Dylan Grazer as Billy's best friend and ultimate superhero enthusiast, Freddy, who steals the show as the "straight man" to Shazam's shenanigans.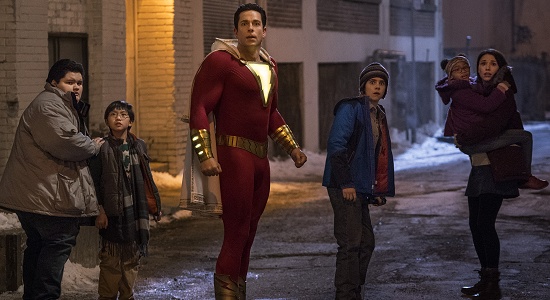 Shazam!
is presented in its original 2.40:1 aspect ratio with a runtime of 2:11:43. Audio languages include English, English Descriptive, French, Spanish, and Portuguese. The film includes English SDH, French, Spanish, and Portuguese subtitles. The first print run includes a beautiful slipsleeve.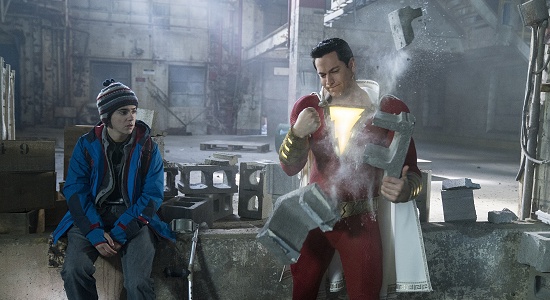 Here's a list of all of the bonus features that can be found on the disc.
Superhero Hooky (4:05) - An exclusive motion comic that (I think) features the voice of Zachary Levi. The characters are drawn to look like the actors who play them in the film.
The Magical World of Shazam (27:09) - A lengthy making of featurette.
Super Fun Zac (3:19) - The fun times Zachary Levi had on set.
Deleted Scenes with optional Director Intro Commentary (37:27) - Includes these 16 scenes: Wizard Prologue, Alternate Beginning, Billy on the Subway, Alternate Intro to Group House, Alternate Dr. Crosby and Dr. Sivana Interviews, Billy Sneaks Out, New School with Darla, Sivana Christmas Party, Shazam and Darla Tea Party, Alternate Lightning with My Hands, Additional Montage Beats, Freddy Hung from Locker, Alternate Carnival Fight, Freddy Flies by Airplane, Family on Thrones, and Alternate Ending Family Beats. Do note that to avoid additional licensing fees, "Alternate Lightning with My Hands" features replacement music (instead of the Rocky theme - which Shazam still mouths along to) and the bus company logo is blurred on the driver's hat and the side of the bus.
Gag Reel (3:16) - Outtakes and bloopers.
Who Is Shazam? (5:42) - A brief history of the character.
Carnival Scene Study (10:23) - A look at the various aspects of the epic finale at the carnival.
Shazamily Values (6:06) - The different foster family members are profiled, both the young and adult superhero versions.
Also included in the 4K UHD + Blu-ray Combo Pack is a second standard Blu-ray disc, which contains the movie and all of the bonus features listed above. Audio languages include English (Dolby Atmos & 5.1 tracks), English Descriptive, French, Spanish, and Portuguese. The film includes English SDH, French, Spanish, and Portuguese subtitles.
A digital copy code voucher is also included in the standard two-disc black UHD Blu-ray case.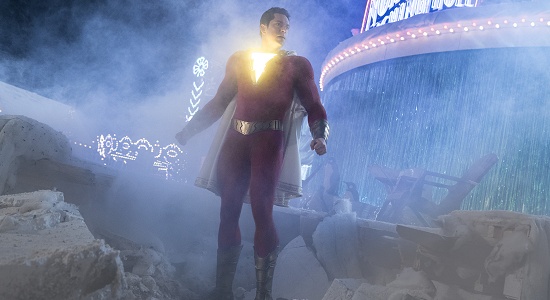 Shazam!
is available on
4K UHD/Blu-ray Combo Pack
,
Blu-ray/DVD Combo Pack
, and
individual DVD
.
All images were taken from the
IMDB gallery
of the film or were
provided by Warner Brothers
. The item was provided by Warner Brothers for review on this site.
No feedback yet
Leave a comment