By Paul Rudoff on Aug. 23, 2019 at 4:03 PM in Home Video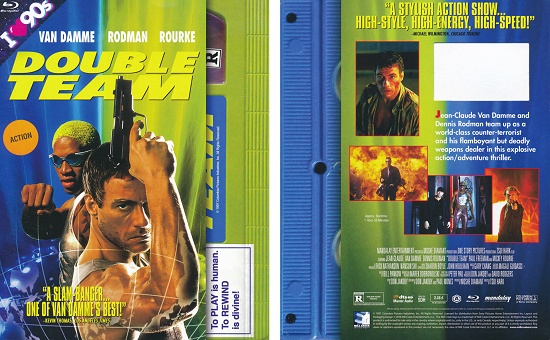 Double Team
arrives on Blu-ray as part of Mill Creek Entertainment's Retro VHS Look Series, part of a
growing trend of physical media releases
with packaging designed to look like the VHS videocassettes of the 1980s and 1990s. I have reviewed
several other titles in the series
here on The Corner Penthouse.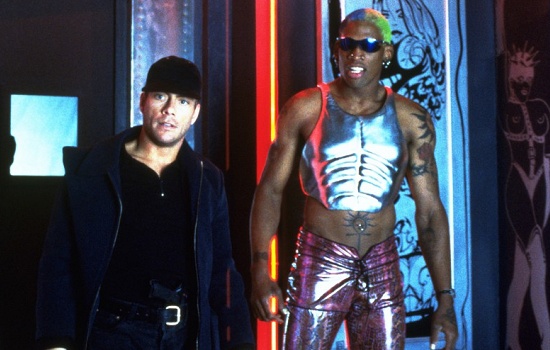 Double Team
(1997) is the story of counter-terrorist Jack Paul Quinn (Jean-Claude Van Damme), who is ready to get out of the spy game, until the evil Stavros (Mickey Rourke) kidnaps his wife Kathryn (Natacha Lindinger) and unborn son. After escaping from The Colony, a secret resort for presumed-dead assassins headed by Goldsmythe (Paul Freeman), he enlists the big-caliber help of deadly one-man-arsenal Yaz (Dennis Rodman). Soon, Quinn is kicking down all of the doors to rescue his family from the vengeance of his old nemesis.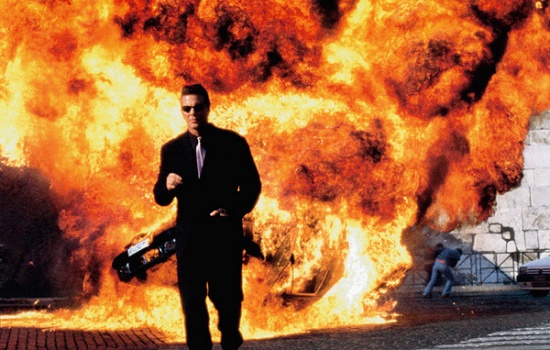 Just like the other American action film directed by Tsui Hark and starring Jean-Claude Van Damme -
Knock Off (1998)
- this is one of those films that is so bad, it's good. There's no other way to look at
Double Team
, because the acting is laughable, the plot devices are a joke, and the green-screened explosions looks as fake as can be. If you go in expecting a "great action film" you will be disappointed, though there are great action scenes. A
fight between Jean-Claude Van Damme and another guy in a hotel room
is the highlight of the film, as is a
training montage
when Quinn prepares to get off the island. Bad movie lovers will enjoy the film's climax when four people are saved from explosion simply by
standing behind a Coca-Cola vending machine
! Not since Indiana Jones survived a nuclear blast by
hopping in a refrigerator
has there been such absurdity committed to celluloid.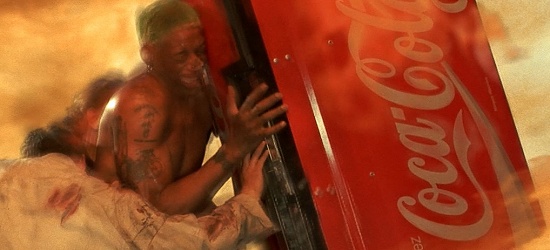 Jean-Claude Van Damme's co-star is ex-NBA star Dennis "The Worm" Rodman, whom I best know for his antics in World Championship Wrestling in the late 1990s. He's quite the sight with this multi-colored hair and a myriad of tattoos and piercings, in addition to his massive height. He's not a guy that would be able to hide in any crowd, which is why it's laughable when he tries to disguise himself throughout the film. As for his acting ability, well let's just say that he should have stuck to basketball. The best acting comes Paul Freeman, which is no surprise. You might remember him as Belloq in
Raiders of the Lost Ark (1981)
or as Ivan Ooze in
Mighty Morphin Power Rangers: The Movie (1995)
. His character, Goldsmythe describes The Colony to Quinn as, "We are the last line of defense against terrorism, and nobody even knows that we exist." Geez, where have I
heard that before
?
Double Team
was released in the U.S. four months before
Men in Black
, so I guess Agent J was once a resident at The Colony.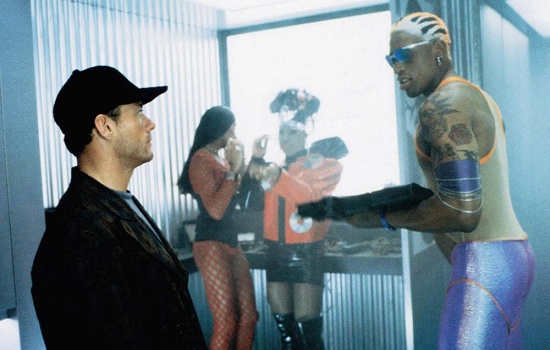 Double Team
is presented in its original 2.35:1 aspect ratio with a runtime of 1:33:00. On the audio side, there is only an English 2.0 DTS-HD Master Audio track. Subtitles are available in English only. As is the case with most Mill Creek Entertainment releases, there are no special features - just like the original videocassette!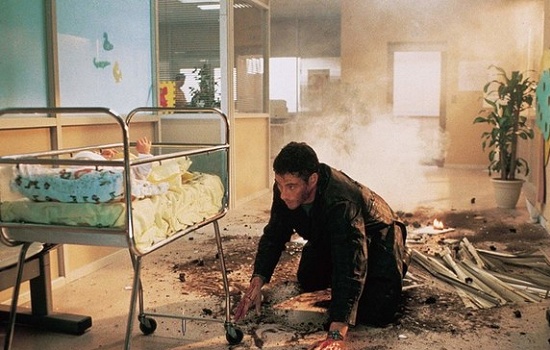 The real "bonus feature" here is the vintage-looking VHS-inspired slipsleeve, with faux wear and tear, and fake "rental stickers" on it, while giving the appearance of a videocassette being pulled out from the right side (though the original VHS may have been in a bottom-loading box), complete with tape label side on the right spine. This particular release is part of the "I Heart 90s" subset, which has a banner in the top left corner and at the top of the spine labeling it as such. This subset also features colored VHS tapes on the slipsleeve, which was something that was somewhat prevalent in the 1990s, though this title may not have had a colored VHS release. Here's a complete look at this special slipsleeve. Click on it to get a better look.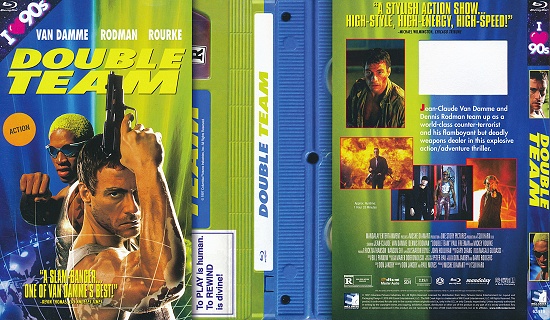 The front artwork is based on the original U.S. VHS box art, as seen below. The back of the slipsleeve bears a similarity to the original VHS box art, using the some of the same photos, but in a different orientation.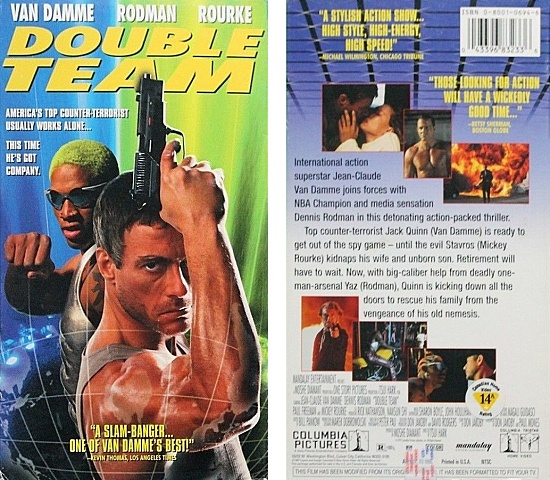 The case artwork underneath is of a modern style, which means that the VHS-style slipsleeve may only be available for a limited time. In the photo below, the slipsleeve cover is on the left and the case artwork underneath is on the right.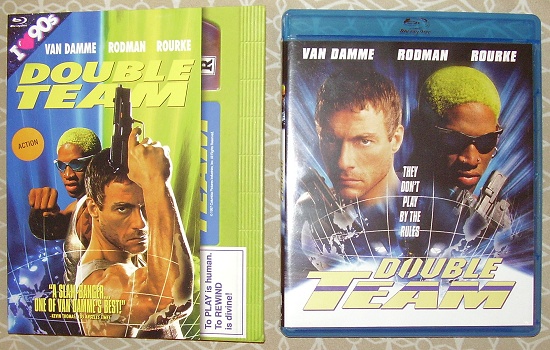 If you're not already aware of Mill Creek Entertainment, they are a budget company, which results in their products having a lower cost than the big studios. Right now,
Double Team
is listed on Amazon for less than $10.

The "Retro VHS Look Series" includes the following Blu-ray releases, which are being listed in chronological movie order, and not the order they are being released onto Blu-ray. Some titles below may not have been released yet.
Images used come from the
Internet Movie Database gallery
of the film. The Blu-ray has been provided by Mill Creek Entertainment for review on this site.
No feedback yet
Leave a comment