By Paul Rudoff on Aug. 31, 2019 at 1:40 PM in Home Video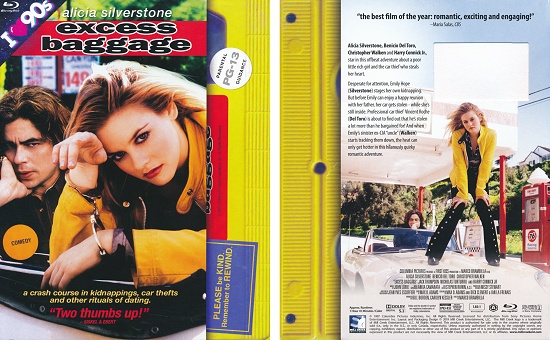 Excess Baggage
arrives on Blu-ray as part of Mill Creek Entertainment's Retro VHS Look Series, part of a
growing trend of physical media releases
with packaging designed to look like the VHS videocassettes of the 1980s and 1990s. I have reviewed
several other titles in the series
here on The Corner Penthouse.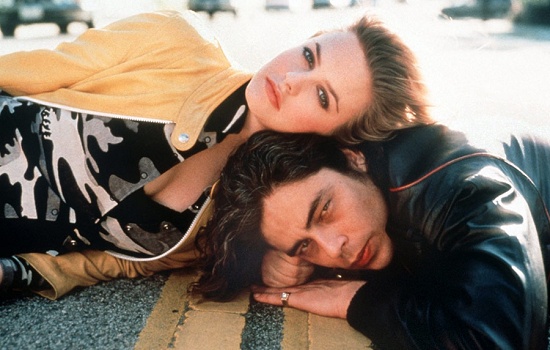 Excess Baggage
(1997) is the story of Emily Hope (Alicia Silverstone), a lonely rich girl who stages her own kidnapping in order to get her father's attention. However, before Emily can enjoy a happy reunion with her father, her car gets stolen - while she's still inside. Professional car thief Vincent Roche (Benicio del Toro) is about to find out that's he's stolen a lot more than he bargained for! When Emily's sinister ex-CIA "uncle" Ray (Christopher Walken) starts tracking them down, things only get worse for the hapless duo.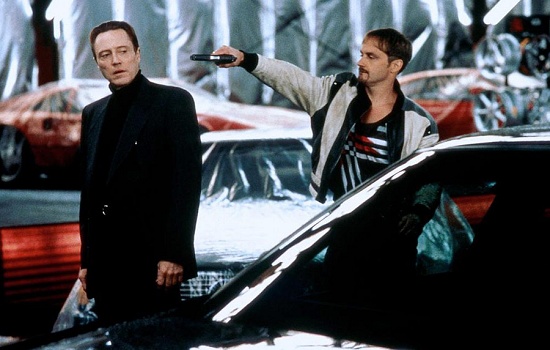 The movie is a perfectly serviceable film for fans of stars Alicia Silverstone and Benicio Del Toro. It's a "romantic comedy" that isn't necessarily very funny, though I did chuckle a few times; and isn't very romantic, though it has its moments. As expected from the plot, there is some action, but not as much as you would have expected. While the movie did keep my interest from start to finish - the lovely Alicia Silverstone
always
helps to keep my interest in anything she's in - I can't say that it was an exciting experience. It's a movie that simply just is what it is.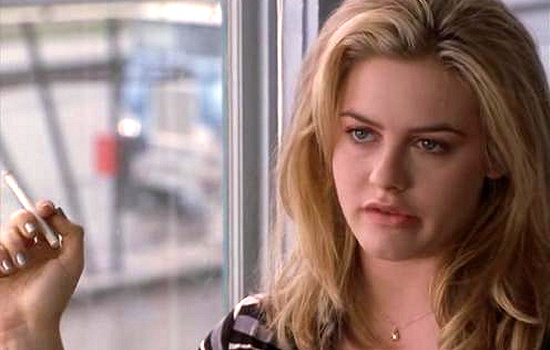 My only real complaint is that I really didn't like Alicia's character, Emily, smoking throughout the film. It was not necessary for the character (other than one scene where it lead to a plot-important fire), and made Alicia look less sexy than she should have. Benicio Del Toro's performance was rather stilted, though that may have been on purpose. It just felt odd. Christopher Walken was a standout, for sure.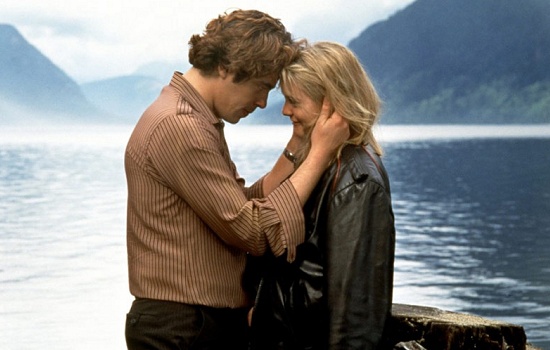 Here's a little filming locations fun fact for all of you. The building used for the exterior of the Hope mansion was also used as the exterior of the Dowling mansion in
Who's Harry Crumb?
, another title in the Retro VHS series. If you want to visit it, you'll need to travel to 1489 McRae Avenue, Vancouver, British Columbia, Canada.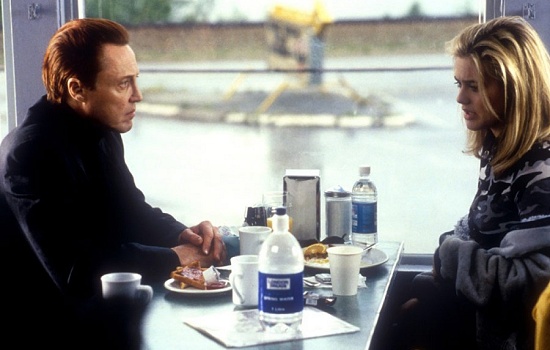 Excess Baggage
is presented in its original 1.85:1 aspect ratio with a runtime of 1:41:07. On the audio side, there is only an English 5.1 Dolby Digital track. Subtitles are available in English only. As is the case with most Mill Creek Entertainment releases, there are no special features - just like the original videocassette!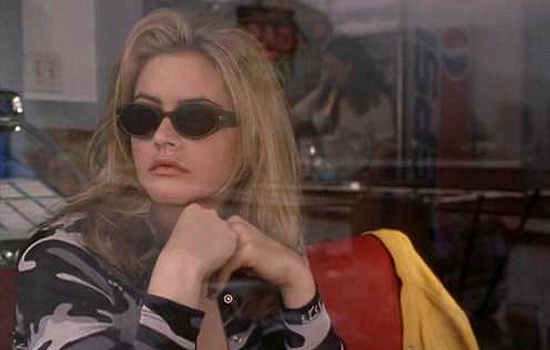 The real "bonus feature" here is the vintage-looking VHS-inspired slipsleeve, with faux wear and tear, and fake "rental stickers" on it, while giving the appearance of a videocassette being pulled out from the right side (though the original VHS may have been in a bottom-loading box), complete with tape label side on the right spine. This particular release is part of the "I Heart 90s" subset, which has a banner in the top left corner and at the top of the spine labeling it as such. This subset also features colored VHS tapes on the slipsleeve, which was something that was somewhat prevalent in the 1990s, though this title may not have had a colored VHS release. Here's a complete look at this special slipsleeve. Click on it to get a better look.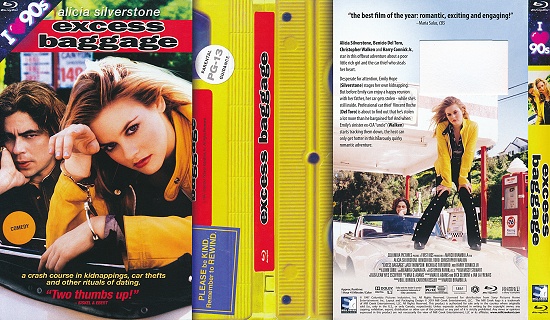 The front artwork is based on the original U.S. VHS box art, as seen below. The back of the slipsleeve bears a similarity to the original VHS box art, using the same photos, but in a different orientation.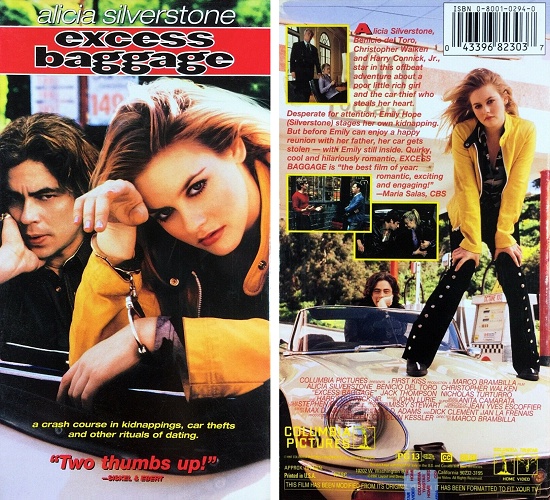 The case artwork underneath is of a modern style, which means that the VHS-style slipsleeve may only be available for a limited time. In the photo below, the slipsleeve cover is on the left and the case artwork underneath is on the right.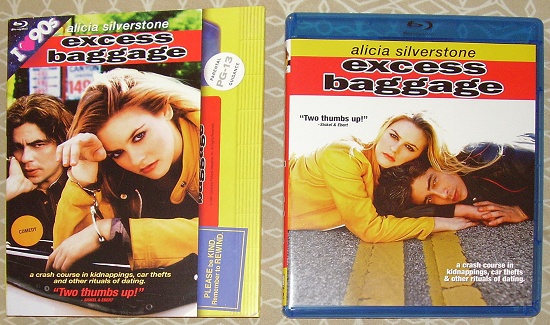 If you're not already aware of Mill Creek Entertainment, they are a budget company, which results in their products having a lower cost than the big studios. Right now,
Excess Baggage
is listed on Amazon for less than $10.

The "Retro VHS Look Series" includes the following Blu-ray releases, which are being listed in chronological movie order, and not the order they are being released onto Blu-ray. Some titles below may not have been released yet.
Images used come from the
Internet Movie Database gallery
of the film. The Blu-ray has been provided by Mill Creek Entertainment for review on this site.
No feedback yet
Leave a comment