By Paul Rudoff on Sep. 2, 2019 at 1:41 PM in Home Video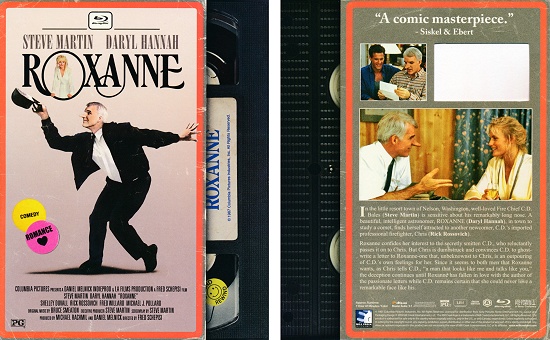 Roxanne
arrives on Blu-ray as part of Mill Creek Entertainment's Retro VHS Look Series, part of a
growing trend of physical media releases
with packaging designed to look like the VHS videocassettes of the 1980s and 1990s. I have reviewed
several other titles in the series
here on The Corner Penthouse.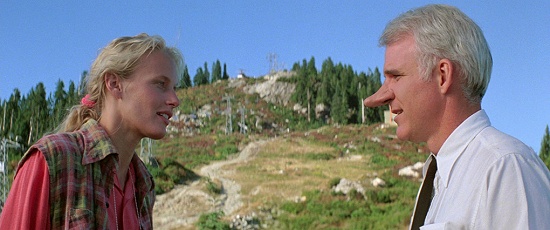 Inspired by the classic play
Cyrano de Bergerac
,
Roxanne
(1987) is the story of a man with the heart of a great lover, the soul of a poet, and the nose for trouble. In the little resort town of Nelson, Washington, well-loved Fire Chief C.D. Bales (Steve Martin) is sensitive about his remarkably long nose. Beautiful, intelligent astronomer Roxanne (Daryl Hannah), arrives in town to study a comet, finds herself attracted to another newcomer, C.D.'s imported professional firefighter Chris (Rick Rossovich). Roxanne confides her interest to the secretly-smitten C.D., who reluctantly passes it on to Chris. But Chris is dumbstruck, and convinces C.D. to ghost-write a letter to Roxanne - one that, unbeknownst to Chris, is an outpouring of C.D.'s own feelings for her. Since it seems to both men that Roxanne wants, as Chris tells C.D., "a man that looks like me and talks like you," the deception continues, until Roxanne has fallen in love with the author of the passionate letters, while C.D. remains certain that she could never love a remarkable face like his.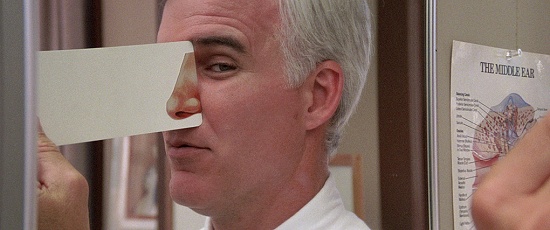 Written by star Steve Martin,
Roxanne
is a truly funny romantic comedy, filled with witty dialog and an early use of parkour by Martin's stunt doubles. I've always liked Steve Martin, and he shows off his skills for snappy wordplay with light physical antics here. He shares great chemistry with co-star Daryl Hannah, and Rick Rossovich puts in a good performance as his shy and clueless romantic rival. The world is filled with extraneous characters, such as the hapless fire brigade, that don't add anything to the story, but help make the world feel more alive. Look for a young Damon Wayans as one of the firefighting team.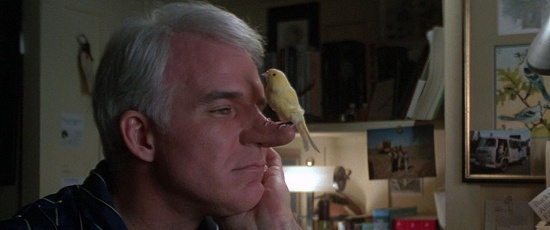 Roxanne
is presented in its original 2.35:1 aspect ratio with a runtime of 1:46:53. On the audio side, there is only an English 5.1 DTS-HD Master Audio track. Subtitles are available in English only. As is the case with most Mill Creek Entertainment releases, there are no special features - just like the original videocassette! The movie ends with the Sony Pictures Television logo, indicating that this was sourced from a print made for current premium cable showings.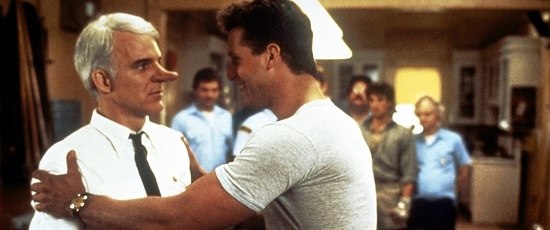 The real "bonus feature" here is the vintage-looking VHS-inspired slipsleeve, with faux wear and tear, and fake "rental stickers" on it, while giving the appearance of a videocassette being pulled out from the right side (though the original VHS may have been in a bottom-loading box), complete with tape label side on the right spine. Here's a complete look at this special slipsleeve. Click on it to get a better look.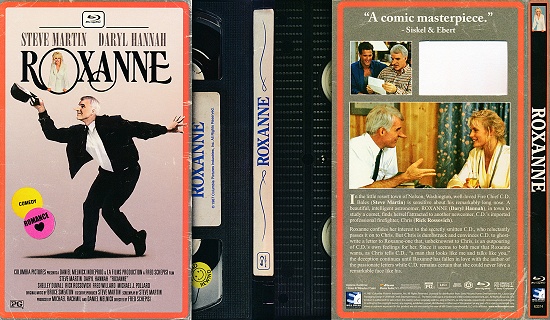 The front artwork is based on the original U.S. VHS box art, as seen below. The back of the slipsleeve bears a similarity to the original VHS box art, using the same photos, but in a different orientation.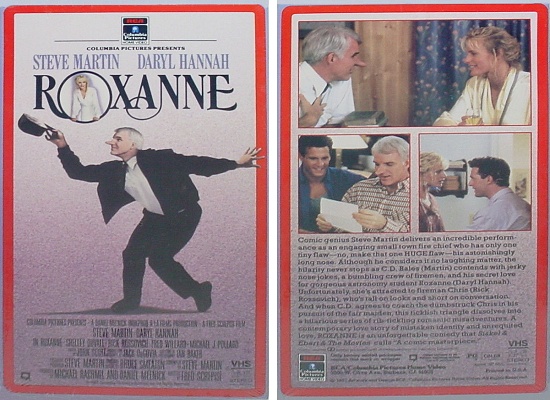 The case artwork underneath is of a modern style, which means that the VHS-style slipsleeve may only be available for a limited time. In the photo below, the slipsleeve cover is on the left and the case artwork underneath is on the right.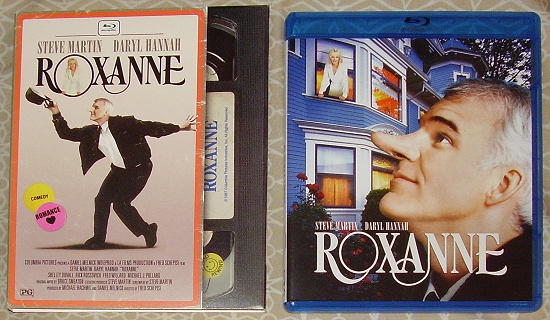 If you're not already aware of Mill Creek Entertainment, they are a budget company, which results in their products having a lower cost than the big studios. Right now,
Roxanne
is listed on Amazon for less than $10.

The "Retro VHS Look Series" includes the following Blu-ray releases, which are being listed in chronological movie order, and not the order they are being released onto Blu-ray. Some titles below may not have been released yet.
Images used come from the
Internet Movie Database gallery
of the film. The Blu-ray has been provided by Mill Creek Entertainment for review on this site.
No feedback yet
Leave a comment