By Paul Rudoff on Mar. 5, 2020 at 3:24 PM in Home Video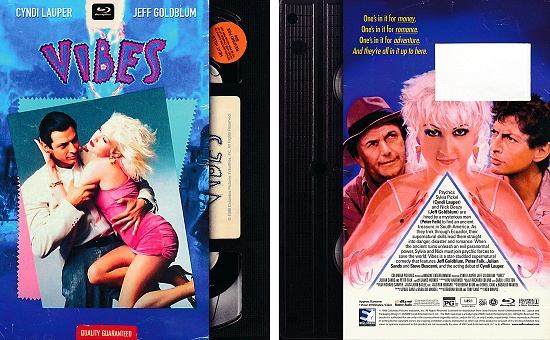 Vibes
arrives on Blu-ray as part of Mill Creek Entertainment's Retro VHS Style series, with packaging designed to look like the
VHS videocassettes of the 1980s and 1990s
. Several other titles in the series have
already been reviewed
on The Corner Penthouse, and I'm always excited when Mill Creek announces more. It's fun to see if it's a title I used to own on VHS, or one whose trailer I remember seeing at the start of some other VHS tape, or even some obscure movie I've never heard of before.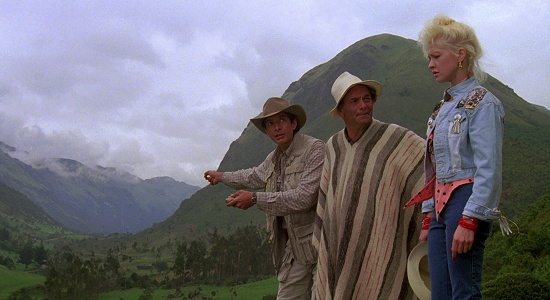 Vibes
(1988) is the story of psychics Sylvia Pickel (Cyndi Lauper) and Nick Deezy (Jeff Goldblum), who are hired by the mysterious Harry Buscafusco (Peter Falk) to find an ancient treasure in South America. As they trek through Ecuador, their supernatural skills lead them straight into danger, disaster and romance. When the ancient ruins unleash an evil paranormal power, Sylvia and Nick must join psychic forces to save the world.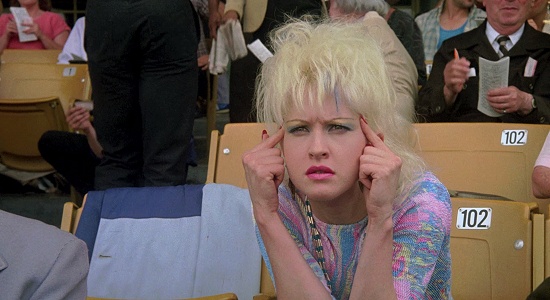 My family had this on VHS back in the early 1990s, so it was a thrill to see the slipsleeve with the original VHS artwork on it. That brought back so many memories. It was also a thrill to see this movie again after nearly thirty years. The movie opens with a great
Ghostbusters reference
(with a twist), and introduces us to a ragtag group of real psychics, including our two leads, Sylvia and Nick. Cyndi Lauper does a great job in her acting debut, and Jeff Goldblum is his usual quirky intelligent self. They have great chemistry together, and are fun to watch. The duo are backed up by a fantastic supporting cast that includes Peter Falk, Googey Gress, Julian Sands, and Steve Buscemi in a small role. The only issue with the film is the script. It starts off great, then goes downhill, giving our protagonists nothing to do except follow a few cliches. Such a shame, as there was real potential here. It's films like
Vibes
- ones that have potential, but are flawed - that should be remade. Films that
could
be improved. I'd love to see a remake of
Vibes
.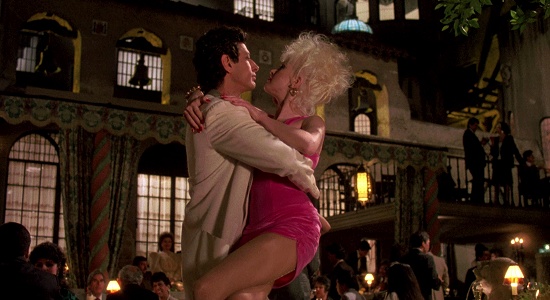 Vibes
is presented in its original 1.85:1 aspect ratio with a runtime of 1:39:35. On the audio side, there is only an English 2.0 DTS-HD Master Audio track. Subtitles are available in English only. As is the case with most Mill Creek Entertainment releases, there are no special features - just like the original videocassette!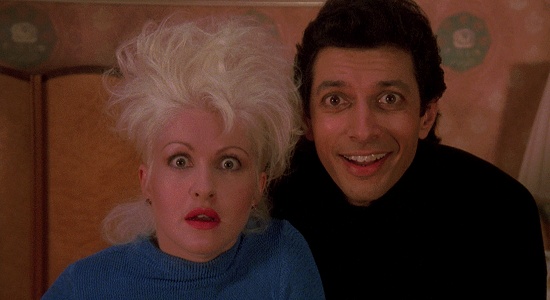 The real "bonus feature" here is the vintage-looking VHS-inspired slipsleeve, with faux wear and tear, and fake "rental stickers" on it, while giving the appearance of a videocassette being pulled out from the right side (though the original VHS may have been in a bottom-loading box), complete with tape label side on the right spine. Here's a complete look at this special slipsleeve. Click on it to get a better look.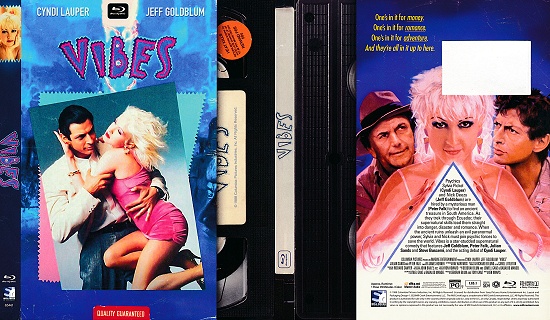 The front artwork is based on the original U.S. VHS box art, as seen below on the left. The back of the slipsleeve is based on the cover of the original UK VHS box art (seen below on the right), though that seems to be using poster artwork.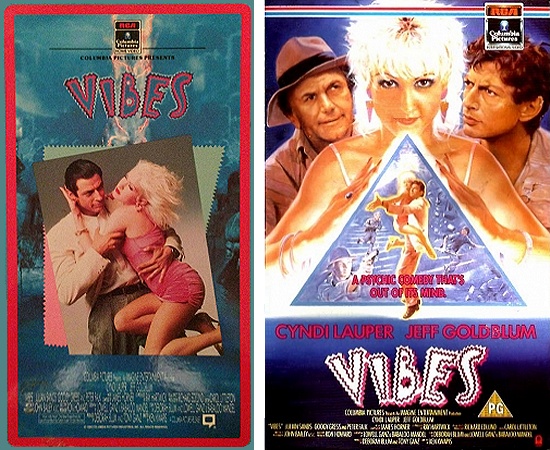 The case artwork underneath is of a modern style, which means that the VHS-style slipsleeve may only be available for a limited time. In the photo below, the slipsleeve cover is on the left and the case artwork underneath is on the right.
If you're not already aware of Mill Creek Entertainment, they are a budget company, which results in their products having a lower cost than the big studios. Right now,
Vibes
is listed on Amazon for less than $10.

The "Retro VHS Style" series includes the following Blu-ray releases, which are being listed in chronological movie order, and not the order they are being released onto Blu-ray. Some titles below may not have been released yet.
All images were grabbed by me (Paul Rudoff) from the Blu-ray, though by the time you've read this, I may have uploaded them (and many more) to the
IMDB gallery
of the film. This item has been provided by Mill Creek Entertainment for review on this site.
No feedback yet
Leave a comment