By Paul Rudoff on Nov. 11, 2020 at 8:50 PM in Reviews, Wrestling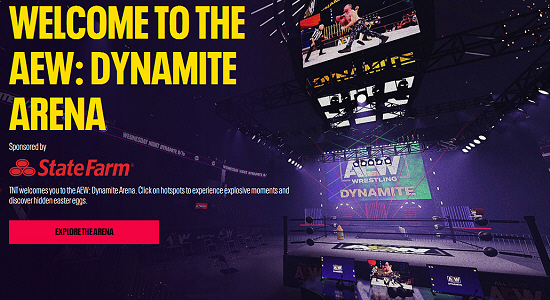 Ahead of Dynamite's one-year anniversary,
All Elite Wrestling
and TNT launched the
AEWDynamiteArena.com website
on or around October 14, 2020. Read on to find out more about it...
This 360° interactive experience lets fans explore a "State Farm arena" with different parts of the AEW Dynamite set, including inside the ring, the announcer's table, entrance ramp, and backstage. You start off in the ring, and the first thing you see is a heads-up display (HUD) not unlike a video game.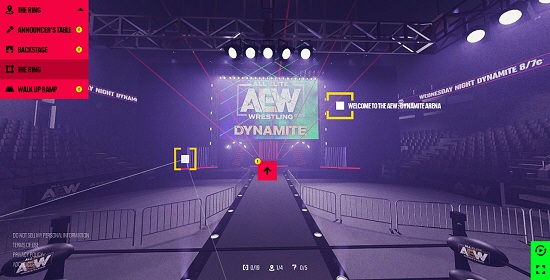 (click to enlarge)
The top left corner shows you where you currently are, and also lets you fast travel to the four different areas: Announcer's Table, Backstage, The Ring, and Walk Up Ramp. Areas that you have not been to yet are marked with an exclamation point inside a yellow circle. The bottom right corner contains two icons in a green box that allow you to stop the automatically-moving camera and toggle full screen. The small line at the bottom middle of the screen is something I find most interesting, and makes this site even
more
resemble a video game. (There used to be a sweepstakes you could enter by clicking on "Sweeps" in the top right corner, but that seems to be gone now. You'll still see it in some of my screenshots.)

These three icons represent all of the interactive elements found on the site, and will increase as you explore. The "[*]" icon tells you how many of the 19 normal interactive spots you've found. Most of these items point to videos, though some point to other things, such as the
ShopAEW.com website
. The "destination marker" in the middle tells you how many of the 4 areas you've visited. The "?" icon on the right tells you how many of the 5 special interactive spots you've found. While these spots aren't extremely hidden, they are not readily pointed out for you like the normal interactive spots are. The site lets you know which spots you've found by changing each of them to a green color.
The first special spot you'll notice will be right at your feet in the ring. It's the gallon of orange juice sitting in the corner of the ring. The screenshot below also shows you how obvious the normal spots are. The site designers not only made them big and very noticeable, but they also drew lines between them. I really wish they wouldn't have done this as it takes the fun out of finding them. To avoid spoiling very much for you, I will list all of the spots in each area with the text obscured. You will need to highlight the text to read it.
The Ring
• Normal (8):

Welcome To The AEW: Dynamite Arena, Mox's Eye, Mox Takes Santana's Eye, Jungle Boy vs. Chris Jericho, Cody's Open Promo In Empty Arena, Private Party Upset The Young Bucks, Dynamite Top Moments Timeline, Nyla Rose vs. Riho Rematch.


• Special (2):

The OJ Bath, Dr. Britt Baker's Nose.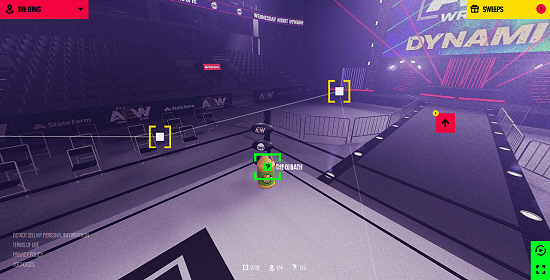 (click to enlarge)
Clicking on the orange juice brings up "The OJ Bath"; a video clip of Orange Cassidy punking The Inner Circle by giving them a huge orange juice bath in the ring and ruining Chris Jericho's $7,000 jacket."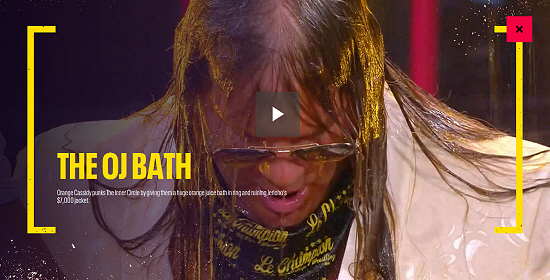 (click to enlarge)
Turn around, and you'll see a red box with a black arrow inside which, when clicked on, takes you to the Announcer's Table. This area contains a few normal spots, but no special spots. The special spots can only be found in the ring and backstage.
Announcer's Table
• Normal (3):

Shop AEW, AEW Heels, Sammy Sings 'Judas'.


• Special (0): none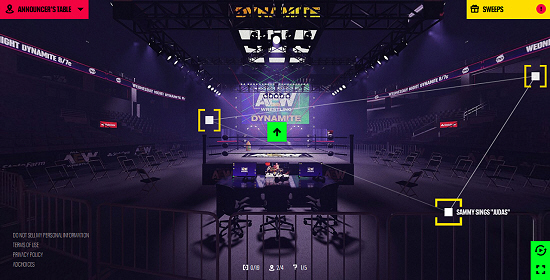 (click to enlarge)
If we go back into the ring (or use fast travel), we can go in the opposite direction and get to the Walk Up Ramp (or Entrance Ramp as most normal people call it). A few more video clips here, including some new interviews with Chris Jericho and Miro recalling their favorite moments.
Walk Up Ramp
• Normal (4):

Darby Allin's Skateboard Attack, Jericho's Top Dynamite Moments, Miro's Favorite Dynamite Moment, Barbed-Wire Weapons.


• Special (0): none
(click to enlarge)
Let's go to the back... Backstage is where the Lionheart's share of the goodies can be found. Several normal spots and three special spots all over the place. There's a backdoor, but you can't exit the building. Such a shame, as I was hoping to find a parking lot brawl outside.
Backstage
• Normal (4):

It's Your Call, Stadium Stampede, The Minivan, Mox Hits Jericho With His Bubbly.


• Special (3):

Orange Cassidy Chillin', The Bubbly Bunch, Not The Dippin' Dots!.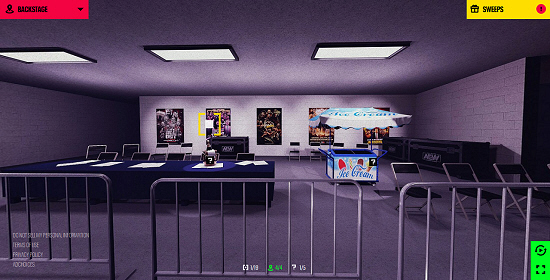 (click to enlarge)
Once you've been to all four areas and found all spots, that's it. I wish you got some kind of special unlockable for finding everything, but you don't.

The most surprising thing about the AEW: Dynamite Arena Experience site is that, unlike most new "fancy" interactive sites, it actually works on my old computer! I can click around the site and move between areas without a hiccup. The only issue is that the embedded videos don't play in the browser, but I can right-click to download them and view them offline.
I don't know if AEW and TNT will ever update the site. I hope they do because it was enjoyable, and kinda makes me wish there were more to it.
No feedback yet
Leave a comment