By Paul Rudoff on Dec. 3, 2020 at 1:03 PM in Wrestling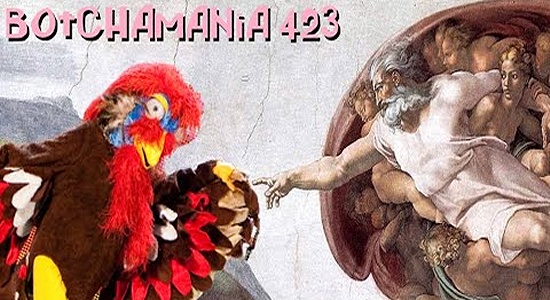 Yes, I've
written about Botchamania before
. I'm writing about it again because in the latest episode, Botchamania #423, another botch that I spotted was used. Read on to find out more...
When you get to the 1:12 mark in the episode, you will see a clip from the November 11, 2020 episode of AEW Dynamite featuring the Bunkhouse Brawl match (or whatever they were calling it). Near the end of the match, IMMEDIATELY after QT Marshall breaks up the pin with the trash can lid, Dustin Rhodes and Blade (not
Braxton
) are lying in the ring near opposite sides of the ladder. Watch carefully, and you'll see Blade slide the cowbell to Dustin, so he can use it moments later on him for the finisher sequence. Since they're opponents, you know, it kinda ruins the whole kayfabe thing :-)

While I'm not credited in the video itself, Maffew gave me credit in the YouTube video description, linked to The Corner Penthouse.
(Botchamania #423 YouTube Description, November 29, 2020)
After watching the full episode #423 below, go check out Botchamania on
Facebook
(req. login) and
Twitter
.
IMPORTANT:
Since it is very likely that the Botchamania episode embedded in this article will be taken down by Youtube, because WWE doesn't understand Fair Use, be sure to visit the
unofficial video archive
to view this episode and many more, past and present.
No feedback yet
Leave a comment