By Paul Rudoff on Feb. 12, 2021 at 6:54 PM in Public Service Articles
I have been an eBay member since January 4, 2003, and selling on the site for over 10 years now. My sales suck because eBay does everything in their power to hinder me. I have to find ways to work around the obstacles eBay puts in my way to sabotage any chances I have of selling items. I have already written a
series of articles about eBay
, who clearly has some sort of vendetta against me. I have no other explanation for the myriad of stupid reasons they've given for taking down listings of mine over and over again. I've written about some of these in the past, but I've never written about all of them. I'll write about them if they happen again, but for now, I'll just concentrate on the latest eBay bullshit.
I buy a lot of movies and television shows on physical disc media, much to the detriment of my living space. A lot of these discs come with digital copy code vouchers that I am forced to pay for when I purchase the physical discs. The studios don't provide a cheaper version of the product without the digital copy. If I want the discs, I have to pay for the digital copy code voucher, too. So, as with any other product covered by the
First Sale Doctrine
of United States law, I have the right to sell the voucher, just as I would any other part of the product. To comply with an unfair eBay policy that exists only to kiss Hollywood ass, I have to offer a broken DVD with the voucher (available for local pick-up only), even though no such policy exists if I wanted to sell the discs that are part of the same product I paid for.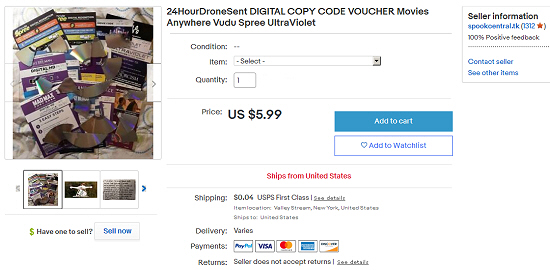 (click to view full listing)
I have been selling the vouchers on eBay for several years now, with
100% buyer satisfaction
. Most buyers are smart enough to understand what they're buying, and eBay has made themselves a hefty profit from these sales. In fact, of the
hundreds
of items I have for sale, the vouchers are the only thing that has consistently sold. Granted, I only get LESS THAN $5.00 for each $5.99 voucher after eBay and PayPal take their cuts. Although these little bits of money help me in these tough times, it's not enough to live off of. That said, the sale of these useless-to-me vouchers are a Godsend. I can use this small amount of money to buy some food for my family. Sadly, eBay would rather that we starve.
On February 12, 2021, I received an e-mail from eBay claiming that "we had to remove your listing because it didn't follow our Counterfeit item policy. We don't allow counterfeit items, replicas, or unauthorized copies."
(click to view full message)
I
written in the past
how eBay tried to claim that the physically-shipped vouchers were being sent digitally, despite everything in the listing saying otherwise. Now, the eBay Nazis are at it again, this time trying to claim that I'm selling counterfeit digital copy vouchers. As stated in the takedown notice...
Counterfeit products are illegal and not allowed on eBay. Examples include:

-- Fakes, copies or replicas of brand name items (for example, a shoe with the Nike name or logo that wasn't made by Nike)
-- Electronics or accessories that use or bear the brand name, logo or trademark of a company that didn't manufacture the item
-- Bootleg recordings from concerts or other live shows
-- Unauthorized or pirated copies of movies, videos or software
Yes, eBay is claiming that the vouchers that I LEGITIMATELY OBTAINED FROM THE MOVIES STUDIOS are "unauthorized or pirated copies". In other words,
EBAY IS CLAIMING THAT THE HOLLYWOOD MOVIE STUDIOS ARE SELLING COUNTERFEIT DIGITAL COPY VOUCHERS TO THEIR RETAIL CUSTOMERS!!!
eBay's got some pair of cojones on them!
Obviously, this is just the eBay Nazis trying, yet again, to make this 100% legal listing go away. Meanwhile, eBay has done jackshit to get the THOUSANDS of
actual counterfeit DVD and Blu-ray sets
off their site.
Of course, there's no way to appeal eBay's bogus decision and tell them that they're wrong. The seller has no recourse against things like this. I could
e-mail eBay Customer Support
, but that was a complete waste of time
last time
, so why would it be any different now?!? Last time, the clearly outsourced India-based support staff just kept repeating the same false bullshit that the takedown notice said, no matter how many times I tried to set them straight. As I've learned, EBAY HAS NO CUSTOMER SUPPORT FOR SELLERS.
At this point, I really should hire a lawyer and sue eBay, if for no other reason, than to set a legal precedent on the selling of digital copy vouchers as per the First Sale Doctrine. Sadly, I am too poor to do that, so eBay gets to continue harassing me. Even sadder, I have to let them do it because, as much as eBay is no longer a desirable outlet for poor sellers who sell items out of their home and can't afford to pay for eBay extravagances that should be part of the normal selling process, there are no viable alternatives. All of the other marketplaces don't allow sellers to receive instant payment from buyers directly to their PayPal accounts. Without having the money first, I can't process the order. So I'm forced to keep letting eBay have their way with me. Maybe one day they'll start using lube.
No feedback yet
Leave a comment