By Paul Rudoff on Mar. 5, 2021 at 5:12 PM in Home Video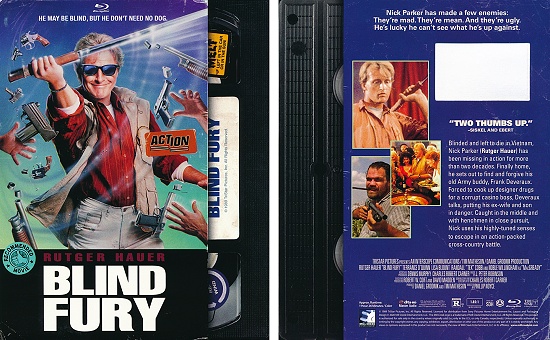 Blind Fury
arrives on Blu-ray as part of Mill Creek Entertainment's Retro VHS Style series, with packaging designed to look like the
VHS videocassettes of the 1980s and 1990s
. Several other titles in the series have
already been reviewed
on The Corner Penthouse, and I'm always excited when Mill Creek announces more. It's fun to see if it's a title I used to own on VHS, or one whose trailer I remember seeing at the start of some other VHS tape, or even some obscure movie I've never heard of before.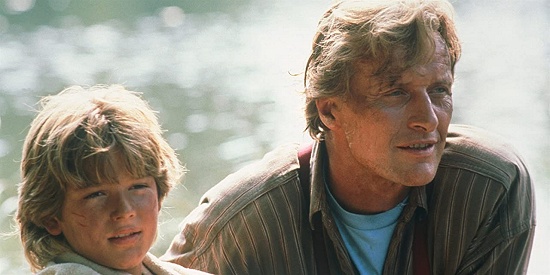 Blind Fury
(1989) is the story of Nick Parker (Rutger Hauer), blinded and left to die in Vietnam, who has been missing in action for more than two decades. Finally home, he sets out to find and forgive his old Army buddy, Frank Deveraux (Terry O'Quinn). Forced to cook up designer drugs for a corrupt casino boss, Deveraux puts his ex-wife Lynn (Meg Foster) and son Billy (Brandon Call) in danger. Caught in the middle, and with henchmen in close pursuit, Nick uses his highly-tuned senses to escape in an action-packed cross-country battle.
I have to admit, prior to entering the Retro VHS series, I had never heard of
Blind Fury
before. Somehow, it had gone completely unnoticed by me these past 32 years. I'm glad that I finally had a chance to see it now. A remake of the Japanese film
Zatoichi Challenged (1967)
, it is an absolute blast of cheesy '80s action! All of the staples of '80s action films are there, including the humorous one-liners, a thrilling car chase scene, and some great swordplay by the under-rated Rutger Hauer.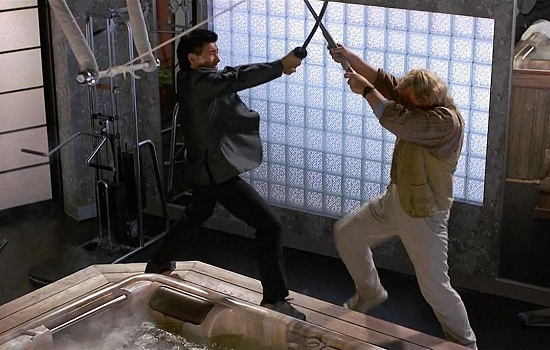 The cast includes many familiar faces, besides Hauer. Brandon Call, later J.T. on the ABC TGIF sitcom
Step By Step (1991-1998)
, is charming as little Billy. Terry O'Quinn, best known at the time for playing the titular villain in
The Stepfather (1987)
and later John Locke in
Lost (2004-2010)
, gets the job done as chemist Frank. Popular 1980s/1990s character actor Randall "Tex" Cobb, later seen as the gruff man with the dog in the opening scene of
Ace Ventura: Pet Detective (1994)
, is commanding as the main henchman Slag. Meg Foster, seen earlier as Evil-Lyn in
Masters of the Universe (1987)
and Holly in
They Live (1988)
, is briefly in the film as Billy's mother. Also in a small role is
1980s Ninja film star
Sho Kosugi, who appears in the epic showdown as The Assassin. Finally, wrestling fans will want to look out for
Tiger Chung Lee
as a casino bodyguard.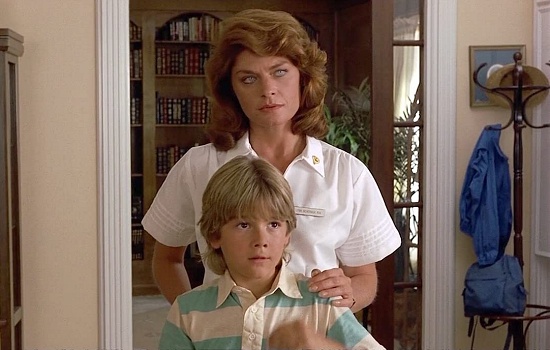 Blind Fury
is presented in a 1.85:1 aspect ratio with a runtime of 1:26:26. On the audio side, there is only an English 2.0 DTS-HD Master Audio track. Subtitles are available in English only. As is the case with most Mill Creek Entertainment releases, there are no special features - just like the original videocassette!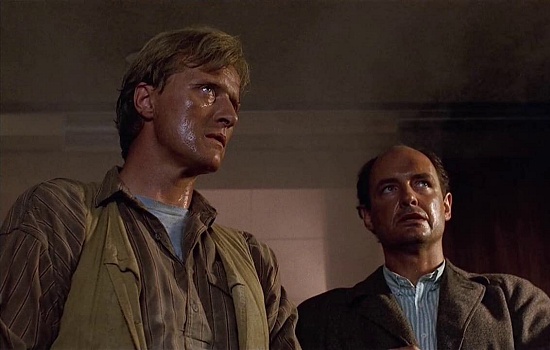 The real "bonus feature" here is the vintage-looking VHS-inspired slipsleeve, with faux wear and tear, and fake "rental stickers" on it, while giving the appearance of a videocassette being pulled out from the right side (though the original VHS may have been in a bottom-loading box), complete with tape label side on the right spine. Here's a complete look at this special slipsleeve. Click on it to get a better look.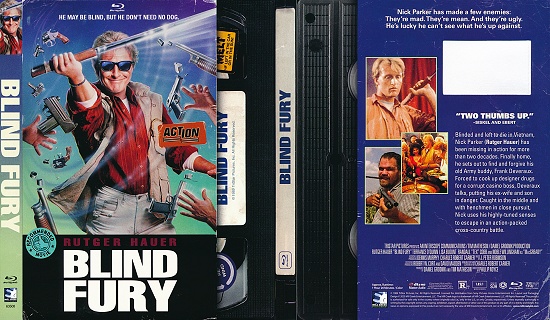 This is where I would usually tell you that the front artwork is based on the original U.S. VHS box art, but for the first time in the Retro VHS series, it is not. The front cover of the sleeve is based on the
original theatrical poster
, as seen below.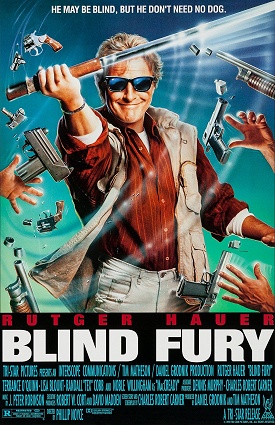 (click to enlarge)
I am SO glad that Mill Creek did this because, as you can see below, the original VHS front cover sucked. However, the back of the slipsleeve is based on the original VHS back cover, using the same or similar photos, in a similar orientation.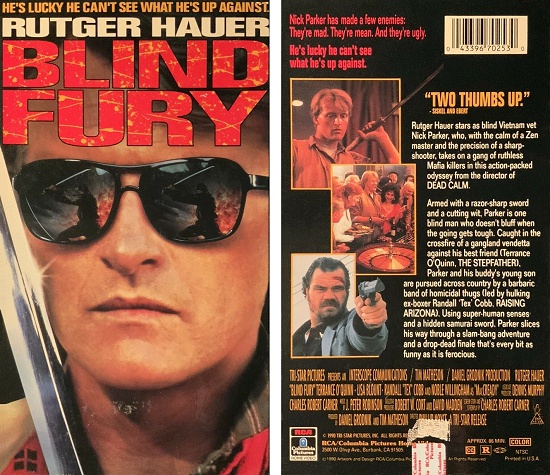 The case artwork underneath is of a modern style, which means that the VHS-style slipsleeve may only be available for a limited time. In the photo below, the slipsleeve cover is on the left and the case artwork underneath is on the right.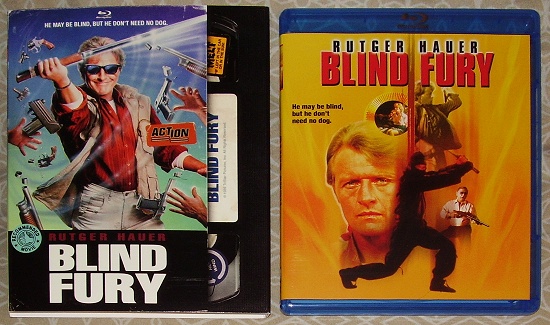 Since Mill Creek Entertainment is a budget company, you can grab
Blind Fury
on Amazon for a great low price right now.

The "Retro VHS Style" series includes the following Blu-ray releases, which are being listed in chronological movie order, and not the order they are being released onto Blu-ray. Some titles below may not have been released yet.
Images used come from the
Internet Movie Database gallery
of the film. The Blu-ray has been provided by Mill Creek Entertainment for review on this site.
No feedback yet
Leave a comment