By Paul Rudoff on Mar. 23, 2021 at 4:53 PM in Filming Locations, Home Video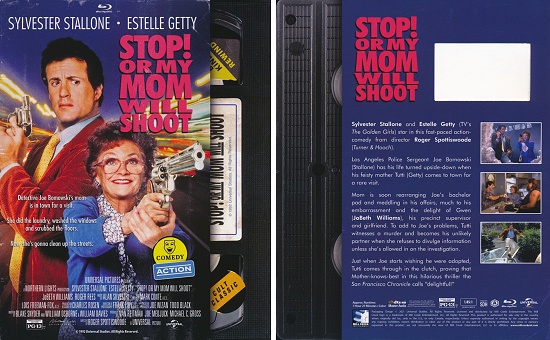 Stop! Or My Mom Will Shoot
arrives on Blu-ray as part of Mill Creek Entertainment's Retro VHS Style series, with packaging designed to look like the
VHS videocassettes of the 1980s and 1990s
. Several other titles in the series have
already been reviewed
on The Corner Penthouse, and I'm always excited when Mill Creek announces more. It's fun to see if it's a title I used to own on VHS, or one whose trailer I remember seeing at the start of some other VHS tape, or even some obscure movie I've never heard of before.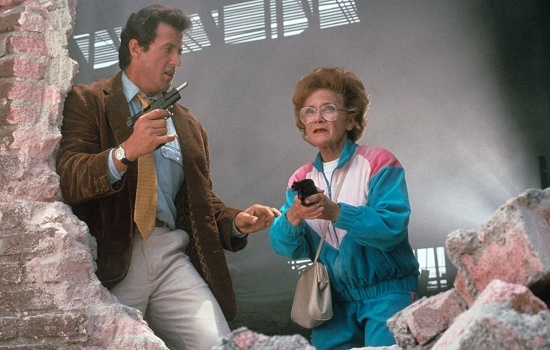 (Sylvester Stallone and Estelle Getty)
Stop! Or My Mom Will Shoot
(1992) is the story of Los Angeles Police Sergeant Joe Bomowski (Sylvester Stallone), who has his life turned upside-down when his feisty mother Tutti (Estelle Getty) comes to town for a rare visit. Mom is soon rearranging Joe's bachelor pad and meddling in his affairs, much to his embarrassment and the delight of Gwen (JoBeth Williams), his precinct supervisor and girlfriend. To add to Joe's problems, Tutti witnesses a murder and becomes his unlikely partner when she refuses to divulge information unless she's allowed in on the investigation. Just when Joe starts wishing he were adopted, Tutti comes through in the clutch, proving that Mother-knows-best.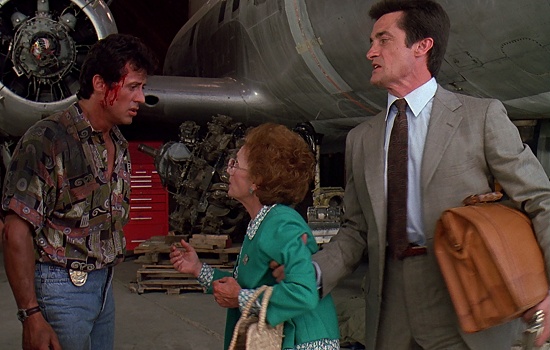 (Sylvester Stallone, Estelle Getty, Roger Rees)
I seem to remember my family owning this VHS tape in the early 1990s. I believe that I watched the movie when I was a teen, but I have zero memory of anything in it other than the clips from the TV spots. The only thing I really remembered about this film was the story about how Arnold Schwarzenegger tricked Sylvester Stallone into lobbying for the main role. Arnold read the script and knew that it wasn't worth wasting one's time and reputation on, so he announced that he would take on the role just so Stallone could "steal" it from him. Apparently, the story is true, as
Schwarzenegger admitted it on Jimmy Kimmel Live in late October 2019
.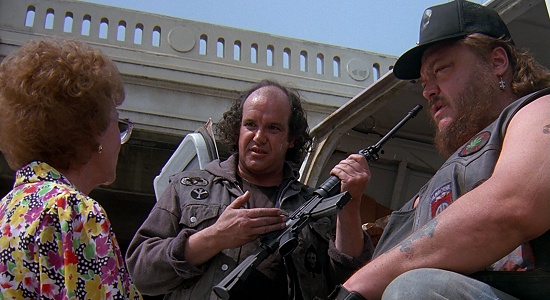 (Estelle Getty, Christopher Collins, Dennis Burkley)
This movie is one in a series of late 1980s/early 1990s comedies focusing on mismatched partners. Schwarzenegger himself starred in one of the best:
Twins
, a film that was directed by Ivan Reitman, one of the producers of
Stop! Or My Mom Will Shoot
. The
Ghostbusters
producing team of Joe Medjuck and Michael C. Gross join him as producers on this film. The director of
Stop! Or My Mom Will Shoot
, Roger Spottiswoode, also helmed one of the best in the genre:
Turner & Hooch
, featuring Tom Hanks and a dog! Unfortunately,
Stop! Or My Mom Will Shoot
is more akin to the less successful
Cop and a Half
, in which Burt Reynolds plays a cop who finds himself partnered with a young boy. Watching
Stop! Or My Mom Will Shoot
in 2021, I would best describe the film as "
Police Academy
featuring Beverly Goldberg from
The Goldbergs
".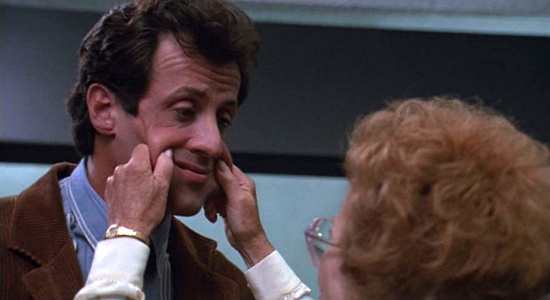 (Sylvester Stallone and Estelle Getty)
Okay, let's be honest here.
Stop! Or My Mom Will Shoot
is not a good film, and that's thanks to a script that treats the Tutti character as an over-the-top mother stereotype. Nobody would behave the way that she does. Nobody would be that completely clueless to the world around her. Estelle Getty, who was just coming off her successful run on
The Golden Girls
, plays the character well, but the character just isn't that likable. Any sane person watching this film will root for the bad guy, Parnell (Roger Rees), to take her out and put Joe, and all of us audience members, out of our collective miseries. The script is so focused on the overbearing mother, that the bad guys don't even get much screen time and their nefarious machinations are barely mentioned. Even now, I fail to remember what their scheme was, but the movie made sure that I'm stuck with the memory of seeing Sly Stallone in a diaper!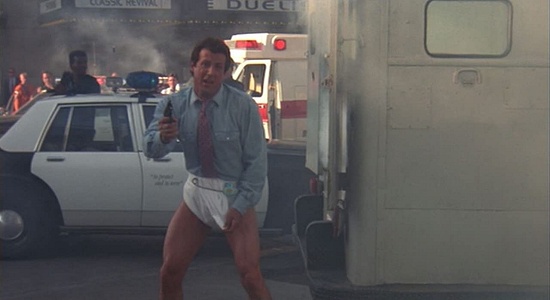 (Will Arnold Schwarzenegger change him?)
That's not to say that it's all bad. The film features a stellar cast. In addition to the two leads, bad guy Parnell is portrayed by Roger Rees, best known as Robin Colcord in the 1980s sitcom
Cheers
, the Sheriff of Rottingham in Mel Brooks'
Robin Hood: Men in Tights
, and as the voice of Piper in
Extreme Ghostbusters: "The Pied Piper Of Manhattan"
. His henchmen are played by Martin Ferrero, the lawyer from
Jurassic Park
, and Gailard Sartain, from the Ernest
Camp
,
Christmas
, and
Jail
movies. Those of you who are fans of voice actors will be interested in seeing Christopher Collins (aka Chris Latta), the voice of
Starscream
in the 1980s
Transformers series
and
Cobra Commander
in the 1980s
G.I. Joe series
as the "Gang Member" who sells a gun to Tutti from the back of a van. Finally, the movie features early appearances from Ving Rhames (as one of the criminals in the opening scene), Richard Schiff (as the gun shop owner), and Vanessa Angel (as one of the stewardesses who talks to Joe when Tutti arrives at the airport).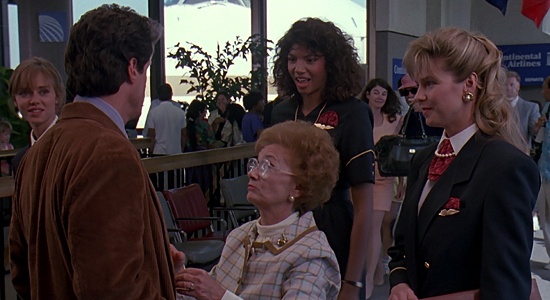 (Vanessa Angel, Sylvester Stallone, Estelle Getty, Marjean Holden, Brigitta Stenberg)
In addition to the cast, the other aspect of the movie that I really liked was seeing all of the Los Angeles, California locations. I'm going to break away from the review for a few minutes to do a little bit of a Shot on Site rundown on some of the notable filming locations, and look at how they changed between 1992 and now. The movie shots used below came from the Blu-ray and can be enlarged for the original 1920x1036 frame. These full size images can also be used to show you the quality of the Blu-ray transfer.
The first place I'll look at is Joe's apartment, seen several times in the movie.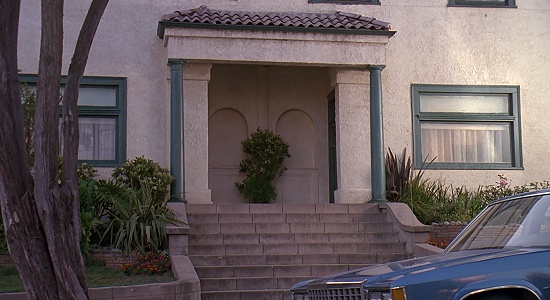 (click to enlarge)
If you want to pay Joe a visit, you'll have to go to
1124 West Kensington Road
. I think the building may have been split into two more apartments, as there are now two doors where those arched recesses were 30 years ago.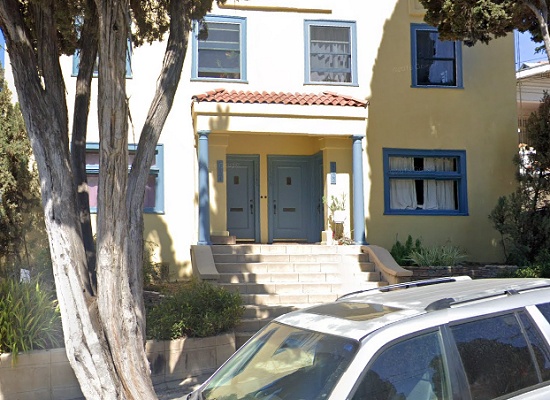 (April 2019, credit: Google Maps)
A significant event in the film is that Tutti buys a gun from the back of the van.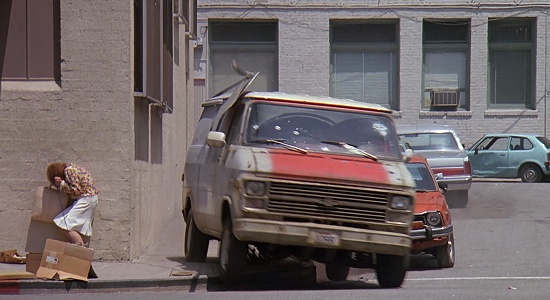 (click to enlarge)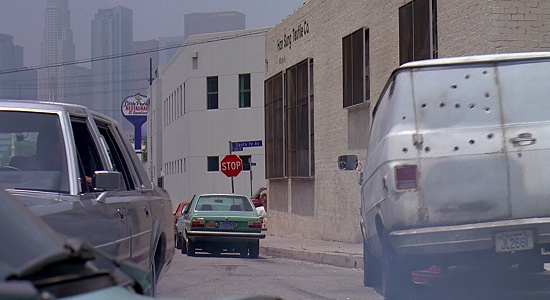 (click to enlarge)
If you're thinking of buying a gun from Cobra Commander, you're out of luck. The location, on the side of the building at
100 North Santa Fe Avenue
is no longer an active street. It was closed off sometime between
April 2009
and
May 2011
, and the building in the background was demolished sometime after
June 2008
.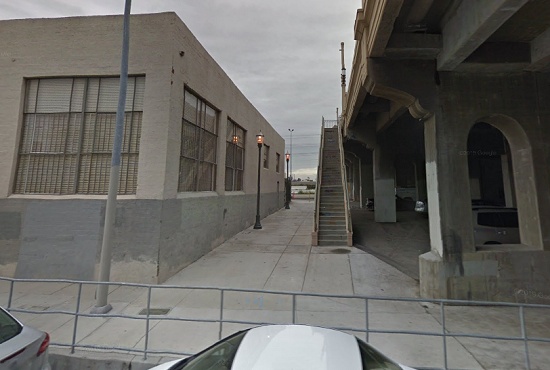 (February 2017, credit: Google Maps)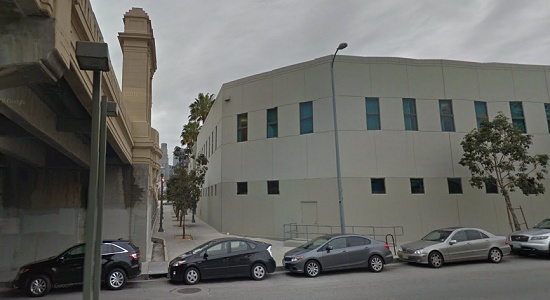 (February 2017, credit: Google Maps)
Tutti visits Joe at the police station.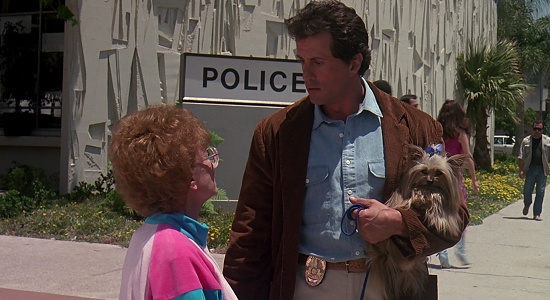 (click to enlarge)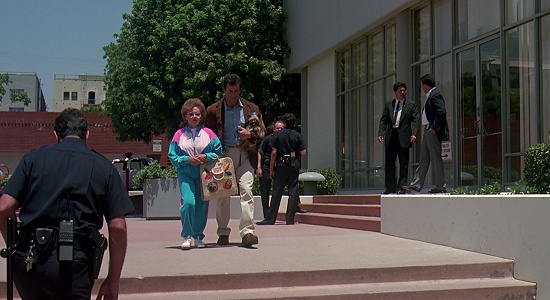 (click to enlarge)
You can report all of your crimes at
1111 West 6th Street
, but they're going to give you some really strange looks since you won't find any police at the
Universal Care Medical & Dental building
.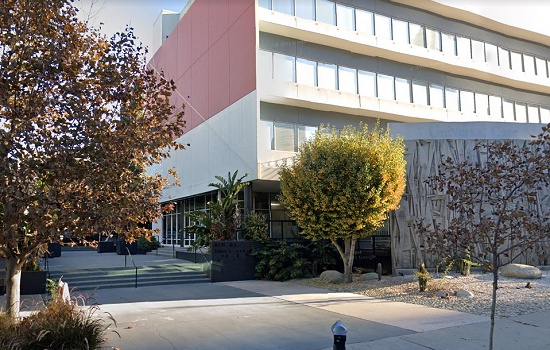 (December 2020, credit: Google Maps)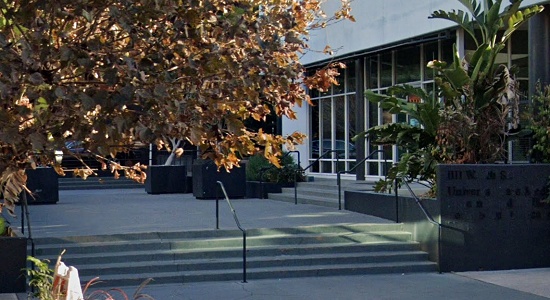 (December 2020, credit: Google Maps)
As Joe drives away from the police station towards South Bixel Street...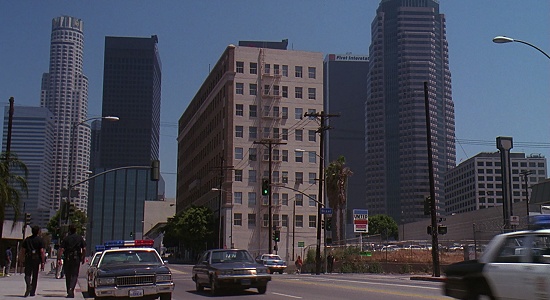 (click to enlarge)
...we see how much the area surrounding 1111 West 6th Street has changed in the past 30 years. Were it not for the skyscraper skyline in the background, you'd be hard pressed to know that this was the same place.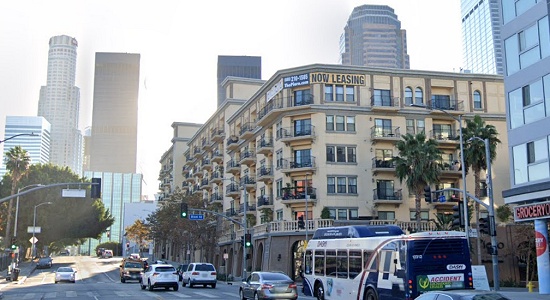 (December 2020, credit: Google Maps)
Mitchell is the other guy who was selling guns, which really belonged to the bad guy, Parnell. Parnell sends his goons, Paulie and Munroe, to Mitchell's girl's house. Joe shows up to arrest them.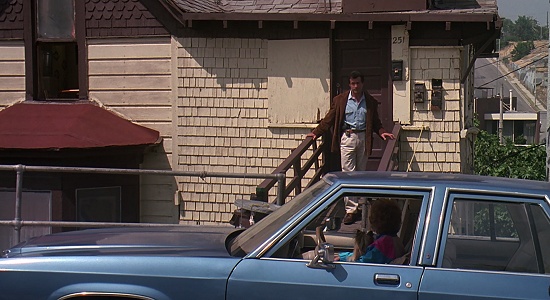 (click to enlarge)
Mitchell's Girl (yes, that's the character's name), lived at
251 Emerald Street
. The walkway and second floor entrance is gone. You now have to walk down to the first floor to enter.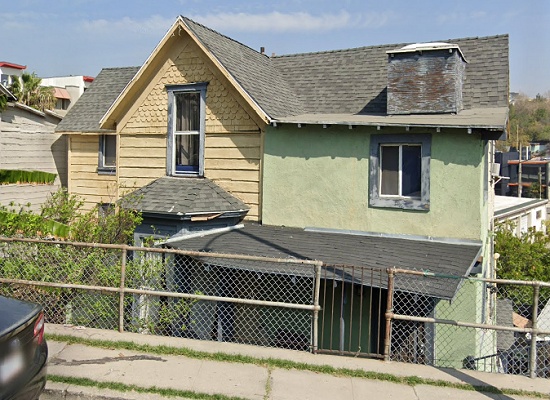 (March 2020, credit: Google Maps)
Joe chases Paulie and Munroe on foot.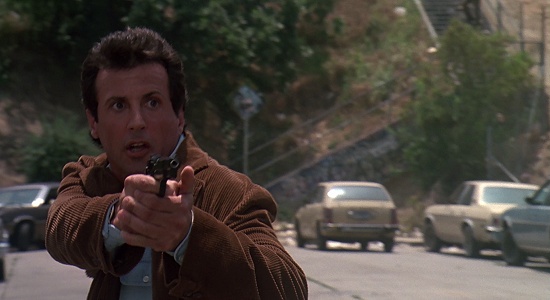 (click to enlarge)
The foot chase ends at
290 South Toluca Street
.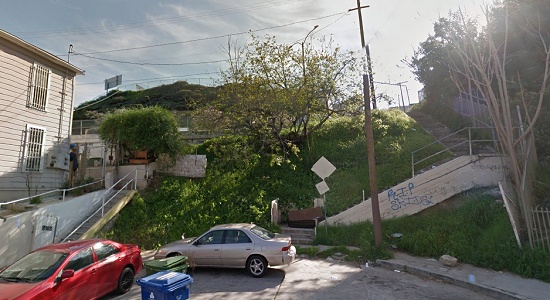 (March 2015, credit: Google Maps)
The foot chase is accurate to the real-life location, as noted in this map. The scene starts off at 1 (Mitchell's Girl's House), then the foot chase goes to 2, and Tutti drives to Joe at 3.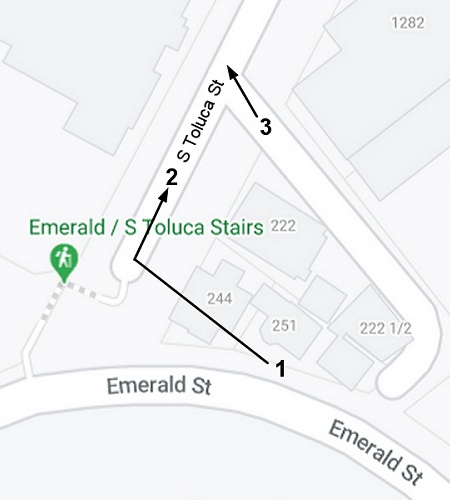 (credit: Google Maps, modified by me)
However, as you can see, the street Tutti drove off of, to end up with Joe on South Toluca Street, is NOT connected to the front of the house on Emerald Street. Unless she drove off the railing on Emerald and down onto that side street, she could not have ended up there.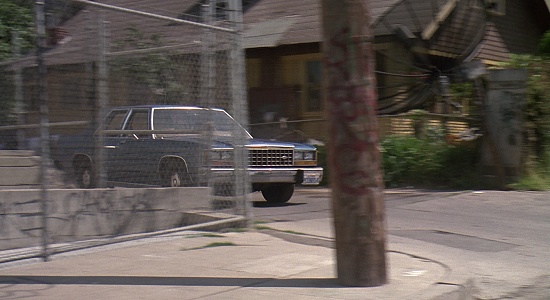 (click to enlarge)
Also, the house on the corner of that side street and
South Toluca Street
is now hidden behind lots of foliage.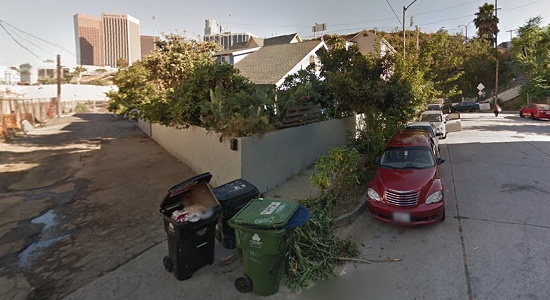 (June 2014, credit: Google Maps)
Okay, now back to your regularly scheduled review...
Stop! Or My Mom Will Shoot
is presented in a 1.85:1 aspect ratio with a runtime of 1:27:07. On the audio side, there is only an English 2.0 DTS-HD Master Audio track. Subtitles are available in English only. As is the case with most Mill Creek Entertainment releases, there are no special features. Normally, I would put a positive spin on that by commenting that the original videocassette lacked special features, as well. However, in this case, I can not do that. You see, this movie was
previously released on DVD by Universal with special features
! In the past, when Mill Creek would release a Universal title, they would include most, if not all, of the previous DVD and/or Blu-ray special features. For some reason, they did not do it with this release. Below is a list of everything that's missing, courtesy of
DVD Compare
.
MISSING: 1992 Making Of Featurette (5:14)
MISSING: Alternate Ending (2:15)
MISSING: Theatrical Trailer (2:27)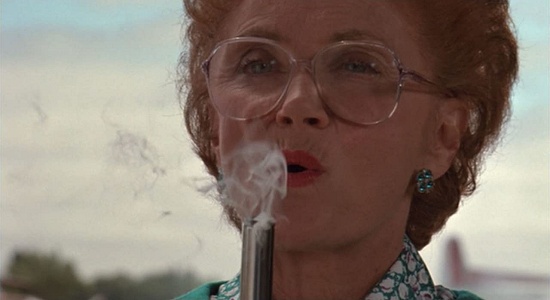 The real "bonus feature" here is the vintage-looking VHS-inspired slipsleeve, with faux wear and tear, and fake "rental stickers" on it, while giving the appearance of a videocassette being pulled out from the right side (though the original VHS may have been in a bottom-loading box), complete with tape label side on the right spine. The VHS sleeves for all four March 2021 releases (
The Babe
,
Gold Diggers: The Secret of Bear Mountain
,
Gorillas in the Mist
, and
Stop! Or My Mom Will Shoot
) are glossy, while all past sleeves were matte finish. I don't know if they will all be glossy in the future, or if this is a one-time occurrence.
Here's a complete look at this special slipsleeve. Click on it to get a better look.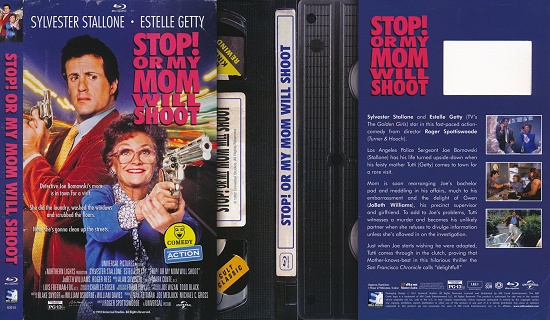 The front artwork is based on the original U.S. VHS box art, as seen below. The back of the slipsleeve bears a similarity to the original VHS box art, but using different photos, aside from one that is the same though in a different place.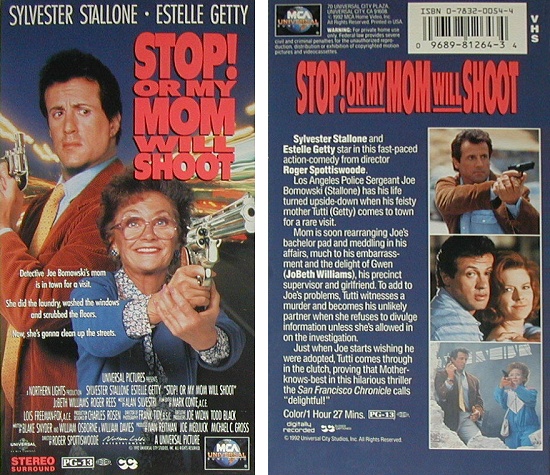 The case artwork underneath uses the
original poster artwork
, which means that the VHS-style slipsleeve may only be available for a limited time. In the photo below, the slipsleeve cover is on the left and the case artwork underneath is on the right.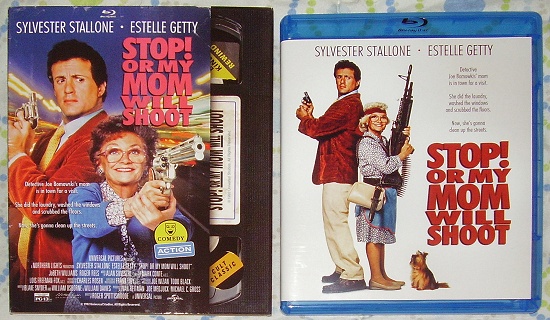 Since Mill Creek Entertainment is a budget company, you can grab
Stop! Or My Mom Will Shoot
on Amazon for a great low price right now. If you want some special features, pick up the
old DVD
as well.

The "Retro VHS Style" series includes the following Blu-ray releases, which are being listed in chronological movie order, and not the order they are being released onto Blu-ray. Some titles below may not have been released yet.
Images used come from the
Internet Movie Database gallery
of the film. The Blu-ray has been provided by Mill Creek Entertainment for review on this site.
No feedback yet
Leave a comment