By Paul Rudoff on Apr. 16, 2021 at 11:08 PM in Home Video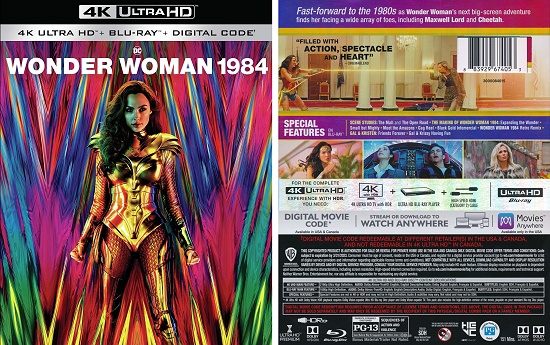 Wonder Woman 1984
(on-screen title
WW84
) is the latest DC Extended Universe film. Read on to find out more about it...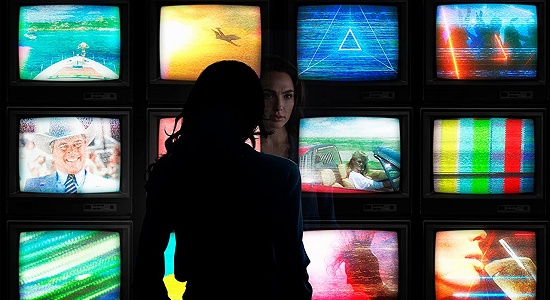 Wonder Woman 1984
(2020) finds Diana Prince (Gal Gadot) living quietly among mortals in the vibrant, sleek 1980s -- an era of excess driven by the pursuit of having it all. Though she's come into her full powers, she maintains a low profile, curating ancient artifacts at the Smithsonian and only performing her superheroic acts incognito. Diana becomes embroiled in a battle of global proportions when a mysterious gemstone catches the eye of the power-hungry entrepreneur, Maxwell Lord (Pedro Pascal). Barbara Minerva (Kristen Wiig), Diana's insecure gemologist colleague, gives in to desire, while greed and false promises catapult Maxwell into God-like status. As cataclysmic events push the world to the brink, an emotionally vulnerable Diana must address a cruel dilemma involving the love of her life, Steve Trevor (Chris Pine). Can the mighty Wonder Woman save mankind once again?
I love movies with strong, awesome female characters. Unfortunately, these days, that means "woke" movies like
Birds of Prey
and
Terminator: Dark Fate
, which confuse "female empowerment" with "let's make all of the male characters look bad in a misguided effort to make the female characters look good". Patty Jenkins'
Wonder Woman
was one of the modern "female empowerment" movies that did it right. Helped, of course, by a great story and an even better performance by star Gal Gadot. Thankfully, the follow-up,
Wonder Woman 1984
, stays the course and continues to present a film that can be enjoyed by both genders, without one feeling like they're being insulted for the sake of the other.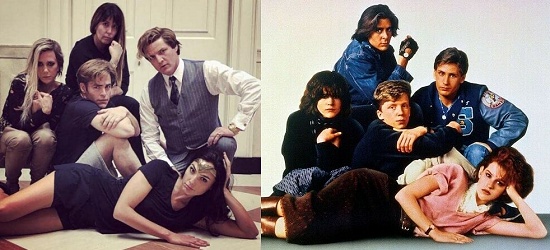 (director Patty Jenkins and cast re-create the iconic The Breakfast Club pose)
The movie also endears itself to me by being set in my favorite decade: the 1980s. Specifically, it's set in 1984, which is the best year of the decadent decade. That's the year that brought us
Ghostbusters
, as well as
Gremlins
,
A Nightmare on Elm Street
,
Indiana Jones and the Temple of Doom
,
The Karate Kid
,
Beverly Hills Cop
, and
The Terminator
(which gave us one of cinema's greatest strong female characters, Sarah Connor).
Wonder Woman 1984
contains a
subtle Ghostbusters reference
, and I would have been disappointed had there not been any sort of Ghostbusters reference considering the movie takes place in July 1984; the month after
Ghostbusters
was released to theaters in the United States.
Actually, after the first 20 minutes or so, you kinda forget that
Wonder Woman 1984
takes place in 1984. The movie doesn't constantly hit you over the head with 1980s references, as most period pieces do, like
Stranger Things
. Most of the 1980s set pieces are front-loaded, including a fantastic action scene set in a staple of the 1980s: the shopping mall! It was filmed at the defunct Landmark Mall in Alexandria, Virginia, and the scene is detailed in one of the bonus features that shows how the entire scene was done using real stunts on wires, with no CGI. Though there is a great amount of green screen used throughout the film, which makes certain shots look "phony". Maybe that's intentional, to give the movie a bit of a fantasy feel.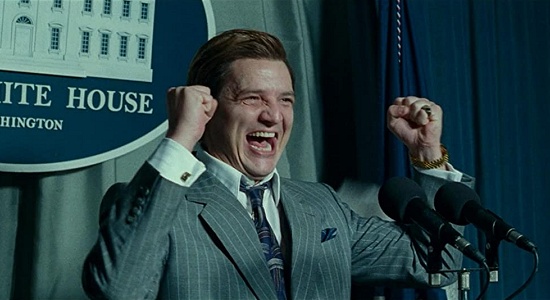 There are, essentially, three concurrent storylines going on; all tied together through the plot device of a wish-granting stone (an extreme version of the fabled Monkey's Paw). The big story features Maxwell Lord's quest to become a big oil tycoon, and how his greed takes that desire to world-dominating extremes. A lesser story involves Diana's deceased lover Steve Trevor
"quantum leaping"
his way into her life in 1984. I give the writers credit for figuring out a "credible" way (within the confines of the over-the-top silliness of the movie's universe) to bring Chris Pine back, since the previous movie took place in 1918, and he would either be really old, or dead, by 1984, while she is virtually ageless.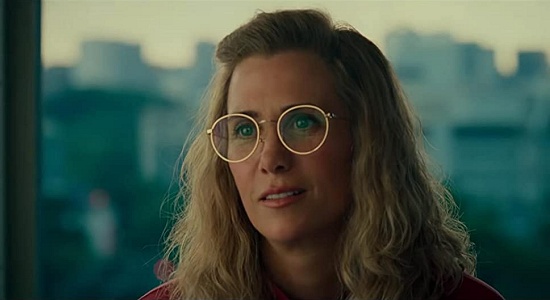 The third storyline features
Ghostbusters (2016)'s
Kristen Wiig as Barbara Minerva, an awkward and nerdy co-worker of Diana's who becomes Cheetah thanks to the wish-granting stone. This character reminds me of Selina Kyle in
Batman Returns
, a lonely, awkward, nerdy person who gets no respect from her co-workers; but later obtains special abilities and adopts a feline persona. The character of Maxwell Lord even feels a bit like the Max Schreck character from that film, too. In fact, the movie reminded me of a cross between
Batman Returns
and
Wishmaster
, but with Wonder Woman characters.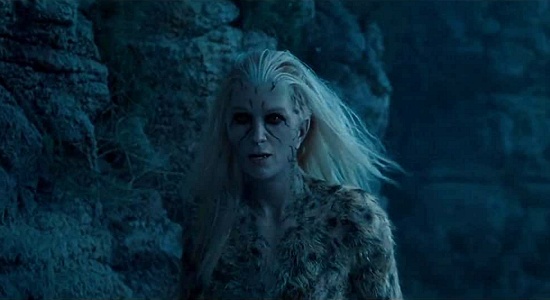 I remember Cheetah from the
Challenge of the Super Friends
cartoon, but don't know how many of this movie's elements were previously established in the comics. So, I can't draw any comparisons, and am taking the movie on its own merits. I do know for a fact that the Invisible Jet is well-established in Wonder Woman lore, and the writers even managed to find a way of incorporating it into the movie that doesn't seem too stupid and nonsensical. Not that she really needs the "invisible jet", since she now has the ability to fly! I know that sounds stupid, but it's actually
a power that she has
in some comic stories (but not in others). Heck, at one point in the film, she literally becomes
Birdgirl
:-)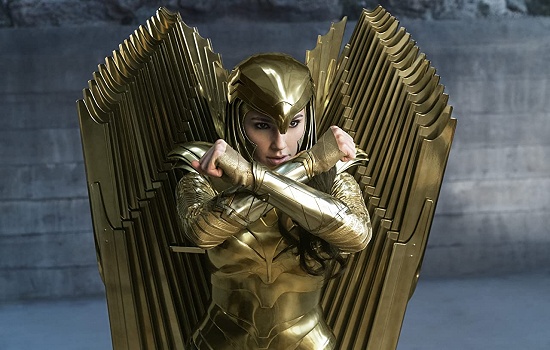 Be sure to stay tuned through the end credits for an extra scene featuring a cameo appearance by the original Wonder Woman, Lynda Carter, whom director Patty Jenkins wanted to get for a cameo in the first movie, but couldn't. The scene opens up the possibility of another sequel, and I hope that we get it.
Wonder Woman 1984
is presented in a 2.39:1 aspect ratio - though IMAX-framed action scenes (such as the opening Amazon Games) are in a 1.85:1 aspect ratio - with a runtime of 2:31:07. Audio languages include English, English Descriptive, French, German, Italian, and Spanish. The film includes English SDH, French, German, Italian, and Spanish subtitles.
The UHD disc does NOT contain any bonus features. Here's a list of all of the bonus features that can be found on the included Blu-ray disc.
The Making of Wonder Woman 1984: Expanding the Wonder (36:23) - A fairly lengthy in-depth featurette that looks at various aspects of the production featuring interviews with director Patty Jenkins, producer Chuck Roven, Gal Gadot, Kristin Wiig, Chris Pine, and more.
Gal & Kristen: Friends Forever (5:10) - Gal Gadot and Kristin Wiig discuss their characters and their own off-screen friendship.
Small But Mighty (10:44) - Lilly Aspell, who plays young Diana, is the subject of this brief featurette, which includes a clip from her 2015 audition tape.
Scene Study: The Open Road (6:11) - A breakdown of the Egyptian desert road action scene.
Scene Study: The Mall (5:03) - A breakdown of the shopping mall action scene. (NOTE: Warner Bros. has officially uploaded this to YouTube so everyone can enjoy it.)
Gal & Krissy Having Fun (1:12) - A fun song-and-dance number, presumably sung by the two actors, shown inside a TV set frame.
Meet the Amazons (21:28) - A video-conferenced discussion, moderated by actor Tiffany Smith, which was recorded at the DC Fandome event on September 12, 2020. It features director Patty Jenkins; Lilly Aspell (young Diana); costume designer Lindy Hemming; production designer Aline Bonetto; trainer Jenny Pacey; and Themyscira Amazons Bronte Lavine, Briony Scarlett, Jade Johnson, Miranda Chambers, Moe Sasegbon, Gwendolyn Smith, Doutzen Kroes, and Jessie Graff. (NOTE: This has been uploaded to YouTube by Complete Nerd Authority on September 13, 2020, but I'm not sure if it's an official upload or not.)
Black Gold Infomercial (1:38) - A VHS-grade version of Max Lorenzano's TV commercial, presented in an era-authentic 4:3 aspect ratio.
Gag Reel (6:26) - Bloopers, flubbed lines, and other outtakes. (NOTE: Warner Bros. has officially uploaded this to YouTube so everyone can enjoy it.)
Wonder Woman 1984 Retro Remix (1:40) - A wonderful video that mixes the 1975 Wonder Woman theme song with panned-and-scanned clips from the movie and new animation (in the 1975 series style). Essentially, it re-creates the 1970s Wonder Woman opening sequence, but with Gal Gadot and company. Presented in an era-authentic 4:3 aspect ratio. (NOTE: Warner Bros. has officially uploaded this to YouTube so everyone can enjoy it.)
Also included is a second standard Blu-ray disc, which contains the movie and ALL of the bonus features listed above. Audio languages include English, English Descriptive, French, Spanish, and Portuguese. The film includes English SDH, French, Spanish, and Portuguese subtitles.
A digital copy code voucher is also included in the standard two-disc black UHD Blu-ray case. The first print run includes a shiny slipsleeve.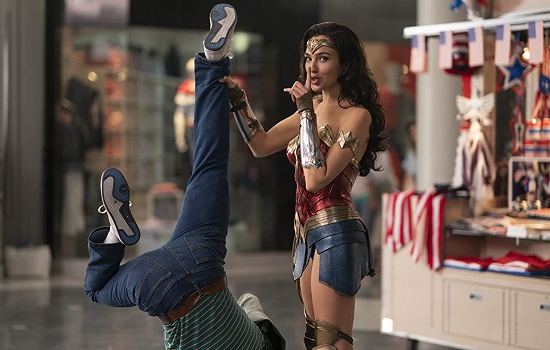 Wonder Woman 1984
(2020) is available on
4K UHD/Blu-ray
,
Blu-ray/DVD
, and
DVD
. If you don't own
Wonder Woman
(2017), you can buy both films together on
4K UHD
and
Blu-ray
. Gal Gadot made her debut as Wonder Woman in
Batman v Superman: Dawn of Justice
(2016), which is available on
4K UHD
,
Blu-ray
, and
DVD
. If you can't get enough of a gal named Gal, she also appeared as Wonder Woman in
Justice League
(2017), which is available on
4K UHD
,
Blu-ray
, and
DVD
. I suspect that the 4K/Blu-ray of the Zack Snyder cut of
Justice League
will be released this June or July, and I hope to have a review of that for you at that time. So, you may want to hold off on buying the theatrical version right now. Finally, the original 1975
Wonder Woman
series starring Lynda Carter is available
in a Complete Series Blu-ray set
. (I've read that the
DVD set
has numerous issues, so I don't recommend it.)
All images were taken from the
IMDB gallery
of the film. The item was provided by Warner Brothers for review on this site.
No feedback yet
Leave a comment