By Paul Rudoff on Jul. 30, 2021 at 12:00 PM in Home Video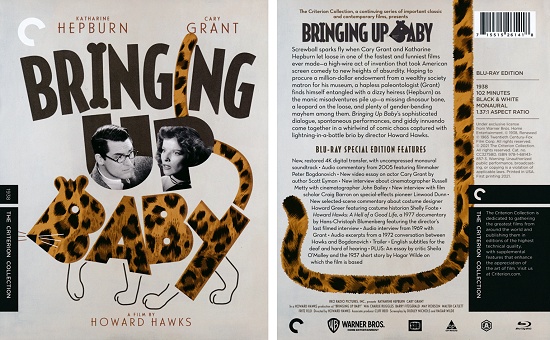 Bringing Up Baby (1938)
was recently released on Blu-ray by The Criterion Collection. Read on to find out more about it...
[ SYNOPSIS ]
Hoping to procure a million-dollar endowment from a wealthy society matron for his museum, hapless paleontologist David Huxley (Cary Grant) finds himself entangled with dizzy heiress Susan Vance (Katharine Hepburn) as the manic misadventures pile up - a missing dinosaur bone, a leopard on the loose, and plenty of gender-bending mayhem among them.
[ QUICK THOUGHTS ]
A screwball comedy from the 1930s with lots of snappy dialog. Too much dialog, if you ask me. Most of the characters in this movie have verbal diarrhea. Almost everything "crazy" that happens in the movie is because these people just don't know when to shut the hell up. My biggest issue with the movie is that Hepburn's character does things that no sane person would do. Several times, she steals cars, and she acts as if it were a normal thing to do! The police chief puts
everyone
in jail cells with no provocation what so ever. One character, whom he believes that he spoke to on the phone, walks in and properly identifies herself, yet he doesn't believe her and locks her up! She did not commit a crime, so why is she being unlawfully detailed?!? There is nothing funny about stupidity like that. The humor that the main characters are trying to pull off only works when the world around them is playing it straight. If the whole world is populated by idiots, then it all falls apart. The actors do their best with the material, and there are glimmers of goodness here, but this one just isn't as good as others would have your believe.
[ SPECIFICATIONS ]
The movie is presented in a 1.37:1 aspect ratio with a runtime of 1:42:35. Audio languages include English (LPCM 1.0 Mono). Subtitle languages include English SDH.
[ SPECIAL FEATURES ]
Here is a list of the special features that are included on the disc.
Audio Commentary - by Peter Bogdanovich, recorded in 2005.
Scott Eyman (18:32) - This video essay, created by the Criterion Collection in 2021, features Scott Eyman, author of "Cary Grant: A Brilliant Disguise", discussing the actor's early career.
John Bailey (11:20) - This interview with cinematographer John Bailey was recorded by the Criterion Collection in March 2021. In it, Baily discusses director of photography Russell Metty, along with several scenes from the film.
Craig Barron (12:40) - This interview with film historian Craig Barron was recorded by the Criterion Collection in March 2021. In it, Barron discusses the career of visual effects pioneer Linwood Dunn, including his work on the film.
Howard Hawks: A Hell of a Good Life (56:37) - In November 1977, filmmaker Hans-Christoph Blumenberg shot the last interview with director Howard Hawks, who died the following month. An intimate visit with Hawks at his home in Palm Springs, California, the resulting film premiered at the Berlin Film Festival in February 1978 before airing on West German television later that year. (Presented in German and English with English subtitles.)
Selected-Scene Commentary (22:21) - In this program created for the Criterion Collection in 2021, costume historian Shelly Foote discusses the career of designer Howard Greer and examines some of the garments he created for the film. Four scenes are included.
Cary Grant (35:57) - This audio interview with actor Cary Grant was recorded on October 6, 1969, after a screening of the film as part of a Hollywood in the Thirties film series presented by the Academy of Motion Picture Arts and Sciences. In it, Grant answers questions from the audience about the film and his career.
Howard Hawks and Peter Bogdanovich (15:01) - This is an audio excerpt from a conversation between filmmakers Howard Hawks and Peter Bogdanovich that was recorded in Palm Springs, California, in 1972.
Trailer (2:20).
[ ADDITIONAL INFORMATION ]
Criterion is one of the few companies left who puts a little care into their packaging, and this release is no exception. The Blu-ray is stored in a slightly thick clear standard-size Blu-ray case. Inside is a thick 40-page booklet featuring the essay "Bones, Balls, and Butterflies" by Sheila O'Malley, the 1937 short story "Bringing Up Baby" by Hagar Wilde on which the film is based, detailed cast and crew information, technical credits, and lots of cast photos.
No Digital Copy voucher or slipsleeve is included.
[ PURCHASE LINKS ]
Bringing Up Baby
is available on
Blu-ray
and
DVD
.
This item has been provided by The Criterion Collection for review on this site.
No feedback yet
Leave a comment