By Paul Rudoff on Apr. 15, 2022 at 12:00 PM in Home Video, Horror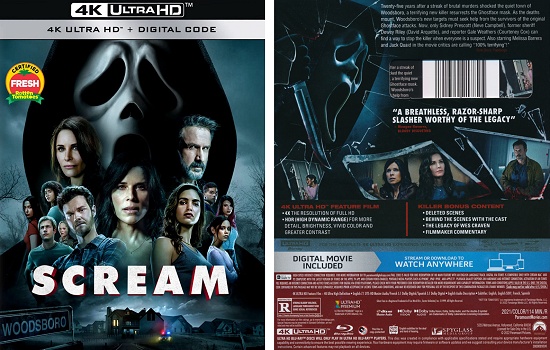 Paramount recently released the
Scream (2022) (aka Scream 5) 4K UHD
. Read on to find out more about it...
[ SYNOPSIS ]
Twenty-five years after a streak of brutal murders shocked the quiet town of Woodsboro, a terrifying new killer resurrects the Ghostface mask. As the deaths mount, Woodsboro's new targets must seek help from the survivors of the original Ghostface attacks. Now, only Sidney Prescott (Neve Campbell), former sheriff Dewey Riley (David Arquette), and reporter Gale Weathers (Courteney Cox) can find a way to stop the killer when everyone is a suspect.
[ SPECIFICATIONS ]
The movie is presented in a 2.40:1 aspect ratio with a runtime of 1:54:18. Audio languages include English, German, Spanish, French, Italian, and Japanese. Subtitle languages include English, English SDH, French, German, Italian, Japanese, Portuguese, Spanish, Cantonese, Dutch, Korean, and Thai.
[ SPECIAL FEATURES ]
All of the content listed below can be found on the 4K disc, which is the only disc included in the case. There is no Blu-ray disc, as this is not a "combo pack".
Audio Commentary - with writer/producer James Vanderbilt, writer Guy Busick, directors Matt Bettinelli-Olpin & Tyler Gillett, and executive producer Chad Villella.
Deleted Scenes (2:57) - Three scenes in one chapter, mostly involving Dewey.
New Blood (7:33) - Meet the new generation of Woodsboro victims and potential killers!
Bloodlines (8:33) - Catch up with Scream stars Neve Campbell, Courteney Cox, and David Arquette for a deep dive into their characters and why they came back for a fresh stab at their favorite horror franchise.
In the Shadow of the Master (7:22) - The cast honor movie maestro Wes Craven and look back on his incredible legacy as the director who redefined horror.
Scream 1996 Trailer (1:31) - The 2021 Paramount trailer for the original film's 4K home video release, not the film's original 1996 theatrical trailer, as is implied.
[ ADDITIONAL INFORMATION ]
A digital copy code voucher is included inside the standard one-disc black UHD case. The first print run includes a slipcover.
[ NOTES ]
Thoroughly enjoyable fifth entry in the franchise, even though it isn't officially called
Scream 5
- a fact that is referenced by the filmmakers in the movie itself. In classic
Scream
fashion, this film is fully self-aware, and shouldn't be taken
too
seriously. It follows all of the franchise's tropes - for good and for bad - and you just roll along with it as it gives you a wink and a nod every step of the way.
All actors involved give great performances, but the standouts to me are Jenna Ortega, Mikey Madison, and Jasmin Savoy Brown. The latter, portraying Mindy Meeks-Martin, is this film's Randy Meeks (Jamie Kennedy in the original). She's the resident cinema geek laying out the rules, at one point going into a monologue about so-called "requels" (remakes that are also sequels) that work by bringing elements of the original into a story with new characters and returning favorites. Is is here that she lists
Ghostbusters
as an example of a franchise with a "requel" in it; that being
Ghostbusters: Afterlife
. Both
Afterlife
and this film invent a daughter for a deceased character that didn't originally have one just to tie in the new characters with the pre-existing continuity. Mindy describes it quite well: "You got to build something new. But not too new, or the Internet goes bug-fucking nuts. It's got to be part of an ongoing storyline, even if the story shouldn't have been ongoing in the first place. New main characters, yes, but supported by and related to legacy characters. Not quite a reboot, not quite a sequel. Like the new
Halloween
,
Saw
,
Terminator
,
Jurassic Park
,
Ghostbusters
... fuck, even
Star Wars
! It always, always goes back to the original!"

(with optional English subtitles)
Scream (2022)
is available on
4K UHD
,
Blu-ray
, and
DVD
. To complete your collection, be sure to also buy the
3-Movie Collection Blu-ray
(with two documentaries) and the
Scream 4 Blu-ray
.
This item has been provided by Paramount for review on this site.
No feedback yet
Leave a comment