By Paul Rudoff on May. 10, 2022 at 9:30 PM in Home Video, Horror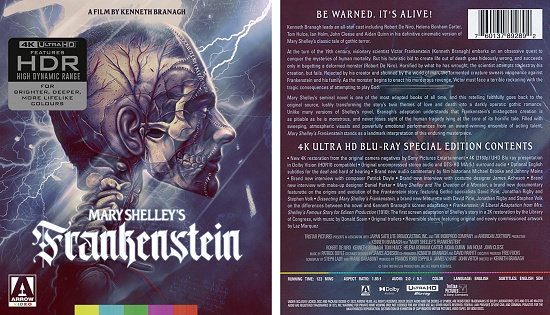 Arrow Video recently released
Mary Shelley's Frankenstein (1994) on 4K UHD
. Read on to find out more about it...
[ SYNOPSIS ]
At the turn of the 19th century, visionary scientist Victor Frankenstein (Kenneth Branagh) embarks on an obsessive quest to conquer the mysteries of human mortality. But his hubristic bid to create life out of death goes hideously wrong, and succeeds only in begetting a deformed monster (Robert De Niro). Horrified by what he has wrought, the scientist attempts to destroy his creation, but fails. Rejected by his creator and shunned by the world of man, the tormented creature swears vengeance against Frankenstein and his family. As the monster begins to enact his murderous revenge, Victor must face a terrible reckoning with the tragic consequences of attempting to play God.
[ SPECIFICATIONS ]
The movie is presented in a 1.85:1 aspect ratio with a runtime of 2:03:13. The movie
has been rated
R for horrific images. Audio languages include English. Subtitle languages include English SDH.
[ SPECIAL FEATURES ]
All of the content listed below can be found on the 4K UHD disc.
Audio Commentary by Michael Brooke and Johnny Mains.
Mary Shelley and the Creation of a Monster (29:37) - British gothic specialists David Pirie, Stephen Volk, and Jonathan Rigby discuss the source novel and its many subsequent stage and screen adaptations.
Dissecting Mary Shelley's Frankenstein (15:32) - Pirie, Volk, and Rigby detailing differences between the source novel and the adaptation.
Frankenstein (1910) (12:55) - The first screen adaptation of the novel, directed by J. Searle Dawley, and released by Edison Studios in March of 1910.
Stitching Frankenstein (14:53) - An interview with costume designer James Acheson.
We'll Go No More A Roving (12:40) - An interview with composer Patrick Doyle.
Making it All Up (14:22) - An interview with make up artist Daniel Parker.
Trailer #1 (1:29)
Trailer #2 (1:53)
Image Gallery (2:40) - Contains a total of 16 stills.
[ ADDITIONAL INFORMATION ]
As is usually the case with Arrow Video, included inside the thick one-disc black 4K UHD case is an illustrated collector's booklet featuring essays (by Jon Towlson and Amy C. Chambers) and photographs. The case artwork is reversible, featuring the original poster artwork on one side and newly-commissioned artwork (by Laz Marquez) on the other. There is no slipcover.
[ NOTES ]
I have a bit of fondness for
Mary Shelley's Frankenstein
, as my high school took us to the theater to see it on a class trip. It may not be as widely remembered as the
1931 Universal film
, but it's a beautiful telling of the story that is highly recommended, whether you buy it on
4K UHD
or
Blu-ray
.
This item has been provided by Arrow Video for review on this site.
No feedback yet
Leave a comment