By Paul Rudoff on Jul. 31, 2022 at 9:50 PM in Home Video, Animation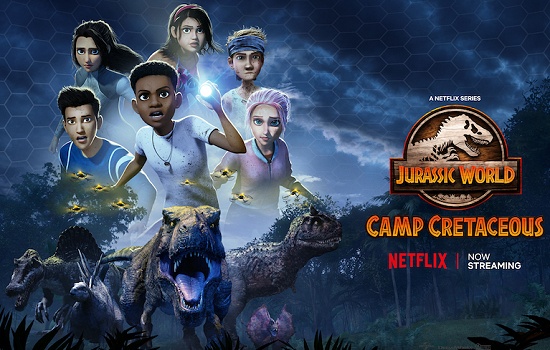 The fifth and final season of
Jurassic World: Camp Cretaceous
(2020-2022) was recently released on Netflix. Join me as I take a look at this series. (Very minor SPOILER ALERT if you go any further, as I will discuss a few connections between the movies and this animated series.)
[ SERIES SYNOPSIS ]
Following in the tradition of the hugely successful
Jurassic
film franchise,
Jurassic World: Camp Cretaceous
follows six teenage campers as they are the first selected to experience the world's most incredible adventure camp: Camp Cretaceous! But when the genetically-engineered apex predator, the Indominus Rex, escapes and causes all systems in Jurassic World to go haywire, unleashing rampaging dinosaurs upon the park, the campers find that they have to rely on themselves and each other if they are ever going to make it off of Isla Nublar and find their way back home.
[ SEASON SYNOPSES ]
•
Season 1
(8 Episodes, Sep. 18, 2020) - Six kids attending adventure camp on Isla Nublar are abandoned by their counselors and left to fend for themselves as the events of
Jurassic World
are taking place elsewhere on the island.
•
Season 2
(8 Episodes, Jan. 22, 2021) - Still stuck on the island, the kids find they they have company: a pair of posh eco-tourists and their disgruntled security guy.
•
Season 3
(10 Episodes, May 21, 2021) - The kids find the eco-tourists's abandoned yacht and have a chance to finally leave the island... but there are bigger problems to deal with.
•
Season 4
(11 Episodes, Dec. 3, 2021) - After finally leaving Isla Nublar, the kids get stuck on yet another dinosaur-infested island. There, they find the Mantah Corp. research and development facility, and a whole army of robot sentries.
•
Season 5
(12 Episodes, Jul. 21, 2022) - The arrival of Kenji's father, Mr. Kon, renews hope of a rescue for the campers. But as the nefarious plans of Mantah Corp. come into focus and one of the Camp Fam turns on their own, the others must band together if they want to save the dinosaurs and ever make it home.
[ CHARACTERS - THE NUBLAR SIX ]
Darius Bowman (voiced by Paul-Mikel Williams)
Super smart, kind of awkward, and knows everything there is to know about dinosaurs. He uses this knowledge to complete the unbeatable Jurassic VR game, and secure his spot as one of the very first visitors to Camp Cretaceous. Though he's the youngest of the group, that doesn't stop him from helping his newfound friends survive in the park after disaster strikes, showing not just his leadership skills, but his tendency for heroism along the way.
Brooklynn (voiced by Jenna Ortega)
A 13-year-old star of one of the most popular travel and lifestyle-vlogs on the planet! She scored her ticket to Camp Cretaceous by agreeing to post video of her entire trip online so her millions of followers could see just how cool camp really is. Sometimes too focused on her videos, she isn't always aware of the other camper's feelings. But over the course of their time at camp, she learns that finding common ground, and maybe even friendship, might just be worth the effort.
Sammy Gutierrez (voiced by Raini Rodriguez)
Loud, bubbly, 100% Texan, and believes in doing everything to the fullest! Plus, having grown up on a cattle ranch, Sammy is a natural around the big animals that populate Jurassic World. Friendly, easy to talk to and quick to laugh, Sammy is always there for her fellow campers. The girl doesn't seem to have a care in the world! Of course, looks can be deceiving.
Kenji Kon (voiced by Ryan Potter)
Rich and shallow by nature; he lives life only looking out for himself. Coming from a wealthy family who are big investors in the park, he's been to Jurassic World dozens of times and isn't so interested in the whole "dinosaur thing" anymore. Though he seems like a typical bro without a care in the world, his time spent with his fellow campers reveals he might just care more than he lets people see.
Ben Pincus (voiced by Sean Giambrone)
Sensitive, bookish, and afraid of almost everything. Dirt, germs, weather, creatures, you name it... the camp is a nightmare come true. Only at Camp Cretaceous because his parents wouldn't listen to him, Ben is determined to buckle down and simply finish out his time on Isla Nublar as quickly as possible. Everything changes for Ben when he meets Bumpy, a newly hatched Ankylosaurus. Together, they find out Ben might just be braver, and far more capable, than even he thought himself to be.
Yasmina "Yaz" Fadoula (voiced by Kausar Mohammed)
A rising star in the track-and-field world and only at camp because she's sponsored by Jurassic World. She's tough, sarcastic, and an utter loner. Slow to open up to other people, she's hesitant to make friends with her fellow campers. But when things start to go astray, Yaz finds herself warming up to the others and doing whatever it takes to help everyone survive.
[ NOTES ]
I was really surprised by how fast this show has been released, with three seasons dropping in 2021. In less than two years, all 49 episodes have been released, running approximately 25 minutes each (roughly 20 hours, 25 minutes in total). I watched every season and I have mixed feelings about it. For the first three seasons (26 episodes), the kids remained on Isla Nublar, making this feel like "
Gilligan's Island
with dinosaurs". Since this is a kid's show, not a single one of the kids dies. Yeah, I get that was almost guaranteed to be the case, but that makes the whole thing unbelievable. In real life, most of these kids would not have survived past the events of the first season, much less have made it all the way to the end. (Of course, in real life, the counselors would have sent a rescue crew for the kids as soon as they realized that the kids didn't make it off the island. If that happened, there wouldn't have been a series.) There were times I was definitely rooting for the dinosaurs to off some of these unkillable kids, especially Ben and Sammy. These two characters were very annoying all throughout the five seasons, though they do get a little better near the end. The only deaths, aside from a dinosaur or two, are the adults... and it's all done off-screen.
The events of the first three seasons dragged on a bit. Did it really need to take 26 episodes for the kids to finally leave the island? Of course, they crash on yet another island with dinosaurs, and this one has robots, too! Were dinosaurs not exciting enough? For the last two seasons, the kids are stuck on this island full of dinosaurs controlled by an evil corporation. The final season focuses on Daniel Kon, Kenji's dad and CEO of Mantah Corp, who wants to profit off the dinosaurs by making them fight for anyone willing to pay for a ticket. Mantah Corp. wants to use a mind control chip that allows someone to control a dinosaur using a remote control, and the kids want to stop that barbarity. Even though the dinosaurs are constantly trying to kill the kids, a theme of the show is the conservation of dinosaurs and a not-so-subtle allegory for our own treatment of animals.
That said, the show looks and sounds gorgeous. This is some of the most beautiful animation I have seen in a Netflix show. All of the dinosaurs have the appropriate growls and roars akin to their theatrical counterparts. Voice acting is done well by the six main cast members, though it's always a positive when the adorably awesome Jenna Ortega is involved in a production. While I felt that the writing dragged on in order to pad this out to five seasons, I will give credit where it's due. If you ignore the fact that the kids survive situations that they clearly shouldn't, and Yaz's broken leg is never an issue in later seasons, the show is very exciting. The characters are frequently given a chance to take a breather and develop relationships with each other. This includes a lesbian relationship, requited with a kiss on the lips, which I thought was cute.
Camp Cretaceous
has some connections to the
Jurassic
film franchise. Obviously, the events of the first season take place simultaneously with the events of
Jurassic World
. The show also brings in Dr. Wu, the park geneticist from the first film, and Lewis Dodgson. Dodgson was the man from the first film who delivers Dennis Nedry (Wayne Knight) a bag full of cash and a Barbasol can to transport InGen's dinosaur embryos off Isla Nublar so that Biosyn, a rival genetics company, can clone their own dinosaurs. After Nedry meets his demise, the Barbasol can is buried in the mud and never seen again. If you ever wondered what happened to it, Season 5 will give you that answer. Finally, without spoiling much, the end of the final episode mentions the events of
Jurassic World: Fallen Kingdom
(2018) and seems to end exactly where
Jurassic World: Dominion
(2022) starts.
The series ends with an epilogue set five or so years later, showing the future of the Nublar Six. Most of the characters seem to be happy in their post-Camp Cretaceous lives, though there was one (and one adult) who still made yet another stupid decision by returning to the island! Does no one ever learn a lesson? I guess when you're unkillable, you don't need to.
[ WHERE TO WATCH ]
All five seasons of
Jurassic World: Camp Cretaceous
are
available right now on Netflix
. If you don't want Netflix, and their yearly rate increases and sales tax, most of the show is viewable elsewhere. The
first three seasons are on DVD
. If you're not into physical discs, the
first three seasons are also on Amazon Prime
:
Season 1
,
Season 2
, and
Season 3
. It'll probably be a few years before Universal and Dreamworks releases the last two seasons outside of Netflix, so if you want to view those seasons now, you're stuck going through Netflix.
If you want the six theatrical films on disc, a
6-Movie Collection
is set for release in December 2022 on
4K UHD
,
Blu-ray
, and
DVD
. If you want the six movies now, you'll have to buy the
5-Movie Collection
on either
4K UHD
,
Blu-ray
, and
DVD
. Then add
Jurassic World: Dominion
to it on either
4K UHD
,
Blu-ray
, and
DVD
.
Netflix screener access for the series has been provided by Dreamworks Animation for review on this site.
No feedback yet
Leave a comment