By Paul Rudoff on Oct. 27, 2022 at 11:30 PM in Home Video, Animation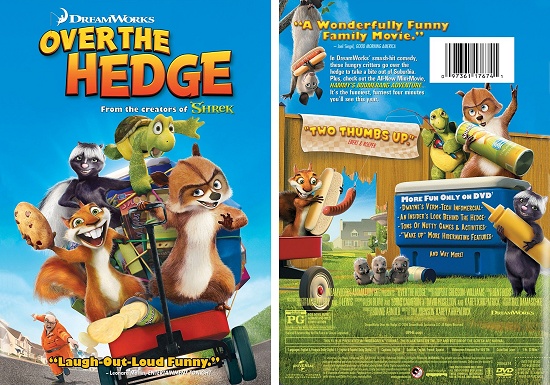 When I "upgrade" to a later DVD or Blu-ray release, I'll usually check to make sure that everything from the old DVD is on the new DVD/Blu-ray. Most of the time it is, but what usually falls victim to the "porting over" process are still image extras. This is especially true if the old DVD was released in the late 1990s, when studios would include Production Notes and Cast & Crew Biographies/Filmographies as extras. This text is, almost always, sourced from the movie's original press kit materials, and I feel it's worth preserving. So, before I get rid of that old DVD, I'll screencap all of the stills.
When Universal Pictures Home Entertainment finally released the animated film
Over The Hedge
(2006) on
Blu-ray
in 2019, they ported over most of the special features for the grown-ups, but they did exclude a few things from the
original DVD release
. Putting aside the set-top games and content that was on the DVD to advertise other Dreamworks movies, the Blu-ray is missing the featurettes "Learn How to Draw Hammy" (10:56) and "Critter 411" (4:02), the hidden "Jingle Burps" (1:06) music video (on the
"In Hibernation" menu
, press 6, 9, 5 on your DVD player remote), and ALL of the still image galleries. This extensive collection of images includes:
Character Design: RJ (45 images)
Character Design: Verne (54 images)
Character Design: Hammy (26 images)
Character Design: Stella (19 images)
Character Design: Vincent (36 images)
Character Design: Ozzie & Heather (26 images)
Character Design: Penny, Lou & Kids (14 images)
Character Design: Other Characters (20 images)
Set Design (18 images)
Package Design (72 images)
Sketches (41 images)
Storyboards (63 images)
For adults, the missing galleries is the biggest loss on the Blu-ray. Thankfully, I have grabbed all of the images directly from the DVD disc, so I can provide them to all of you who have upgraded from DVD to Blu-ray. You can get all 434 images in
this 24MB zip file
.
No feedback yet
Leave a comment