By Paul Rudoff on Mar. 16, 2023 at 12:00 PM in Home Video, Horror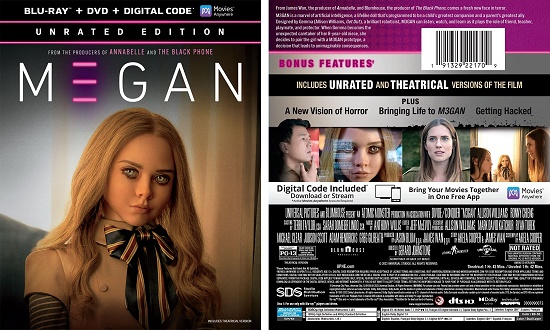 Universal Home Entertainment recently released the
M3GAN (2022) (Unrated Edition) Blu-ray/DVD
. Read on to find out more about it...
[ SYNOPSIS ]
M3GAN is a marvel of artificial intelligence, a life-like doll programmed to be a child's greatest companion and a parent's greatest ally. Designed by brilliant toy-company roboticist Gemma (Allison Williams), M3GAN can listen and watch and learn as she becomes friend and teacher, playmate and protector, for the child she is bonded to. As Gemma faces pressure at work from her boss (Ronny Chieng) to deliver a finished version of M3GAN, she suddenly becomes the unprepared caretaker of her newly orphaned 8-year-old niece, Cady (Violet McGraw). Gemma decides to pair the M3GAN prototype with Cady in an attempt to resolve both problems - a decision that will have unimaginable consequences.
[ SPECIFICATIONS ]
The movie is presented in a 2.39:1 aspect ratio with a runtime of 1:41:56 for the Theatrical Cut, and 1:41:50 for the Unrated Cut (
differences noted here
). The Theatrical Cut of the movie
has been rated
PG-13 for violent content and terror, some strong language and a suggestive reference. Audio languages include English, Spanish, and French. Subtitle languages include English SDH, Spanish, and French.
[ SPECIAL FEATURES ]
All of the content listed below can be found on both discs.
A New Vision of Horror (5:51) - Filmmakers and cast break down how the world of M3GAN was created, including the initial idea, through production under the leadership of director Gerard Johnstone.
Bringing Life to M3GAN (5:22) - See how animatronics, puppets, and actor Amie Donald helped make M3GAN as real as possible.
Getting Hacked (3:45) - A behind-the-scenes look at how cast and crew accomplished some of the film's complex stunts and gory deaths.
[ ADDITIONAL INFORMATION ]
A digital copy code voucher is included inside the standard two-disc blue Blu-ray case. The first print run includes an embossed slipcover.
[ NOTES ]
M3GAN (2022) (Unrated Edition)
is available on
Blu-ray
, and
DVD
. There is no 4K UHD release, unfortunately. I heard a lot of people comparing this film to
Child's Play
, but to me, it feels more like a Horror version of the 1980s sitcom
Small Wonder
. I thought the film was sufficiently creepy with good performances by the four female leads: Allison Williams, Violet McGraw, and Jenna Davis & Amie Donald (the actors who portray M3GAN vocally and physically, respectively). Highly Recommended.
This item has been provided by Universal Home Entertainment for review on this site.
No feedback yet
Leave a comment