By Paul Rudoff on Mar. 18, 2023 at 12:00 PM in Home Video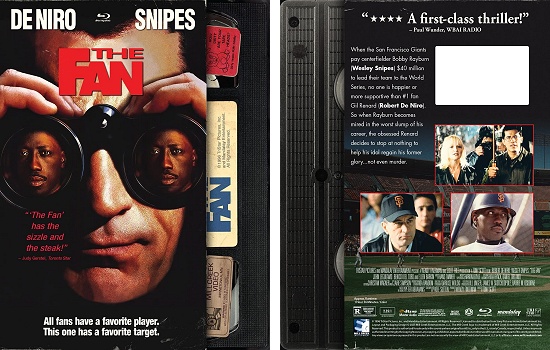 The Fan (1996)
arrives on Blu-ray as part of Mill Creek Entertainment's Retro VHS Style series, with packaging designed to look like the
VHS videocassettes of the 1980s and 1990s
. Several other titles in the series have
already been reviewed
on The Corner Penthouse, and I'm always excited when Mill Creek announces more. It's fun to see if it's a title I used to own on VHS, or one whose trailer I remember seeing at the start of some other VHS tape, or even some obscure movie I've never heard of before.
[ SYNOPSIS ]
When the San Francisco Giants pay centerfielder Bobby Rayburn (Wesley Snipes) $40 million to lead their team to the World Series, no one is happier or more supportive than #1 fan Gil Renard (Robert De Niro). But when Rayburn becomes mired in the worst slump of his career, the obsessed Renard decides to stop at nothing to help his idol regain his former glory...not even murder.
[ SPECIFICATIONS ]
The movie is presented in a 2.35:1 aspect ratio with a runtime of 1:56:14. The movie
has been rated
R for strong language throughout and some intense violence. Audio languages include English. Subtitle languages include English.
[ SPECIAL FEATURES ]
As is the case with most Mill Creek Entertainment releases, there are no bonus features - just like the original videocassette!
[ VHS SLIPCOVER ]
The real "bonus feature" here is the vintage-looking VHS-inspired slipcover, with faux wear and tear, and fake "rental stickers" on it, while giving the appearance of a videocassette being pulled out from the right side, complete with tape label side on the right spine. The VHS-style artwork may be based on the original U.S. or U.K. VHS box art, or bear a similarity to it, using the same or similar photos, but in a different orientation. The case artwork underneath is different, either made in a modern style, or perhaps sticking closer to the original theatrical movie poster. The VHS-style slipcover may only be available for a limited time.
No Digital Copy code is included.
[ NOTES ]
Since Mill Creek Entertainment is a budget company, you can grab
The Fan (1996)
on Amazon for a great low price right now.

The "Retro VHS Style" series includes the following Blu-ray releases, which are being listed in the order they were released onto Blu-ray.
This item has been provided by Mill Creek Entertainment for review on this site.
No feedback yet
Leave a comment