By Paul Rudoff on Apr. 13, 2023 at 12:00 PM in Home Video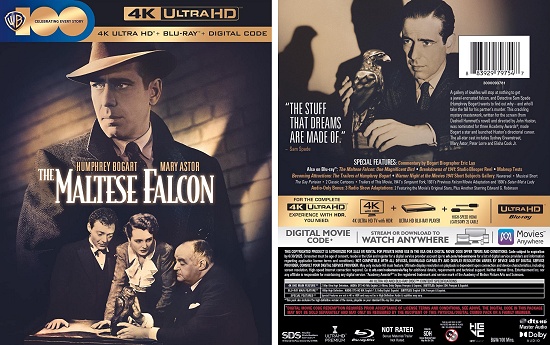 Warner Brothers recently released the
The Maltese Falcon (1941) 4K UHD
. Read on to find out more about it...
[ SYNOPSIS ]
Humphrey Bogart stars in this classic film noir as tough San Francisco private detective Sam Spade in the classic, convoluted story of Spade's involvement with a deadly band of international thieves who will lie, double cross and murder to obtain a small, jewel-encrusted statue known as The Maltese Falcon. Sam Spade's (Bogart) partner, Miles Archer (Jerome Cowan), accepts a job protecting a young woman (Mary Astor). Neither Spade nor Archer believe the woman or the story she tells them, but they do believe her money. Then, when Archer is murdered, Spade's search for the killer drags him in the web of lies and death spun by the desperate people seeking The Maltese Falcon.
[ SPECIFICATIONS ]
The movie is presented in a 1.37:1 aspect ratio with a runtime of 1:40:32. The movie has not been rated. Audio languages include English, Spanish, Italian, and German. Subtitle languages include English SDH, French, German SDH, Italian SDH, Spanish, and Dutch.
[ SPECIAL FEATURES ]
All of the content listed below can be found on the Blu-ray disc, which was originally released in 2010. The audio commentary is the only special feature on the 4K UHD disc. The five items from "Sergeant York Trailer" to "Meet John Doughboy" can be played together as "Warner Night at the Movies", which allows you to recreate a 1941 night at the theater.
Audio Commentary - by Bogart biographer Eric Lax.
Sergeant York Trailer (2:00) - For the 1941 film starring Gary Cooper.
Newsreel (1:25) - New highlights of the Roosevelt Churchill Parley.
The Gay Parisian (20:02) - A 1941 Warner Brothers short.
Hiawatha's Rabbit Hunt (7:47) - A 1941 Warner Brothers cartoon.
Meet John Doughboy (7:00) - A 1941 Warner Brothers cartoon, presented in 1920x1080 HD.
The Maltese Falcon: One Magnificent Bird (32:05) - A very good featurette from 2006 with a host of talking heads and a wealth of production information.
Becoming Attractions: The Trailers of Humphrey Bogart (44:45) - A Turner Classic Movies program from 1997, hosted by Robert Osborne, that traces Warner's marketing campaigns for various Bogart features, from The Petrified Forest to Treasure of the Sierra Madre.
Breakdowns of 1941 (12:53) - A compilation of on-set gaffes. What would be known now as a Gag Reel.
Makeup Tests (1:16) - Showing Astor assuming her two-faced role.
2/8/43 Lux Radio Theater Broadcast (57:39) - A radio show adaptation of the story.
9/20/43 Screen Guild Theater Broadcast (28:46) - A radio show adaptation of the story.
7/3/46 Academy Award Theater Broadcast (27:34) - A radio show adaptation of the story.
Satan Met A Lady (1936) Trailer (2:30)
The Maltese Falcon (1941) Trailer (2:44)
[ ADDITIONAL INFORMATION ]
A digital copy code voucher is included inside the standard two-disc black UHD case. The first print run includes a slipcover.
[ NOTES ]
The Maltese Falcon (1941)
is available on
4K UHD
,
Blu-ray
, and
3-Disc Special Edition DVD
. You can also buy the
1930 novel by Dashiell Hammett
. Almost all of the supplements of the great three-disc Collector's Edition DVD have been ported over to this Blu-ray. Sadly, the two previous versions of the film -
The Maltese Falcon
(1931) and
Satan Met A Lady
(1936) - have not. Although neither film is available separately (be it on Blu-ray or DVD) - aside from a
Warner Archive MOD DVD-R for the latter film
- aftermarket sellers are selling
Discs 2&3 from the 3-Disc set
, which will give you both films.
This item has been provided by Warner Brothers for review on this site.
No feedback yet
Leave a comment