By Paul Rudoff on Aug. 22, 2023 at 10:10 PM in Other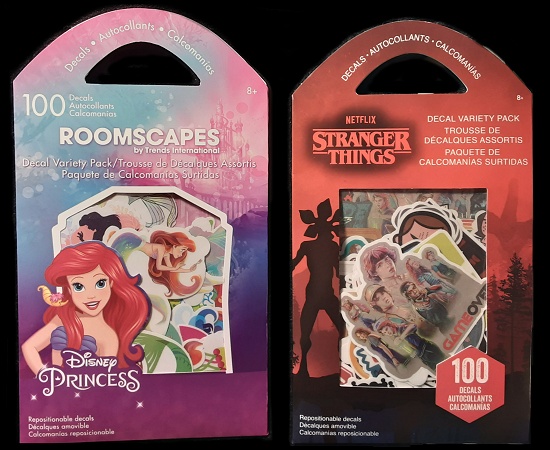 Five Below stores sell a few different 100-Count Decal Variety Packs featuring a
variety of different brands
, including Disney Princess/The Little Mermaid (1989) and
Stranger Things
. They are all in the same style packaging, as seen in the above photo, and are published and distributed by Trends International under the Roomscapes and SandyLion brands. Read on to find out more about them...
Both packs contain 100 "repositionable decals" (stickers) that the packaging tells us "can also decorate water bottles, notebooks, lockers, luggage & more!" Decals range in size from about an inch to three inches, and each has a tab to allow for easy removal of the decal from the backing. Each design is printed on clear plastic/vinyl, so they won't have an unsightly background or border when you place them on whatever you place them on.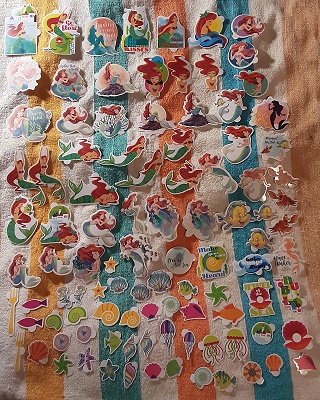 (click to enlarge)
The Disney Princess/The Little Mermaid pack (Item #DC1331, UPC 663542505015) was released under the Roomscapes brand and cost me $2.50 in Five Below. I suspect that the price was reduced by 50% as an unmarked clearance, as other packs cost double that. Also, I can't find a single link to buy it online, and it's not listed on Trend's site, so I'm pretty sure it's no longer being produced.
I had my fears that to reach the promised 100-count, Trend would include a lot of duplicates. Sadly, I was right. Look at the enlarged photo above and you'll see that lots of designs are either reused in other decals, or the exact same design was reprinted several times; sometimes in different sizes, and sometimes in the same exact size! While there are lots of really great designs of the
real
Ariel, and her buddies Sebastian and Flounder, there are also a lot of generic fish and shells which only serve as filler to reach that 100 quantity. Also, aside from those three, no other characters from the film are represented. No Triton, Eric, Ursula, Scuttle, Grimsby, Ariel's sisters, and Max (the dog). I would much rather have had decals featuring those characters than all of the generic fish and shells.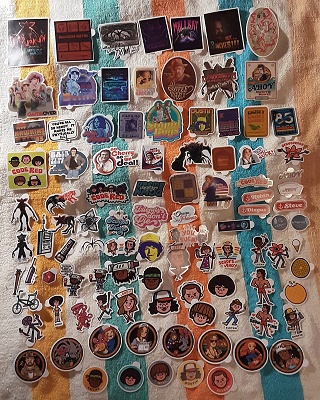 (click to enlarge)
The Stranger Things pack (Item #DC1320, UPC 042692093403) was released under the SandyLion brand and cost me $5.00 in Five Below. Unlike The Little Mermaid, there is far less duplication here. Yes, if you look at the enlarged photo above, you'll see that some artwork has been reused in a few different designs, but those are far and few between. For the most part, it's nearly 100 original and different designs. Lots of really cool 1980s-inspired designs, with a few subsets that I tried to arrange together in the photo. I especially love the Chibi-style round decals with the rainbow border (second row from bottom in the photo). So cute. The decals of random cartoon-style equipment - walkie-talkies, baseball bat, flashlight - seem a bit like filler, but overall a fantastic set of decals.
You can buy the
Stranger Things pack on Amazon
right now for $8.99, in case you can't find it at a
Five Below store near you
. I have no online link to provide for The Little Mermaid and I can't guarantee you'll find it at a local Five Below. You might have to resort to online flea market eBay for it, but only if you get it for no more than five Dollars.
No feedback yet
Leave a comment