By Paul Rudoff on Nov. 12, 2018 at 5:53 PM in Home Video, Animation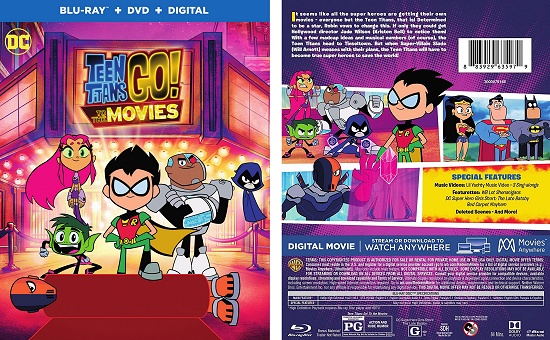 Teen Titans Go! To The Movies
is the first film based off of the popular TV cartoon franchise, which in turned is based off of the classic DC comics series. Is
Teen Titans Go! To The Movies
a good comic book movie? Read on to find out...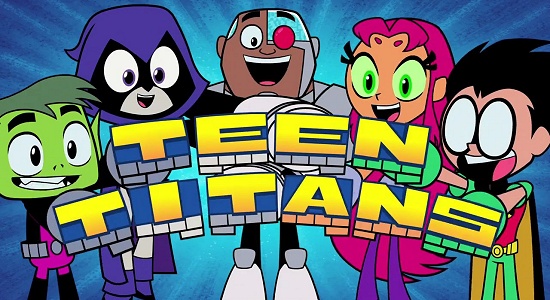 It seems like all the superheroes are getting their own movies – everyone but the Teen Titans, that is! Determined to be a star, Robin vows to change this. If only they could get Hollywood director Jade Wilson to notice them! With a few madcap ideas and musical numbers (of course), the Teen Titans head to Tinsel Town. But when supervillain Slade messes with their plans, the Teen Titans will have to become true superheroes to save the world!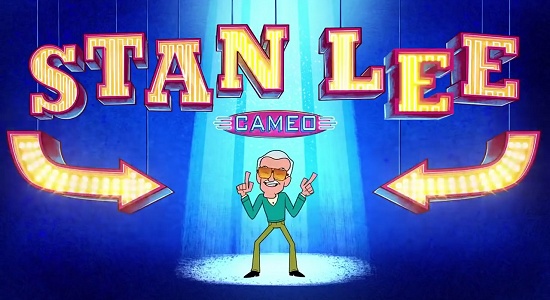 Wisely,
Teen Titans Go! To The Movies
features all of the original TV series cast: Greg Cipes as Beast Boy, Scott Menville (a
Real Ghostbusters guest voice
) as Robin, Khary Payton as Cyborg, Tara Strong (Kylie Griffin in
Extreme Ghostbusters
) as Raven, and Hynden Walch as Starfire. All of the "big name stars" are used in supporting roles, some of whom are comic book geeks in their own right: Will Arnett as Slade, Kristen Bell as Jade Wilson, Michael Bolton as Tiger, Nicolas Cage as Superman, Jimmy Kimmel as Batman, Wil Wheaton as The Flash, Patton Oswalt as Atom, and his wife Meredith Salenger as Supergirl. In the worst kept secret of all time, Stan Lee makes his first and only cameo in a DC movie, as
he passed away today
, about four months after the release of the film. Not only is Nicolas Cage a huge Superman fan - he named his son Kal-El, who also voices young Bruce Wayne in the movie - but his casting as Superman mirrors his casting in the
unproduced Tim Burton Superman Lives movie
of the mid-1990s.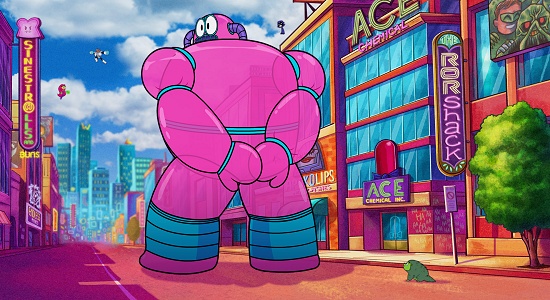 There are a lot of fans of the original
Teen Titans
series that hate
Teen Titans Go!
because of its dumbed-down plots and juvenile humor. I can certainly understand that, and apparently, so do the show's creators.
Teen Titans Go! To The Movies
plays upon the fact that the "super hero community" considers the "Go Titans" to be a joke, or "Goofsters" as Supermans puts it. Like the TV series, the movie does not take itself serious and features a lot of fourth wall-breaking jokes. While I can do without all of the fart jokes, it is because of the self-awareness that I like the show and the movie. If you're a comic book geek, or even just a pop culture geek like me, and you can realize that not everything has to be super serious, you will love this movie.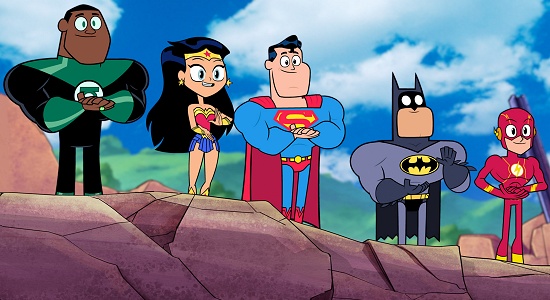 At a runtime of 1:24:03,
Teen Titans Go! To The Movies
is presented in its original 1.85:1 aspect ratio with an 1080p transfer. On the audio side, there's 5.1 DTS-HD Master Audio tracks for English and English Descriptive, and 5.1 Dolby Digital audio tracks for French, Spanish, and Portuguese. The film includes English SDH, French, Spanish, and Portuguese subtitles. (The Portuguese audio and subtitles are not mentioned on the case.) The first print run includes a beautiful shiny and embossed slipsleeve.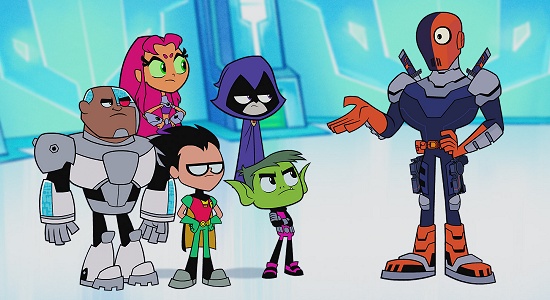 All of the bonus features that can be found on the disc are in HD.
Lil Yachty "Teen Titans GO! Rap" Music Video (2:09)
Sing-A-Longs: "Rap" (1:58), "Inspirational Song" (2:41), "My Super Hero Movie" (2:23).
DC Super Hero Girls: The Late Batsby (4:14) - Shown theatrically before the movie, this short is about Batgirl (voiced by Tara Strong) trying to make it to the scene of a fight with Mr. Freeze (voiced by John DeLancie) before her super hero squad defeats him without her.
Red Carpet Mayhem (2:10) - Animated scenes of the Titans goofing around on the red carpet.
WB Lot Shenanigans (3:56) - Costumed-character versions of the Titans gang running around on the Warner Bros. lot, looking at the superhero and Batman 75th Anniversary displays, while being chased by a security guard Benny Hill-style..
Everything Is Fake (0:51) - Storyboard/rough-drawing version of a deleted song in which Starfire shows how everything on the movie studio lot is fake.
Teen Titans GO! Translated (2:18) - Random lines from the movie shown in various languages.
Storyboard Animatics: "Time Cycles" (1:07), "The Final Battle" (1:34) - These two scenes are shown with the storyboard/rough version in one window, and the final version in a smaller window at the top.
In the theaters, the movie ended with a card stating that the adventure "will continue on television". That screen is not included in this home video version, for obvious reasons, but it's still disappointing that the follow-up
Teen Titans Go!
episode, "Tower Renovation", is not included on the disc. This 11-minute short showed the Titans looking for a new home after their T-shaped tower was destroyed in the movie.
Also, there is one alternate scene that was used to promote the movie that is not found here either. When Batman is chasing after the Titans on the movie lot, after his vehicle gets blown up the third time, he exclaims, "I'm Batman!" and shows up on the Batcycle. After the next explosion, he says, "Batman returns!", and shows up on a Batscooter. That's followed with, "Batman forever!", with him now wearing Batskates. Starfire then proclaims, "There is no stopping the Batman." In the final movie, both theatrical and on home video, all of that movie reference dialog is removed, as is the appearance of the motorcycle and scooter. The third explosion jumps straight to the roller skates, but includes a new shot of Batman getting a piggyback ride from Alfred, followed by Starfire's line. You can view the original scene below.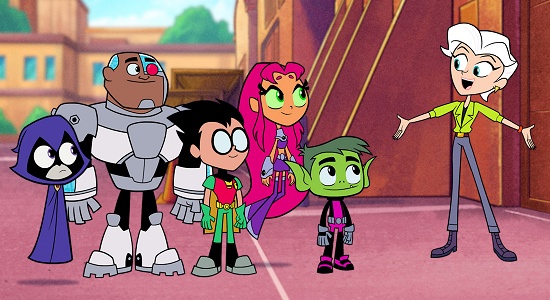 Also included in the Blu-ray + DVD Combo Pack is a second DVD disc, which contains only the two Storyboard Animatics bonus features listed above. The movie on the DVD is presented in its original 1.85:1 aspect ratio with an anamorphic widescreen transfer. On the audio side, there are 5.1 Dolby Digital audio tracks for English, French, and Spanish, plus a Dolby Digital 2.0 English Descriptive track. The film includes English SDH, French, and Spanish subtitles.
A Movies Anywhere/Ultraviolet digital copy code voucher is also included in the standard two-disc Blu-ray case.
Teen Titans Go! To The Movies
is available on
Blu-Ray/DVD Combo Pack
, and
individual DVD
. Season 1 of the
Teen Titans Go!
TV series is available on
Blu-Ray
and
DVD
. Season 1 of the original
Teen Titans
TV series is available on
Blu-Ray
and
DVD
.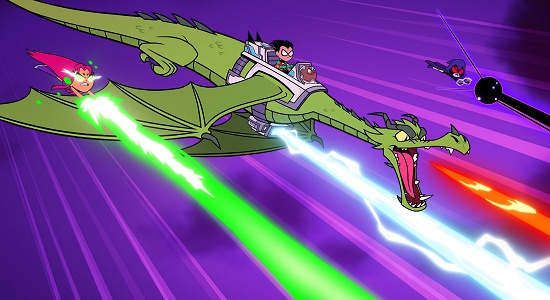 All images were
provided by Warner Brothers
or were taken from the
IMDB gallery
of the film. The Blu-ray+DVD Combo Pack has been provided by Warner Brothers for review on this site.
No feedback yet
Leave a comment