By Paul Rudoff on Dec. 5, 2018 at 10:05 PM in Filming Locations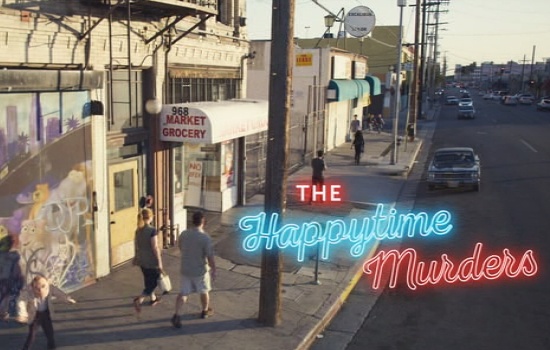 The Happytime Murders
was just released on
Blu-Ray/DVD Combo Pack
(
reviewed here
), so it's an appropriate time to take a quick look at some of the California filming locations from the movie. I'm going to do this "movie rundown" style, pointing out some of the major locations as shown from start to finish in the movie. I'm only focusing on exterior locations, as I can't guarantee that interiors were filmed at the same locations, though I suspect that some were. All locations were identified by me, Paul Rudoff, here first. Then I gave the addresses to the Internet Movie Database. I take 100% credit for all of this. Finally, I'll keep spoilers to a minimum, but I can't guarantee this will be spoiler-free, so... SPOILER ALERT! With that out of the way, let's look at our first location...
The first major location that comes up is private investigator Phil Phillip's (Bill Barretta) office.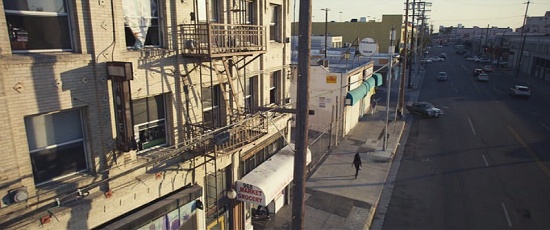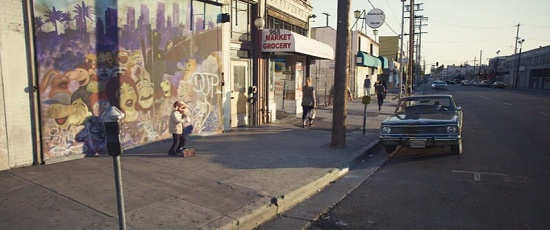 It's the Market Hotel at
966 South San Pedro Street in Los Angeles
. The T-shaped sign that says "Market Hotel" is what helped with the ID. This is on the other side of the huge lot where the shootout takes place later on.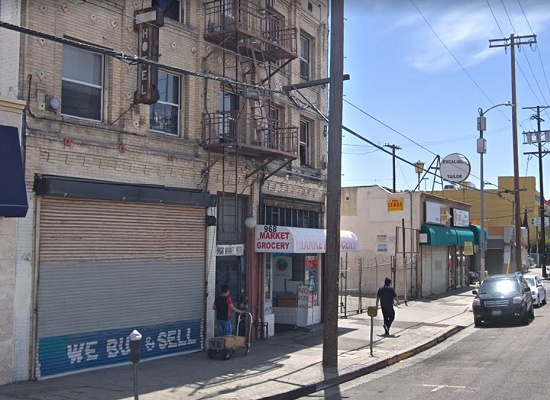 (April 2018, credit: Google Maps)
Phil finds a clue that brings him to Vinny's Puppet Pleasureland, an adult video and novelty store catering to puppetkind. It also happens to be the scene of the first crime.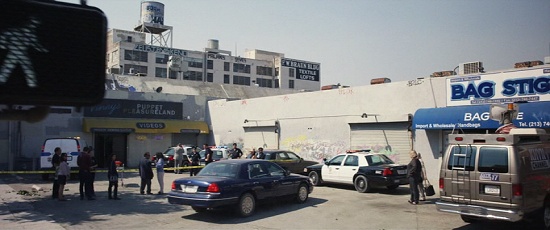 You won't be able to buy any puppet porn when you visit Bag Stige/Handbags Clearance Outlet at
1201 South Los Angeles Street in Los Angeles
, but I'm sure you can get a nice purse.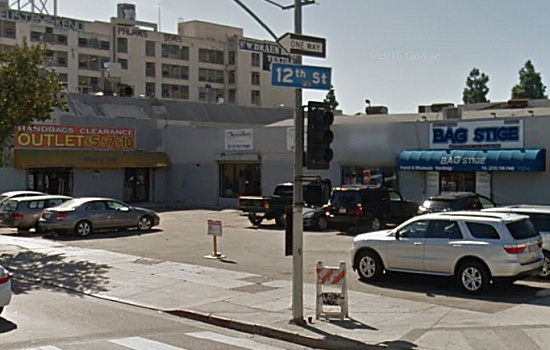 (September 2014, credit: Google Maps)
Later, Phil has lunch with his brother, who was one of the stars of the beloved television series,
The Happytime Gang
. When he exits, he finds his former police partner, Detective Connie Edwards (Melissa McCarthy) waiting for him.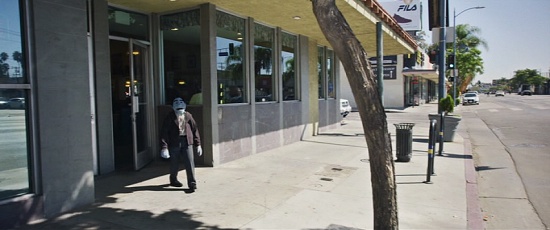 They're sharing a meal at Henri's Restaurant at
21601 Sherman Way in Canoga Park
. I'm positive that the interior was filmed here, too.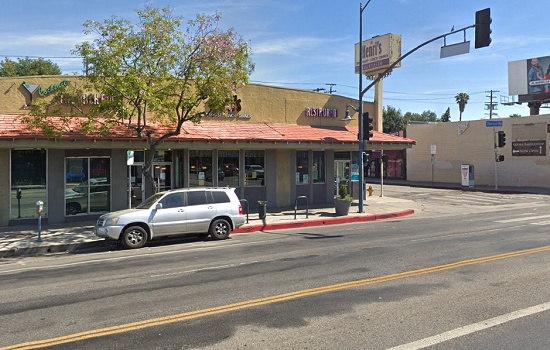 (May 2018, credit: Google Maps)
Phil and Connie decide to work together to solve the case. She searches for Goofer, another one of the former Happytime cast.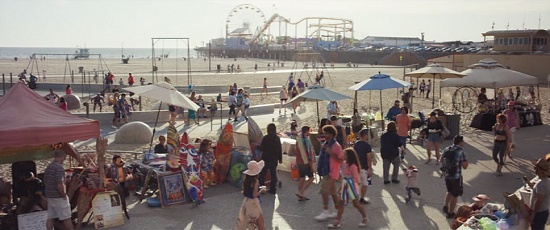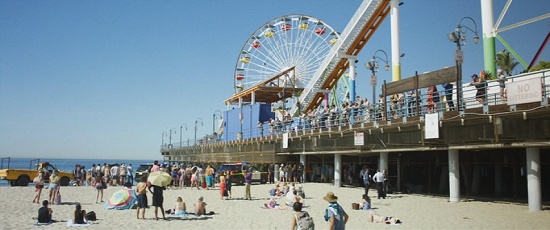 Detective Edwards tracks him down to the
Santa Monica boardwalk and pier
.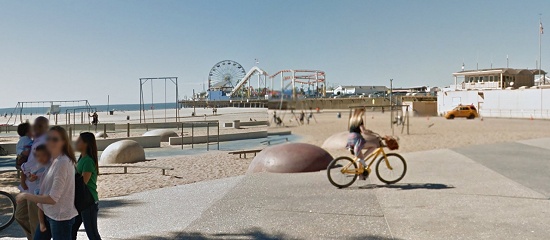 (February 2015, credit: Google Maps)
Meanwhile, Phil goes to have a talk with his former girlfriend, Jenny (Elizabeth Banks), another former Happytime cast member. She now works as a stripper at Star Showgirls.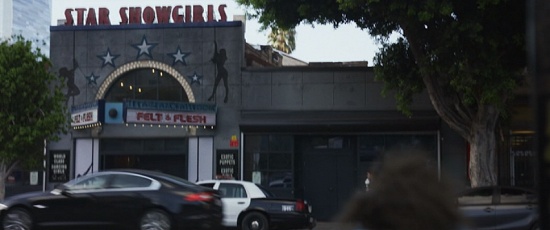 I highly doubt that you'll find any strippers at the Teragram Ballroom, located at
1234 West 7th Street in Los Angeles
.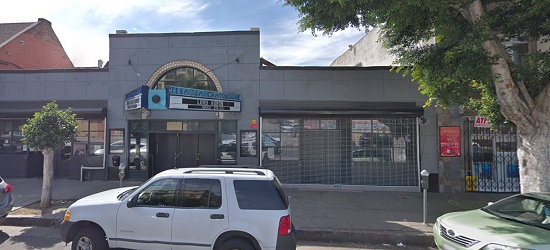 (March 2018, credit: Google Maps)
Phil visits Connie at her apartment.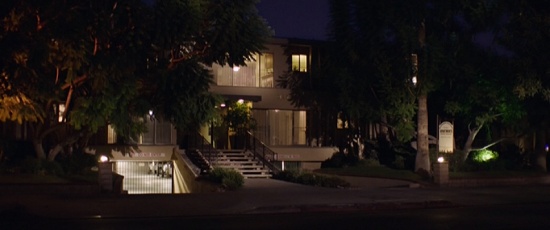 A hard one to pin down at first, but I noticed the building number in the Blu-ray HD image (hard to see in this small DVD screenshot), and some smart Google search terms found me the place at
11855 Magnolia Boulevard in Valley Village
.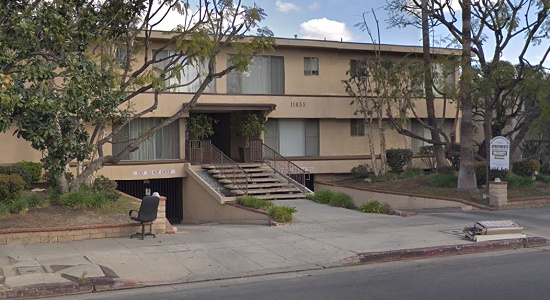 (February 2018, credit: Google Maps)
While napping on Connie's couch, Phil has a dream/flashback to an important incident in their lives. It all went down at a construction site that Phil says is located at "Sixth and Grand".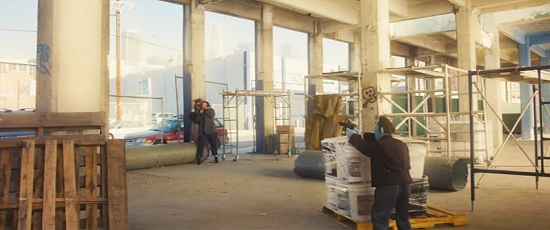 Of course, it's nowhere near that intersection. Thanks to the "Puppet Clinic Urgent Care" across the street (more on that in a bit), I was able to track this down to
San Julian Street (between Olympic Boulevard and East 9th Street) in Los Angeles
. I don't think this structure on the edge of a huge empty lot has a street address, though Google Maps gives it's general number as "966". They also have a
360-degree shot placed inside the lot
(when something else was filmed there), which I used to grab the shot below. This location is not that far away from the
old firehouse used for Ghostbusters' headquarters interiors
in both
Ghostbusters
films.
(UPDATE - This location was also used as "Skid Row" in the movie
Peppermint (2018)
. During the epic showdown, Riley North (Jennifer Garner) even gives the location as the corner of Olympic and San Julian, which is where it is in real-life.)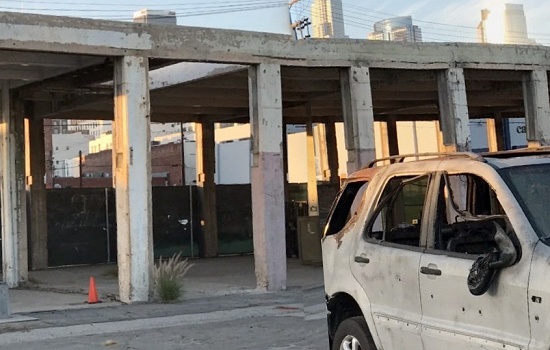 (October 2016, credit: Google Maps)
Standing across the street from the shootout is this young girl and her father.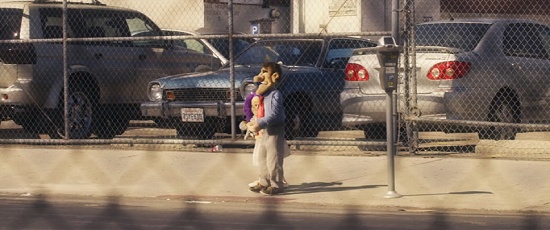 All of the shots in this scene were filmed in this one spot on San Julian Street in Los Angeles. Naturally, the pair were standing at the spot seen below across the street. The red paint on the curb, plus the parking meter, and the entrance fence/gate helped me
pinpoint the exact spot
where the puppets stood.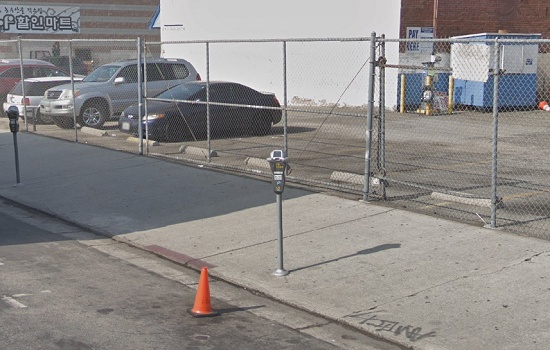 (October 2017, credit: Google Maps)
Eventually, the perp hides behind a car to shoot it out with Edwards.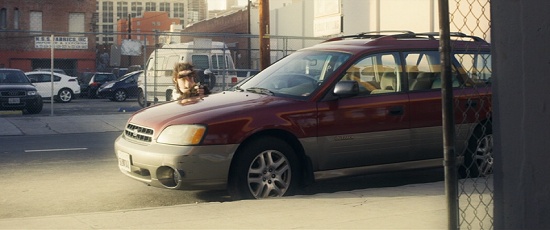 Again, he's standing on
San Julian Street in Los Angeles
, right outside of the structure/lot. You see N.S.S. Fabrics Inc. in the background, which helps with the placement.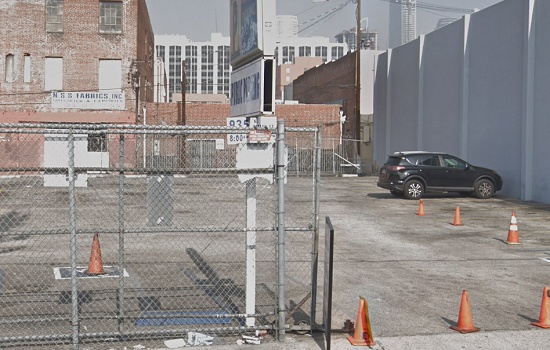 (October 2017, credit: Google Maps)
Eventually, Edwards is wounded, so Phillips takes her to the Puppet Clinic Urgent Care across the street. How convenient that there was a medical facility across from where the shootout took place.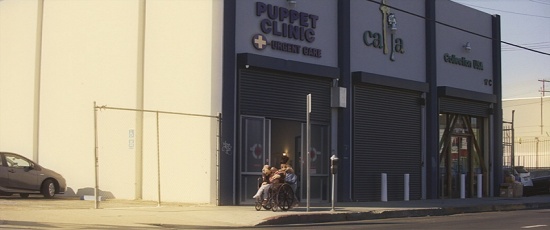 This was the location that helped me find this whole scene's location. Although the filmmakers added "Puppet Clinic Urgent Care", they left the original signage on the building. That helped me find it to be Calla Collection USA at
917 San Julian Street in Los Angeles
.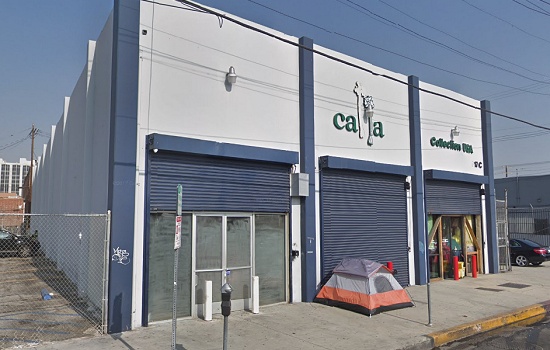 (October 2017, credit: Google Maps)
Back in the present day, and skipping ahead to the finale, we find Philips and Edwards in an ambulance heading for the airport.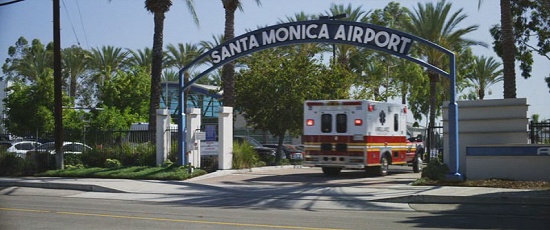 Although the sign says Santa Monica Airport, it's actually the entrance to Atlantic Aviation at
10750 Sherman Way in Burbank
.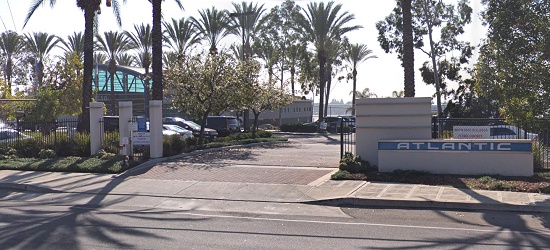 (February 2018, credit: Google Maps)
The showdown with the killer happens inside an airport terminal.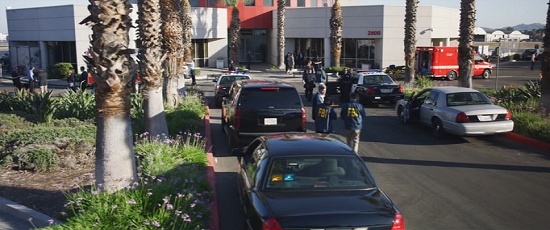 It's the terminal for Million Air at
2800 North Clybourn Avenue in Burbank
. This is down the block from the Atlantic Aviation entrance, at the spot where Sherman Way and North Clybourn Avenue meet; though the actual building is a bit down the driveway at that spot.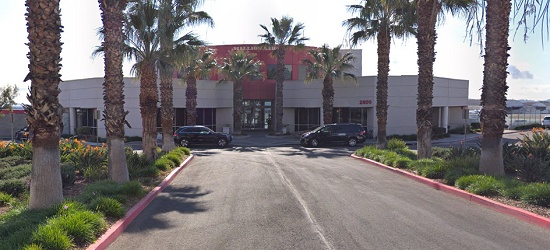 (February 2018, credit: Google Maps)
And thus concludes my look at the major filming locations from
The Happytime Murders
. If it interests you, go buy the film on
Blu-Ray/DVD Combo Pack
or
individual DVD
.
1 comment
Leave a comment