By Paul Rudoff on Dec. 9, 2018 at 10:41 PM in Home Video, Animation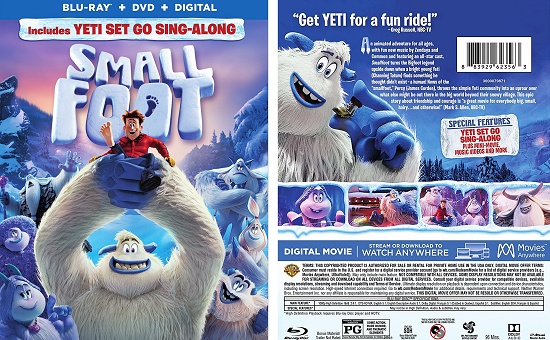 You know what they say about
Smallfoot
-ed guys? If you don't, read on to find out...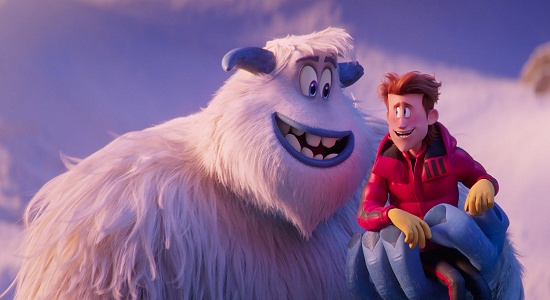 Smallfoot
turns the Bigfoot legend upside down when a bright young yeti named Migo (Channing Tatum) finds something he thought didn't exist - a human! News of the "smallfoot", Percy (James Corden), throws the simple yeti community into an uproar over what else might be out there in the big world beyond their snowy village.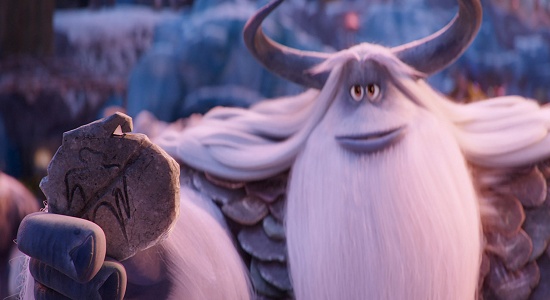 I saw the trailer for
Smallfoot
before
Teen Titans Go To The Movies
in the theater, and while it looked fun, I wasn't expecting much from it. Let's face it, most animated movies these days seem to cater to children with nothing of more intelligence than fart jokes. I was pleasantly surprised to find that
Smallfoot
is on a much higher level than that. It tells a story that is about learning to communicate with each other and accepting and celebrating each other's differences instead of hating each other because we don't try to understand each other. In the movie, the "each other" is the yetis and humans, but obviously it's an allegory for the way we humans treat each other. What's nice about
Smallfoot
is that it doesn't hit you over the head with the message, like
Happy Feet
, which went from a cute dancing penguin movie into a hand-fisted environmental movie.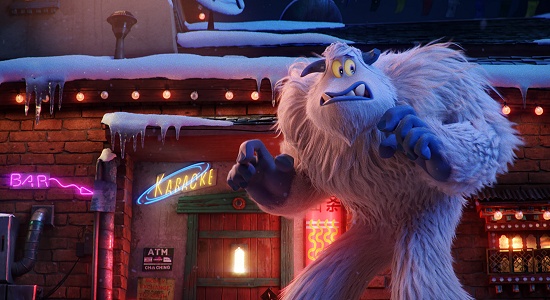 The animation in
Smallfoot
is spectacular, filled with a lot of classic Looney Tunes-style gags that pay homage to the past. There's one gag with Migo at the "end of his rope" that plays out exactly like it would in a Wyle E. Coyote cartoon.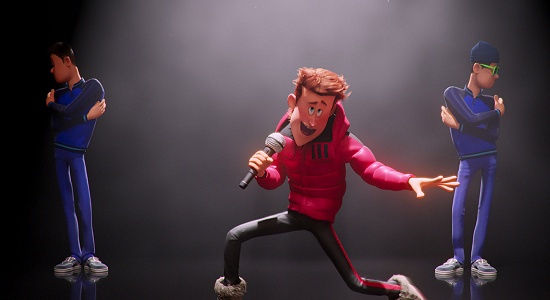 After the first viewing of
Smallfoot
, I was ready to write off most of the songs as forgettable because only two stuck with me. The first is
"Percy's Pressure" performed by Percy (James Corden)
. The way it is handled in the movie is brilliant! Percy and his assistant Brenda are at a lodge with a karaoke stage. Another patron is about to perform
"Under Pressure" by Queen & David Bowie
and propose to his girlfriend, when Percy pushes him off the stage and uses the music to lament to Brenda how he needs to fake a yeti story in order to get his fame and fortune back. I love how the writers provided a logical reason for why the song is set to the music of another song fom the past.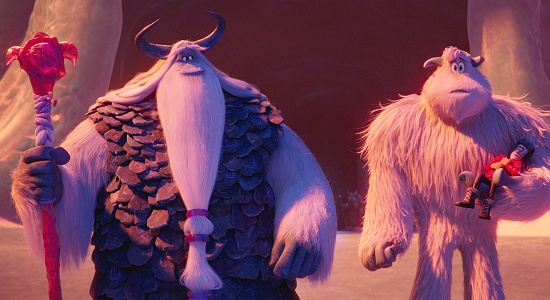 The other song that caught my attention was
"Let It Lie" performed by The Stonekeeper (Common)
. It's a rap song wherein the Stonekeeper tells Migo all about how the yeti legends (the stones) were designed to control the populace and keep them from even knowing about the humans, much less interacting with them. In other words, the Stonekeeper explains how they have designed a series of lies in order to keep the yetis safe. What impressed me the most about the song, besides the fact that it truly moves the story forward, is that it uses a lot of
"Ten Dollar Words"
. You don't normally find a lot of big words in a kid's movie.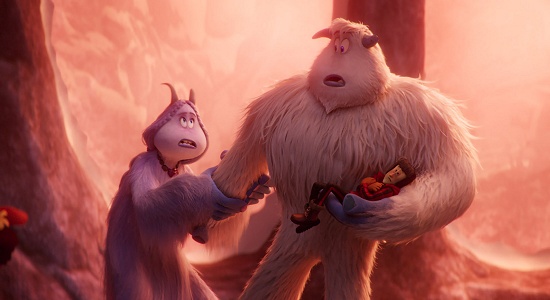 Like I said, originally none of the other songs were very memorable. I couldn't even remember what they were. Having now watched the movie two times, plus the bonus music videos, I can say that a few of the other songs are stuck in my head, too. So, here are links to the official uploads of the rest so they can get stuck in your head, too:
"Wonderful Life" performed by Meechee (Zendaya)
,
"Perfection" performed by Migo (Channing Tatum)
,
"Wonderful Questions" performed by Migo (Channing Tatum) & Meechee (Zendaya)
,
"Moment of Truth" performed by CYN
, and
"Finally Free" performed by Niall Horan
.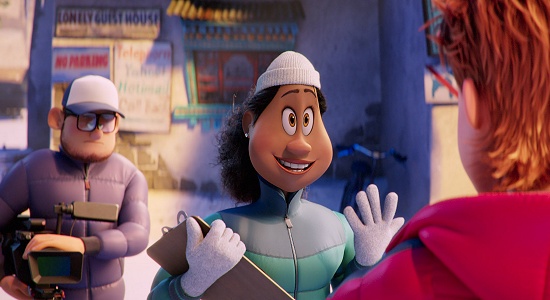 At a runtime of 1:36:17,
Smallfoot
is presented in its original 2.40:1 aspect ratio with an 1080p transfer. On the audio side, there's a 5.1 DTS-HD Master Audio track for English, and 5.1 Dolby Digital audio tracks for English Descriptive, French, Spanish, and Portuguese. The film includes English SDH, French, Spanish, and Portuguese subtitles. (The Portuguese audio and subtitles are not mentioned on the case.) The first print run includes a beautiful slipsleeve.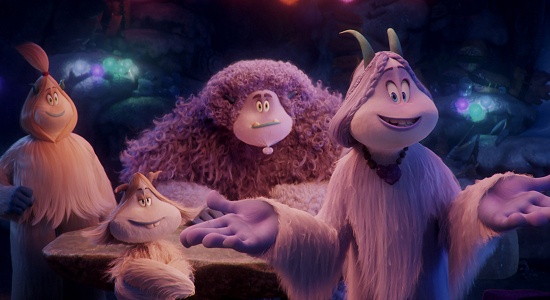 All of the bonus features that can be found on the disc are in HD.
Yeti Set Go Sing-Along (1:30:20) - This isn't quite what its name implies. It's not simply the movie with lyrics at the bottom of the screen during the songs. As the 1:43 intro video (seen below) explains, while watching this "version" of the movie, bits of dialog text will be animated on-screen, three types of pop-up text trivia will be displayed (educational, yeti philosophy, and yeti misconceptions about humans), icons appear to encourage viewers to do a physical feat (such as howling like a yeti), and yes, lyrics are displayed during the songs. There's also an option to skip to the next song by pushing the blue button on your remote shortly after each song ends. Obviously, this is geared towards kids, but its a neat little feature that I'm sure adults will enjoy, too. Do note that English is the only audio track, though all subtitle languages are available. This "version" of the movie runs three seconds longer than the "Theatrical Version" due to an extra copyright screen at the end.
"Super Soozie" Mini Movie (2:22) – An animated short featuring the yeti toddler, Soozie.
Migo in The Secret of the Yeti Stones (3:43) – History of the Yeti Stones featuring Migo (again voiced by Channing Tatum) made with rough cut movie animation and concept art.
Yeti or Not, Here They Come! Imagining Smallfoot (5:58) – The usual EPK-style making of featurette.
Niall Horan "Finally Free" Music Video (3:26) - The studio recording of the song dubbed to concert footage of Niall and movie clips.
Cyn "Moment of Truth" Music Video (3:58) - Starts off with Soozie singing, then includes footage of Cyn in the studio recording the song, and of course, movie clips.
"Wonderful Life: In 28 Languages, Sung Around the World" Music Video (3:11) - A beautiful montage of the various women who dubbed the song into many languages worldwide. Each woman is not only shown, but named on-screen.
01. Zendaya (English)
02. Jullie (Brazilian Portuguese)
03. Olha Tsybulska-Hrysiuk (Ukrainian)
04. Lodovica Comello (Italian)
05. Ellen Bergstrom (Swedish)
06. Eden Alene (Hebrew)
07. Gigi Radics (Hungarian)
08. Saori Hayami (Japanese)
09. Alena Pajtinkova (Slovakian)
10. Sandra Dominguez (Latin American Spanish)
11. Marina (Polish)
12. Helena Pruuli (Estonian)
13. Nelli Matula (Finnish)
14. Romy Monteiro (Dutch)
15. Berta Vazquez (Castilian Spanish)
16. Gelmine Glemzaite (Lithuanian)
17. Malin Pettersen (Norwegian)
18. Debby van Dooren (German)
19. Anca Iliese (Romanian)
20. Ana Bacalhau (Portuguese)
21. Anna (Mandarin)
22. Antigoni Psichrami (Greek)
23. Charlotte Anne Bongaerts (Flemish)
24. Vendula Prihodova (Czech)
25. Natalya Bystrova (Russian)
26. Ana Magud (Croatian)
27. Krustina Kokorska (Bulgarian)
28. Annelie Karui Saemala (Danish)
Promotional Materials - A few really short videos originally shown in theaters before the movie. Includes: "Turn Off Your Cellphone" (0:36), "Artifact #17 - The Scroll of Wisdom" (0:25), "Artifact - #31 The Smallfoot Cocoon" (0:30), "Artifact #54 - The Singing Stone" (0:30), and "Migonada" (0:54).
Even though I think I explained the Yeti Set Go feature pretty well above, I ripped the intro video off the Blu-ray so you can see exactly what it is for yourself.
I was actually really impressed with "Wonderful Life: In 28 Languages, Sung Around the World". There have been other releases that feature clips from the movie dubbed in other languages, such as
Teen Titans Go To The Movies
, but they don't tell you, much less show you, who's doing the dubbing. Here you see the women singing AND they are named. Every women did a beautiful job with their portion of the song.
Also included in the Blu-ray + DVD Combo Pack is a second DVD disc, which contains only the "Yeti or Not, Here They Come! Imagining Smallfoot" featurette listed above. The movie on the DVD is presented in its original 2.40:1 aspect ratio with an anamorphic widescreen transfer. On the audio side, there are 5.1 Dolby Digital audio tracks for English, French, and Spanish, plus a Dolby Digital 2.0 English Descriptive track. The film includes English SDH, French, and Spanish subtitles.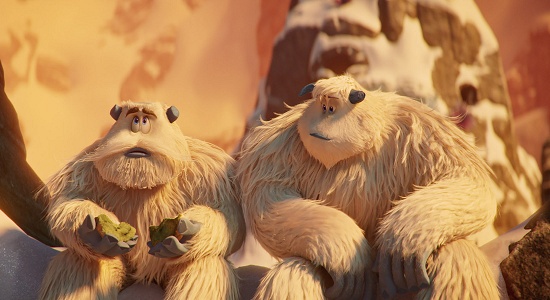 A Movies Anywhere/Ultraviolet digital copy code voucher is also included in the standard two-disc Blu-ray case.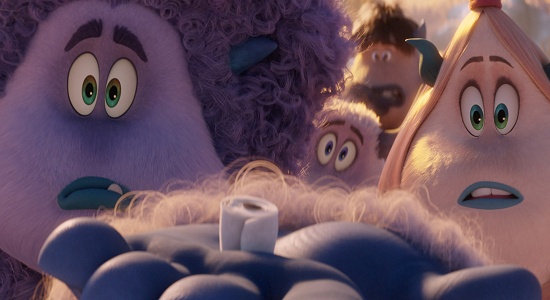 Smallfoot
is available on
Blu-ray/DVD Combo Pack
and
individual DVD
.
All images were taken from the
IMDB gallery
of the film or were
provided by Warner Brothers
. The Blu-ray+DVD Combo Pack has been provided by Warner Brothers for review on this site.
No feedback yet
Leave a comment