By Paul Rudoff on Jan. 23, 2019 at 5:37 PM in Home Video, Horror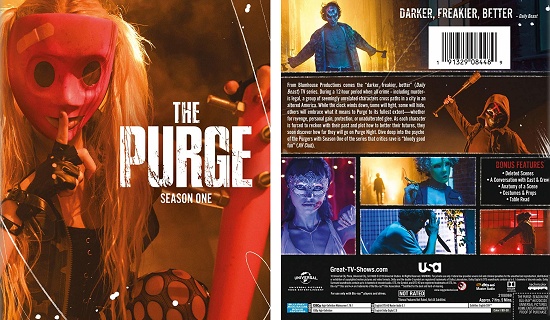 The Purge: Season 1
is the latest installment in the successful
Purge franchise
. How does it compare to it's movie brethren? Read on to find out...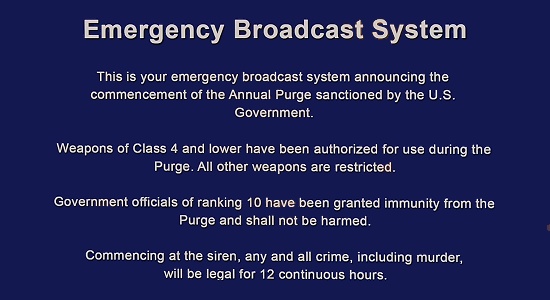 For a 12-hour period on March 22, 2027, when all crime is legal, a group of seemingly unrelated people will fight for survival. The season features four separate storylines, though by episode 8, the first three merge into the fourth.
Miguel Guerrero's (Gabriel Chavarria) search for his sister Penelope (Jessica Garza), who has fallen prey to Good Leader Tavis (Fiona Dourif), whose cult members give themselves over to be purged.
Executive Jane Barbour (Amanda Warren) and her efforts to stop the hit she put on her boss, David Ryker (William Baldwin).
Rick & Jenna Betancourt (Colin Woodell & Hannah Emily Anderson) deal with a strained relationship with Lila Stanton (Lili Simmons), while trying to get her rich father Albert Stanton (Reed Diamond) to give them money to help the poor.
Joe Owens (Lee Tergesen) goes on a crusade as a "lifesaver" on Purge Night.
The first storyline is the one I liked the most, and not just because it introduced me to Jessica Garza, who is now my second favorite beautiful big-eyed Latina (after Rosa Salazar). It featured lots of action and drama, and interesting locations. The Betancourt's storyline was okay, but came across as a bit of a rehash of the elements from the original
Purge
movie. The lesbian relationship between Jenna and Lila added some nice titillation, and added some tension to the relationship between Jenna and Rick.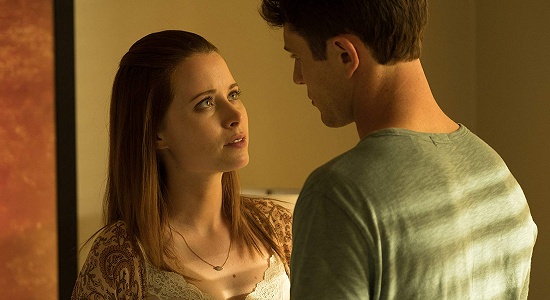 Jane's storyline is the worst of the original three. Jane comes across as rather unsure of what emotion she should be having at any given time. One second she likes her boss, David Ryker, the next second she's disgusted by him because she perceives him to be sleazy, even though during the office scenes, he never came across as such to me. She puts a Purge Night hit on him, but later decides to, literally, run across town in an effort to call it off. When she gets there, she goes from liking him to instantly hating him again just because he asks her into an elevator.
Once the "twist" happens, then she has good reason to despise him, but still over-reacts to the situation she's put into. While I don't condone Ryker's actions, if being displayed as "art" with guys lightly touching your body over your clothes is all you have to endure on Purge Night, you should consider yourself lucky. Apparently she forgot that was was almost physically raped earlier in the night. Apparently she forgot that she witnessed several murders earlier in the night. The season heavily pushes a feminist agenda with this storyline, which it hits you over the head with here, and earlier with the introduction of the "anti-gendercide" group of women known as the Matron Saints. I consider myself a feminist, and I'm all for women being treated equally, but the feminist elements in this storyline came across with all of the subtly of a semi-truck.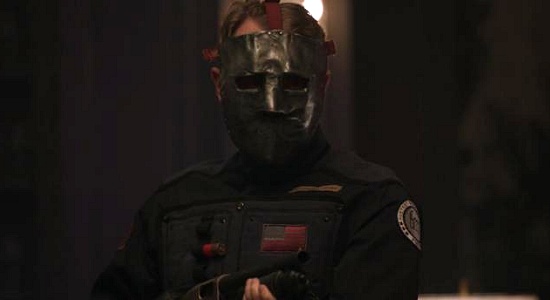 As bad as that storyline is, it doesn't hold a candle to the fourth one. Seriously, that storyline is the one that drags down this season. The "trial" in the last two episodes borders on self-parody. This season ran for a few episodes too many. I think it could have wrapped everything up in seven episodes, especially if they eliminated Jane and Joe's storylines.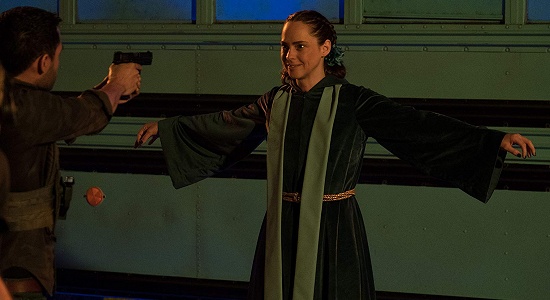 Most of cast are unknown to me. William Baldwin and Fiona Dourif (Nica in
Curse of Chucky and Cult of Chucky
, and Brad "Chucky" Dourif's daughter) are the only two that I ever heard of; though I remember Lee Tergesen as Chet in USA Network's 1994
Weird Science
television series. In fact, you could say that his character here is like an extreme version of Chet. Of course, now Jessica Garza and Hannah Emily Anderson are on my radar, and I hope I get to see more of them. Wrestling fans will want to look out for an appearance by Tyrus/Brodus Clay as the Gate Guard at the Bygone auction in episodes 4 and 5.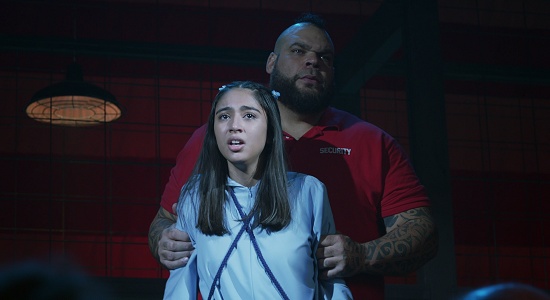 The show was promoted as a "limited mini-series event", but that is no longer the case. As you could surmise from this being called "Season 1", there will be a
second season
; perhaps later this year. Though it aired on basic cable television, the show does not shy away from violence or curse words. "Asshole" and "fuck" (or a variation thereof) is used several times, and it aired this way on television, too. I'd say that the violence is at a PG-13 level.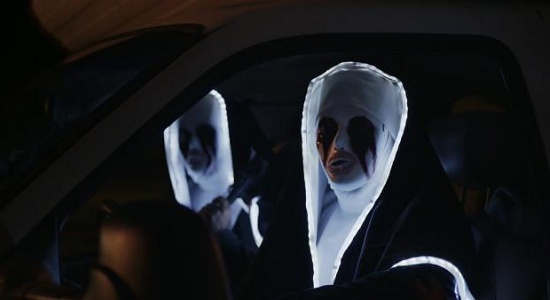 The two-disc set includes all 10 episodes of the season that aired on the USA Network from September 4th through November 6th, 2018. Given the nature of the show, I'm surprised this didn't air on sister channel Syfy instead.
DISC 1
Ep. 01 - What Is America? (50:54)
Ep. 02 - Take What's Yours (41:50)
Ep. 03 - The Urge to Purge (41:13)
Ep. 04 - Release the Beast (41:32)
Ep. 05 - Rise Up (41:44)
DISC 2
Ep. 06 - The Forgotten (41:21)
Ep. 07 - Lovely Dark and Deep (41:39)
Ep. 08 - The Giving Time Is Here (42:06)
Ep. 09 - I Will Participate (41:57)
Ep. 10 - A Nation Reborn (41:14)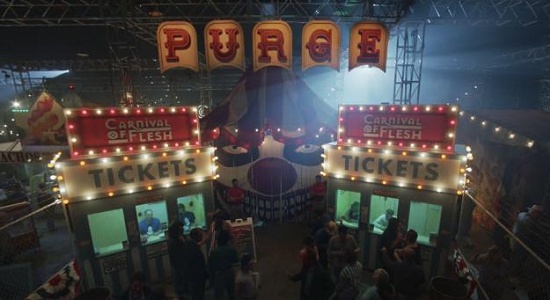 The Purge: Season 1
is presented in its original 1.78:1 (16:9) aspect ratio. On the audio side, there's an English DTS-HD 5.1 Master Audio track. (The back of the case also lists an English Dolby Digital 2.0 track that isn't present.) Subtitles are available in English SDH. The first print run includes a beautiful embossed slipsleeve.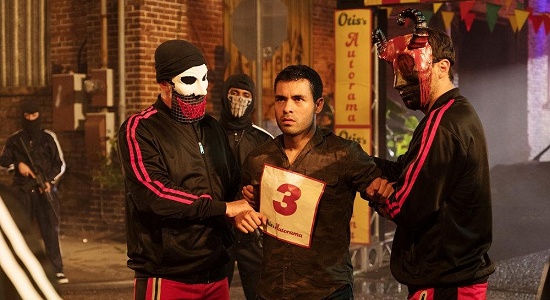 All of the bonus features that can be found on the discs are in HD. The "Take What's Yours" deleted scene is on Disc 1, while everything else is on Disc 2.
Deleted Scene from Take What's Yours (1:28) - A brief scene between Albert Stanton and Rick Betancourt, wherein the former tells the latter of his wife's cancer scare.
Deleted Scenes from The Giving Time Is Here (1:57) - Two scenes: A tender moment between Jenna Betancourt and Lila Stanton; a certain bar patron is told he has to order a drink in order to stay there, before asking if he has to pay to use the restroom.
Deleted Scene from I Will Participate (0:47) - A brief scene at the bar where Pete the Cop has a chat with his right-hand man about Miguel.
A Conversation with Cast & Crew (2:49) - Promo video of brief interview clips from various cast and crew members.
Anatomy of a Scene (3:17) - A look at the making of the gauntlet scene from episode 2.
Costumes & Props (3:31) - Prop master Michael Martin and assistant prop master Ashley Clements show off some of the costumes and props from the series.
Table Read (2:18) - Bits and pieces from a table read of various scenes from the first episode featuring a few cast members.
Surprisingly, all of the Purge Home Shopping Network vignettes that aired on the USA Network are not included.
The Purge: Season 1
is available on
Blu-ray
and
DVD
. If you don't own any of the previous movie installments, you can buy them all in
The Purge: 4-Movie Collection
(also
available on DVD
). I also
reviewed The First Purge
here on The Corner Penthouse a few months ago.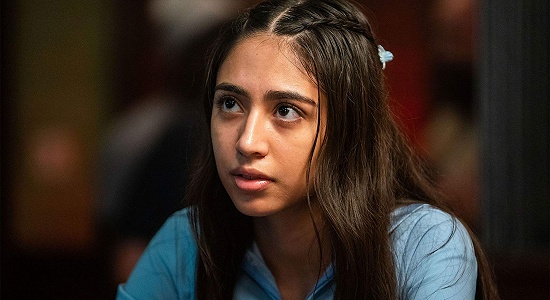 Images used come from the
Internet Movie Database gallery
of the show. The Blu-ray has been provided by Universal for review on this site.
No feedback yet
Leave a comment